Posts Tagged 'school of prayer'
Discover how to pray, walk and live in the Spirit TONIGHT at the School of Prayer! Join us for teaching & intercession at 7pm!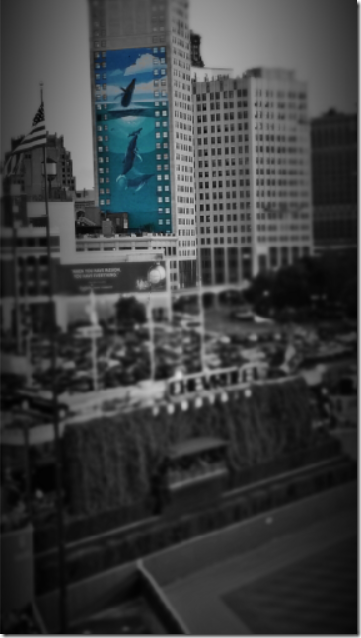 If you are in the Detroit region, join us at 7pm!
theFurnace is located at 26091 Sherwood, Warren, MI 48091.
If you are from another region, you can watch live online at www.thefurnace.tv/live.
---
In light of everything that's happening in the world right now with ISIS and the advance of terrorism, I'd like you to read what I consider to be one of the most important prophetic warnings I've ever received:
As I sat up high at Comerica Park last night watching a Tiger's game, I saw a mural on a building that God revealed to me when I first visited Detroit.
I had a dream, and afterwards I visited Detroit to minister, and then saw the mural of jumping whales which was a key part of the dream.
It's a warning dream, and Detroit must respond in repentance and intercession—as must the nation. Here's the picture I took last night at the game and also the dream. (This is taken from the chapter in my book The Coming Church titled Their Freedom is Your Mission.)
A Troubling End-Time Dream
Here is a clear example of a sharp, prophetic message. Will we respond to the call or casually watch from the sidelines?
It would be nice if all of our dreams, visions and communication from God had the feel of running and dancing through a field of daisies, but it's more important that we receive accurate data than imaginary, feel good stories.
This dream was anything but candy canes and ice cream. To date, other than my encounter with Hell in the early 1990s, I've never received such an urgent and troubling dream of God.
The first scene in my dream represented a typical American day. I was in my basement in a really comfortable leather recliner, sitting in front of a large television. I was excitedly watching my favorite NFL team, the Chicago Bears, play in a nationally televised evening game. I was thoroughly entertained and was settling in for a great night of football.
The scene then suddenly changed. I found myself in the captain's seat of the largest commercial airplane I'd even seen. In fact, this jet was capable of holding over 1000 people. Everybody in the airplane was excited and ready for the journey—and they were all blood-bought Christians. They represented an end-time remnant being prepared by God for the days ahead.
Watch our primary service TONIGHT via video streaming at 7pm ET!
First, watch last night's School of Prayer. It was a powerful night with practical teaching on how to have extreme success in prayer.
We then modeled what was taught in prayer. You are SURE to learn a lot! WATCH HERE.
theFurnace • School of Prayer • Mighty in Prayer
---

theFurnace exists to gather forerunners who are united in the mandate to initiate reformation in the church and revival in the region. As carriers of the fire of God, we are single-minded in our mission to rally a generation that will embrace the cross of Christ, pursue radical holiness, engage in fervent prayer, live a life of repentance and experience both the freedom and the fear of the Lord.
You can DOWNLOAD NOTES and follow along with tonight's message by clicking on "Extravagant Intimacy" under the Teaching Notes section next to the media player at www.thefurnace.tv/live.
"The coming moves of God will require nothing short of a revolution of our current structures, models and mindsets. Not an adjustment or an enhancement, but deep reform. The resulting fire and presence of the Holy Spirit will cause us to marvel and wonder why we ever resisted at all."- John Burton, based on his book 20 Elements of Revival

---