5 ways a prophetic prayer culture will transform you and your church
5 specific ways to implement a supernatural, prophetic culture of prayer in your life and in your church
Oh, the depth of the riches and wisdom and knowledge of God! How unsearchable are his judgments and how inscrutable his ways! Romans 11:33 (ESV)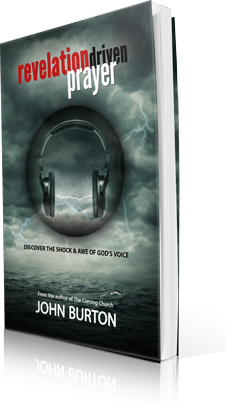 This verse reveals to us the God of our prayer! Our approach in prayer should take us well beyond what our own wisdom, common sense or natural analysis ever could.
…do not lean on your own understanding. Proverbs 3:5 (ESV)
I refuse to give myself to a model or method of prayer that is devoid of expectancy, supernatural life and power, one that is driven by my own intellect or human experience. I just can't do it!
I understand why people so eagerly run away when the call to prayer is sounded. If we were honest, we would admit that models of old have left the church with anemic faith and little more than a religious, soulish measure of satisfaction. Prayer should cause the atmosphere to explode and miracles to occur, but instead boredom too often tends to be the experience for many.
Prayer is most effective, enjoyable and electric when it is driven by revelation. It's based on what God says versus what we perceive. Prophetic prayer is so potent that other methods truly seem to be a poor use of our time. Their effectiveness is lacking.
5 WAYS TO LIVE A LIFE OF PROPHETIC PRAYER
1. Eliminate topic driven prayer meetings:
The prayer list radically limits God's ability to direct the prayer meeting, whether it's public or your own private closet time. I rarely enter a prayer session with any topic, no matter how pressing or obvious it may be. As we press into the heart of God, and nurture a prophetic environment, we will discover the list that God wants us to pray. I believe it's an act of faith at times when we leave the list at the door and trust that God is in control. It might feel like you are failing to cover key issues, but if we pray in the Spirit, that definitely won't be the case. This brings us to our next point.
PRACTICE: Go an entire prayer meeting without introducing any topics at all. Don't think about what's needed or pressing. Instead, go deep in intimacy. Experience God. See what he reveals to you.
2. Pray in the Spirit:
Groans of intercession will do more in a prayer event than any focused, topical focus ever could. Pray on fire, in tongues, as the primary expression of your meeting. The best prayer times I've had are when every person in the room did nothing but pray in the Spirit, with no English words, for well over an hour. When we do this, topics of prayer become much less necessary as we cover exactly what is on God's heart.
Likewise the Spirit helps us in our weakness. For we do not know what to pray for as we ought, but the Spirit himself intercedes for us with groanings too deep for words. Romans 8:26 (ESV)
PRACTICE: Spend the entire prayer session by praying non-stop in tongues. Don't pray any English words at all.
3. Nurture a prophetic culture:
As you drop the prayer lists and contend in the Spirit it will be normal for God to expose his heart and desires to you. Now, instead of praying for something that seems to take precedence, God is actually talking to us and we can pray in agreement. It wouldn't make sense to pray for finances or personal open doors if God reveals we must pray in unity against a potential terrorist attack or for a people group in another nation that's in danger.
He who has an ear, let him hear what the Spirit says to the churches… Revelation 2:11 (ESV)

I was in the Spirit on the Lord's day, and I heard behind me a loud voice like a trumpet. Revelation 1:10 (ESV)
PRACTICE: As you leave your topics at the door and pray in the Spirit, focus on hearing God's voice. What is he revealing? Journal that as you continue through your prayer watch.
4. Pray mostly outside your own doors:
When we can pray mostly about the greater mission, instead of our own situation, the anointing increases and God's heart is truly blessed. Instead of mostly praying for your own ministry to grow or for your finances to increase, pray more for the end of abortion or protection for Christians in dangerous nations. Additionally, pray that God puts the greater call of intercession on your heart. He'll give you a burden that goes well beyond your own situation.
Therefore he said he would destroy them— had not Moses, his chosen one, stood in the breach before him, to turn away his wrath from destroying them. Psalm 106:23 (ESV)

And the LORD restored the fortunes of Job, when he had prayed for his friends. And the LORD gave Job twice as much as he had before. Job 42:10 (ESV)
PRACTICE: Spend the session praying with the nations on your heart. Don't consider your own situation or even the immediacy of the ministry that God has called you to. There's a time for that, certainly, but practice by only interceding for the greater mission.
5. Minimize petition driven prayer:
I call this "addiction to petition" or "petitionitis." So often we are asking God for things that he is already in agreement with. Instead, develop a lifestyle of decreeing, declaring, commanding and calling forth. As an example, nowhere in Scripture do we see the apostles asking God to heal someone. They command the healing. Asking God for things that are already resolved, or that he hasn't revealed his agreement with prophetically (see above), can result in frustration as we waste our time praying in the wrong direction. Is there a place for petition? Sure. We see that in Scripture. But, I believe it should be much less common than it is.
As we focus intently on decreeing, declaring and commanding we will grow in our knowledge of just what God is in favor of. We never have to ask God for something that he has given us the authority and the responsibility to possess ourselves. As we grow in the Word of God it becomes evident what he has already sanctioned. Another example: we never have to pray for our needs to be met because Scripture reveals that he has already promised to meet our needs.
Now, we can give our energy in war against the enemy, by forcing mountains to move and by advancing as true ambassadors in prayer. Add to that the personal, specific prayer focuses God reveals to us via prophetic revelation and we will find it easy to spend hours praying in the Spirit, enforcing what God has already revealed and moving forward with great effectiveness.
PRACTICE: Spend an entire prayer meeting without any petition at all. Trust me, you'll watch your faith explode! Simply don't ask for anything. Learn to decree and declare what God has already revealed that he supports. For example, it doesn't make sense to petition God for financial needs to be met. Those needs are already promised to be met according the the Bible. Instead, command mountains to move and for money to come in. Of course, rely on what you have discovered prophetically as opposed to what topics you are naturally inclined to cover.