Watch: Learn how to develop a prayer culture in your church or home meetings!
Our churches must again be fueled by never ending, passionate and Spirit-driven prayer!
This isn't to be relegated to a side room on an off day, but rather the prayer meeting must be the main meeting of the week!
Discover how to take steps to introduce a burning, prayer-fueled atmosphere into your home or church with the expectation of watching it spread into a wild revival fire!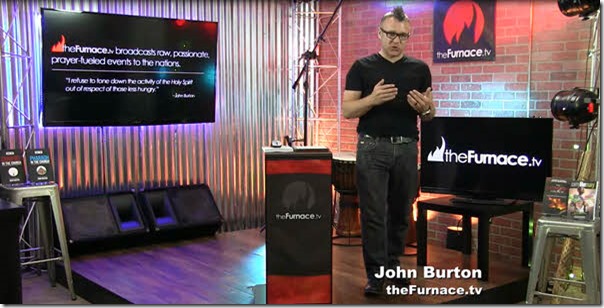 HOW TO DEVELOP A PRAYER CULTURE IN YOUR CHURCH OR HOME
In this teaching I share some practical ideas on how to begin the process of ensuring prayer is the main thing.
The remnant church is hungering for an atmosphere of burning, effective and intimate prayer. Sadly, most Christians resist the call to prayer, and this has resulted in a powerless church.
It's time to move forward with fiery passion and see prayer return to first place in the church and in our lives!
Life with John and Amy: Easily connect with the Revival Church family THIS SATURDAY at our home!
First, tonight is going to be HOT! I'll be teaching on "Fire—Fervency and Friction." Tonight's emphasis is on friction. What should we expect as end-time warriors in the Kingdom of God?
Revival Church meets at CENTRAL CHURCH, 1529 E. 12 Mile Rd, Madison Heights, MI 48071.
---
Life with John and Amy
Every month we will gather together as a revival family at John and Amy's house for a FULL night of food, fun (like ping pong!), worship, prayer and discussion on fulfilling your ministry!
Bring food to share! We'll enjoy eating together! It could be fried chicken, nachos, dessert, an appetizer or anything else!
This is for you if you desire any of the following:
Discovering how to fulfill your ministry
Eating a lot of food with new friends
Playing ping pong
Prophetic ministry
Prayer
Learning the ins and outs of ministry leadership
Worshiping with other zealots for Jesus
Laughing
Freedom
Community!
It all begins THIS SATURDAY, FEBRUARY 2ND, 2013 at 6pm at the Burton homestead! 64639 Tara Hill Drive, Washington, MI 48095. Invite anybody you want, bring food and get ready for a fun filled night! (Oh yeah, bring the kids!)