Posts Tagged 'eternal security'
I never thought a simple comment would result in such a reaction.
"I give myself an 80% chance of making Heaven."
There it is. A clear and simple comment that has provoked people into honest pondering at the least and vicious personal assaults at the worst.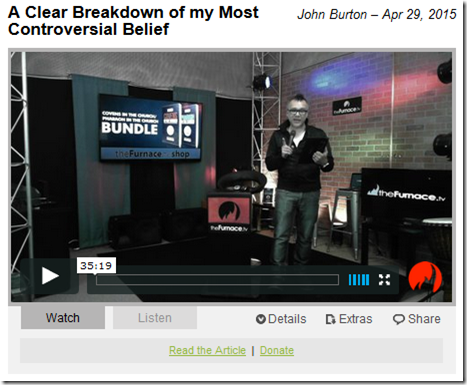 Before I continue, allow me to provide some context. This message is intended for those who believe that a Christian can lose their salvation. We have to have a common starting point. Those who subscribe to the doctrine of eternal security (once saved, always saved) will certainly be at least intrigued by this article, but many of their arguments will be unaddressed. I'm not going to attempt to debate their position in full here, but I am going to present what I hope to be a clear breakdown of why I am so convinced of my perspective.
My estimation is that I will spend eternity with Jesus, but it is not a guarantee. If it was, I would, by definition, be an adherent to the doctrine of eternal security. I am not.
Simply, if you don't believe in eternal security, that means that every current Christian will have an opportunity to lose their salvation—to turn from Jesus. And, no current Christian would ever presume that they would do such a thing, but nonetheless many certainly will.
Why would we be immune from that temptation while multitudes of other Christians are not? I definitely am not immune.
Mat 24:21 For then there will be great tribulation, such as has not been from the beginning of the world until now, no, and never will be. 22 And if those days had not been cut short, no human being would be saved. But for the sake of the elect those days will be cut short. 23 Then if anyone says to you, 'Look, here is the Christ!' or 'There he is!' do not believe it. 24 For false christs and false prophets will arise and perform great signs and wonders, so as to lead astray, if possible, even the elect.
Many current lovers of Jesus will be deceived (even the elect) by extremely convincing yet false moves that have the name of Jesus attached directly to them.
1 Tim 4:1 Now the Spirit expressly says that in latter times some will depart from the faith, giving heed to deceiving spirits and doctrines of demons…
Those who are currently in the faith are at risk. I am currently in the faith. I am at risk.
UNBIBLICAL GRACE
I and others more scholarly than myself have written on the dangerous false/hyper/unbiblical grace doctrines that are on the rise. You can read my previous articles to gain a better understanding of the theology here:
The reason I need to briefly address unbiblical grace in this article is to highlight a common thread that is woven through both of these talking points.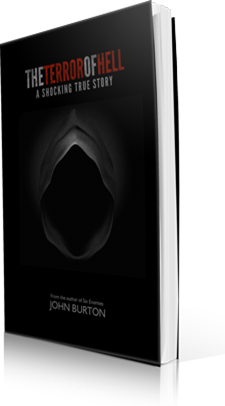 There seems to be an increasing desperation with people who are convinced that they simply cannot experience freedom from sin. Their last hope is a theology that overlooks their overpowering inclination to repeated failure. So, any teaching contrary to a quasi-universalistic viewpoint becomes a threat to their hope of eternal security.
I am absolutely sympathetic to those who are in bondage to sin. It breaks my heart that they are living in struggle and torment most every day of their lives and I am devoted to seeing them find radical, complete liberation!
The answer, however, is not unbiblical grace that would simply overlook repeated, intentional sin, but rather, true grace that actually gives supernatural power to be free from sin!
It's from this place that I understand that I cannot continue in intentional sin and hope to live forever with Jesus. I will have many opportunities to live in sin, to intentionally gossip, lust, hate, to refuse to forgive, to lose my love. I, John Burton, must die daily, must take up my cross and must allow God to continually reveal the issues of my heart so I can turn, change and fall deeper and deeper in love with Jesus. If I don't, I can presume that my name will be blotted out of the book of life.
Rev 3:5 The one who conquers will be clothed thus in white garments, and I will never blot his name out of the book of life. I will confess his name before my Father and before his angels. 6 He who has an ear, let him hear what the Spirit says to the churches.'
It's simple. Pressure to turn from Jesus is only going to increase as the end draws near, and it will be so severe that many will turn from Jesus to avoid persecution and death. Imagine living during the Tribulation without the ability to buy, sell or trade. If we don't take the mark we will have no access to medical care, food, communication tools, or much of anything else. Imagine what that will be like when Christians will have to move out of their homes because their bank accounts are closed. They can't rush an injured child to the emergency room. They will lose everything including all natural hopes for survival. Will the pressure be high to take the mark, to turn on Jesus? Absolutely—and it's fairly easy to presume that most will bow to that pressure. Will I? From a place of comfort it's easy to say I won't. It's from a place of wisdom, however, that I must more carefully analyze that sobering question. Yes, I will be at risk of bowing.
THE BREAKDOWN
With such a provocative statement it's easy to make incorrect presumptions about what I really mean and what has driven me to that conclusion. I will address some of these here.
I'm confident that if I died TODAY that I'd be with Jesus forever.
I believe we absolutely can have a certain measure of confidence in our position in Christ. We are saved by the grace of God. The power of the blood of Christ is indescribable and I am fully dependent on the crucifixion and resurrection of Jesus. As I respond to his gift and live in repentance, from a place of loving surrender and intimacy with him I know he has me. He's mine and I'm his. If I died today, I'm quite confident I'd be welcomed into glorious eternity.
What I am not sure of (as nobody can be) is what decisions I will make TOMORROW. My very strong free will will always provide me the opportunity to lose my love, to fall into sin and to become lukewarm.
Rev 3:15 "'I know your works: you are neither cold nor hot. Would that you were either cold or hot! 16 So, because you are lukewarm, and neither hot nor cold, I will spit you out of my mouth.
It must be said that tomorrow can come very quickly, and my reaction to the drawing of the Spirit of God today is critical. I know that I can slip into a state of presumption, convinced that all is well when actually I have compromised my position in Christ.
See how the passage in Revelation chapter three continues:
Rev 3:17 For you say, I am rich, I have prospered, and I need nothing, not realizing that you are wretched, pitiable, poor, blind, and naked. 18 I counsel you to buy from me gold refined by fire, so that you may be rich, and white garments so that you may clothe yourself and the shame of your nakedness may not be seen, and salve to anoint your eyes, so that you may see. 19 Those whom I love, I reprove and discipline, so be zealous and repent. 20 Behold, I stand at the door and knock. If anyone hears my voice and opens the door, I will come in to him and eat with him, and he with me. 21 The one who conquers, I will grant him to sit with me on my throne, as I also conquered and sat down with my Father on his throne. 22 He who has an ear, let him hear what the Spirit says to the churches.'"
If you jump back to the beginning of the chapter you'll see this:
Rev 3:1 "And to the angel of the church in Sardis write: 'The words of him who has the seven spirits of God and the seven stars.

"'I know your works. You have the reputation of being alive, but you are dead. 2 Wake up, and strengthen what remains and is about to die, for I have not found your works complete in the sight of my God. 3 Remember, then, what you received and heard. Keep it, and repent. If you will not wake up, I will come like a thief, and you will not know at what hour I will come against you.
Am I, John Burton, somehow exempt from the fate that so many other current Christians will suffer due to their continued sin? Absolutely not. It would be quite arrogant to say that I, John Burton, don't have to repent, can continue in sin, can fall asleep, can become lukewarm at some point in the future and will not suffer the consequences. There will be a great falling away, and I must stay alert to avoid becoming a part of that tragically massive group of people.
So, my life is focused on staying awake and strengthening what remains—and alerting others to do the same. The resulting passionate life for Jesus is well worth the internal introspection!
I don't believe that one sin in the life of a Christian will automatically send you to Hell.
God loves us. He understands that we are in a process of sanctification and some failure is to be expected.
It's our reaction to that failure that is so important. The Bible is a story of redemption and it should go without saying that we can fail and then embrace redemption, forgiveness and enjoy the hope of the prodigal.
However, if we choose to continue in sin, without repentance, without turning from darkness to Jesus, we absolutely are at risk of Hell. The Bible makes it so clear that it's shocking that it's even debated.
Heb 10:26 For if we go on sinning deliberately after receiving the knowledge of the truth, there no longer remains a sacrifice for sins, 27 but a fearful expectation of judgment, and a fury of fire that will consume the adversaries. 28 Anyone who has set aside the law of Moses dies without mercy on the evidence of two or three witnesses. 29 How much worse punishment, do you think, will be deserved by the one who has trampled underfoot the Son of God, and has profaned the blood of the covenant by which he was sanctified, and has outraged the Spirit of grace? 30 For we know him who said, "Vengeance is mine; I will repay." And again, "The Lord will judge his people." 31 It is a fearful thing to fall into the hands of the living God.
The answer? Live a life of wonderful, joyful repentance. Run into the arms of our Father at the point of failure. Repent. Turn. Fall in love with him again and enjoy a glorious forgiveness and a refreshed relationship with God.
I do believe we don't ever have to sin again.
One of the reasons unbiblical grace is so popular is because so many Christians presume that we are all expected to sin every day. How tragic a theology that must be to live out!
We are no longer sinners. We are saints. True grace is so powerful that it enables us to live free from sin! If we sin every day, we have a sin problem and we should certainly be shocked into reality.
Of course, there's a famous verse that's pulled out in support of the idea that we are all continuing in sin:
John 8:7 And as they continued to ask him, he stood up and said to them, "Let him who is without sin among you be the first to throw a stone at her." 8 And once more he bent down and wrote on the ground. 9 But when they heard it, they went away one by one, beginning with the older ones, and Jesus was left alone with the woman standing before him.
So, the argument is that we are all with sin. The problem with that argument? Jesus followed up the analysis of the situation with a command that could only be obeyed via the grace (power) of God:
John 8:10 Jesus stood up and said to her, "Woman, where are they? Has no one condemned you?" 11 She said, "No one, Lord." And Jesus said, "Neither do I condemn you; go, and from now on sin no more."
Sin no more. Don't sin again. Stop sinning. That was the message.
It was clear that Jesus expected this woman to live free from sin, and certainly from a life of daily sin!
Often when I state that we don't have to ever sin again I receive a snarky comment in response: "So, how's that working out for you, John?"
That reply exposes the condition of the person's heart and reveals the point I'm trying to make. People feel hopeless against the power of sin and are attempting to use grace to cover it instead of eradicate it. This belief is tragic—and dangerous. It moves us quite close to a fearful judgment:
Heb 10:29 How much worse punishment, do you think, will be deserved by the one who has trampled underfoot the Son of God, and has profaned the blood of the covenant by which he was sanctified, and has outraged the Spirit of grace?
I don't live my life in fear of Hell.
The most common presumption that people have about me when they hear me say that I am not convinced I'll end up in Heaven is that I must be living in great fear. This couldn't be further from the truth.
I am full of joy and am experiencing an abundant life in Jesus! Check this out:
1 John 4:16 So we have come to know and to believe the love that God has for us. God is love, and whoever abides in love abides in God, and God abides in him. 17 By this is love perfected with us, so that we may have confidence for the day of judgment, because as he is so also are we in this world. 18 There is no fear in love, but perfect love casts out fear. For fear has to do with punishment, and whoever fears has not been perfected in love.
There is no fear in love. There are many who "got saved" to avoid torment in Hell. That is their motivation and their theology is keenly focused on the eradication of any threat of eternal torment. Though I have had an encounter with Hell, and I understand to a very small degree the horror associated with that place, I would never attempt to use God to avoid it. God isn't one to be used for our own selfish pursuits. God is to be loved with immeasurable passion!
Let's continue reading the passage in 1 John 4:
1 John 4:19 We love because he first loved us. 20 If anyone says, "I love God," and hates his brother, he is a liar; for he who does not love his brother whom he has seen cannot love God whom he has not seen. 21 And this commandment we have from him: whoever loves God must also love his brother.
It's not a theology of eternal security that casts out fear, it's love. And, this is where it gets a bit more serious. It's possible to subscribe to a theology that ensures our salvation while also hating someone—and go to Hell.
So, my focus isn't on avoiding Hell. I'm not living in torment. If I were, I'd know that love was not being perfected in my life and I would certainly have cause for concern. My barometer is the manifestation of love in my life. My daily goal and continual desire is to be with Jesus in a place of joyful, love driven encounter. I crave his presence. I yearn for a deeper intimacy with him. I am free, alive and thankful for what Jesus has done for me. I have no fear. But I am sober. I am alert.
I don't believe it's easy to lose your salvation.
For those who are truly saved, who have put their faith in Jesus and are following him, I believe it takes quite a set of circumstances to lose that salvation.
Remember, it's intentional, continual sin that does not result in repentance the will eventually result in separation from Jesus. If we are actively wrestling with our flesh, dying daily, growing in sanctification and trusting in God's justification, we are in a very good place!
However, if we refuse to repent and live a life of sin, no matter how insignificant that sin may seem to be, we should be very alarmed.
Again, the Bible is a book about redemption. We can look at the lives of many godly people who failed miserably yet are still considered giants of the faith. Their common thread? They turned back to God.
Acts 3:19 Repent, then, and turn to God, so that your sins may be wiped out, that times of refreshing may come from the Lord,

Luke 17:3 So watch yourselves. "If your brother sins, rebuke him, and if he repents, forgive him. 4 If he sins against you seven times in a day, and seven times comes back to you and says, 'I repent,' forgive him."
Rev 2:5 Remember the height from which you have fallen! Repent and do the things you did at first. If you do not repent, I will come to you and remove your lampstand from its place.

2 Pet3:9 The Lord is not slow to fulfill his promise as some count slowness, but is patient toward you, not wishing that any should perish, but that all should reach repentance.
I do understand the miraculous, glorious work of the cross.
One accusation that I've heard is that I am lacking in revelation of just how comprehensive and powerful and conclusive the work of the cross is in the lives of Christians.
I won't pretend to have a perfect revelation, but this accusation couldn't be further from the truth.
Check out the doxology in Jude:
Jude 24 Now to him who is able to keep you from stumbling and to present you blameless before the presence of his glory with great joy, 25 to the only God, our Savior, through Jesus Christ our Lord, be glory, majesty, dominion, and authority, before all time and now and forever. Amen.
God is great! He is able to keep us from stumbling—but only if we are in agreement with it. If we choose to stumble of our own volition, we absolutely will.
The power of the blood of Jesus is worthy study and we will be growing in understanding of it for all of eternity. We have truly been set free from the penalty of sin and sin itself! We can be free, joyful, prosperous, empowered and abounding in love every moment of our lives!
The issue isn't a lack of revelation of God's greatness, it's an overestimate of mankind's devotion. I know God loves me, but do I love him? Will I be at the foot of the glorious cross when the pressure is high or will I run? Will there be a better offer, like thirty pieces of silver in a financially trying time? These are the questions that I keep in front of me as I grow in love and revelation of the power of the cross of Jesus Christ.
I do believe we must stay awake, pray and watch.
The key reason I believe we must see the prayer movement escalate, and contend for every Christian to become invested in continual prayer is that the temptation to fall will be overwhelming as the end draws near.
Mat 26:40 And he came to the disciples and found them sleeping. And he said to Peter, "So, could you not watch with me one hour? 41 Watch and pray that you may not enter into temptation. The spirit indeed is willing, but the flesh is weak."
The command is to watch and pray so that we may not enter into temptation. Just what temptation was Jesus referring to? Notice who he was talking to. He was telling Peter to stay awake, to watch, to pray, because his flesh would certainly give in to the temptation that was coming very soon—the temptation to deny Christ.
He slept and he sinned.
Rev 3:1 "'I know your works. You have the reputation of being alive, but you are dead. 2 Wake up, and strengthen what remains and is about to die, for I have not found your works complete in the sight of my God. 3 Remember, then, what you received and heard. Keep it, and repent. If you will not wake up, I will come like a thief, and you will not know at what hour I will come against you.
Wake up and strengthen what remains and is about to die.This the warning for casual, sleepy Christians today.
I was watching a TV show called They Shouldn't Be Alive. It's a series of survival stories that depict various adventures that should have ended in death—but somehow did not.
This particular episode told the story of a man who was canoeing alone down a river through the Grand Canyon. His boat overturned and he lost it and all of his supplies. He was cold and wet and the temperatures were quickly plummeting under the night sky. He was able to build a fire and he warmed himself as he sat under a massive cliff. He had no way of escape and his only hope was to survive the night.
The Holy Spirit got my attention as the narrator said, "If he falls asleep, and the fire goes out, he dies."
This is the story of today's church.
It is shocking to me how many supposed Spirit-filled Christians are actually coming out against the prayer movement. They make statements like, "While you are hiding away behind the four walls of the church I'm out evangelizing the lost." I would be the first to argue that winning souls is a primary mandate for the church—and it's funny when people presume I would believe any other way. However, I don't believe we'll have anything to offer other than religion and false hope to desperate sinners if we aren't bathed in a lifestyle of never ending prayer.
Mat 6:6 But when you pray, go into your room and shut the door and pray to your Father who is in secret. And your Father who sees in secret will reward you.
We are commanded to go behind closed doors and pray. This is where the term prayer closet originated.
Simply, if someone isn't active in continual prayer they won't be of much value in the work of the Kingdom. They will be at risk of sleep and spiritual death. They will attempt to move in the flesh when a discerning spirit is what is required.
Mat 26:50 Then they came up and laid hands on Jesus and seized him. 51 And behold, one of those who were with Jesus stretched out his hand and drew his sword and struck the servant of the high priest and cut off his ear.
Peter famously did what a sleeping, spiritually dull person would do—he reacted in the natural. He was aggressive and instant in action. He was protecting Jesus. Yet, he was wrong. This was the beginning of a great fall for Peter and it came due to many reasons, none greater than his prayerless, sleepy lifestyle.
Will I ever be tempted to stop watching, to fall asleep and to fall into temptation. Of course. And, as the end draws nearer the pressure to do so will only increase.
I don't believe the state of our position in Christ is a mystery.
One of the questions I always have when someone struggles with this statement, that I give myself an 80% chance of making Heaven, is this: why not just live a life of joyful repentance?
We don't have to worry and wonder whether we are in a good place with Jesus or not. If we sin, we repent. Period. It's extremely simple.
We shouldn't have to struggle with this at all. I don't. If I sin, I repent. That being the case, why would I presume there is still a chance I can go to Hell? It's also simple: there may come a day that I lose faith and refuse to repent—and continue in intentional rebellion to the point where my name is blotted out of the book of life.
Mat 24:9 "Then they will deliver you up to tribulation and kill you, and you will be hated by all nations for My name's sake. 10 And then many will be offended, will betray one another, and will hate one another. 11 Then many false prophets will rise up and deceive many. 12 And because lawlessness will abound, the love of many will grow cold. 13 But he who endures to the end shall be saved.
And, there it is. When unparalleled tribulation, trial, murders and mass hatred comes to the church (it already has in other nations in a significant measure) many in the church will be offended. Betrayal, hatred and lawlessness will come and then love will grow cold. Cold love is the key to eternal separation from God.
In the face of such a great assault, there will be some who endure—and those are the ones who will be saved. Will I be a part of that remnant group? I don't know. God's pulling for me. But, it's fully up to me.
---
I want to encourage you to read my book The Terror of Hell. This is the awakening that caused me to take my salvation very seriously. I had an encounter with the forces of Hell, and God spoke very clearly to me afterwards: John, many current Christians will be shocked to find themselves in Hell one day."
Unsaved Christians—do we understand the threat of sin in the life of Christians?
There is a glorious salvation to be had, and the enemy has tainted powerful, life-giving theologies in an attempt to counterfeit them—and draw people away from the one true God. God's passion is for people to be wildly in love with him, and that is what the enemy is afraid of. Instead of radical intimacy and passionate obedience, people are falling for a lesser false-doctrine that communicates God's apparent affirmation of them and affection for them—and it is resulting in a faux closeness to him for millions of "Christians."
Our salvation is glorious and it is also weighty. We can't presume upon it or take it lightly. I suggest it's possible that most people who are convinced of their position in Christ would actually be in Hell if they died today. I will share some convincing and powerful stories that speak directly to further down in the article. People like Corrie Ten Boom, John Mulinde and Daniel Ekechukwu have a perspective that few others do.
The concept of unsaved Christians seems contradictory. I understand that. A Christian is a follower of Jesus. I am suggesting that there are many followers of Jesus, many who name the name of Christ, who are living their lives following him in an unsaved condition.
"And to the angel of the church in Sardis write: 'The words of him who has the seven spirits of God and the seven stars. "'I know your works. You have the reputation of being alive, but you are dead. Wake up, and strengthen what remains and is about to die, for I have not found your works complete in the sight of my God. Remember, then, what you received and heard. Keep it, and repent. If you will not wake up, I will come like a thief, and you will not know at what hour I will come against you. Yet you have still a few names in Sardis, people who have not soiled their garments, and they will walk with me in white, for they are worthy. The one who conquers will be clothed thus in white garments, and I will never blot his name out of the book of life. I will confess his name before my Father and before his angels. He who has an ear, let him hear what the Spirit says to the churches.' Revelation 3:1-6
But, are we not free from condemnation if we are in Christ Jesus? Yes. But, let's look at that verse:
There is therefore now no condemnation for those who are in Christ Jesus. Romans 8:1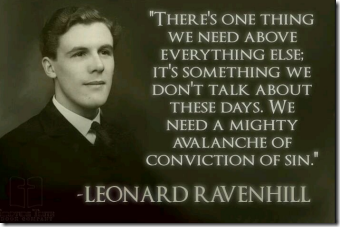 A massive and increasing number of Christians have been lulled into a slumber regarding the reality of salvation. They have a reputation of being alive, but are dead because of their sin. The common presumption is now that if we pray, read our Bible, go to church and identify ourselves as Christians than we are automatically exempt from condemnation. The problem? Too many have misunderstood just what it means to be in Christ Jesus. Tragically it's true that countless professing Christians are actually living in a place of condemnation because they aren't truly in Christ Jesus. We can't just call ourselves Christians and presume that we are truly in Christ.
For to set the mind on the flesh is death, but to set the mind on the Spirit is life and peace. For the mind that is set on the flesh is hostile to God, for it does not submit to God's law; indeed, it cannot. Those who are in the flesh cannot please God. Romans 8:6-8
For the last 24 years my life and ministry have been marked by a troubled spirit and an unrelenting passion for extreme surrender, zealous prayer and an unapologetic call for passion, repentance and holiness. I understand just how separated, intense and broken we must be to truly be counted among the saved—or, I at least have an understanding of the type of deception that is causing people to remain careless in their walk with Jesus. To be a true follower of Jesus requires more than today's theologies are communicating, and that does indeed both anger and wreck me. This is why I just cannot lead a church or ministry without an intense, burning edge to them. Anything short of radical just can't be promoted anymore!
Why is my spirit troubled? Because I am convinced both by Scripture and by a horrifying encounter I had with the terror of Hell over two decades ago that a shocking percentage of professing Christians are on their way to Hell. We must exhort one another into radical faith.
Take care, brothers, lest there be in any of you an evil, unbelieving heart, leading you to fall away from the living God. But exhort one another every day, as long as it is called "today," that none of you may be hardened by the deceitfulness of sin. Hebrews 3:12-13
The risk of falling away is very real, and very terrifying:
For it is impossible, in the case of those who have once been enlightened, who have tasted the heavenly gift, and have shared in the Holy Spirit, and have tasted the goodness of the word of God and the powers of the age to come, and then have fallen away, to restore them again to repentance, since they are crucifying once again the Son of God to their own harm and holding him up to contempt. Hebrews 6:4-6
In my encounter, I was dragged toward Hell as a praying, worshiping, professing Christian—and I almost went mad. The terror is beyond anything I could ever describe and I wouldn't wish it on anybody. When people tell others to go to Hell, they have no idea what they are saying.
When I came out of the encounter I received the most troubling message that God has ever given me: Many Christians will be shocked to find themselves in Hell one day. My life long mandate is to shout this truth and awaken the sleepers.
These are people who believe they are in Christ Jesus—but are not—and who are heading to a judgment day that will stun them. This is why continual warnings and messages of awakening must pierce our church culture. This is why anything less than a white hot, high bar atmosphere of fervent prayer, repentance and brokenness must be rejected in our churches. It's time for Ichabod churches to be made known so it become clear who the martyr-minded true Believers are. Those who are willing to take up their cross make up the true church.
Today the world is watching millions of people following Jesus with no cross on their backs, and this is the heretical deception that must be exposed. God will, in time, reveal the wheat and the tares.
Then Jesus told his disciples, "If anyone would come after me, let him deny himself and take up his cross and follow me. For whoever would save his life will lose it, but whoever loses his life for my sake will find it. Matthew 16:24-25
CHRISTIANS LIVING IN MINOR SIN GO TO HELL?
And "If the righteous is scarcely saved, what will become of the ungodly and the sinner?" 1 Peter 4:18
With the emerging of the false-grace, or what I prefer to call unbiblical grace, teachings, the thought of worshiping, tithing, praying, Bible reading Christians who have great families and seem to be the model of righteousness going to Hell seems ridiculous.
I believe this is one of the most important passages of Scripture in today's false-grace generation:
For if we go on sinning deliberately after receiving the knowledge of the truth, there no longer remains a sacrifice for sins, but a fearful expectation of judgment, and a fury of fire that will consume the adversaries. Anyone who has set aside the law of Moses dies without mercy on the evidence of two or three witnesses. How much worse punishment, do you think, will be deserved by the one who has trampled underfoot the Son of God, and has profaned the blood of the covenant by which he was sanctified, and has outraged the Spirit of grace? For we know him who said, "Vengeance is mine; I will repay." And again, "The Lord will judge his people." It is a fearful thing to fall into the hands of the living God. Hebrews 10:26-31
This means that tongue talking, hand lifting pastors, for example, can go to Hell if they struggle with lust. People that refuse to forgive another are at risk of Hell. If we continue in sin the Bible is clear—there remains no sacrifice for those sins. There are supposed minor sins such as gossip, lust, rebellion to authority, lying and others that seem to fly below our radar—but not God's. We can't continue in so called minor sins and presume all to be well. We will experience judgment in this life and in the next if we do not repent. This brings the sweet little lady who's known as the church gossip into the light—and a terrifying light it is.
Have you ever met someone who has lived with unforgiveness in their heart? What about someone who is into pornography? It's horrifying to think this, but those very people, even if they are amazing in every other way, are very possibly unsaved right now. Barna recently reported that 97% of BORN AGAIN CHRISTIAN men are into pornography! 84% of Christian women are viewing pornography.
Is it any wonder Leonard Ravenhill famously said that he doubts that 5% of professing born again Christians in America are truly saved?
Therefore we must pay much closer attention to what we have heard, lest we drift away from it. For since the message declared by angels proved to be reliable, and every transgression or disobedience received a just retribution, how shall we escape if we neglect such a great salvation… Hebrews 2:1-3
CORRIE TEN BOOM
Consider Corrie Ten Boom. You may have read her story in the book The Hiding Place. She was a general in the faith as she and her family hid Jews during the Holocaust. Eventually they were discovered and were put into a concentration camp. She ministered Jesus in inhuman conditions. She was faithful in a time where all faith was lost. Ultimately, after torture at the hands of one particular guard and countless horrors, her entire family was killed. The war ended and Corrie was released.
Shortly after Corrie was walking down the road when a man approached her. He said, "Excuse me, you were in the camp, weren't you?" Corrie affirmed that she was. He continued, "After the war I gave my life to Jesus. I prayed that he would allow me to find one person that I hurt so badly in the concentration camp." It was the guard—the one who brutally tortured and killed her family. He said, "I told God that I wanted to seek their forgiveness. Would you please forgive me?"
Corrie, in her own words, shared her reaction. She said that she simply could not forgive him. As that thought consumed her soul, God spoke to her. He said, "Corrie, if you don't forgive him, I won't forgive you." She knew, as a general in the faith, if she refused to forgive that man than she herself would die in her sins. Hell was her future. She then looked at the man who brought so much horror to her and took his hand and said, "I do forgive you."
She said the love of God shot through her hand into the former guard's.
Tragically, so many Christians today presume they are exempt from such truths in Scripture.
For if you forgive others their trespasses, your heavenly Father will also forgive you, but if you do not forgive others their trespasses, neither will your Father forgive your trespasses. Matthew 6:14-15
THIS IS A MUST WATCH VIDEO. IT WILL ROCK YOU TO TEARS:
DANIEL EKECHUKWU
Daniel Ekechukwu is a Nigerian pastor who died tragically in a car accident. He was told that he would go to Hell if he wasn't raised up—because he refused to forgive his wife regarding an issue. Here's a short transcript:
"Daniel, if the book of your life was to be closed today, this would be your portion."

"No, I'm a pastor; I'm a child of God. I'm born-again — and I've preached all over…."

"Enough, Daniel, on your way to the first hospital, you were asking God to forgive you, but you would not forgive your wife. And your sins have not been forgiven. It is a matter of reaping what you've sown. You cannot sow unforgiveness to your wife and reap forgiveness from God."
JOHN MELINDE
Check out this lengthy but wildly troubling story of an encounter by John Mulinde, a leader with a world ministry on every continent except Antartica. God told him, "If I had come today to take My Bride, you wouldn't be part of that. I wouldn't take you." :
Then suddenly a bright light hit my eyes. My eyes were closed. I was on my knees with my head on the ground, but a bright light hit me. I lifted up my eyes and said, "What is this?" I opened my eyes and I couldn't look in the light. Even when I closed them, it pierced into my eyes. I bowed my head again, and I was trembling and thinking, "What on earth is going on?" Then I heard a voice, deep and calm. He called my name three times. I couldn't answer. There was no strength in me to answer, but inwardly I was saying, "I'm here." He called me—"John"—three times.

Then He said to me, "I knew you before the creation of the world, and I chose you and set you apart to serve Me as a witness in these last days. I want to say to you, if I had come today to take My Bride, you wouldn't be part of that. I wouldn't take you." I can't describe the shock that came upon me. I think I was in shock. I didn't even respond. It hit me. He repeated it. He said, "I wouldn't take you. For it is written, 'He will appear to those who wait upon Him' (Isa. 49:23, paraphrased). You're not living your life as a person waiting upon Me. You're allowing all kinds of filth to come into your life. You're living like one who cares not." As I said, I couldn't speak with my lips.

At that moment I was thinking, "This can't be happening to me. I gave up my job to serve the Lord; I gave up my house that my father had given me because I wanted to go to the mission field. I gave up this, I gave up that; this can't be God saying to me that He wouldn't take me." None of my theology and teachings could accept that. He spoke to me these words written in the book of 1 Corinthians 6. He quoted them; I found them later. I couldn't even remember that they were in the Scriptures, but later on I found them in the Scriptures. It says: "Do you not know that the unrighteous will not inherit the kingdom of God? Do not be deceived. Neither fornicators, nor idolaters, nor adulterers, nor homosexuals, nor sodomites, nor thieves, nor covetous, nor drunkards, nor revilers, nor extortioners will inherit the kingdom of God" (1 Cor. 6:10). "THE HEART IS DECEITFUL ABOVE ALL THINGS, AND DESPERATELY WICKED"

He went on to say to me, "Your life is so full of filth. You walk with an outward appearance, and you cover many things in your heart. You forget that I am the Lord who examines the heart. You are not ready to meet Me." He began to say to me, "If your life is full of this and this and this and this, then are you ready for My appearance?" As He measured the various things, I could say, "OK, Lord, have mercy." But then He mentioned one thing that my heart rejected. In my own understanding, I had never turned into that. He said, "If your life is full of fornication . . . " And everything in me said, "Oh, no. That cannot be." I said it in my heart, and the voice stopped. For a moment there was silence. Then He said to me, "There is no crooked word that comes out of My mouth. Do you call Me a liar? But because you don't even know your own heart, I will show it to you. Remember this day when you were in this place at this hour?"

Brothers and sisters, I didn't even remember. I practically saw myself back in that very moment—not as a memory, but as a reality. I was back in that moment. I saw myself sitting in the taxi waiting for the taxi car to be filled. Then I was looking out at some lady with all kinds of filthy imaginations. The moment it came back, I thought, "Oh, God, I have sinned against You." He said, "No, you haven't sinned. You live in sin. You live in that. You live from morning to evening in such imaginations. Even in your bed at night you indulge in the same. I know every moment of your private life. I know your thoughts. You don't even fear, even sitting in church. Someone steps up on the platform to serve Me and you strip them naked in your imagination. You imagine all kinds of things. I am the Lord who examines the heart. Have you not read that he who even looks upon a woman to lust after her has already committed adultery with her (Mt. 5:28)?" Pictures began to pass before me of how my imagination works.

This isn't something of which I could say, "Lord, I fell in sin. Lord, I was weak." It was my way of life. It was my constant way of life. I was comfortable in it. I was comfortable that no one else could see it, but God was saying, "I see it. I am the Lord who examines the heart." I was so ashamed, but then He said, "That's not the worst of all. You still live in this." He began to mention things that appear humanly small: the envy, the manipulation and undercutting of one another so that you remain appearing the best, so that you appear to do the best, to preach the best, to work more miracles, to be more anointed; all the manipulation and self-promotions, all the grudges we hold in our hearts when we see someone else being promoted or recognized before us.

The way the Lord brought it up, it was so filthy. I cried and cried, and at some point I was so intent on my grief. Then He raised His voice and said, "Keep quiet and listen." "I NEVER KNEW YOU; DEPART FROM ME, YOU WHO PRACTICE LAWLESSNESS!" I kept quiet, and He went on and on and on, unveiling more and more things. Even the things which appear so small, at that moment appeared so rotten. I felt like I was standing before the judgment seat with everything being thrown out. I wanted to say, "Stop, stop, I accept it all," but He wasn't stopping. At some point I was just saying, "I'm sorry, I'm sorry, I'm sorry." He said, "Keep quiet." I wasn't speaking loudly; I was speaking in my heart. He said, "Keep quiet and listen."

As He continued I thought, "I must have been deceived. All along I thought I was serving God and yet I'm so filthy inside. I must have been deceived. The Devil must have taken my life captive a long time ago." At that moment I thought of the miracles we were witnessing. I thought of the healings. I thought of all those wonderful things, and suddenly my heart sunk. I thought, "The Devil has so deceived me that he could even use me to produce counterfeit miracles; to produce things I thought God was working—and yet it was the Devil all along . . . "

The voice kept quiet for a moment, and then He said to me, "Why are you imagining such thoughts? I don't do miracles because you're worthy. I do miracles because I love My people before whom you stand to preach. Have you never read of how they will come to Me on that day and say, 'Lord, Lord, in Your name we worked miracles, cast out demons, and prophesied'? Then I will say to them, 'Get out of My sight, you workers of iniquity. I never knew you'" (Mt. 7:21–23, paraphrased). He said, "Don't depend on the miracles to assess your worthiness. Your worthiness isn't in the signs and wonders you witness in ministry. I do miracles because I love the people, and My name shall never be left without witness on earth." He said, "Have you not ever read that without holiness, no one will see God (Heb. 12:14)? It's not the miracles; it's the holiness that comes from God." He spoke to me the scripture in the book of Hebrews.

Here's the full length sermon he delivered at the International House of Prayer in Kansas City—possibly one of the most powerful sermons ever:
Do we need to confess our sins as Believers? Should we be sin conscious?
Yes and yes.
False-grace teachers would say that it's not necessary to confess sins because, if we do in fact sin, it has no eternal impact. There is no sin in us. God's grace has eradicated it without any action on our part.
Folks, let me be very, very clear: that is a heretical teaching that absolutely puts people at risk of Hell.
1 John 1:8-9 (ESV) 8 If we say we have no sin, we deceive ourselves, and the truth is not in us. 9 If we confess our sins, he is faithful and just to forgive us our sins and to cleanse us from all unrighteousness.
Life Application Bible notes:
Being God's people does not mean denying sin (1:8), but confessing it. Because all people are sinners, Jesus had to die. Because sin is not completely eradicated from the lives of those who believe in Jesus, God graciously gave his followers provision for the problem of sin.
It's not only critical, but it's wonderful to live in a state of continual repentance! God's love for us is so amazing, that running away from sin and to him is awe inspiring!
As we daily allow God to search our hearts and reveal issues that are barriers to his love fully impacting us, the freedom and resulting life is amazing!
I often hear people say that Christians shouldn't be sin conscious. Not only is that not biblical, it does us a disservice. Ignoring sin doesn't disarm it, it empowers it! Allow God to reveal the darkness and set us free!
2 Corinthians 7:1 (ESV) 1 Since we have these promises, beloved, let us cleanse ourselves from every defilement of body and spirit, bringing holiness to completion in the fear of God.
We must remain diligent regarding sin. As we grow in grace and knowledge we will have the strength to remain stable.
2 Peter 3:14 (ESV) 14 Therefore, beloved, since you are waiting for these, be diligent to be found by him without spot or blemish, and at peace.

2 Peter 3:17-18 (ESV) 17 You therefore, beloved, knowing this beforehand, take care that you are not carried away with the error of lawless people and lose your own stability. 18 But grow in the grace and knowledge of our Lord and Savior Jesus Christ. To him be the glory both now and to the day of eternity. Amen.
FIVE MARKS OF THE FALSE GRACE MESSAGE: A THEOLOGY OF EXEMPTION
I discuss this point in an article titled Five Marks of the False Grace Message:
Point One:

We believe in a theology of exemption.

A theology of exemption states that since we are saved, we are exempt from the penalties of sin. That there are parts of the Bible that no longer apply to us. Yes, it's a heresy. False-grace removes bible-based responsibilities to respond to God in holiness.

The number of people who subconsciously or unwittingly embrace a theology of exemption is far greater than those who explicitly pronounce their agreement with this doctrine. Many subscribe to false-grace doctrines without realizing their deception.

Many have been lulled into a false sense of security while actually existing in an unsaved state. They are confident they'd enter Heaven if they died, yet the reality is that they would not. They have come to believe they are exempt from certain parts of the Word of God that requires response.

1 Peter 1:15-17 (ESV) 15 but as he who called you is holy, you also be holy in all your conduct, 16 since it is written, "You shall be holy, for I am holy." 17 And if you call on him as Father who judges impartially according to each one's deeds, conduct yourselves with fear throughout the time of your exile,

Be holy. God judges according to one's deeds. Those who hold to a theology of exemption don't believe they are subject to what this verse is communicating. The command to be holy is to them a great goal, but not a mandate. A principle not a command.

Our name can actually be removed from the book of life—and that is determined by our obedience, our holiness. Sin can still separate a follower of Christ from him. The Rich Young Ruler saw that this was the case. He wanted to follow Jesus, but could not. He was not exempt from judgment even though he wanted to follow Jesus.

The argument of grace is actually quite revealing. People in the false-grace movement would say, "It's not possible to be holy, or to avoid sin, so thank God for his grace that covers those sins. In fact we are automatically holy… innocent by association!"

Grace isn't meant to cover up sin, grace is power! Those who walk in true grace would never say that we, as Christians, are predisposed to sin! True grace enables us to do the impossible! False-grace confesses that we cannot. Because of the cross and the resurrection of Jesus, we now have something they didn't have in the Old Covenant—we have the power to obey! We can do this!

In fact, not only aren't we exempt from obedience in the New Covenant, the call to obedience is even more humanly impossible than in the Old!

Matthew 5:21-22 (ESV) 21 "You have heard that it was said to those of old, 'You shall not murder; and whoever murders will be liable to judgment.' 22 But I say to you that everyone who is angry with his brother will be liable to judgment; whoever insults his brother will be liable to the council; and whoever says, 'You fool!' will be liable to the hell of fire.

We as Christians are not exempt from judgment or from the repercussions of sin. If we are in Christ, there is no condemnation, but if we are deceived by false theology into thinking we are in Christ, while actually living in disobedience, we are in trouble. We are not in Christ and there is condemnation. No salvation. The wrath of God remains on us. False-grace doctrine is eternally deadly. There are many people following Jesus today in an unsaved condition.

John 3:35-36 (ESV) 35 The Father loves the Son and has given all things into his hand. 36 Whoever believes in the Son has eternal life; whoever does not obey the Son shall not see life, but the wrath of God remains on him.

John 3:18-19 (KJV) 18 He that believeth on him is not condemned: but he that believeth not is condemned already, because he hath not believed in the name of the only begotten Son of God. 19 And this is the condemnation, that light is come into the world, and men loved darkness rather than light, because their deeds were evil.

Deeds. Fruit. Works. They are evidences of our position in Christ.

Yes, it's hard to get saved, hard to stay saved, but if we walk in humility and grace and in the Spirit, eternity with Jesus is our inheritance!
WHAT ABOUT GRACE?
I believe one of the most vile teachings the unbiblical grace message communicates is that we as Christians are hopeless—that we cannot find freedom from sin. It is presumed that we will continue in sin but we are exempt from judgment. What a fallacy that is! It is an offense to the cross to declare through our teachings that the sacrifice of our precious Lord is insufficient to keep us from sin.
True grace enables us to turn from temptation. Grace is power and we need a revelation of this power in the church like never before!
When we turn to God in repentance after falling, it's the mercy of God that keeps judgment from us. If we are truly in Christ, repentant and walking in obedience, God will always be there to help us through every addiction, habit, fear, inappropriate thought and attitude of the heart. His grace empowers us to win! The cross is that powerful!
I often hear Christians say, "Well, we sin every day…" What? If we sin every day we have a serious sin problem. This is a very dangerous place to be. If we continue in sin, there remains no sacrifice for that sin! We need the true grace of God to enable us to walk free from sin, not free in sin!
We must shout this message and pray for a reformation in the understanding of salvation. Christian Universalism is moving at great speed. A local well known minister has recently declared their church to be gay friendly, that the Bible in it's current form is not the accurate Word of God and that they believe that all will ultimately be saved. My God! This is a manifestation of a theological thread that is weaving into the fabric of mainstream Christianity.
This is exceedingly dangerous. Will you help sound the alarm? We must slow the flow to Hell and our mission begins in the church.
For it is time for judgment to begin at the household of God; and if it begins with us, what will be the outcome for those who do not obey the gospel of God? And "If the righteous is scarcely saved, what will become of the ungodly and the sinner?" 1 Peter 4:17-18
Salvation is not easy to receive or continue in, contrary to popular teachings—but for those who are truly saved, we have a glorious eternity with the lover of our souls ahead of us!
I wrestle with the severity of salvation daily, and while I do fail at times, I do not have a pattern of sin in my life—not because of my ability, but because of God's. This must be the testimony of all, and from that place we can live in never-ending joy, freedom and abundant life!
Those who heard it said, "Then who can be saved?" But he said, "What is impossible with man is possible with God." And Peter said, "See, we have left our homes and followed you." And he said to them, "Truly, I say to you, there is no one who has left house or wife or brothers or parents or children, for the sake of the kingdom of God, who will not receive many times more in this time, and in the age to come eternal life." Luke 18:26-30
I'm going to Hell? That's impossible!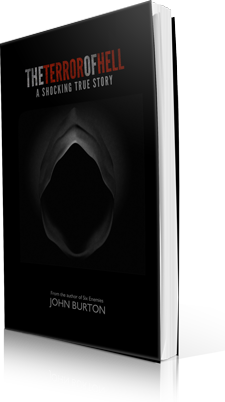 From my book The Terror of Hell:
How could I be going to Hell? What I was experiencing messed with my theology to a radically uncomfortable degree. The Holy Spirit was making sure I would never be the same again. Mission accomplished.
I count the early 1990's as the most significant season of my life to date. God had invaded my life. (Do you feel the weight of that reality? The burning, raging Creator thrust himself into this mere mortal!)
The Holy Spirit took me beyond a mere understanding of my need for a savior and a simple acceptance of Jesus as that savior to a place of breath-taking experience in his extreme, fearful and surprisingly vivid invisible realm. The sudden all-consuming desire of my heart was to be intimately joined with the Lover of my soul every moment of my life. I was craving and experiencing a legitimate, reportable and constant weighty manifestation of the presence of God in my life. I was burning! The desire and the cry of my heart was, "More!"
In those early years, as I was diving into the increasingly deeper realms of life in God, many things happened that I'll never forget–but one event shook me like no other before or since.
I had a Dream
The night I had this uninvited invasion of both God and Hell into my sleep, I was living in an old, vacant church building as the care taker. The dramatic scene was what you would imagine–the church was a relatively ancient stone structure. I would regularly encounter God as I walked through the now empty corridors, hidden rooms, sanctuary and other mysterious places throughout that relic. The countless hours praying in this vacant building resulted in forming me as a young burning man in some very memorable ways.
One destined evening I prepared for bed as I did every other night. Nothing seemed out of the ordinary. I prayed myself to sleep in the weighty and wonderful presence of the Holy Spirit as I had done so many times before.
What was about to happen as I slipped into sleep that fateful night would result in a tremble that is with me to this day–twenty years later as I am revising this book. I was invited into an other-worldly encounter that I had no freedom to turn down.
Because of the unimaginable panic and terror I experienced that night, I would often pray as I went to sleep, "God, please don't give me any dreams tonight." I prayed that way for thirteen years.
Thirteen years! God eventually spoke clearly to me, after thirteen years of receiving many visions, but no dreams of God, "John, I need you to stop praying that prayer. I have things to reveal to you. I need to talk to you. I have dreams for you to dream." I relented and have since craved dreams, angelic visitations and other forms of communication from the heavenly realm.
During this night of terror I fell asleep in the old, empty church building and found myself dreaming.
In my dream I was laying on my stomach in a one room building. It was very comfortable inside, though there was nothing in the room. It was empty. I rested on the carpet and looked out of the two windows, one in front of me and one to my right. The overwhelming feeling that I had was one of comfort and relaxation. I had no concerns and no thoughts beyond enjoying the atmosphere I was in. This feeling is what drove my entire experience. Obviously nothing could be wrong if I was feeling so good, right?
Through the windows I could see a peaceful, lazy and bright sunny day unfolding. It was beautiful! The trees were blowing in a gentle breeze. The birds were chirping and flying from tree to tree. What a brilliant Creator we have! Everything was so refreshing and alive! I couldn't have asked for a better afternoon.
Then, suddenly, I experienced a changing of the scene. Like time lapse photography, as I was in the same position on the floor looking out the window, I watched the atmosphere suddenly change. There was an immediate and progressive shift. The clouds were ever so slightly darkening and increasing in coverage in the sky. The gentle breeze picked up velocity and the brilliant brightness started to go in and out as periodic shadows covered the area while the sun hid beyond the advancing clouds. It seemed as if some rain may be moving in. I rested there, stretched out on my belly with my head in my hands as I watched it unfold. I remained immersed in my own comfort. I was taking deep breaths and enjoying every moment of my day.
Time lapsed again and I saw the sky completely covered in clouds–clouds much darker than just a few moments ago. I could now smell the fresh and unmistakable scent of the coming rain.
Matthew 24:36-39 "But of that day and hour no one knows, not even the angels of heaven, but My Father only. But as the days of Noah were, so also will the coming of the Son of Man be. or as in the days before the flood, they were eating and drinking, marrying and giving in marriage, until the day that Noah entered the ark, nd did not know until the flood came and took them all away, so also will the coming of the Son of Man be.
The birds were taking cover as the wind picked up significantly. In the distance I saw several lightning strikes. It sure seemed as if this could be quite a storm. How was it that I was feeling no concern, no urgency to prepare as I enjoyed my personal, careless experience in that small, one room shack? I stretched out and relaxed even more. The greater the threat, the greater the "peace." What a wonderful day I was having.
Again, for the third time, I watched the scene in front of me change suddenly. Now, it was fully obvious the storm would most definitely hit–and soon. The wind was intense and large, ominous drops of rain started to hit the windows. Violent and arrogant lightning that seemed to have a personality all its own struck less than 300 yards away. The thumps of hail hitting the roof started and quickly increased in force. It was time for concern. The threat of danger was increasing by the second, but I didn't feel any urgency or need to respond. I remained prostrate on the ground, refreshed and at ease, just as I did when it was a beautiful sunny day. I was enjoying the perceived safety of my environment. I was feeling so good.
Once again, time lapsed and I found myself in the center of a churning, dreadful force that seemed powerful enough to split the Earth in two. The storm of the century was upon me. The massive trees were nearly snapping in two as they bent over parallel to the ground. The hail was massive in size and was slamming every surface around me. The windows were buckling in and out as the incredible pressure of the storm weighed on them. The lightning that burned hotter than the surface of the sun was literally striking mere feet from the shack. The walls were shaking. You can imagine what I was experiencing in that terrible and fearful moment. You guessed it: beautiful peace, safety and comfort. It truly was a wonderful day, until…
In a fraction of a moment my overwhelming sense of peace and safety and relaxation turned to the most gripping terror I had ever known. It was as if every source of life and good had been eliminated from the atmosphere. Evil dominated the place that just moments ago was so enjoyable.
My mind raced in an attempt to figure out what had just happened. The fear I was experiencing was beyond description. It made no sense. What was going on? Everything was so perfect! Today was supposed to be about enjoying life!
Suddenly, as I was confused, horrified and trembling on the floor, two hands grabbed my ankles. My terror instantly escalated to levels I cannot describe. I quickly looked back and saw nothing–but I knew a demonic entity had grabbed on to me.
The grip on my ankles was like a vice. The thought of escaping was a ridiculous one. It was impossible. My life, which seemingly just moments ago had been under my own control, was now overpowered by an invisible yet horrifying force. A force that I knew had intents–and the ability–to destroy me.
Again, the terror immediately increased nearly to the point of literally losing control of my mind as that demon started to pull me backwards–and then down. My feet and legs were disappearing below the floor of that shack. I knew I was going to Hell.
How can this be? It's impossible! I'm going to Hell? But, I'm saved. I accepted Jesus as my Lord and Savior. This is contrary to everything I have ever learned in church. Yet, the moment was real, and I was losing every ounce of hope. I was about to enter an eternity of continual torture. Never ending panic, madness and torment was upon me.
The demon kept slowly pulling me downward, as if he was relishing every single moment. My feet were well below the floor and my waist was at ground level. Then, suddenly my hope increased. I thought to myself, "If I say the name of Jesus, the demon must flee!"
So, in my new state of hope I was able to squeeze out, "In the name of J—–. In the name of J—–. Ahhhhh!"
I couldn't say it! The demon was controlling my very breath. I was suffocating every time that name was about to be said. I could have said any word in the dictionary–but that one. My hope instantly was lost and I started to cry out as I convulsed under the unbreakable control of that demon.
He continued to pull me down, one grueling inch at a time. Finally, my neck and then my mouth were entering Hell as my body was taken below. At the height of my madness and terror, and as my eyes were about to descend beneath the floor, I woke up.
I sat straight up, trembling in my bed in that old church building. I was sweating in such volume that my entire bed was saturated. The light switch by my bedroom door was no more than seven feet from my bed. Just two quick steps to the wall would have been all it took to lighten the room. But I was frozen. I sat there for at least three hours in the darkness in absolute terror.
What Just Happened?
I finally fell back to sleep and awoke the next morning. I didn't realize how radically my life had taken a turn the previous night. As I tried to gather my thoughts while the events of the previous night overwhelmed my spirit and my mind, I looked outside the two windows that were there in my bedroom in that old church building. It was a beautiful sunny day–but I did not feel comfortable or relaxed. I was shaken.
I begged God to tell me why I had that dream. What had just happened? Finally, later on that day, He spoke to me, "John, you represented the church. You were comfortable in your place of supposed safety. The storm was intensifying yet you were lulled into a state of apathy. Many in the church will be surprised one day, just as you were surprised in the dream, to find themselves under the control of demons as they are taken to Hell."
Proverbs 14:11-14 The house of the wicked will be overthrown, But the tent of the upright will flourish. There is a way that seems right to a man, But its end is the way of death. Even in laughter the heart may sorrow, And the end of mirth may be grief. The backslider in heart will be filled with his own ways, But a good man will be satisfied from above.
There is a way that seems right. Intellectually it makes sense. Other people seem to confirm that it is right. Common sense tells us that it is right. Even our theological dispositions confirm it is right. But, it leads to death. And, if it's the type of death I experienced in my dream–it must be avoided at all costs.
A backslider is focused on his own condition, on his own comfort zone while a good man is in tune with the heart of God. His pleasure comes from intimacy with Father God. His pleasure comes from going where God is going, doing what he is doing and feeling what he is feeling. There is no sense of ease in the storm, but there is satisfaction and joy in the presence of God and by being in active agreement with him.
This message is a wake-up call for every one of us. Many wonderful people will be terribly shocked to find themselves separated from God forever.
Matthew 7:21-23 "Not everyone who says to Me, 'Lord, Lord,' shall enter the kingdom of heaven, but he who does the will of My Father in heaven. "Many will say to Me in that day, 'Lord, Lord, have we not prophesied in Your name, cast out demons in Your name, and done many wonders in Your name?' "And then I will declare to them, 'I never knew you; depart from Me, you who practice lawlessness!'
This scripture is in reference to those who would call themselves Born Again Christians. People who have understood and actually flowed in the power of the Holy Spirit. They understood their heavenly position and earthly authority as they overcame demons. These were your miracle workers.
Two Critical Keys to Salvation
Knowing Jesus–To be received by Jesus we must know Jesus. We must be hungry and intimate. We must ask, seek and knock. The pursuit of great intimacy with our Bridegroom has to be intense and continual. It's not about our position, it's about our love. It's about our obedience and union with God in love, in life and in mission.
Lawlessness–This issue is addressed further in my book, Covens In The Church. In my dream, I represented a lawless church, or a lawless person. Someone who maintained control of my own experience. I was focused on what satisfied, on what comforted. I was not alert to the storm or surrendered to a place of radical participation in the moment.
Again, many people will be devastated to find themselves in Hell one day. Many church-goers. Many who prophesy, many who smile when they see their friends, many who live a good life. Why is this? They refuse to pursue intimacy with God as they focus mostly on maintaining control of their own experience on the Earth.
The call to intimacy is one of the most precious rewards for those who follow Jesus! Who could ever reject such an opportunity?
Hebrews 11:6 But without faith it is impossible to please Him, for he who comes to God must believe that He is, and that He is a rewarder of those who diligently seek Him.
The reward is intimacy with God! It's the all-consuming fire engulfing us as we tremble in his presence! What a God we serve! His goal for us, and our life focus must be this–to be with him continually as he hovers over us and adores us as a Lover.
However, this simple yet overpowering reality is so often avoided by people who are seeking comfort and control of their personal situations.
Might I offer some sobering news to you? If our primary reason to follow Jesus is to avoid Hell and to go to Heaven one day, we are operating in the same self-centered, controlling attitude that resulted in my journey to Hell. Salvation for the sake of personal satisfaction is not salvation at all.
Zechariah 7:5-6 "Say to all the people of the land, and to the priests: 'When you fasted and mourned in the fifth and seventh months during those seventy years, did you really fast for Me–for Me? When you eat and when you drink, do you not eat and drink for yourselves?
The Sinner's Prayer
The sinner's prayer is one of the most misused evangelism techniques in the church today. This misuse has had devastating results.
Listen to me closely: The sinner's prayer has become a ticket to Hell for countless people. To ever present someone with a guarantee of Heaven if they simply say a prayer is irresponsible. How many people have you met that believe they are going to Heaven because they repeated a prayer at an earlier point in their lives? How many of these people have become deeply intimate with their Lover?
Let's dispel something right now–salvation is not primarily about making it to Heaven. It's identifying with the Lover of our souls, the Alpha and the Omega, the Healer, the Deliverer, and coming to a place of agreement. A place of complete surrender. An intimate encounter with God will result in adoration and desire for him alone.
It's saying, "Yes, I agree that you are God, that you love me, that there is nothing bad in you. You are perfect. You actually died for me. I deserve nothing, and regardless of my eternal destiny I will choose to love and serve you every moment of my life." All I want on this planet is to spend every moment of my life in passionate union with my Lord and Master and wonderful friend.
Salvation is falling so deeply in love with Jesus that we'll gladly sacrifice everything to spend just a moment with him. God is so great that he lovingly extends this moment with him into an eternity. It's all about being with God. This is salvation.
I have a difficult question for you. I admit it is an imperfect question as it leaves many theological truths hanging in the balance. It's a question that will never have to be answered, but it does make the idea of salvation for all of us crystal clear.
If Heaven was never guaranteed for you, would you still crave and love Jesus so much that you would give up everything you have on the Earth just to spend the next 30-60 years with him in wonderful intimacy?
Of course, when Jesus finds his lovers on the Earth, those who have an intense yearning in the depths of their hearts to be with Him, he simply can't wait to spend eternity with them! That's what the cross was all about! It wasn't a ticket to Heaven or immunity from Hell. It was a model of perfect love in an imperfect and hateful world. That's why he is calling us to carry our cross–it's the evidence of our love and desire for our Bridegroom.
The Rich Young Ruler
Consider a great and critical bible story about a Rich Young Ruler that we all know very well:

Very interestingly this story comes right after Jesus was talking to his disciples about allowing innocent, loving children to come to him. He said,
"Let the little children come to Me, and do not forbid them; for of such is the kingdom of heaven."
Why is this? They just wanted Jesus! They wanted to crawl up in his lap! They wanted to embrace him! Now, let's look at the Rich Young Ruler.
Matthew 19:16-22 Now behold, one came and said to Him, "Good Teacher, what good thing shall I do that I may have eternal life?" So He said to him, "Why do you call Me good? No one is good but One, that is, God. But if you want to enter into life, keep the commandments." He said to Him, "Which ones?" Jesus said, " 'You shall not murder,' 'You shall not commit adultery,' 'You shall not steal,' 'You shall not bear false witness,' 'Honor your father and your mother,' and, 'You shall love your neighbor as yourself.' " The young man said to Him, "All these things I have kept from my youth. What do I still lack?" Jesus said to him, "If you want to be perfect, go, sell what you have and give to the poor, and you will have treasure in heaven; and come, follow Me." But when the young man heard that saying, he went away sorrowful, for he had great possessions.
Now, consider how this story goes. Someone decides he wants to follow Jesus, yet on his own terms. This person could easily be found going to a vibrant church every Sunday, repeating a sinner's prayer, lifting his hands in worship, leading a small group, witnessing on the streets and owning several bibles.
Remember, the Rich Young Ruler made the choice to follow Jesus. Most any pastor or evangelist would quickly rejoice and lead this man in a prayer. He would fill out a card and would be directed on how to connect in the church.
This scenario plays out day after day after day around the world. Yet, in this story Jesus did not offer a sinner's prayer, a card to fill out or membership in the church. Jesus knew he didn't have this man's heart, and made that reality clear.
This man was what we would call a good man. He kept the commandments.
However, Jesus was after something all together different from him. Jesus will always search the hearts of those who wish to follow him. In the end of this sad story, Jesus literally communicated to this man who wanted to be a follower of Jesus that he may not follow! Incredible!
I heard a story of a great revivalist who was preaching in the first night of a week long revival. The anointing was so strong that a man rushed up to the altar to get saved right in the middle of this preacher's message. He wanted to get saved!
The revivalist rebuked him publicly and commanded him to return to his seat.
"You, sir, are not ready to get saved. I have yet to reveal what it will cost you. Come back each night and I will let you know when it is time to respond to the call of Jesus."
Wow! Where is this type of gutsy presentation of the costly Gospel today?
I often hear of salvation as a free gift. I completely understand the point that people who use that phrase are trying to get across, but I believe it can have damaging impact to those who are responding to it when it's repeated without explanation. The reality is that salvation is very costly to every one who receives it.
The point is that we did not have the ability to get saved on our own. We were not able to control the situation and do anything in ourselves to get saved. Jesus loved us so much that he did it all. He did what we could not do and extended his free gift.
Romans 6:22-23 But now having been set free from sin, and having become slaves of God, you have your fruit to holiness, and the end, everlasting life. For the wages of sin is death, but the gift of God is eternal life in Christ Jesus our Lord.
The free gift of eternal life must be responded to. We become servants and friends of the Most High God. If Jesus' death on the cross was all that was required for salvation, then every person on the earth would be saved. The cost of our own surrender is high and cannot be overlooked. Every one of Jesus' disciples, except John, were martyred, for example. High cost, yet worth it all.
To extend the point, if a sinner's prayer, or a decision to accept Jesus as our Lord and Savior was all that it took, much of what is revealed in scripture would have to be overlooked.
Remember, salvation is all about intimacy with our Bridegroom and not simply a ticket to Heaven. Many who acknowledge the free gift of Jesus' death on the cross, and his resurrection from the dead, and who repeat a prayer and make a decision to follow Jesus will end up eternally separated from God.
The story of the Rich Young Ruler demonstrates this.
Jesus will say to many, "Depart from me, I never knew you."
The attitude of the Rich Young Ruler is that of personal gain. I'm sure he wanted his sins washed away. The problem is this: Jesus didn't come to relieve us of our guilt. He came to free us of bondage to sin. Presumed freedom from guilt and the penalty of sin can easily result in a passionless connection with Christ, and in a casual response to the call of holiness and intimacy. Jesus didn't come so we could sin without guilt, he came to reveal himself as more satisfying and powerful than sin!
When we are intimate with Jesus, embracing his emotions, his personality, his passion, we will buy into a life of fiery devotion. It won't be possible to relax in the midst of the storm! We won't desire sinful pleasures! It's not about freedom from guilt, it's about freedom from bondage that leads to death!
For the sake of clarity on this very important subject, allow me to qualify briefly the point that is being made. The argument is that salvation is a very serious issue, and that a casual desire to go to Heaven and to take the name of Jesus is dangerous. The qualification is this–God is in charge of who goes to Heaven, and his heart cries out for all to be saved.
2 Peter 3:9 The Lord is not slack concerning His promise, as some count slackness, but is longsuffering toward us, not willing that any should perish but that all should come to repentance.
He is longsuffering and deeply desires for people to be saved.
We don't try to pay for or work for our salvation in lieu of full-blown surrender of our lives. Rather, fruit born in intimacy with God is the expected result of true salvation. Evidences.
With that in mind, scripture does make it clear that some who haven't stepped into deep intimacy with Jesus will most definitely make it to Heaven. The thief on the cross is probably the best example.
While the Word tells us that those in the church who are lukewarm will be rejected by God, there is apparently a type of person who will live a substandard Christian life who will make it to Heaven.
1 Corinthians 3:14-17 If anyone's work which he has built on it endures, he will receive a reward. If anyone's work is burned, he will suffer loss; but he himself will be saved, yet so as through fire. Do you not know that you are the temple of God and that the Spirit of God dwells in you? If anyone defiles the temple of God, God will destroy him. For the temple of God is holy, which temple you are.
This scripture reveals a very narrow exception for people whose fruit is proven to be lacking and unacceptable. This person will be saved–but barely. Can you imagine being in that terrifying position of waiting for God's judgment to land on a life that was barely connected with him? Additionally, why would anybody want to live outside of God's intimate presence? Why choose this low, risky level? What's to gain?
The scripture goes on to clarify the serious nature of eternal life. It's not a simple matter, nor a light matter. If we destroy God's temple, we will be destroyed. If we reveal inappropriate fruit, we may still be saved. But, if our work endures, and our temple is pure, salvation is a guarantee.
We can be confident in our eternal position, though I often find myself crying out to God something like, "Father, my heart longs for intimacy with you. I know I fail so often. I know I choose comfort over you at times. Please, Lord, help me ensure that you and I remain intimate. We remain in love. I don't take your relationship or your salvation lightly. I know it's possible to lose that relationship and that salvation. Help me surrender all, take up my cross and excitedly follow you. I love you."
Note that in that prayer I don't reveal my fear of missing Heaven. My fear is losing intimacy with Jesus. Of course, I don't want to go to Hell and I don't want to miss Heaven–but that's not my motivation. Our focus must be on the wonderful relationship with Jesus that we will either enjoy or lose sight of in our day-to-day experience on this planet.
The churches in the book of Revelation reveal great truths in regard to the serious nature of salvation. God was not pleased with all of their works. In fact, in Revelation chapter 3 we see it revealed that names can be removed from the Book of Life.
Revelation 3:5 "He who overcomes shall be clothed in white garments, and I will not blot out his name from the Book of Life; but I will confess his name before My Father and before His angels.
If we overcome, our name is securely kept in the Book of Life. If we do not overcome, our name which was written in that Book at the time of our salvation will be blotted out.
Salvation is serious stuff.
Wonderful Surrender
I'll share another experience that, I strongly believe, was critical in securing my relationship with Jesus. I believe a negative response to what the Lord was speaking to me would have put my eternal position at jeopardy. Would I have lost my salvation? I don't know and I don't want to play with that fire.
In the season of life where this experience took place, I knew that once saved, everything changed. A great barometer of salvation is to ask whether everything in our lives was open for change or not. I agreed that once I surrendered my life, God would begin to change me and require much from me.
2 Corinthians 5:17 Therefore, if anyone is in Christ, he is a new creation; old things have passed away; behold, all things have become new.
Additionally, I understood that simply acknowledging that Jesus was God, or even agreeing that he was the only way to the Father wasn't sufficient to guarantee salvation. I had to surrender all.
Acts 10:43 "To Him all the prophets witness that, through His name, whoever believes in Him will receive remission of sins."
This scripture does not indicate that all we have to do is have some belief that Jesus existed, and that he died and rose from the dead. Even the devil knows that! The word believes literally means, to be committed to, or to commit oneself to. It's an all out surrender to the Living God.
Now, allow me to share with you the life-changing experience with God that radically changed my understanding of what it was to follow Jesus.
This event occurred shortly after I had the terrifying dream in the old church building. God was wildly challenging me and drawing me closer to him. I was in my early twenty's at the time. Our church, along with several others in the area participated in a lock-in at a local YMCA. There were a few hundred people there enjoying everything from wallyball to basketball to ping-pong.
They had also set up a prayer room in one part of the building. As a young man who was getting blasted by the Holy Spirit with amazing regularity I presumed the room would be full of hungry young men and women of God. Sadly, I was wrong, though the nearly empty room provided me quite an atmosphere to pray in.
In many ways, that room was similar to the one in my dream. I was looking out of the windows over the city as I spent some time with the Lord. However, unlike the dream, I was passionately enjoying God with intensity. The atmosphere was full of the presence of the Holy Spirit and, to date, it was literally one of the most powerful God moments of my life. I was so full of life that I found myself pacing around with lifted hands and a fire in my belly for quite a long, wonderful time.
All of a sudden, I heard something in my spirit.
"John, I want you to give me permission to take your life."
Huh? Where in the world did that thought come from? What an unwelcome interruption it was! I shook it off and moved back into prayer and worship. But, something was wrong. The warm and consuming presence of God had left the room. I didn't realize it then, but God's presence didn't leave the room–it had simply changed. God was honoring me with a serious call to follow Him.
I tried for the next fifteen minutes to enter back into prayer, but I felt entirely alone. No unction, no flow, no passion.
I kept hearing the words, "John, will you let me take your life?"
I finally realized that the warmth of God's presence had transitioned into the challenge of God's purposes. He was testing me. Was I really ready to take up my cross? Was I really in it for Jesus? Or, was I into this Christian life mostly for what I could get out of it? You see, this crossroads question from the most Holy One would result in ensuring my destiny–either in one direction or in the other. And, it wouldn't make any difference if I kept paying tithes, going to church and lifting my hands in worship if I chose the road toward personal satisfaction that fateful night.
The Holy pressure in that dark prayer room was extreme. I honestly thought, beyond any doubt, that the decision I was about to make to my Lord would result in my physical death that very night. The call was that urgent. But, I immediately realized I couldn't stand to live the rest of my life outside of the warmth of the tangible presence of Jesus that I felt as I first entered that room.
"God, if it will result in warming your heart, and in advancing your Kingdom on the Earth, you can take my life. I love you and you are teaching me more about love in this moment than in my previous two decades. I trust you."
The split second I communicated that in my heart, the fire of the Holy Spirit rushed in with power. It was better than any previous experience with God I had ever had. Far better. I was consumed by his love. I was surrendered to him unlike anytime in my life. I was his.
Song of Songs 1:2-4 THE SHULAMITE Let him kiss me with the kisses of his mouth– For your love is better than wine. Because of the fragrance of your good ointments, Your name is ointment poured forth; Therefore the virgins love you. Draw me away! THE DAUGHTERS OF JERUSALEM We will run after you. THE SHULAMITE The king has brought me into his chambers. THE DAUGHTERS OF JERUSALEM We will be glad and rejoice in you. We will remember your love more than wine.
To this day I don't know if God will suddenly take my life–and while I wish to live for a long time on earth, I am longing to live for eternity with my Lover.
Calls from the heart of God like this one come to me from time to time. How serious am I? Am I in it for the benefits? Do I live my life for what I can get out of it? Or, am I a walking dead man? The positive response to the call of God is an indicator of the intimate love that we have for our Lover. It is a fruit of our salvation.