Posts Tagged 'Christians in hell'
I'm going to Hell? That's impossible!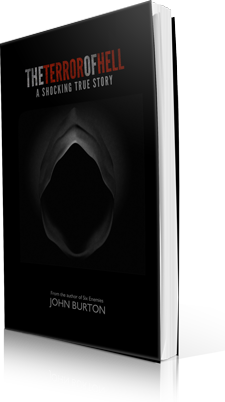 From my book The Terror of Hell:
How could I be going to Hell? What I was experiencing messed with my theology to a radically uncomfortable degree. The Holy Spirit was making sure I would never be the same again. Mission accomplished.
I count the early 1990's as the most significant season of my life to date. God had invaded my life. (Do you feel the weight of that reality? The burning, raging Creator thrust himself into this mere mortal!)
The Holy Spirit took me beyond a mere understanding of my need for a savior and a simple acceptance of Jesus as that savior to a place of breath-taking experience in his extreme, fearful and surprisingly vivid invisible realm. The sudden all-consuming desire of my heart was to be intimately joined with the Lover of my soul every moment of my life. I was craving and experiencing a legitimate, reportable and constant weighty manifestation of the presence of God in my life. I was burning! The desire and the cry of my heart was, "More!"
In those early years, as I was diving into the increasingly deeper realms of life in God, many things happened that I'll never forget–but one event shook me like no other before or since.
I had a Dream
The night I had this uninvited invasion of both God and Hell into my sleep, I was living in an old, vacant church building as the care taker. The dramatic scene was what you would imagine–the church was a relatively ancient stone structure. I would regularly encounter God as I walked through the now empty corridors, hidden rooms, sanctuary and other mysterious places throughout that relic. The countless hours praying in this vacant building resulted in forming me as a young burning man in some very memorable ways.
One destined evening I prepared for bed as I did every other night. Nothing seemed out of the ordinary. I prayed myself to sleep in the weighty and wonderful presence of the Holy Spirit as I had done so many times before.
What was about to happen as I slipped into sleep that fateful night would result in a tremble that is with me to this day–twenty years later as I am revising this book. I was invited into an other-worldly encounter that I had no freedom to turn down.
Because of the unimaginable panic and terror I experienced that night, I would often pray as I went to sleep, "God, please don't give me any dreams tonight." I prayed that way for thirteen years.
Thirteen years! God eventually spoke clearly to me, after thirteen years of receiving many visions, but no dreams of God, "John, I need you to stop praying that prayer. I have things to reveal to you. I need to talk to you. I have dreams for you to dream." I relented and have since craved dreams, angelic visitations and other forms of communication from the heavenly realm.
During this night of terror I fell asleep in the old, empty church building and found myself dreaming.
In my dream I was laying on my stomach in a one room building. It was very comfortable inside, though there was nothing in the room. It was empty. I rested on the carpet and looked out of the two windows, one in front of me and one to my right. The overwhelming feeling that I had was one of comfort and relaxation. I had no concerns and no thoughts beyond enjoying the atmosphere I was in. This feeling is what drove my entire experience. Obviously nothing could be wrong if I was feeling so good, right?
Through the windows I could see a peaceful, lazy and bright sunny day unfolding. It was beautiful! The trees were blowing in a gentle breeze. The birds were chirping and flying from tree to tree. What a brilliant Creator we have! Everything was so refreshing and alive! I couldn't have asked for a better afternoon.
Then, suddenly, I experienced a changing of the scene. Like time lapse photography, as I was in the same position on the floor looking out the window, I watched the atmosphere suddenly change. There was an immediate and progressive shift. The clouds were ever so slightly darkening and increasing in coverage in the sky. The gentle breeze picked up velocity and the brilliant brightness started to go in and out as periodic shadows covered the area while the sun hid beyond the advancing clouds. It seemed as if some rain may be moving in. I rested there, stretched out on my belly with my head in my hands as I watched it unfold. I remained immersed in my own comfort. I was taking deep breaths and enjoying every moment of my day.
Time lapsed again and I saw the sky completely covered in clouds–clouds much darker than just a few moments ago. I could now smell the fresh and unmistakable scent of the coming rain.
Matthew 24:36-39 "But of that day and hour no one knows, not even the angels of heaven, but My Father only. But as the days of Noah were, so also will the coming of the Son of Man be. or as in the days before the flood, they were eating and drinking, marrying and giving in marriage, until the day that Noah entered the ark, nd did not know until the flood came and took them all away, so also will the coming of the Son of Man be.
The birds were taking cover as the wind picked up significantly. In the distance I saw several lightning strikes. It sure seemed as if this could be quite a storm. How was it that I was feeling no concern, no urgency to prepare as I enjoyed my personal, careless experience in that small, one room shack? I stretched out and relaxed even more. The greater the threat, the greater the "peace." What a wonderful day I was having.
Again, for the third time, I watched the scene in front of me change suddenly. Now, it was fully obvious the storm would most definitely hit–and soon. The wind was intense and large, ominous drops of rain started to hit the windows. Violent and arrogant lightning that seemed to have a personality all its own struck less than 300 yards away. The thumps of hail hitting the roof started and quickly increased in force. It was time for concern. The threat of danger was increasing by the second, but I didn't feel any urgency or need to respond. I remained prostrate on the ground, refreshed and at ease, just as I did when it was a beautiful sunny day. I was enjoying the perceived safety of my environment. I was feeling so good.
Once again, time lapsed and I found myself in the center of a churning, dreadful force that seemed powerful enough to split the Earth in two. The storm of the century was upon me. The massive trees were nearly snapping in two as they bent over parallel to the ground. The hail was massive in size and was slamming every surface around me. The windows were buckling in and out as the incredible pressure of the storm weighed on them. The lightning that burned hotter than the surface of the sun was literally striking mere feet from the shack. The walls were shaking. You can imagine what I was experiencing in that terrible and fearful moment. You guessed it: beautiful peace, safety and comfort. It truly was a wonderful day, until…
In a fraction of a moment my overwhelming sense of peace and safety and relaxation turned to the most gripping terror I had ever known. It was as if every source of life and good had been eliminated from the atmosphere. Evil dominated the place that just moments ago was so enjoyable.
My mind raced in an attempt to figure out what had just happened. The fear I was experiencing was beyond description. It made no sense. What was going on? Everything was so perfect! Today was supposed to be about enjoying life!
Suddenly, as I was confused, horrified and trembling on the floor, two hands grabbed my ankles. My terror instantly escalated to levels I cannot describe. I quickly looked back and saw nothing–but I knew a demonic entity had grabbed on to me.
The grip on my ankles was like a vice. The thought of escaping was a ridiculous one. It was impossible. My life, which seemingly just moments ago had been under my own control, was now overpowered by an invisible yet horrifying force. A force that I knew had intents–and the ability–to destroy me.
Again, the terror immediately increased nearly to the point of literally losing control of my mind as that demon started to pull me backwards–and then down. My feet and legs were disappearing below the floor of that shack. I knew I was going to Hell.
How can this be? It's impossible! I'm going to Hell? But, I'm saved. I accepted Jesus as my Lord and Savior. This is contrary to everything I have ever learned in church. Yet, the moment was real, and I was losing every ounce of hope. I was about to enter an eternity of continual torture. Never ending panic, madness and torment was upon me.
The demon kept slowly pulling me downward, as if he was relishing every single moment. My feet were well below the floor and my waist was at ground level. Then, suddenly my hope increased. I thought to myself, "If I say the name of Jesus, the demon must flee!"
So, in my new state of hope I was able to squeeze out, "In the name of J—–. In the name of J—–. Ahhhhh!"
I couldn't say it! The demon was controlling my very breath. I was suffocating every time that name was about to be said. I could have said any word in the dictionary–but that one. My hope instantly was lost and I started to cry out as I convulsed under the unbreakable control of that demon.
He continued to pull me down, one grueling inch at a time. Finally, my neck and then my mouth were entering Hell as my body was taken below. At the height of my madness and terror, and as my eyes were about to descend beneath the floor, I woke up.
I sat straight up, trembling in my bed in that old church building. I was sweating in such volume that my entire bed was saturated. The light switch by my bedroom door was no more than seven feet from my bed. Just two quick steps to the wall would have been all it took to lighten the room. But I was frozen. I sat there for at least three hours in the darkness in absolute terror.
What Just Happened?
I finally fell back to sleep and awoke the next morning. I didn't realize how radically my life had taken a turn the previous night. As I tried to gather my thoughts while the events of the previous night overwhelmed my spirit and my mind, I looked outside the two windows that were there in my bedroom in that old church building. It was a beautiful sunny day–but I did not feel comfortable or relaxed. I was shaken.
I begged God to tell me why I had that dream. What had just happened? Finally, later on that day, He spoke to me, "John, you represented the church. You were comfortable in your place of supposed safety. The storm was intensifying yet you were lulled into a state of apathy. Many in the church will be surprised one day, just as you were surprised in the dream, to find themselves under the control of demons as they are taken to Hell."
Proverbs 14:11-14 The house of the wicked will be overthrown, But the tent of the upright will flourish. There is a way that seems right to a man, But its end is the way of death. Even in laughter the heart may sorrow, And the end of mirth may be grief. The backslider in heart will be filled with his own ways, But a good man will be satisfied from above.
There is a way that seems right. Intellectually it makes sense. Other people seem to confirm that it is right. Common sense tells us that it is right. Even our theological dispositions confirm it is right. But, it leads to death. And, if it's the type of death I experienced in my dream–it must be avoided at all costs.
A backslider is focused on his own condition, on his own comfort zone while a good man is in tune with the heart of God. His pleasure comes from intimacy with Father God. His pleasure comes from going where God is going, doing what he is doing and feeling what he is feeling. There is no sense of ease in the storm, but there is satisfaction and joy in the presence of God and by being in active agreement with him.
This message is a wake-up call for every one of us. Many wonderful people will be terribly shocked to find themselves separated from God forever.
Matthew 7:21-23 "Not everyone who says to Me, 'Lord, Lord,' shall enter the kingdom of heaven, but he who does the will of My Father in heaven. "Many will say to Me in that day, 'Lord, Lord, have we not prophesied in Your name, cast out demons in Your name, and done many wonders in Your name?' "And then I will declare to them, 'I never knew you; depart from Me, you who practice lawlessness!'
This scripture is in reference to those who would call themselves Born Again Christians. People who have understood and actually flowed in the power of the Holy Spirit. They understood their heavenly position and earthly authority as they overcame demons. These were your miracle workers.
Two Critical Keys to Salvation
Knowing Jesus–To be received by Jesus we must know Jesus. We must be hungry and intimate. We must ask, seek and knock. The pursuit of great intimacy with our Bridegroom has to be intense and continual. It's not about our position, it's about our love. It's about our obedience and union with God in love, in life and in mission.
Lawlessness–This issue is addressed further in my book, Covens In The Church. In my dream, I represented a lawless church, or a lawless person. Someone who maintained control of my own experience. I was focused on what satisfied, on what comforted. I was not alert to the storm or surrendered to a place of radical participation in the moment.
Again, many people will be devastated to find themselves in Hell one day. Many church-goers. Many who prophesy, many who smile when they see their friends, many who live a good life. Why is this? They refuse to pursue intimacy with God as they focus mostly on maintaining control of their own experience on the Earth.
The call to intimacy is one of the most precious rewards for those who follow Jesus! Who could ever reject such an opportunity?
Hebrews 11:6 But without faith it is impossible to please Him, for he who comes to God must believe that He is, and that He is a rewarder of those who diligently seek Him.
The reward is intimacy with God! It's the all-consuming fire engulfing us as we tremble in his presence! What a God we serve! His goal for us, and our life focus must be this–to be with him continually as he hovers over us and adores us as a Lover.
However, this simple yet overpowering reality is so often avoided by people who are seeking comfort and control of their personal situations.
Might I offer some sobering news to you? If our primary reason to follow Jesus is to avoid Hell and to go to Heaven one day, we are operating in the same self-centered, controlling attitude that resulted in my journey to Hell. Salvation for the sake of personal satisfaction is not salvation at all.
Zechariah 7:5-6 "Say to all the people of the land, and to the priests: 'When you fasted and mourned in the fifth and seventh months during those seventy years, did you really fast for Me–for Me? When you eat and when you drink, do you not eat and drink for yourselves?
The Sinner's Prayer
The sinner's prayer is one of the most misused evangelism techniques in the church today. This misuse has had devastating results.
Listen to me closely: The sinner's prayer has become a ticket to Hell for countless people. To ever present someone with a guarantee of Heaven if they simply say a prayer is irresponsible. How many people have you met that believe they are going to Heaven because they repeated a prayer at an earlier point in their lives? How many of these people have become deeply intimate with their Lover?
Let's dispel something right now–salvation is not primarily about making it to Heaven. It's identifying with the Lover of our souls, the Alpha and the Omega, the Healer, the Deliverer, and coming to a place of agreement. A place of complete surrender. An intimate encounter with God will result in adoration and desire for him alone.
It's saying, "Yes, I agree that you are God, that you love me, that there is nothing bad in you. You are perfect. You actually died for me. I deserve nothing, and regardless of my eternal destiny I will choose to love and serve you every moment of my life." All I want on this planet is to spend every moment of my life in passionate union with my Lord and Master and wonderful friend.
Salvation is falling so deeply in love with Jesus that we'll gladly sacrifice everything to spend just a moment with him. God is so great that he lovingly extends this moment with him into an eternity. It's all about being with God. This is salvation.
I have a difficult question for you. I admit it is an imperfect question as it leaves many theological truths hanging in the balance. It's a question that will never have to be answered, but it does make the idea of salvation for all of us crystal clear.
If Heaven was never guaranteed for you, would you still crave and love Jesus so much that you would give up everything you have on the Earth just to spend the next 30-60 years with him in wonderful intimacy?
Of course, when Jesus finds his lovers on the Earth, those who have an intense yearning in the depths of their hearts to be with Him, he simply can't wait to spend eternity with them! That's what the cross was all about! It wasn't a ticket to Heaven or immunity from Hell. It was a model of perfect love in an imperfect and hateful world. That's why he is calling us to carry our cross–it's the evidence of our love and desire for our Bridegroom.
The Rich Young Ruler
Consider a great and critical bible story about a Rich Young Ruler that we all know very well:

Very interestingly this story comes right after Jesus was talking to his disciples about allowing innocent, loving children to come to him. He said,
"Let the little children come to Me, and do not forbid them; for of such is the kingdom of heaven."
Why is this? They just wanted Jesus! They wanted to crawl up in his lap! They wanted to embrace him! Now, let's look at the Rich Young Ruler.
Matthew 19:16-22 Now behold, one came and said to Him, "Good Teacher, what good thing shall I do that I may have eternal life?" So He said to him, "Why do you call Me good? No one is good but One, that is, God. But if you want to enter into life, keep the commandments." He said to Him, "Which ones?" Jesus said, " 'You shall not murder,' 'You shall not commit adultery,' 'You shall not steal,' 'You shall not bear false witness,' 'Honor your father and your mother,' and, 'You shall love your neighbor as yourself.' " The young man said to Him, "All these things I have kept from my youth. What do I still lack?" Jesus said to him, "If you want to be perfect, go, sell what you have and give to the poor, and you will have treasure in heaven; and come, follow Me." But when the young man heard that saying, he went away sorrowful, for he had great possessions.
Now, consider how this story goes. Someone decides he wants to follow Jesus, yet on his own terms. This person could easily be found going to a vibrant church every Sunday, repeating a sinner's prayer, lifting his hands in worship, leading a small group, witnessing on the streets and owning several bibles.
Remember, the Rich Young Ruler made the choice to follow Jesus. Most any pastor or evangelist would quickly rejoice and lead this man in a prayer. He would fill out a card and would be directed on how to connect in the church.
This scenario plays out day after day after day around the world. Yet, in this story Jesus did not offer a sinner's prayer, a card to fill out or membership in the church. Jesus knew he didn't have this man's heart, and made that reality clear.
This man was what we would call a good man. He kept the commandments.
However, Jesus was after something all together different from him. Jesus will always search the hearts of those who wish to follow him. In the end of this sad story, Jesus literally communicated to this man who wanted to be a follower of Jesus that he may not follow! Incredible!
I heard a story of a great revivalist who was preaching in the first night of a week long revival. The anointing was so strong that a man rushed up to the altar to get saved right in the middle of this preacher's message. He wanted to get saved!
The revivalist rebuked him publicly and commanded him to return to his seat.
"You, sir, are not ready to get saved. I have yet to reveal what it will cost you. Come back each night and I will let you know when it is time to respond to the call of Jesus."
Wow! Where is this type of gutsy presentation of the costly Gospel today?
I often hear of salvation as a free gift. I completely understand the point that people who use that phrase are trying to get across, but I believe it can have damaging impact to those who are responding to it when it's repeated without explanation. The reality is that salvation is very costly to every one who receives it.
The point is that we did not have the ability to get saved on our own. We were not able to control the situation and do anything in ourselves to get saved. Jesus loved us so much that he did it all. He did what we could not do and extended his free gift.
Romans 6:22-23 But now having been set free from sin, and having become slaves of God, you have your fruit to holiness, and the end, everlasting life. For the wages of sin is death, but the gift of God is eternal life in Christ Jesus our Lord.
The free gift of eternal life must be responded to. We become servants and friends of the Most High God. If Jesus' death on the cross was all that was required for salvation, then every person on the earth would be saved. The cost of our own surrender is high and cannot be overlooked. Every one of Jesus' disciples, except John, were martyred, for example. High cost, yet worth it all.
To extend the point, if a sinner's prayer, or a decision to accept Jesus as our Lord and Savior was all that it took, much of what is revealed in scripture would have to be overlooked.
Remember, salvation is all about intimacy with our Bridegroom and not simply a ticket to Heaven. Many who acknowledge the free gift of Jesus' death on the cross, and his resurrection from the dead, and who repeat a prayer and make a decision to follow Jesus will end up eternally separated from God.
The story of the Rich Young Ruler demonstrates this.
Jesus will say to many, "Depart from me, I never knew you."
The attitude of the Rich Young Ruler is that of personal gain. I'm sure he wanted his sins washed away. The problem is this: Jesus didn't come to relieve us of our guilt. He came to free us of bondage to sin. Presumed freedom from guilt and the penalty of sin can easily result in a passionless connection with Christ, and in a casual response to the call of holiness and intimacy. Jesus didn't come so we could sin without guilt, he came to reveal himself as more satisfying and powerful than sin!
When we are intimate with Jesus, embracing his emotions, his personality, his passion, we will buy into a life of fiery devotion. It won't be possible to relax in the midst of the storm! We won't desire sinful pleasures! It's not about freedom from guilt, it's about freedom from bondage that leads to death!
For the sake of clarity on this very important subject, allow me to qualify briefly the point that is being made. The argument is that salvation is a very serious issue, and that a casual desire to go to Heaven and to take the name of Jesus is dangerous. The qualification is this–God is in charge of who goes to Heaven, and his heart cries out for all to be saved.
2 Peter 3:9 The Lord is not slack concerning His promise, as some count slackness, but is longsuffering toward us, not willing that any should perish but that all should come to repentance.
He is longsuffering and deeply desires for people to be saved.
We don't try to pay for or work for our salvation in lieu of full-blown surrender of our lives. Rather, fruit born in intimacy with God is the expected result of true salvation. Evidences.
With that in mind, scripture does make it clear that some who haven't stepped into deep intimacy with Jesus will most definitely make it to Heaven. The thief on the cross is probably the best example.
While the Word tells us that those in the church who are lukewarm will be rejected by God, there is apparently a type of person who will live a substandard Christian life who will make it to Heaven.
1 Corinthians 3:14-17 If anyone's work which he has built on it endures, he will receive a reward. If anyone's work is burned, he will suffer loss; but he himself will be saved, yet so as through fire. Do you not know that you are the temple of God and that the Spirit of God dwells in you? If anyone defiles the temple of God, God will destroy him. For the temple of God is holy, which temple you are.
This scripture reveals a very narrow exception for people whose fruit is proven to be lacking and unacceptable. This person will be saved–but barely. Can you imagine being in that terrifying position of waiting for God's judgment to land on a life that was barely connected with him? Additionally, why would anybody want to live outside of God's intimate presence? Why choose this low, risky level? What's to gain?
The scripture goes on to clarify the serious nature of eternal life. It's not a simple matter, nor a light matter. If we destroy God's temple, we will be destroyed. If we reveal inappropriate fruit, we may still be saved. But, if our work endures, and our temple is pure, salvation is a guarantee.
We can be confident in our eternal position, though I often find myself crying out to God something like, "Father, my heart longs for intimacy with you. I know I fail so often. I know I choose comfort over you at times. Please, Lord, help me ensure that you and I remain intimate. We remain in love. I don't take your relationship or your salvation lightly. I know it's possible to lose that relationship and that salvation. Help me surrender all, take up my cross and excitedly follow you. I love you."
Note that in that prayer I don't reveal my fear of missing Heaven. My fear is losing intimacy with Jesus. Of course, I don't want to go to Hell and I don't want to miss Heaven–but that's not my motivation. Our focus must be on the wonderful relationship with Jesus that we will either enjoy or lose sight of in our day-to-day experience on this planet.
The churches in the book of Revelation reveal great truths in regard to the serious nature of salvation. God was not pleased with all of their works. In fact, in Revelation chapter 3 we see it revealed that names can be removed from the Book of Life.
Revelation 3:5 "He who overcomes shall be clothed in white garments, and I will not blot out his name from the Book of Life; but I will confess his name before My Father and before His angels.
If we overcome, our name is securely kept in the Book of Life. If we do not overcome, our name which was written in that Book at the time of our salvation will be blotted out.
Salvation is serious stuff.
Wonderful Surrender
I'll share another experience that, I strongly believe, was critical in securing my relationship with Jesus. I believe a negative response to what the Lord was speaking to me would have put my eternal position at jeopardy. Would I have lost my salvation? I don't know and I don't want to play with that fire.
In the season of life where this experience took place, I knew that once saved, everything changed. A great barometer of salvation is to ask whether everything in our lives was open for change or not. I agreed that once I surrendered my life, God would begin to change me and require much from me.
2 Corinthians 5:17 Therefore, if anyone is in Christ, he is a new creation; old things have passed away; behold, all things have become new.
Additionally, I understood that simply acknowledging that Jesus was God, or even agreeing that he was the only way to the Father wasn't sufficient to guarantee salvation. I had to surrender all.
Acts 10:43 "To Him all the prophets witness that, through His name, whoever believes in Him will receive remission of sins."
This scripture does not indicate that all we have to do is have some belief that Jesus existed, and that he died and rose from the dead. Even the devil knows that! The word believes literally means, to be committed to, or to commit oneself to. It's an all out surrender to the Living God.
Now, allow me to share with you the life-changing experience with God that radically changed my understanding of what it was to follow Jesus.
This event occurred shortly after I had the terrifying dream in the old church building. God was wildly challenging me and drawing me closer to him. I was in my early twenty's at the time. Our church, along with several others in the area participated in a lock-in at a local YMCA. There were a few hundred people there enjoying everything from wallyball to basketball to ping-pong.
They had also set up a prayer room in one part of the building. As a young man who was getting blasted by the Holy Spirit with amazing regularity I presumed the room would be full of hungry young men and women of God. Sadly, I was wrong, though the nearly empty room provided me quite an atmosphere to pray in.
In many ways, that room was similar to the one in my dream. I was looking out of the windows over the city as I spent some time with the Lord. However, unlike the dream, I was passionately enjoying God with intensity. The atmosphere was full of the presence of the Holy Spirit and, to date, it was literally one of the most powerful God moments of my life. I was so full of life that I found myself pacing around with lifted hands and a fire in my belly for quite a long, wonderful time.
All of a sudden, I heard something in my spirit.
"John, I want you to give me permission to take your life."
Huh? Where in the world did that thought come from? What an unwelcome interruption it was! I shook it off and moved back into prayer and worship. But, something was wrong. The warm and consuming presence of God had left the room. I didn't realize it then, but God's presence didn't leave the room–it had simply changed. God was honoring me with a serious call to follow Him.
I tried for the next fifteen minutes to enter back into prayer, but I felt entirely alone. No unction, no flow, no passion.
I kept hearing the words, "John, will you let me take your life?"
I finally realized that the warmth of God's presence had transitioned into the challenge of God's purposes. He was testing me. Was I really ready to take up my cross? Was I really in it for Jesus? Or, was I into this Christian life mostly for what I could get out of it? You see, this crossroads question from the most Holy One would result in ensuring my destiny–either in one direction or in the other. And, it wouldn't make any difference if I kept paying tithes, going to church and lifting my hands in worship if I chose the road toward personal satisfaction that fateful night.
The Holy pressure in that dark prayer room was extreme. I honestly thought, beyond any doubt, that the decision I was about to make to my Lord would result in my physical death that very night. The call was that urgent. But, I immediately realized I couldn't stand to live the rest of my life outside of the warmth of the tangible presence of Jesus that I felt as I first entered that room.
"God, if it will result in warming your heart, and in advancing your Kingdom on the Earth, you can take my life. I love you and you are teaching me more about love in this moment than in my previous two decades. I trust you."
The split second I communicated that in my heart, the fire of the Holy Spirit rushed in with power. It was better than any previous experience with God I had ever had. Far better. I was consumed by his love. I was surrendered to him unlike anytime in my life. I was his.
Song of Songs 1:2-4 THE SHULAMITE Let him kiss me with the kisses of his mouth– For your love is better than wine. Because of the fragrance of your good ointments, Your name is ointment poured forth; Therefore the virgins love you. Draw me away! THE DAUGHTERS OF JERUSALEM We will run after you. THE SHULAMITE The king has brought me into his chambers. THE DAUGHTERS OF JERUSALEM We will be glad and rejoice in you. We will remember your love more than wine.
To this day I don't know if God will suddenly take my life–and while I wish to live for a long time on earth, I am longing to live for eternity with my Lover.
Calls from the heart of God like this one come to me from time to time. How serious am I? Am I in it for the benefits? Do I live my life for what I can get out of it? Or, am I a walking dead man? The positive response to the call of God is an indicator of the intimate love that we have for our Lover. It is a fruit of our salvation.
Christians in Hell: "The rate of Heaven and Hell is 1 to 1000." (Matt 7:14)
In 1987, Reverend Park had died from high blood pressure. But by the grace of God, his life was extended for another 20 years. However, for the first four years, he was not able to speak due to his condition. He was about 50 years old when he had come back to life. During his death, the Lord showed him to Heaven and Hell.
I want you to know if you are arrogant and prideful, you will bring curses upon yourself. I had a mega church of 5000 members but I was struck down by God due to my arrogance. Now I fear God. (James 4:6)
I used to own property worth about 150 million US dollars. I owned five luxury cars. But after my death experience, I gave it all away. Please remember, salvation cannot be achieved by your possessions but through faith. And now I plead to the deacons, elders, and the other leaders in their churches to serve your pastors with all your heart.
On December 19, 1987, after I had finished my lunch and while I was resting, I began to feel excruciating pain, it was so unbearable that I felt as though I was going to die. Then I lost consciousness. I woke up four months later in a vegetated state, and my doctor told me that I would eventually die. All my body parts were mangled very badly from the paralysis. And my family had never allowed any of the church members to visit due to my horrible appearance. Then I finally died.
When I died, I saw two people enter my room. But these people had entered into my room through the wall. I screamed, "Who, who are you!! My house will crumble down if you do that!!" Then one said, "We are angels descended from Heaven. We are from God's kingdom." A brilliant light shinned from the angels.
The angel to my right introduced himself. "I run errand for Jesus in His kingdom. Jesus called me and commanded me to go down to the Earth. He commanded me to take you to Heaven. You are dead. But since your family cries out with so much sadness, He desires to grant you a little more time to live. But for now, He desires to show you Heaven and Hell. He will show you and you will witness to the people of the Earth. May the number of people
who end up in Hell be decreased and the number of people going to Heaven increased through your testimony. This will be your mission. God instructed us to tell you not to delay. If you delay, you will not be able to visit Heaven and Hell."
Then the angel to my left said, "The moment you were born and until the moment you had died, I had been with you." At that time, I did not understand what the angel had meant. Now I know. He was my guardian angel. So I said, "I cannot go! I will not go! I am a pastor! I cannot meet the Lord in this physical condition. I want to see Him as a healthy person. I would probably be receiving more rebukes than compliments from the Lord. I am prideful and arrogant and now I am cursed and sick. How am I able to enter Heaven? I am so scared. Please go back to Heaven and ask the Lord to heal me. Then come back and take me to Heaven through my dream. Please ask for mercy on my behalf."
But the angels were not listening to my arguments. They took my clothes off and said that they were too filthy to be wearing in Heaven. They then clothed me in a white gown. (Zech 3:4)
They grabbed my hands and we flew straight up to Heaven. We flew through the clouds and as I looked down, I saw the Earth becoming smaller. They let me go near an endless Golden Street. I saw a brilliant shining light, too bright to look directly at. I said, "Where is the light coming from?" "It is from Heaven" the angel responded.
I thought, "Wow! It is huge!" I saw groups of people in white gowns flying ahead. "Who are they?" I asked.
The angel replied, "They are the ones who had served God faithfully and trusted in Jesus by obeying and following the lead of the Holy Spirit with all their heart. Their bodies are dead on Earth. They are now the souls heading toward Heaven."
The other angel continued, "There are twelve gates in Heaven. When a saved soul comes to Heaven, they must enter through one of those gates." We were standing in the south gate but it was closed. As we were waiting, I asked the angel, "Angels, why is this gate not opening?"
The angel replied, "It is because you are not singing the Heavenly worship song." (Psalms 100:4)
I asked, "Angels, I was very prideful and arrogant and as a result I was cursed with sickness. I am not good at singing Earthly worship songs. How am I able to sing Heavenly worship songs when I had never heard it before?"
The angel replied, "You are correct. But you must still prepare yourself to worship. You are a prideful person but prepare to sing." The angels began to sing. As they sang, I began to sing with them. It became natural to me, and we entered in.
The scene of Heaven was indescribable. I can't describe Heaven with my Earthly words. I said, "Lord! Thank you so much! Even though, I was very prideful and arrogant and cursed with a sickness, You have still brought me to Heaven to show me around."
I then heard the voice of God, "My beloved Pastor Park, Yong Gyu, I welcome you. You have made a long journey here." His voice was overflowing with love and tenderness.
I replied back crying in tears, "Lord,…." The angels immediately said, "you have been a pastor for 20 years. Do you not know your scriptures? There are no tears in Heaven. Please stop it!" I was not even able to cry. (Rev. 21:4)
The Lord then asked me five questions.
"How much time did you spend reading the Word (bible)?
How much did you give of offerings?
How many times have you evangelized to people? Did you tithe properly?
How much time did you spend in prayer?"
I could not answer the fifth question. The Lord rebuked me for the fifth question.
"After you had become a mega church pastor, you had become very lazy with prayer. Being busy is no excuse to Me!" I had to repent of it later. "The angels will show you many places in Heaven and of Hell. Look around as much as you desire. You will leave after witnessing many different places in Heaven and Hell." But the Lord did not allow me to see His appearance.
The angels first took me to three different places in Heaven. In the first place, I saw little children living together.
The second place was where the adults lived.
The third place was where the souls had barely made it to Heaven. Even though they made it to
Heaven, they had made it shamefully.
Many people had asked me how old the little children were. They appeared like kindergartens. They were not the little boys or girls as we would know of gender. Each child had their own baby angel to accompany them.
In Heaven, most of the souls will have their own individual home. (John 14:2) However, there were some who did not have
homes. I will explain this later. Moreover, the children did not have their own individual homes
either. I asked, "The children are also souls, why do they not have their own homes?"
The angel replied, "Just as the people on Earth require materials to build their homes, we in Heaven also need materials to build here. When a person serves the church and others faithfully unto the Lord, those deeds will become materials for a person's home in Heaven.
When the materials are provided, the angels assigned to build a saint's home will go to work on constructing it. The children who are below the accountability age have not built up any materials to build a home. In other words, they did not have the time or chance to earn their rewards/materials. This is why they do not have homes."
I continued with my questions, "What shall I do on Earth to provide more materials for my home?"
The angels replied, "There are seven things one must do to build up their materials to build their home.
The first is their accumulation of worship and praise to God.
The second is their time spent reading the bible. Third, their time spent praying.
Fourth, their time spent evangelizing to people.
Fifth, one's offering to the Lord.
Sixth, their obedient tithes to God.
Lastly, their time spent serving the church in any way.
These are the deeds or works of obedience in which one accumulates materials for their Heavenly home. If one is lacking in these areas, they will have no materials to build their home."
There were numerous people in Heaven without homes. Many who did not have homes were actually pastors, deacons, deaconesses, elders, etc. I asked out of curiosity, "Where do the children live then?"
The angels replied, "They live here." As I looked around, they were gathered throughout the garden of flowers. The garden of flowers was so beautiful and the fragrance was out of this world. The scene was beyond what I could describe with my words.
The second place was for faithful adults. There is a difference between salvation and rewards. This place had so many homes. The homes were built with beautiful gems and rare stones. Some of the homes were as high as the highest
skyscrapers on Earth. Those people who had faithfully served the Lord while living on Earth had their homes built with beautiful gems and rare stones. In this particular place, all the people looked around the age of 20 to 30 years old. There were no men or women in regards to gender. There are no sick, old, or lame people.
I once knew an elder named, Oh, Im Myung. He had died at the age of 65 years old. He was a very short man, as tall as 2nd graders in elementary school. He had suffered from a rare disease called rickets. However, when it came to the bible, he was a PHD. He had written many commentaries. I met him in Heaven, and there he was tall and handsome. He was no longer sick but healthy. Heaven is a very wonderful place!! I am so full of expectations! Please believe what I am saying beloved people!
The third place was for those who were shamefully saved. (1 Cor. 3:15) This particular village was enormous in size, several times bigger than the second place, where the homes were made of gems and rare stones. I arrived at this place at great speed, riding a golden chariot. It was very far from the other beautiful places I saw in Heaven.
I asked the angels, "I see great wilderness and fields. Why do I not see homes?" The angel replied, "What you are seeing are homes."
I saw huge wide flat houses, which reminded me of a large chicken coop or some type of warehouse. These homes were not glorious, but shabby. This village and homes were for the souls who were shamefully saved. There were numerous large sized shabby looking homes. This village is several times bigger than the place where rewarded souls reside.
The angel said, "Do you see the two large homes, one to your right and one to your left? I answered, "Yes, I do see them."
The angel said that he wanted to show me those two houses specifically. He said, "The right home is for those who were pastors on the Earth. The left home is for those who were elders on the Earth." As we arrived to the front of the two homes, I noticed they were humongous. My jaw dropped. When we opened the door and entered, my first impression was, 'chicken coop.' Instead of thousands of chickens living in their coop, I saw souls. The angels advised me to observe very carefully because I would recognize some famous pastors from history. It was true. I recognized many pastors from history. I specifically picked out one pastor and asked the angel, "I know that Korean pastor! I know how famous he was and the work he had done for the Lord. Why is he here? I do not understand."
The angels answered, "He never provided any building materials for his home. This is why he is living in a community home."
I asked out of curiosity, "How did this happen? Why did he not have any materials?" The angel answered, "While he was a pastor performing the functions as a pastor, he had loved to be complimented by the people. He had loved to be honored. He had loved to be served. There was no sacrifice and servitude on his part." This particular pastor was greatly honored in Korea and is an icon within the Korean Christian history. But he had no reward!!
You pastor out there, please listen! You have to lead people to more than just Sunday morning services. You must visit them in their homes. You must take care of the poor, the lame and old. The pastors who have served without sacrificing their lives and loved to be honored have no reward in Heaven. (Matt 23:5-12)
After I had witnessed this scene in Heaven and after I had come back to the Earth, I immediately gave all of my possessions away including my five luxury vehicles. Our life is but a moment. In the bible, the average life is about 70 to 80 years old. But it is only God who knows when a person will die. Anyone can die before the age of 70 or 80 years old. I had decided to give everything away, even my clothes. The people I saw had received salvation in shame. They were pastors, elders, deacons, and lay believers. There were multitudes of elders and deacons in this flat shabby home. But of course, it is much better than Hell. However, why would anyone want to enter Heaven in such a way? I will not end up in that shameful place. Their clothes were even shabby.
What are the requirements for Christians to receive such beautiful homes in Heaven? First, we have to evangelize to as many people as possible. How should we evangelize? The angel told me, "Assume there is an unbeliever who does not know the Lord. The moment you decide to evangelize to that particular person, the building materials for your homes will be provided. As you unceasingly pray for their salvation, more building materials are provided. You must continue to check up on them, visiting them and continue your evangelizing. This will add more materials to your home. If a person says he/she cannot make it
to church because they do not have nice clothes, then you must provide them with some. If the person says he/she does not have a bible, you must provide one. If a person says he/she does not have glasses to read, you must provide it for them. You must provide whatever you are able too so this person can be led to the Lord. Those who live in the best homes are those who had evangelized many times."
The angel then escorted me to the place where the saints lived in nice homes. This is where saints who had evangelized much lived. It felt like downtown Heaven.
In Christian history, there are four people who have the biggest and most beautiful homes. The angel showed me the home of American evangelist D.L. Moody, British Pastor John Wesley, an Italian evangelist, and Korean Evangelist Pastor Choi, Gun Nung. These four people have the largest homes in Heaven. These four had spent their whole lives evangelizing to people even through up to the time of their deaths.
Within the Korean believers, there was a lay believer who had a large home. This lay believer had built many church buildings with his all his possessions. He had given three thousand bags of rice to the poor. He secretly helped thousands of pastors and leaders with their finance. He helped students studying theology or in bible school with their tuitions. He had also taken in a pastor (65 years old) into his home and took good care of him. His own church had kicked him out.
I heard an angel shout, "The materials are coming!" I questioned the angel to my right about the materials and he told me, "These materials are for a deaconess from a small church who is from the country. In fact, she receives materials every day. Even though she is poor, she comes to early morning service each day. She prays for 87 church members daily. When she finishes praying, she cleans up the church."
I heard another angel shout, "Special delivery! The daughter of the deaconess has given what little money she had to her mother. However, the deaconess did not spend it on herself. She bought five eggs and two pairs of socks for the church pastor. Even though it may appear to be a small offering, she had given all she had for the day. This became special materials for her home in Heaven."
Second, those who also have a large home are those who have built church buildings or other buildings for Kingdom purpose with their possessions and resources.
In Heaven, I also met an elder named Choi. Among all the Korean elders and deacons who are in Heaven, he had the most beautiful home. His home was much higher than the tallest building in Korea. Choi had built many churches in Korea with his wealth.
I asked the angel, "How about my house? Is it in the process of being built? The angel said, "Yes it is." I begged to see my house. But they told me it was not allowed. I continued to beg and after some persistent begging, the angels said that the Lord will now allow it.
We entered the chariot and traveled very far to another place. I was full of expectation. I asked, "Where is my house?" The angel replied, "It is over there!" But it looked as though the place was only a foundation, only ready for development. I cried out, "How could you do this to me? How could this be happening? How can my house be in a developing zone? Surviving the Korean War, I sold my only home to build a church. This church eventually grew to five thousand members. I wrote many books inspired by the Holy Spirit. One book became a best seller. With the proceeds from the books, I built Christian schools. The school birthed 240 pastors. During tenure as the dean, I had given out over 400 scholarships to over 400 poor children. I have built homes for the widows to live in. This all cost huge amounts of money. So how could this be? Why is my home in a land development? I am so upset!"
The angel replied sternly, "You do not deserve to live in such a beautiful nice home in Heaven because you have been honored by people countless times. Every time you had built or done something good, you were praised by people. You were even honored by the secular news. Therefore, all your works are in vain." (Matt 6:1)
I looked at my home in the development zone. It was located in the middle of three other homes. It only had three stories. The house had many small rooms on the first two floors. I asked the angel, "Why do I have such small rooms?" The angel answered, "These rooms are for your sons and daughters."
"I only have four children," I replied. The angel responded, "No, they are not for your Earthy children, but for the ones you had evangelized and are saved." I loved it! I asked, "Where is my master bedroom?" The angel said that it was on the roof. That bothered me.
My room was not even finished. In an angry tone I said, "It is so small! Why is it so difficult to finish?" The angel replied, "You are not even dead. We cannot finish your home or rooms because we do not know if more materials will be provided. Do you understand?"
When we entered my room, I saw two certificates hanging on my wall, so I went to read them. The first certificate described when I was 18 years old living in an orphanage. On Christmas day, I was on my way back to the early morning church service. I had seen an elderly man shivering on the street. I took my jacket off and gave it to him. That deed had given me a reward in Heaven. The second certificate described the same incident but it was for buying some bread with the little money I had for the elderly man. The amount is not the issue. The act must be accompanied by genuine faith. The dollar amount has no significance.
We left the place and headed back out. During the ride, one of the angels asked, "Are you sad? I will tell you how to have a beautiful home built. The Lord said when you go back to the Earth, you must go to tell the people about Heaven and Hell as you have witnessed. Second, the Lord desires you to build a place to gather elderly female pastors and evangelists who do not have places to go or live. If you truly faithfully do these things, you will have a beautiful home."
Hell
The two angels escorted me to Hell. They said, "Now you will visit Hell." You have no idea the enormity of Hell. I kept shouting, "It is so big! It is so big!" This is the place where souls who are cursed and receive eternal damnation are placed. It felt like Hell was a thousand times larger than the Earth. Half of Hell was colored red and the other half was pitch dark black. I asked the angels, "Why is this part red?"
The angels replied, "Do you not know? It is burning sulfur. The other half is darkness. When people sin and end up here, they will be tormented from both sides…There are multitudes of churches on the Earth and many of the churches are filled with many people. However, most of them are not true Christians. They are but church attendants. The true churches will firmly believe in Heaven and a Hell. The lives of many Christians are in chaos because they do not firmly believe in Heaven and Hell. When one soul enters Heaven, one thousand cursed souls enter Hell. The rate of Heaven and Hell is 1 to 1000." (Matt 7:14)
I am a Presbyterian pastor and a well-known speaker. I have graduated from one of the largest theological school in Korea. I never believed those Heaven and Hell stories. But now, I am one who writes such experiences to testify to others. Although you may believe you are a Christian, if you live your life according to the will of demons, you will end up in Hell!
The first place I saw was a place of burning sulfur. You can't even imagine how hot the fires of Hell are. No one can bear the intense heat.
People in Hell say three statements.
First, it is too hot and they feel like dying. (Luke 16:24)
Second, they are so thirsty and feel like dying.
Third, you will hear many asking for water. (Zech 9:11)
It is eternal! Many people say we are free in Christ and they live their lives as they desire. I asked the angel, "Those who are in here, what have they done?" The angel answered, "The first group is unbelievers." Those who had not evangelized to their own family must repent!
The angel continued, "The second group is those who believed in Jesus, but did not repent of their sins." We must repent of our sins and must confess to the Lord. We must not sin. Just giving lip service is not repenting. With a contrite and earnest heart, we must repent!
Christians in Hell
I then saw many pastors, elders, and deacons in Hell. I asked the angel, "I know them. They had served God faithfully while on the Earth. They had died some time ago. We all had thought they were in Heaven with God. But now, I see them all in Hell and they are crying out that it is so hot! Why are they here?" There were so many pastors, elders, deacons and all other lay believers.
The angel answered, "Pastor Park Yong Gyu, a person can appear to be a true follower of Christ on the outside but God knows the heart.
THEY DID NOT KEEP SUNDAYS HOLY. IN FACT, THEY HAD LOVED TO MAKE MONEY ON SUNDAYS. (Jer. 17:27)
Many of the deacons and elders had criticized the sermon of their pastors.
(PS. 105:15) (Num 12:8-9)
THEY DID NOT TITHE PROPERLY. (Malachi 3:9)
THEY DID NOT PRAY.
They had not evangelized to people at all. (Ezekiel 33:6)
Many of these elders and deacons had harassed their pastors and would come against their authority. They had interfered with the pastor's duty and business. (Num. 16)
On their death beds, they thought they had done a good job so they did not repent of those things. This is why they were thrown in the fires of Hell."
I then saw a king and a prince who were had first persecuted Christians in Korea. This king and prince beheaded many of the first believers in Korea. They were placed in the center, which was the hottest place of all. I also saw Hitler,
Stalin, Mao Zedong, and a famous pastor from North Korea named Pastor Kang, and a famous Japanese hero, and many more.
Then we arrived at an extremely dark place, too dart to see where to step. I shouted, "Angels! Angels! It is so dark! How can I see anything?" The angels patted my shoulder and said, "Just wait a little bit."
Within a few moments, I was able to see a countless number of naked people. All of them had insects crawling all over their bodies. Not an inch was spared as their whole bodies were completely covered with insects. The naked people attempted to drive the insects away gnashing their teeth. I asked, "What did these people do as they lived on Earth?"
"They are those who have criticized and back stabbed each other. They were not careful of what they had said to one another." (Matt 5:22)
I saw the demons piercing and stabbing the stomachs of the people with sickles. Their screams were unbearable to me. I asked my escort, "Angels, what did these people do as they had lived on the Earth?
"These people had jobs, houses, and families but they did not give to God. They did not help the poor, their churches, or other Godly purposes. They were very stingy and greedy. Even as they encountered the poor, they ignored them and did not care. They only cared for themselves and their families. They were well clothed, fed, and had a comfortable life. This is why their stomachs are pierced for their bellies were full of greed." (Proverbs 28:27)
It was a very frightening scene. After witnessing such a scene, when I got back to the Earth, I gave all of my money and possessions to others. Salvation cannot be earned with money or property. It is by faith. Hell is an unbearable and miserable place. It is eternal torment!
I also saw people who had their heads hacked off by a very sharp saw. I asked the angel, "What did these people do to deserve such awful torment?" The angel replied, "Their brains were given by God to think good and beneficial things. But these people had thought of filthy things. They thought of lustful things." (Matt 5:28)
Next I saw people being stabbed and cut into pieces. The sight was horrible. I asked, "What about these people? What did they do to be tormented in such a way?" The Angel replied, "These were elders and deacons who did not serve their churches. In fact, they did not even want to work or serve! The only things they had loved were to receive and receive from the flock." (Zech 11:17) (Hosea 6:5)
I saw the elders, deacons, and other lay believers tormented by the demons. The demons made a hole in their tongues and placed wires through the tongues of one another. Then the demons dragged the people with the wire. I asked again, "What did they do on Earth?" The angel answered, "They had committed four different types of sin.
First, they had criticized their pastors. They would speak negative things about their pastors. They were back biting and ridiculing their pastors."
(James 3:6) (Matt 12:37)
I plead with those who have committed such acts to REPENT, REPENT!!
The angel continued, "Second, they insulted the church with their words. They had harassed other Christians to the point where even the faithful ones were affected and they stopped attending church and even caused some to stop believing. They did all they could to stop faithful Christians from doing God's work. These wicked ones caused many faithful to stumble.
Lastly, there are spouses who drank alcohol and were abusive to their family members."
I saw demons piercing men and women in their stomachs with a very huge sharp nail. I asked, "What did they do?" The Angel replied, "These are men and women who had lived with one another but were not married. These are guilty of abortions as they also got pregnant. They had never repented."
I saw another group of people. The demons were slicing their lips as if one thinly slicing meat or vegetables. I asked, "Why are these people tormented in such a way?" The angel said, "These are sons, daughters, son in laws, and daughter in laws who had talked back to their parents. All they had to do was say, 'I'm sorry' instead of making things worse. Many of them had used abusive language. They had attacked their parents with harsh language. They were rebellious. This is why their lips are being sliced."
Brethren, we are all going to die one day, but we don't know when that will be. Please be prepared. Being prepared is to go to Heaven. When we go is not the issue. Please forgive each other as frequently as necessary if you need too. Repent and repent and do it all day long if you have too.
My beloved brethren, I used to ignore such testimonies. I was a conservative Presbyterian pastor who ignored such things. But now, I must witness and testify to you what I have seen. Please do not hesitate to live a holy life. Please avoid this miserable torment and judgment. Be saved! Do not live for your flesh but submit to the Kingdom of God. Please pray for those who do not know Jesus. Evangelize and bear fruit. Please pray early in the morning and keep Sundays HOLY. Please tithe to the Lord properly. Accumulate your rewards in Heaven and not in this Earth. I pray and bless you in the Almighty Name of JESUS! By Pastor Park, Yong Gyu