Posts Tagged 'drunkenness'
Those who don't know Jesus should not be expected to act like those who do.
(Looking for the article Dueling Puppet Masters: Controlling Pastors vs. Manipulative Congregations? Read it HERE.)
If you follow my ministry you'll know that I am an unapologetic preacher of holiness. You'll also know that most of my messages are directed to the church. Preaching holiness to the lost doesn't work well unless it's coupled with a powerful invitation to surrender all.
Those who haven't had a life-rocking encounter with Jesus are at a disadvantage and it's unfair for those who have been transformed to expect them to see things the way we do. In fact, to attempt to coerce them to adhere to our set of standards, in violation of their own free-will and their right to also have a say in morality is ineffective, and in most situations, unfair if not outright arrogant.
Who are we to say that pornography is wrong? What makes our version of truth regarding homosexuality more valid then theirs? To Christians, babies were created by God, given human spirits at the time of conception and they clearly, obviously deserve protection. Except, those who don't believe in God the way we do simply disagree that they are fully human at points of development prior to birth. They have a right to that belief, as horrifying as we think it is.
The result is a holy war between a group of people who have one set of standards and a group that has an entirely different set. Coercion in the political realm, in the high courts and in the battleground of public opinion becomes the only tool left in our tool belt. We vote or legislate our way to victory, further enraging those who oppose our paradigms.
Listen to the podcast here…
YES, WE SHOULD STILL GO TO BATTLE AGAINST THE SPIRIT OF THE AGE
Now, please understand, with humble hearts, we as people who are zealous about protecting the unborn and who have a responsibility to guard our children from being indoctrinated by the homosexual agenda, I absolutely believe we must use whatever tool we have in our tool belts. Yes, it's right to fight for laws that stand aggressively against human trafficking. We should work hard to overturn Roe v. Wade. Pornography, the legalization of narcotics and other destructive cultural vices that are being normalized in our society must be met with resistance.
However, it remains true that the unredeemed simply cannot understand things the way Believers in Christ can. This isn't because we are better. It's because we have surrendered to Jesus and our entire way of thinking was renewed. We were once compromised and unable to discern right versus wrong. Then, God touched us as wicked, confused, arrogant and very lost people and the light came on.
HOW ARE THE UNREDEEMED AT A DISADVANTAGE?
I pray you begin to mourn and weep over the lost as you grow in understanding as to how terribly the enemy is assaulting them. Yes, every person who has ever lived and who ever will live will be without excuse on Judgment Day. Yes, everybody has a choice, and the lost have made their choice. That shouldn't result in us marking them off as enemies while we puff ourselves up and sneer down our noses at them. We should be broken and our intercession should be taken to a much higher level.
BORN THIS WAY VERSUS BORN AGAIN
Those who argue that they were born gay, for example, may have something to their argument.
5  Behold, I was brought forth in iniquity, and in sin did my mother conceive me. Psalm 51:5 (ESV)
We were all born in sin, in iniquity. It shouldn't take much for us to understand this. Sin comes very naturally to all and it takes the momentous event of being born again by the Spirit of God for that to shift.
In fact, the Bible calls those who are not his own, children of wrath. Are you seeing the extreme disadvantage the lost have when attempting to discern good versus evil? All they know are the inner urges that, in their minds, makes up the very core of their identity? If they have been attracted to the same sex for as long as they can remember, then, it seems clear that they were born this way. That should validate their homosexuality, or so they would argue.
Without a dramatic encounter with Jesus, without being born again, we can't expect people to understand biblical freedom or morality.
NO RELIEF FROM ANXIETY, FEAR AND DEPRESSION
The enemy seeks to steal, kill and destroy, and based on the rampant addictions to opiates in our generation, it appears that he's winning.
Spirit-filled Christians can fill their days with praying in tongues, meditating on God's Word and by singing songs of praise to break off the debilitating, suffocating assaults of depression, fear and anxiety. We have a very present friend in Jesus ministering to us, interceding for us, talking to us and walking with us.
The lost are limited to positive thoughts, drugs, counseling and, sadly and all too often, suicide. Truly, the only hope in the battle of emotional trauma is Jesus, and they haven't met him yet.
Can Christians also be in need of counseling and medical care including the administration of appropriate medications to help deal with chemical imbalances and other physiological and emotional difficulties? Yes, absolutely. As long as it takes place on a foundation of faith, such care can be an important part of the healing process.
10  fear not, for I am with you; be not dismayed, for I am your God; I will strengthen you, I will help you, I will uphold you with my righteous right hand. Isaiah 41:10 (ESV)
THEY HAVE NO PEACE
Those who don't know Jesus simply cannot know peace. For Christians, peace rests on us and it is not dependent on circumstances or in understanding our situation. God is with us and his supernatural peace displaces the darkness.
It's not hard to understand why so many politicians, protesters and others who are advancing their various ungodly causes become enraged when they experience push back. They have no peace, and in their minds, the road to a life that is more centered and devoid of resistance is to hate, curse and attempt to slay anything and anyone that gets in their way.
33  I have said these things to you, that in me you may have peace. In the world you will have tribulation. But take heart; I have overcome the world." John 16:33 (ESV)
THEY DON'T EXPERIENCE THE PRESENCE OF GOD
The thought of not having that constant burning of God's Holy Spirit within is enough to make me shudder. The glory of God and his anointing on our lives is irreplaceable and without it we would spiral out of control.
Our decisions, our mindsets, our emotional well-being, our belief systems, our desires and everything that make up who we are would radically shift. It would be a deeply disturbing way to live, yet the lost live in that reality every moment of every day of their lives.
11  You make known to me the path of life; in your presence there is fullness of joy; at your right hand are pleasures forevermore. Psalm 16:11 (ESV)
THEY HAVE NEVER EXPERIENCED LOVE
No matter how determined society is at convincing us that they do what they do because of love, it's simply not true. They have fallen for a faux love that does not originate from the only one who can manifest love. Outside of God, we cannot know love. The reason is simple: God is love.
I want to encourage you to read my article The Great Love Deception. It's eye-opening.
Sure, the lost can experience infatuation, attraction, appreciation, strong desire, lust and many other emotions, but love is the one experience they can't have outside of Jesus.
The next time you hear about someone who is militantly promoting what we would call perversion, just remember they are yearning to love and to be loved. This isn't a defense of perversion, but rather it's a call to weep for our culture and to stand in the gap so people can finally discover the only true source of love.
10  Many are the sorrows of the wicked, but steadfast love surrounds the one who trusts in the LORD. Psalm 32:10 (ESV)
THEY HAVE NO ACCESS TO SUPERNATURAL WISDOM
The unredeemed are limited to their own logic and human ability to reason. That's it. They have no resource when their own abilities or the abilities of others to understand comes to an end.
The ceiling of understanding becomes their version of truth and they will fight to the end to support it.
For Christians, there is such a relief knowing that we won't ever understand it all, and that our own logic is often fallible. We simply read the Bible and believe it. God speaks and we respond. The lost cannot do that.
They will argue that getting drunk, for example, is just fine, as long as you don't get behind the wheel of a car. It makes sense to them. Christians, however, have no need to attempt to wrap their minds around the topic. God says don't get drunk, and he's much wiser than we are, so we buy in wholesale to what he says. As a result, life is much, much better.
Further, decision making becomes much easier as Christians. We may not know what job to take, what house to buy, where to go, who to marry or how to resolve life's problems. Thankfully we have a supernatural source of direction that goes well beyond humanity's resources.
5  If any of you lacks wisdom, let him ask God, who gives generously to all without reproach, and it will be given him. James 1:5 (ESV)
HAPPINESS IS THEIR ONLY HOPE
We all have the right to pursue happiness in our nation. Sadly, that's the limit for people who don't love and serve Jesus.
Christians, on the other hand, live with overwhelming, immeasurable, supernatural joy! Happiness is dependent on circumstances. Joy is not.
Instead of pursuing wealth, sex, fame, materialism and other pleasures as sources of happiness, Believers are fully satisfied by knowing God. It's a supernatural reality that can only be understood when experienced. It's not mind over matter. I'm not talking about mental gymnastics that turn bad situations to good. I'm talking about an actual Spirit that fills us up and brings supernatural joy to our hearts. Those in the world can never understand this.
13  May the God of hope fill you with all joy and peace in believing, so that by the power of the Holy Spirit you may abound in hope. Romans 15:13 (ESV)
THEY LIVE OUTSIDE OF THE REALM OF MIRACLES
The lost have absolutely no hope of relief from life's woes unless mankind can come up with a solution. They are dependent and desperate and all too often, hopeless.
Believers in Christ live in the realm of miracles every day! Healings, wonders, signs, breakthroughs, prophetic revelation and much more are our portion!
The lost are feverishly doing all they can to avoid or avert dire circumstances in their own abilities. They turn to man, not God when they are in a time of need.
12  In the thirty-ninth year of his reign Asa was diseased in his feet, and his disease became severe. Yet even in his disease he did not seek the LORD, but sought help from physicians. 2 Chronicles 16:12 (ESV)
Seeking the Lord is necessary for us to survive and thrive on the earth, and those in the world simply can't enjoy the miracles that result from such a devotion.
THEY HAVE NO REASON NOT TO SIN
Above I revealed the mindset regarding drunkenness. In the minds of the lost there is absolutely no reason not to get drunk. This logic can be used in other scenarios too. Lust is pleasurable as is pornography. Getting high on drugs feels good. Foul language and other behaviors are morally benign. If it's legal, it's okay.
In the world the line is drawn when one person's sin negatively impacts another. That's what defines morality in a culture that's not surrendered to Jesus. What the world defines as lawless and what God defines as legal are very different.
4  Everyone who makes a practice of sinning also practices lawlessness; sin is lawlessness. 1 John 3:4 (ESV)
Christians understand how destructive sin is and we embrace consecration and repentance eagerly. Sin kills even if we don't understand why. We don't define what is morally legal, God does.
23  For the wages of sin is death, but the free gift of God is eternal life in Christ Jesus our Lord. Romans 6:23 (ESV)
THEY HAVE NO HOPE OF A WONDERFUL ETERNITY
Every ounce of life must be experienced in a window of approximately 80 years to those who don't know Christ. The thought of preparing for eternity is nonsensical to them. This over-magnifies the importance of fulfilling dreams and desires on the earth, as they do all they can to soak up all their short earthly journey can provide.
Of course, Believers know there are an unlimited number of years ahead of us. Every person, whether lost or saved, will live somewhere forever. This is what drives our lives. We do all we can to awaken the sleepers, to warn the apathetic and to rescue the perishing. This world means little in comparison to eternity.
Further, those who know Jesus are exhilarated knowing they will experience never-ending joy, abundant life, freedom, love and  peace as we live day-by-day with God. This isn't some euphoric pipe dream. It's truth. It's going to happen. Those who don't know Jesus simply cannot understand this.
1  "Let not your hearts be troubled. Believe in God; believe also in me. 2  In my Father's house are many rooms. If it were not so, would I have told you that I go to prepare a place for you? 3  And if I go and prepare a place for you, I will come again and will take you to myself, that where I am you may be also. 4  And you know the way to where I am going." 5  Thomas said to him, "Lord, we do not know where you are going. How can we know the way?" 6  Jesus said to him, "I am the way, and the truth, and the life. No one comes to the Father except through me. John 14:1-6 (ESV)
CHANGE OUR DISPOSITION
I pray this will at least cause you to think differently the next time you get agitated at people who are promoting beliefs and behaviors that are repugnant to you. Pray hard for them. Battle for their souls.
Trust me, the moment one of these vile, wicked people truly find Jesus, they will turn on a dime and renounce everything unrighteous they previously supported. Meeting Jesus does that to a person.
Do you complain or gossip? Don't die in your desert! Last night at Revival Church was heavily saturated by the Holy Spirit…listen now!
FIRST: The deadline to register for thelab school of fire is March 20th! www.revivallab.com
---
Joshua Generation: media.johnburton.net/7316237
There was a weighty, drunkenness of the Holy Spirit last night at Revival Church!
Greg Davis was amazing as he led worship…the flow of intercession and worship was insane!
The liquid love and hard core challenge of God was hitting us all… absolutely remarkable!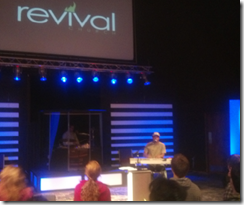 Listen NOW: media.johnburton.net/7316237
Here's the notes!
Joshua Generation
I. The Great Mission
a. Threefold Strategy of God
i. Salvation & Deliverance: The initial goal in the Exodus was to escape captivity. (inward)
ii. Intimacy & Offering: The secondary goal was to worship God in intimacy in the desert. (upward)
iii. Warfare & Possession: The ultimate goal was to take their new culture of intercession and worship into the Promised Land and conquer demonic strongholds on cities that stand in the way. (outward)
b. This is our focus at Revival Church: get you free, encounter God in intimacy, rise up as warriors and fulfill a mission. All three must be active!
i. The house of prayer must come before we take the city!
c. That's the great mission, and now let's look at a great mistake.
II. The Great Mistake
a. They had been slaves there for over 400 years, and God went to great lengths to deliver them from bondage.
i. They appreciated the deliverance, but they didn't transfer their gaze from inward to upward, from them to God.
b. Shortly after­ their salvation form Egypt, due to their per­sis­tent unbe­lief that God would faith­fully and safely take them into a land of their own, the Promised Land (Canaan–or Israel), God brought judg­ment and chas­tise­ment upon them (Num­bers 13–14). He sent them into the desert to wan­der for 40 years. (This is most Christians!) All of the peo­ple aged 20 years or older were des­tined to die in the desert and to never enter the Promised Land because of their unbe­lief (Num­bers 14:26–35, Hebrews 3:16–19).
c. The great mistake? The Israelites were known for their complaint!
i. What a legacy!
ii. Their complaining led to unbelief which led to wandering and then death.
1. If you wander too long, you will not see your promise!
iii. One of the most tragic mistakes we can make is to assume our attitudes and personal dispositions don't have much of an impact.
iv. Check this out:
d. Numbers 11:1 (ESV) 1 And the people complained in the hearing of the LORD about their misfortunes, and when the LORD heard it, his anger was kindled, and the fire of the LORD burned among them and consumed some outlying parts of the camp.
e. 1 Corinthians 10:8-10 (ESV) 8 We must not indulge in sexual immorality as some of them did, and twenty-three thousand fell in a single day. 9 We must not put Christ to the test, as some of them did and were destroyed by serpents, 10 nor grumble, as some of them did and were destroyed by the Destroyer.
i. Dang! What is that! To be destroyed by serpents! Hard core! The Destroyer!
ii. Why? Just for sexual immorality? Grumbling?
iii. Yes, our attitudes and actions reap consequences!
f. Numbers 14:1-10 (ESV) 1 Then all the congregation raised a loud cry, and the people wept that night. 2 And all the people of Israel grumbled against Moses and Aaron. The whole congregation said to them, "Would that we had died in the land of Egypt! Or would that we had died in this wilderness! 3 Why is the LORD bringing us into this land, to fall by the sword? Our wives and our little ones will become a prey. Would it not be better for us to go back to Egypt?" 4 And they said to one another, "Let us choose a leader and go back to Egypt." 5 Then Moses and Aaron fell on their faces before all the assembly of the congregation of the people of Israel. 6 And Joshua the son of Nun and Caleb the son of Jephunneh, who were among those who had spied out the land, tore their clothes 7 and said to all the congregation of the people of Israel, "The land, which we passed through to spy it out, is an exceedingly good land. 8 If the LORD delights in us, he will bring us into this land and give it to us, a land that flows with milk and honey. 9 Only do not rebel against the LORD. And do not fear the people of the land, for they are bread for us. Their protection is removed from them, and the LORD is with us; do not fear them." 10 Then all the congregation said to stone them with stones. But the glory of the LORD appeared at the tent of meeting to all the people of Israel.
i. Do not rebel.
ii. Do not fear.
iii. You would think the complaining would end…but no! Check it out!
1. Numbers 16:1-3 (NIV) 1 Korah …became insolent 2 and rose up against Moses. With them were 250 Israelite men, well-known community leaders who had been appointed members of the council. 3 They came as a group to oppose Moses and Aaron and said to them, "You have gone too far! The whole community is holy, every one of them, and the LORD is with them. Why then do you set yourselves above the LORD's assembly?"
2. Numbers 16:31-33 (NIV) 31 As soon as he finished saying all this, the ground under them split apart 32 and the earth opened its mouth and swallowed them, with their households and all Korah's men and all their possessions. 33 They went down alive into the grave, with everything they owned; the earth closed over them, and they perished and were gone from the community.
iv. This is getting serious!
1. Today it's expected that leaders make it easy for people to follow.
2. I disagree. Leaders are called to lead you into the most challenging, risky and humanly impossible adventure!
3. We should make it easy for leaders to lead!
4. Paul said, Follow me as I follow Christ.
5. If you are going to follow apostolic leaders, you better have your running shoes on!
6. Philippians 3:13-14 (ESV) 13 Brothers, I do not consider that I have made it my own. But one thing I do: forgetting what lies behind and straining forward to what lies ahead, 14 I press on toward the goal for the prize of the upward call of God in Christ Jesus.
7. 1 Corinthians 9:24-26 (ESV) 24 Do you not know that in a race all the runners run, but only one receives the prize? So run that you may obtain it. 25 Every athlete exercises self-control in all things. They do it to receive a perishable wreath, but we an imperishable. 26 So I do not run aimlessly; I do not box as one beating the air.
a. Apostolic leaders lead into a difficult, costly mission with a sharp prophetic edge.
b. Pastors mostly lead you into comfort, and there is a place for that… and apostles lead you into mission, into movement.
c. This is why churches are usually best led by apostles and small groups are usually best led by pastors, or the regional church led by apostles, and local bodies led by pastors. They must work together.
d. We equip people to work, to move, to fulfill a mission.
e. Ephesians 4:11-12 (ESV) 11 And he gave the apostles, the prophets, the evangelists, the shepherds and teachers, 12 to equip the saints for the work of ministry, for building up the body of Christ,
f. It's time to move!
III. The Great Movement
a. From the Great Mistake to the Great Movement.
b. The older generation complained, grumbled, sinned sexually, had idols, etc… but the younger gen­er­a­tion was hum­bled, tested and dis­ci­plined by the Lord dur­ing their desert sojourn.
c. They were ready to move into their mission.
d. Our church's key verses:
i. Joshua 3:4-5 (ESV) 4 …Do not come near it, in order that you may know the way you shall go, for you have not passed this way before." 5 Then Joshua said to the people, "Consecrate yourselves, for tomorrow the LORD will do wonders among you."
1. Verse 4 is why we must embrace apostolic leadership—we have never been this way before…apostles are 'sent ones'…they are pioneers.
a. You need a Daniel Boone leading you!
b. Despite some resistance from American Indian tribes such as the Shawnee, in 1775 Boone blazed his Wilderness Road through the Cumberland Gap in the Appalachian Mountains from North Carolina and Tennessee into Kentucky. There he founded the village of Boonesborough, Kentucky, one of the first American settlements west of the Appalachians.
c. Boone was a militia officer during the Revolutionary War (1775–83), which in Kentucky was fought primarily between the American settlers and the British-aided Native Americans. Boone was captured by Shawnee warriors in 1778, who after a while adopted him into their tribe.
d. Before the end of the 18th century, more than 200,000 European people migrated to Kentucky/Virginia by following the route marked by Boone.
2. The only way we can survive such a dangerous mission is if we follow verse 5 instructions: Consecrate yourselves and prepare for wonders!
3. Consecrate: Prepare, sanctify, clean, dedicate, purify
a. The older generation who died in the desert complained because they were lacking, and because they had unbelief.
b. Notice the remedy: The younger generation embraced a fasted lifestyle as they consecrated themselves…and also embraced ridiculous faith as they were called to step into the waters of the Jordan and march around the walls of a fortified city.
ii. We are moving into the uncharted, impossible, not into the predictable and casual! Daniel Boone! Joshua! How about Peter Pan?
1. Peter Pan Jesus
2. It's time to follow! To blaze a new trail!
3. Joshua 3:2-3 (ESV) 2 At the end of three days the officers went through the camp 3 and commanded the people, "As soon as you see the ark of the covenant of the LORD your God being carried by the Levitical priests, then you shall set out from your place and follow it.
4. God is raising up trailblazing leaders who carry the presence of God into the land of promise! Dare you follow?!
5. Joshua 3:9-13 (ESV) 9 And Joshua said to the people of Israel, "Come here and listen to the words of the LORD your God." 10 And Joshua said, "Here is how you shall know that the living God is among you and that he will without fail drive out from before you the Canaanites, the Hittites, the Hivites, the Perizzites, the Girgashites, the Amorites, and the Jebusites. 11 Behold, the ark of the covenant of the Lord of all the earth is passing over before you into the Jordan. 12 Now therefore take twelve men from the tribes of Israel, from each tribe a man. 13 And when the soles of the feet of the priests bearing the ark of the LORD, the Lord of all the earth, shall rest in the waters of the Jordan, the waters of the Jordan shall be cut off from flowing, and the waters coming down from above shall stand in one heap."
iii. Joshua 6:1-2 (ESV) 1 Now Jericho was shut up inside and outside because of the people of Israel. None went out, and none came in. 2 And the LORD said to Joshua, "See, I have given Jericho into your hand, with its king and mighty men of valor.
IV. Conclusion
a. If you want your city, you have to conquer your river.
b. If you want your Goliath, you have to conquer your lion and your bear.
c. If you are not interested in taking the city, you'll waste away in the desert on the wrong side of promise.
d. If you aren't interested in taking on Goliath, you'll be bait for a roaring lion looking for someone to devour.
e. We have no option. We must fight. We must believe. We must advance.