I will be leading a new group based on my book Revelation Driven Prayer!
If you are in the Branson/Springfield, Missouri area, I'd like to invite you to a brand new prophetic prayer group!
I will be teaching out of my book Revelation Driven Prayer each week, and we will also be spending time in various expressions of prayer and intercession as well.
This will be a powerful experience and a great place for people of all types—from brand new Christians to seasoned veterans—to grow in prayer in a fun, joyful and casual environment.
The first meeting will take place in my home on Wednesday, September 9th.
If you'd like more info or want directions, contact me directly at

[email protected]

.
I can't wait to see you there!
(Oh, yes, we'll have coffee and snacks each week!)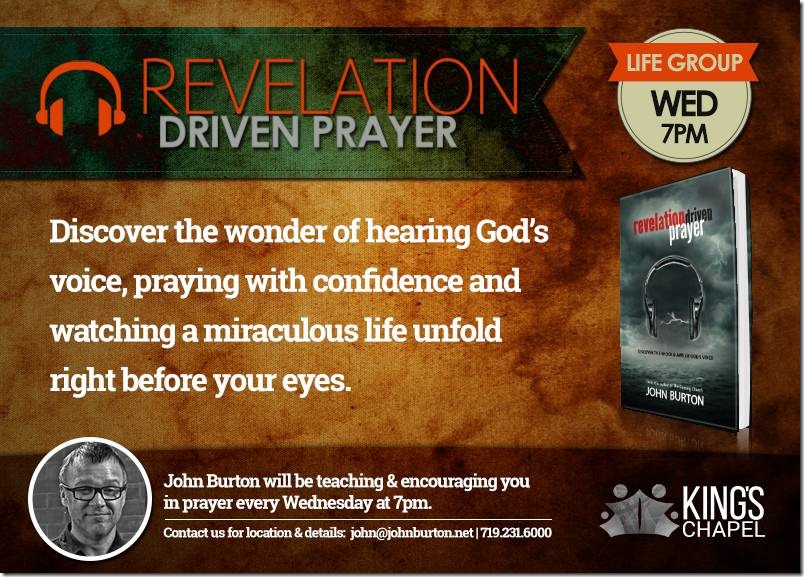 theLab School of Fire is fueled by deep and prophetic prayer and encounter. Check out these testimonies:
"It was an incredible time at theLab class yesterday. So much freedom! There is so so much breakthrough and clarity happening in my life right now! I am looking forward to even more very soon. God really knew what he was doing when He put me here on this journey with such an incredible group of people!!" Victoria

"The internship has completely changed my life. I have been marked, set free…" Valerie
"I've been waiting 36 years to see and experience the awesome power of the fire of God through theLab." Shelly

"God has brought a shift in every area of my life since starting the internship. It is a can't miss, mind blowing God encounter that will change your life." Joshua
EARLY REGISTRATION DISCOUNT OPPORTUNITY ENDS TODAY!
Save $200 by applying today. You ONLY have to pay the $25 application fee, and you will lock in the discounted rate when you submit your application before midnight tonight!
Join with a team of burning men & women on a journey into the fire of God's presence. We believe there is a significant yet hidden company of Believers that God is gathering together to be trained, healed and infused with fire. These mighty people will carry and release the burning of the Holy Spirit into the revival-ready Detroit region…and beyond to the cities of the Earth.
Watch a promo video here: http://vimeo.com/27407425 
Apply TODAY! http://www.revivallab.com/internship 
CLASSES INCLUDE
THE MINISTRY OF THE FORERUNNER
There is a rising remnant of prophetic messengers who are consumed by fire and propelled by a burning zeal for advancing God's Kingdom. Discover more about this critical end-time ministry.
INTIMACY/LOVE
The most critical fuel the church needs to go empower every key ministry is the same fuel we need to launch us in our personal lives. That fuel is the burning desire that results from an intimate encounter with the Lover of our souls.
UNOFFENDABLE
Offended hearts are imprisoned hearts. This teaching has set many people free, and you will learn how to grow in God without the hindrance of offense slowing you down.
REVELATION DRIVEN PRAYER
There is a dramatic and wildly dynamic life of revelation that is available to all of us. Learn how to hear God clearly, encounter his heart and advance with a precision focus of prayer and intercession.
INTERCESSION
You are a carrier of the mighty presence of God. As you pick up the Ark of God's presence and move ahead through rivers and around imposing walled cities, you will lead the people through their own seemingly impossible situations.
DELIVERANCE
First, you will discover the wonder of freedom from personal struggles, fears and obstacles. Then, you'll learn how to set the captives free!
20 ELEMENTS OF REVIVAL
There are over 19,000 cities in the nation, and none of them are experiencing the biblical normalcy of revival. You will investigate how to initiate a step-by-step process of transformation and revival in your city.
A SPIRIT OF INSIGNIFICANCE
Many in the church are convinced they do not play a significant role in God's great plan. That strategy of the enemy will be dealt with directly as we learn how God sees each of us-as mighty people of valor.
ENCOUNTERING AND RELEASING THE FIRE
There is a baptism of Fire for every Believer in Jesus Christ. Experience this Fire personally and learn how to release as burning men and women of God.
COVENS AND PHARAOH IN THE CHURCH
There is a way to interact with authorities in our lives that will result in a great escape into the wilderness of encounter. Learn how you can move out in abundant life and extreme freedom while running well with the leaders God has put into your life.
Prepare to have your theology of salvation challenged as you dive into intimate encounter with Jesus!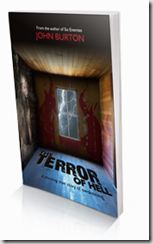 This is the FINAL session at theLab that we'll be opening up our Saturday classes for people not in the internship. Starting in January, the Saturday classes will only be offered to those enrolled in the internship. So, now is the time to get in on these classes!
---
Don't forget to join us TONIGHT from 10pm-midnight at theLab prayer event! Head over to www.revivallab.com for the location!
---
Tomorrow from 10am-2pm I'll be sharing on the encounter that changed my life more than any other—I was dragged toward Hell by an overpowering demon.
As I came out of that encounter, God spoke to me clearly: John, many in the church will be shocked to find themselves in Hell one day.
I have been rocked for over 20 years since I had that dream in Dayton, Ohio.
Discover the truth behind the call for intimate encounter with God, and how that relates to our eternal position in Christ.
The cost is $15. You can pay online prior to arriving at www.revivallab.com/payment or you can pay be check, cash or credit card at the door.
As always, we'll be holding the class at The Tabernacle, 14205 12 Mile Road, Warren, MI 48088.
See you there!