Audit The Terror of Hell tomorrow at theLab
Prepare to have your theology of salvation challenged as you dive into intimate encounter with Jesus!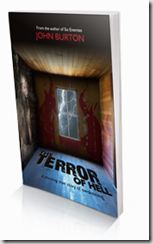 This is the FINAL session at theLab that we'll be opening up our Saturday classes for people not in the internship. Starting in January, the Saturday classes will only be offered to those enrolled in the internship. So, now is the time to get in on these classes!
---
Don't forget to join us TONIGHT from 10pm-midnight at theLab prayer event! Head over to www.revivallab.com for the location!
---
Tomorrow from 10am-2pm I'll be sharing on the encounter that changed my life more than any other—I was dragged toward Hell by an overpowering demon.
As I came out of that encounter, God spoke to me clearly: John, many in the church will be shocked to find themselves in Hell one day.
I have been rocked for over 20 years since I had that dream in Dayton, Ohio.
Discover the truth behind the call for intimate encounter with God, and how that relates to our eternal position in Christ.
The cost is $15. You can pay online prior to arriving at www.revivallab.com/payment or you can pay be check, cash or credit card at the door.
As always, we'll be holding the class at The Tabernacle, 14205 12 Mile Road, Warren, MI 48088.
See you there!