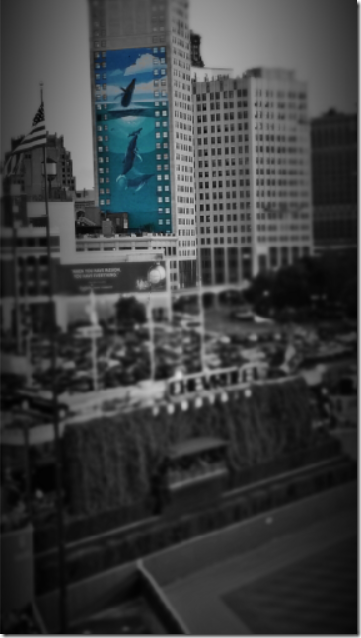 As I sat up high at Comerica Park last night watching a Tiger's game, I saw a mural on a building that God revealed to me when I first visited Detroit.
I had a dream, and afterwards I visited Detroit to minister, and then saw the mural of jumping whales which was a key part of the dream.
It's a warning dream, and Detroit must respond in repentance and intercession—as must the nation. Here's the picture I took last night at the game and also the dream. (This is taken from the chapter in my book The Coming Church titled Their Freedom is Your Mission.)
A Troubling End-Time Dream
Here is a clear example of a sharp, prophetic message. Will we respond to the call or casually watch from the sidelines?
It would be nice if all of our dreams, visions and communication from God had the feel of running and dancing through a field of daisies, but it's more important that we receive accurate data than imaginary, feel good stories.
This dream was anything but candy canes and ice cream. To date, other than my encounter with Hell in the early 1990s, I've never received such an urgent and troubling dream of God.
The first scene in my dream represented a typical American day. I was in my basement in a really comfortable leather recliner, sitting in front of a large television. I was excitedly watching my favorite NFL team, the Chicago Bears, play in a nationally televised evening game. I was thoroughly entertained and was settling in for a great night of football.
The scene then suddenly changed. I found myself in the captain's seat of the largest commercial airplane I'd even seen. In fact, this jet was capable of holding over 1000 people. Everybody in the airplane was excited and ready for the journey—and they were all blood-bought Christians. They represented an end-time remnant being prepared by God for the days ahead.
In the cockpit, I was overwhelmed by the magnitude and majesty of the airplane. I put my hand on the throttle as we were sitting on the runway, ready to depart. Simply touching it revealed a power that was sobering indeed.
I understood that, as the captain of the airplane, my responsibility was immense. I felt completely incapable of fulfilling my duties, but at the same time, I felt such an overwhelming confidence. I had the grace to do what I was called to do, even though I didn't understand even how to take the first step.
In that grace, I gave the throttle a push. Every inch that I carefully moved the throttle forward it seemed that the power increased one hundredfold or more. The slight vibration that was caused by multiple jet engines kept increasing as I moved 1000 people down the runway.
Suddenly, we were airborne, and we were catapulted into our unknown mission.
Almost immediately, as I followed the flight plan, we were flying over an ocean. As I looked down, something unusual had caught my attention, and I yearned to move in for a closer look. I brought the jet down and flew just above the surface of the water. What I saw was remarkable. All around, sea life was leaping out of the water. Everybody in the airplane was glued to the windows as they were captivated by the same view. Dolphins and whales were jumping high into the air as were innumerable other creatures, many of which I had never seen before.
As I watched, my desire for greater revelation and encounter with this seeming other-worldly exhibition was rapidly increasing. I wanted more!
I then did what makes no sense in the natural—I nose-dived and took the giant airship under the water. The moment I did, the power of the engines rapidly increased. The deeper I went, the greater the power. Under the water, I saw things I had never seen before. It was dark, but all of the sea life was easily visible as they glowed in various brilliant colors. Needless to say I, along with my passengers, would never be the same again.
I then reemerged at the surface of the water and took the aircraft back up to cruising altitude. It was time to move on to our destination.
Just as we reached the appropriate altitude, I received an urgent radio transmission:
The airport you will soon arrive at has been overtaken by terrorists. When you land, you and your passengers will deplane and will be confronted by them. You have no option to divert to another airport. If you do, the missiles that are currently locked on to your aircraft will be launched and you will all perish. You have no option but to continue according to your original flight path and land.
I then passed that information along to the 1000 passengers. In a moment, our joyful awe of what we experienced just moments ago shockingly changed to sobriety. We were about to land.
When we did, my two older boys (who at the time were approximately 10 and 12 years old) and I left the plane and entered the terminal.
I expected to see mass chaos, but I did not. Though there were many thousands of people in the terminal's various public areas, it was so quiet that you could hear someone cough from one hundred yards away. Fear had gripped everybody. They were scared silent.
Each public area looked the same. People were ordered to line up along the walls by a terrorist who was standing in the middle of the room. The terrorist was dressed fully in black and had a machine gun in his hands.
We were ushered into a room, and as we entered, my oldest son thought he saw someone he knew on the other side of the room. Before I could do anything, he broke away from me, oblivious to what was happening, and ran across the room to see his friend. I knew it was the last time I'd ever hold my son.
I then held my younger son closer than ever as we took our place on the wall.
The terrorist then started addressing people as he walked along the wall. He slowly, methodically moved closer to where we were standing. He then stopped and ordered the man who was standing next to us to move to the center of the room. The terrorist asked this terrified man a question, "Have you ever stolen anything?"
He didn't know how to answer. Should he tell the truth and reveal that, yes, he had stolen something at some point in his life? Would that earn him favor with the terrorist? Or, should he lie and attempt to convince him he was pure and should not be executed?
I knew that it didn't matter how he responded. He was about to take his last breath.
What I saw next was grisly. I shielded my younger son's eyes as the terrorist pulled out a machete and started hacking the victim's fingers, a half an inch at a time. He dismembered this man and was ready to move on to the next—us.
Then I woke up.
What did it mean?
Football. In America, football is one of the enduring symbols of passionate, cultural entertainment. Of course, there is nothing inherently wrong with watching a football game, but the game's place in my dream was significant. It represented life as usual. I was happily distracted and nothing else existed on my grid that night.
The sudden shift to the cockpit is key. Vehicles often represent ministry when they occur in dreams. We must, as the remnant Church, be ready for a sudden move into critical end-time ministry. We have to be instant in and out of season. Our ears must be attentive to the prophetic voices that are sounding alarms in our nation.
Supernatural power and grace is coming to the true, remnant Church. The 1000 passengers represented the true Church—Christians who were ready to be carried by God and who were not doing so for their own enjoyment. The massive airplane and the immeasurable power that it produced was there for a purpose—to carry people into a mission. The coming Church will be marked by people, as in the first century Church, who are mission minded and willing to lay down their lives. They aren't there for the benefits alone.
When the remnant Church is in position, the adventure will begin! As in the dream, the first phase will include such glorious, supernatural revelation that we will be forever transformed. Those who are distracted by the offerings of the world will miss out on this remnant call into the shock and the awe of the glory of God! There is a consecration that's required for those who are interested in going into the deep places with God.
The deeper we go, the more power and wonder we will experience.
Then Joshua rose early in the morning and they set out from Shittim. And they came to the Jordan, he and all the people of Israel, and lodged there before they passed over. At the end of three days the officers went through the camp and commanded the people, "As soon as you see the ark of the covenant of the LORD your God being carried by the Levitical priests, then you shall set out from your place and follow it. Yet there shall be a distance between you and it, about 2,000 cubits in length. Do not come near it, in order that you may know the way you shall go, for you have not passed this way before."
Then Joshua said to the people, "Consecrate yourselves, for tomorrow the LORD will do wonders among you." And Joshua said to the priests, "Take up the ark of the covenant and pass on before the people." So they took up the ark of the covenant and went before the people. Joshua 3:1-6
God is raising up captains, leaders who will, like Joshua, call everybody into position. They will lead the remnant Church out of typical, deadly desert life across the water and into promise.
The end-time company represented by the 1000 on the airplane will be those who, as priests of the Lord, will carry the ark of his presence into the mission.
We have never been this way before. It is a mystery, but a mystery well worth the trouble to discover. We must consecrate ourselves on this side of the unknown as we, in faith, get ready to experience the wonders of the Lord!
As we emerge out of revelation of the glory of God, we will be functioning from a place of power and radical transformation. We will then be ready for the troubling warnings of God.
I believe the terrorists in my dream are less symbolic than we might hope. Fear is about to grip our land as the enemy puts his boots on the ground. We must stand firm in the grace of God, even when horrific trouble comes, as it did for me as a father, when in my dream, my older son broke away from my care.
Very troubling times are ahead of us. The enemy's primary weapon will be the spirit of fear. God's primary weapon? The shock and the awe of the glory of God. The coming Church will be a Church that has gone deep in God together and my friend, this is the only Church that will be able to stand against the wickedness.
Interestingly, I discovered after I had this dream, that it is known that Islamic terrorists will actually chop off the fingers of thieves just as I witnessed in my dream. I had never heard of this before and it was further confirmation that the dream was communication from the Lord and that we must be ready for an assault against his Bride.
"As to the thief, Male or female, cut off his or her hands: a punishment by way of example, from Allah, for their crime: and Allah is Exalted in power." Quran 5:38
Perfect love casts out fear, which is why we know the kingdom of darkness cannot win. This is all the more reason for the Church to go deep into God! We need a revelation of Jesus! The coming Church will have that revelation of deep, glorious love, and the enemy knows this. This is why he is unleashing a false-love movement that is actually founded on fear…
Terrorism, Bombings, Earthquakes and 9/11
In light of the Boston bombings and the earthquakes in Iran, Oklahoma and Papua New Guinea that followed, I thought it was important to share this message by Bill Click with you.
Before I do, I want to make one important point.
I often experience the resistance of some Christians to what they call negative prophecy. There is a movement away from warnings, end-times revelations and other prophetic insight that highlights disaster, wars, famines, etc.
The easy point I can make is that such prophecies are biblical. We seen negative prophecies cover to cover from Joseph to John the Revelator.
The additional point is this: Those who resist negative prophecies are fully supportive of natural intelligence! They support the CIA, FBI, Homeland Security and other agencies as they listen to chatter and gain intelligence regarding planned terror events.
If the CIA reveals that they picked up on communications from a terror organization who is planning to plant bombs somewhere on American soil, we are thankful for that revelation! We plan accordingly, and urgently!
But, when the prophets mention that they have picked up on communications, they are ignored at best and discredited and resisted at worst.
The point? Listen to the prophets and don't only receive the messages that tickle your ears. We need to hear the chatter about what is coming. God wants us to prepare for judgments of God and attacks of the enemy that are on their way.
It's critical that we don't put our heads in the sand and ignore what's happening around us. That is not spiritual warfare, it's abdicating our spiritual responsibility and it's quite serious.
BILL CLICK
April 16, 2013
Early on Monday I was trying to decide on a message for the week. I felt impressed to reissue a previous one, and what is below caught my eye. I initially dismissed it as not really relevant for now, that it would need a major revision and edit for update.
I then decided on another one that I would look over a bit before sending.
But after returning home Monday afternoon, and beginning to see the reports from Boston, I decided to reissue the following message from late in 2004, without revision.
What the Lord is Saying at this Time Originally released on October 6, 2004 Bill Click
1. Something Worse than "911" is Going to Happen in the United States.
On September 14th of this year as Nancy and I were driving, the anointing of the Lord came upon me and the Spirit spoke these words within my spirit: "Something worse than '911' is going to happen in the United States." I have not yet been told anymore about when, where, to whom or through whom. But I am released to share this with you.
Shortly after "911," there were "Dirty bomb" scares– concerns that Usama bin Laden had nuclear capability. The Lord clearly showed me at that time that bin Laden did– in fact– have the means, but that God was going to protect the USA. Furthermore, it was a conditional word based on the church's continual willingness to be made battle ready in the Spirit by evangelizing the lost, equipping the saints and de-religiousizing the church through authentic spiritual reformation which will be evident by structural transformation. The church must be built as Jesus designed and the Word makes clear– around gifts and offices instead of talents and positions.  For this to take place, the Spirit must be yielded to throughout continual processes which bring constant change until the church is totally designed, led, powered and directed by the Head.
It has not been revealed to me what type of calamity is coming to the USA, but the separate experiences concerning calamity and a nuclear disaster which has been averted to this point could very well be related. It is semi-common knowledge that many "close calls" (nuclear & otherwise)– that have never been made public–  have been turned back by the military and other "intelligence" through God's merciful protection during past years.
Regardless of what is ahead, I am sure that the Lord is saying that the "something worse than '911′ that is going to happen in the United States" IS going to happen. It is too late to avert it, but not too late to get ready for all trouble by being battle ready in the Spirit, evangelizing the lost, equipping the saints and de-religiousizing the church through authentic spiritual reformation which will be evident in structural transformation– the church becoming truly established by Christ in gifts and offices instead of talents and positions.
2. The Body of Christ Needs to Retire all Credit Card debt by June 2005
A few days before I received the revelation of calamity I just shared, I was impressed by the Spirit (for reasons I do not claim to understand) "The body of Christ needs to retire all credit card debt by June 2005." Does this relate to the above? I don't know, but I am confident in sharing this with you. Some reading this will despair, saying: "How will we do it?" Some can do it by discipline and budgeting. There are 8+ months left and it is easy enough to compute (although much harder for many to say "no" to borrowing against a very uncertain future). Most will need a "supernatural exchange," like we did in 2002. At the beginning of 2002, the Lord spoke to us to double our giving and then said we would receive increase, with which we were to retire our personal credit card debt. The first four months things got worse instead of better. The increased giving resulted in our only making minimum payment on cards totally $10,000+ in debt. In late April, God began to move and all that debt was retired by the end of August 2002. There is still no debt. In July 2003 we purchased the building we meet in and there is no debt attached to it either. We are a debt-free ministry.
God CAN if we will listen to and follow Him completely. For many, giving and receiving will be the only way you get ready for June 2005. What will happen then? I don't know, but if it turns out that we will have opportunity to invest, or receive wealth transfer at that time (instead of a banking or market collapse that some may read into this), don't you want to be ready for God's increase, whatever it is? To do so, we must all obey the Spirit of the Lord. 3. Terrorism– No Matter how or through whom it Manifests–  is the War that will Grip the World's Attention, Resources & Efforts until the Return of Christ.
I want to assure you as I continue that I am neither Democrat nor Republican. Terrorism is a war without borders that cannot be won, it can only be contained. I agree with President George W. Bush that warring against terrorism requires "perfection" to be successful. People of God, there is no such thing as "perfection" in the natural realm. There IS however, the merciful protection and blessing of God. Blessing, however, is reserved for the obedient. And there will be moments when mercy is to let us see how far we are from God and the severity of the need to continually turn toward Him.
I disagree with the President, however, when he asserts that we must fight terrorism  "there" so we don't have to fight it "here." We have to fight it everywhere– and it is already here. Begin to claim as your inheritance those who frequent the Mosque's in your area, and pray a laborer in their path– being willing to be that very laborer when the Lord appoints and anoints you for the task.
The Military will never win this war of "terrorism," but it must continually fight for it to be contained. Those who are truly God's will be rise up and be strengthened when threats and fear abound however, not shrink back. The church WILL continue to be gathered, established and when all is ready– The Father will send Jesus and He will defeat the many differing "fronts" of the war Antichrist wages. But terrorism's root– no matter how or through whom it manifests (Jihad, White Supremacists, antigovernment groups, murderous antiabortionists, the Klan, the intimidation through organized crime, gangs and even vandalism, etc.) is the spirit of Antichrist.
4. Terrorism is only One Strategy of the Spirit of Antichrist's Efforts to Stop the Gospel of the Kingdom and Delay the Return of Christ.
There are others:
A. False unity in the church. This manifests in various ways, from "dumbing down" God for the seek of seeker sensitivity to "lowest common denominator" multi-church unity meetings to also the efforts to arrive at a "consensus" among gatherings of horizontal church leaders. Where there is no true function of an individual's spiritual nature and grace, there is no true assembling of the Body (Psa.133). Don't fellowship "down" to belong or to include, or to be included. If they want you, then be you when you're there. Don't settle for being rejected by the rejected. You cannot be rejected, you have been accepted by the One whose acceptance of you settles it forever.
B. Preference of false religions in our society through what is called "political correctness." Whether it be in the government, the workplace, in education, in technology, etc. – if you are a "Christian" who proclaims Jesus Christ you will be increasingly singled out, ridiculed, minimized, passed over and otherwise left out in days ahead. KNOW your "place" in the world as a witness, and be ready to increasingly be bold and see the extent to which God is with you. God will protect and provide for those who truthfully represent Him with no apology. Although we ARE to gather resources from the world for the Kingdom (Dt.8:18), we are to above all else be witnesses of Him in that realm (Acts 1:8; Mt.28:18-20).
C. Nations who "cooperate" with one another schizophrenically– always requiring "consensus" before acting as a means of actually preventing that very action, not endorsing it. C. Peter Wagner's description of the "corporate spirit of religion" in his book "Changing Church" can be applied to this realm as well, albeit by another name: "the spirit of Antichrist." To be included or sought out for the sake of being controlled does not insure that what God has given the church will continue to live, increase and reproduce. Instead, it guarantees its demise.
In the same way, for the USA to place their protection in the hands of other nations playing a schizophrenic "push-pull" of support and inaction while protecting their own interests and covering their own scandals should be easy enough to see for it is: deception at the international level for the sake of "controlling" the USA while protecting the spirit of Antichrist.
President George W. Bush has always cooperated more than enough, and has only acted when it was clear that every resolution to act was meaningless. Even though being in Iraq, Afghanistan and virtually everywhere else is a strain on all our resources, and precious lives have been lost– it is clear in my spirit that George W. Bush is God's choice for the next 4 years. I pray that he receives the support that his being "chosen" should provide. Why? "Because something worse than '911' is going to happen in the United States," says the Lord.
Remember:
The Body of Christ needs to retire all Credit Card debt by June 2005.
Terrorism– no matter how or through whom it manifests–  is the war that will seize the world's attention, resources & efforts until the return of Christ.
Terrorism is only one strategy of an Antichrist effort to stop the gospel of the Kingdom and delay the return of Christ.
_______________________________________________
RIVER OF POWER MINISTRIES [email protected] www.riverofpower.org