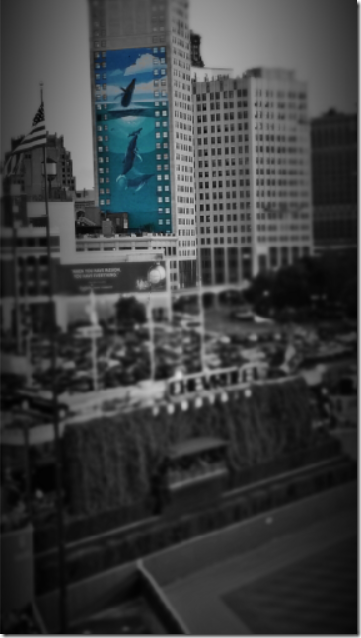 As I sat up high at Comerica Park last night watching a Tiger's game, I saw a mural on a building that God revealed to me when I first visited Detroit.
I had a dream, and afterwards I visited Detroit to minister, and then saw the mural of jumping whales which was a key part of the dream.
It's a warning dream, and Detroit must respond in repentance and intercession—as must the nation. Here's the picture I took last night at the game and also the dream. (This is taken from the chapter in my book The Coming Church titled Their Freedom is Your Mission.)
A Troubling End-Time Dream
Here is a clear example of a sharp, prophetic message. Will we respond to the call or casually watch from the sidelines?
It would be nice if all of our dreams, visions and communication from God had the feel of running and dancing through a field of daisies, but it's more important that we receive accurate data than imaginary, feel good stories.
This dream was anything but candy canes and ice cream. To date, other than my encounter with Hell in the early 1990s, I've never received such an urgent and troubling dream of God.
The first scene in my dream represented a typical American day. I was in my basement in a really comfortable leather recliner, sitting in front of a large television. I was excitedly watching my favorite NFL team, the Chicago Bears, play in a nationally televised evening game. I was thoroughly entertained and was settling in for a great night of football.
The scene then suddenly changed. I found myself in the captain's seat of the largest commercial airplane I'd even seen. In fact, this jet was capable of holding over 1000 people. Everybody in the airplane was excited and ready for the journey—and they were all blood-bought Christians. They represented an end-time remnant being prepared by God for the days ahead.
In the cockpit, I was overwhelmed by the magnitude and majesty of the airplane. I put my hand on the throttle as we were sitting on the runway, ready to depart. Simply touching it revealed a power that was sobering indeed.
I understood that, as the captain of the airplane, my responsibility was immense. I felt completely incapable of fulfilling my duties, but at the same time, I felt such an overwhelming confidence. I had the grace to do what I was called to do, even though I didn't understand even how to take the first step.
In that grace, I gave the throttle a push. Every inch that I carefully moved the throttle forward it seemed that the power increased one hundredfold or more. The slight vibration that was caused by multiple jet engines kept increasing as I moved 1000 people down the runway.
Suddenly, we were airborne, and we were catapulted into our unknown mission.
Almost immediately, as I followed the flight plan, we were flying over an ocean. As I looked down, something unusual had caught my attention, and I yearned to move in for a closer look. I brought the jet down and flew just above the surface of the water. What I saw was remarkable. All around, sea life was leaping out of the water. Everybody in the airplane was glued to the windows as they were captivated by the same view. Dolphins and whales were jumping high into the air as were innumerable other creatures, many of which I had never seen before.
As I watched, my desire for greater revelation and encounter with this seeming other-worldly exhibition was rapidly increasing. I wanted more!
I then did what makes no sense in the natural—I nose-dived and took the giant airship under the water. The moment I did, the power of the engines rapidly increased. The deeper I went, the greater the power. Under the water, I saw things I had never seen before. It was dark, but all of the sea life was easily visible as they glowed in various brilliant colors. Needless to say I, along with my passengers, would never be the same again.
I then reemerged at the surface of the water and took the aircraft back up to cruising altitude. It was time to move on to our destination.
Just as we reached the appropriate altitude, I received an urgent radio transmission:
The airport you will soon arrive at has been overtaken by terrorists. When you land, you and your passengers will deplane and will be confronted by them. You have no option to divert to another airport. If you do, the missiles that are currently locked on to your aircraft will be launched and you will all perish. You have no option but to continue according to your original flight path and land.
I then passed that information along to the 1000 passengers. In a moment, our joyful awe of what we experienced just moments ago shockingly changed to sobriety. We were about to land.
When we did, my two older boys (who at the time were approximately 10 and 12 years old) and I left the plane and entered the terminal.
I expected to see mass chaos, but I did not. Though there were many thousands of people in the terminal's various public areas, it was so quiet that you could hear someone cough from one hundred yards away. Fear had gripped everybody. They were scared silent.
Each public area looked the same. People were ordered to line up along the walls by a terrorist who was standing in the middle of the room. The terrorist was dressed fully in black and had a machine gun in his hands.
We were ushered into a room, and as we entered, my oldest son thought he saw someone he knew on the other side of the room. Before I could do anything, he broke away from me, oblivious to what was happening, and ran across the room to see his friend. I knew it was the last time I'd ever hold my son.
I then held my younger son closer than ever as we took our place on the wall.
The terrorist then started addressing people as he walked along the wall. He slowly, methodically moved closer to where we were standing. He then stopped and ordered the man who was standing next to us to move to the center of the room. The terrorist asked this terrified man a question, "Have you ever stolen anything?"
He didn't know how to answer. Should he tell the truth and reveal that, yes, he had stolen something at some point in his life? Would that earn him favor with the terrorist? Or, should he lie and attempt to convince him he was pure and should not be executed?
I knew that it didn't matter how he responded. He was about to take his last breath.
What I saw next was grisly. I shielded my younger son's eyes as the terrorist pulled out a machete and started hacking the victim's fingers, a half an inch at a time. He dismembered this man and was ready to move on to the next—us.
Then I woke up.
What did it mean?
Football. In America, football is one of the enduring symbols of passionate, cultural entertainment. Of course, there is nothing inherently wrong with watching a football game, but the game's place in my dream was significant. It represented life as usual. I was happily distracted and nothing else existed on my grid that night.
The sudden shift to the cockpit is key. Vehicles often represent ministry when they occur in dreams. We must, as the remnant Church, be ready for a sudden move into critical end-time ministry. We have to be instant in and out of season. Our ears must be attentive to the prophetic voices that are sounding alarms in our nation.
Supernatural power and grace is coming to the true, remnant Church. The 1000 passengers represented the true Church—Christians who were ready to be carried by God and who were not doing so for their own enjoyment. The massive airplane and the immeasurable power that it produced was there for a purpose—to carry people into a mission. The coming Church will be marked by people, as in the first century Church, who are mission minded and willing to lay down their lives. They aren't there for the benefits alone.
When the remnant Church is in position, the adventure will begin! As in the dream, the first phase will include such glorious, supernatural revelation that we will be forever transformed. Those who are distracted by the offerings of the world will miss out on this remnant call into the shock and the awe of the glory of God! There is a consecration that's required for those who are interested in going into the deep places with God.
The deeper we go, the more power and wonder we will experience.
Then Joshua rose early in the morning and they set out from Shittim. And they came to the Jordan, he and all the people of Israel, and lodged there before they passed over. At the end of three days the officers went through the camp and commanded the people, "As soon as you see the ark of the covenant of the LORD your God being carried by the Levitical priests, then you shall set out from your place and follow it. Yet there shall be a distance between you and it, about 2,000 cubits in length. Do not come near it, in order that you may know the way you shall go, for you have not passed this way before."
Then Joshua said to the people, "Consecrate yourselves, for tomorrow the LORD will do wonders among you." And Joshua said to the priests, "Take up the ark of the covenant and pass on before the people." So they took up the ark of the covenant and went before the people. Joshua 3:1-6
God is raising up captains, leaders who will, like Joshua, call everybody into position. They will lead the remnant Church out of typical, deadly desert life across the water and into promise.
The end-time company represented by the 1000 on the airplane will be those who, as priests of the Lord, will carry the ark of his presence into the mission.
We have never been this way before. It is a mystery, but a mystery well worth the trouble to discover. We must consecrate ourselves on this side of the unknown as we, in faith, get ready to experience the wonders of the Lord!
As we emerge out of revelation of the glory of God, we will be functioning from a place of power and radical transformation. We will then be ready for the troubling warnings of God.
I believe the terrorists in my dream are less symbolic than we might hope. Fear is about to grip our land as the enemy puts his boots on the ground. We must stand firm in the grace of God, even when horrific trouble comes, as it did for me as a father, when in my dream, my older son broke away from my care.
Very troubling times are ahead of us. The enemy's primary weapon will be the spirit of fear. God's primary weapon? The shock and the awe of the glory of God. The coming Church will be a Church that has gone deep in God together and my friend, this is the only Church that will be able to stand against the wickedness.
Interestingly, I discovered after I had this dream, that it is known that Islamic terrorists will actually chop off the fingers of thieves just as I witnessed in my dream. I had never heard of this before and it was further confirmation that the dream was communication from the Lord and that we must be ready for an assault against his Bride.
"As to the thief, Male or female, cut off his or her hands: a punishment by way of example, from Allah, for their crime: and Allah is Exalted in power." Quran 5:38
Perfect love casts out fear, which is why we know the kingdom of darkness cannot win. This is all the more reason for the Church to go deep into God! We need a revelation of Jesus! The coming Church will have that revelation of deep, glorious love, and the enemy knows this. This is why he is unleashing a false-love movement that is actually founded on fear…
I am BURNING with the SHOCK and AWE of God's plans for the church of Detroit.
DON'T miss the service TONIGHT at Revival Church! I'm burning, trembling.
Our worship leader just texted me: I know God is about to do something crazy tonight! You keep mentioning and army rising and I have been planning to do a new song tonight talking about an army rising up!
I'll be releasing an URGENT message on the call for a CITY FIRE.
There is a massive transition from local church emphasis to a city church mandate that's upon us now. We're moving from an Egyptian model of ministry that keeps us secluded and contained into a dominion model of ministry that expects the wild fire of God to spread.
Steve Gray of World Revival Church in Kansas City said, "Too many people are waiting for a move of God that fits what already exists."
In Egypt, Pharaoh was demanding that the people STAY while Moses was calling for God's people to GO. Pharaoh's kingdom was at risk if he lost people.
We as leaders have to be careful not operate in the spirit of Pharaoh by refusing to let God's people go. If I find myself getting depressed or nervous when people leave my church, it's an indicator that I'm influenced by this Egyptian strategy of kingdom building.
Brian Ming said in a song he wrote: God forgive us for building kingdoms of man on doctrines of demons in your name.
God forgive us!
An offensive shift is upon the church and an inappropriate response will result in continued bondage. While there is a lot of good happening within the context of the local church, it is by nature restrictive!
The call of Jesus was to GO while all too often the call of the local church is to STAY!
At Revival Church I have a policy that anybody from any church or ministry can freely recruit any person that's connected to our ministry. We have open hands. We actually expect people to catch fire here and then impact other churches and cities!
Steve Gray- "Most churches are concerned with losing people and money. I wish they would be a little more concerned with losing the Holy Spirit."
The fire we are going after cannot be contained at Revival Church. It will die out. It must spread! The carriers of that fire must GO!
For the corporate fire to spread, it must take on the nature of an out of control wild fire that follows the wind and seeks a never ending supply of fuel.
The new church will look nothing like we see now. We must learn how to live in the Spirit if we hope to embrace this uninvited yet deeply needed invasion from Heaven. Everything is at risk.
Come tonight. Get ready to get shocked. Get ready to come alive. Revival is drawing near. See you tonight. Prayer starts at 5pm and the fire starts spreading at 6pm!
We meet at THE TABERNACLE: 14205 12 Mile Road, Warren, MI 48088
I can't stop trembling… the fire is simmering and God is moving.
If you are not burning right this very moment in the shock and awe of the fear and the fire of God, and have an option as to what you are doing tonight, should you:
Stay home
Go to a movie
Hang with the family
Relax
Cancel life, find out where encounter is happening, and get there FAST
Choose #5! The fire is burning very deep at the Fire in February conference!
Catherine Mullins just walked in and is scoping out the place for tonight's event.
I just got back from a pastor's lunch and prayer event, and, oh man, I'm shaken.
The question was asked, if the people involved in carrying the fire to this region would stay for an extra two weeks, would we show up? Would the people of Detroit show up?
Man, it's time! It's time! We absolutely have to cancel as much of life as we can for the sake of contending for revival together.
Show up tonight early. The place will fill up fast. The prayer room before the service will be packed as well. The fire will start burning very, very hot in just a couple of hours… prayer starts at 6:30pm.
The service is free tonight… and we'll be staying after for more prayer until around 1am.
Let's go church!! Ahhhhhhhhhhhhhhhhh!!! Fire!!!