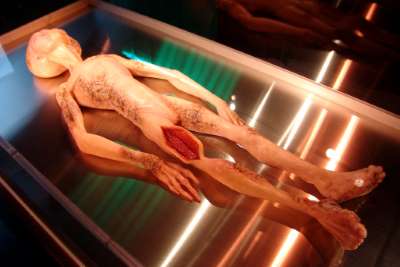 Former President Barack Obama believes the revelation of UFOs and aliens could unite humanity.
So now we are looking for E.T. to bring peace and prosperity to the world it seems. 
The Department of Defense and the Office of the Director of National Intelligence are scheduled to soon deliver an unclassified report on unidentified flying objects to Congress. Many are quite curious about what is about to be revealed.
In March, former director of national intelligence John Ratcliffe offered some hints in a Fox News interview, saying it would describe events from "all over the world," and that "there are a lot more sightings than have been made public."
Our former President said, "But no doubt, there would be immediate arguments about, well, we need to spend a lot more money on weapons systems to defend ourselves," Obama said. "And new religions would pop up, and who knows what kind of arguments we'd get into."
President Obama admits that even he, with the wealth of information and secrets only the highest officials in our nation are privy too, doesn't know if aliens exist. He is not sure what the unidentified flying objects that have been reported over the years are.
"What is true, and I'm actually being serious here, is that there is footage and records of objects in the skies that we don't exactly know what they are," he went on. "We can't explain how they move, their trajectory," Obama said. "They did not have an easily explainable pattern, and so I think that people still take seriously, trying to investigate and figure out what that is."
Former president Trump claimed last year that he had heard "very interesting" things about Roswell, the New Mexico city known for an alleged UFO event in 1947.
"I won't talk to you about what I know about it, but it's very interesting," Trump said at the time.
We have pilots speaking about their experiences with UFOs on 60 Minutes, videos captured by military personnel and even the Pentagon confirming several videos of UFO activity in 2019.
HOW SHOULD CHRISTIANS REACT?
Branson Ambrosino of the BBC writes, "The discovery of life on another planet might seem incompatible with faith in a deity." "…How could a believer reconcile this with their faith that humans are the crowning achievement of God's creation?. How could humans believe they were the apple of their creator's eye if their planet was just one of billions?"
While Billy Graham reportedly told the National Enquirer that he "firmly" believed God created alien life "far away in space," it would not be a stretch to admit that such a belief is challenging to support with Scripture. 
In our post-Christian world we first must agree that the Bible is the final authority on all matters. If a big-headed, thin-limbed green alien were to stare us in the face with their oversized eyes, and the Bible explicitly revealed that aliens do not exist, we'd have no option but to consider other conclusions. Contrary to the science-first crowd, I'm a Scripture-first guy. The Bible isn't threatened by scientific revelation, nor is it constrained by it.
Creationist Jonathan Safarti believes that humans are alone in the universe. He said, "Scripture strongly implies that no intelligent life exists elsewhere."
Of course, many Christians, including General of the faith Evangelist Billy Graham, give room for the possibility of other-worldly life. 
On the official billygraham.org website a question about the possibility of alien life is answered beginning with this: "The Bible doesn't say anything about the possibility of life on other planets. Its main concern is with human life on this planet, including our problems and our future. This doesn't mean life can't exist on other planets, for it well might; the Bible simply doesn't tell us.
Granted, the Bible is silent on many issues, including many astronomical facts. Biblical silence doesn't erase the possibility of aliens existing.
Of course, we do know that God created everything, including Earth and all the worlds beyond. If aliens existed, it would mean that God created them as well.
However, there are some difficulties that we must consider when discussing the possibility of aliens existing.
INTELLIGENT LIFE
We often hear about the possibility of the existence of intelligent life on other planets. The question we'd need to consider as Believers is a bit different. Does this life, if it indeed exists, have an eternal spirit? Dolphins, dogs, pigs and other animals are extremely intelligent, yet they are distinctly separated from humanity. They do not have an eternal spirit. God gave dominion over the animals to humans. Further, the whole of Scripture is intent on rescuing the souls of man. It has nothing to do with our intelligence, but rather it's our capacity to be in relationship with Jesus forever. So, would these aliens have an eternal soul?
EARTH-CENTRIC SCRIPTURE
It would take quite a creative theological dance to dismiss the reality that Scripture is centered on Earthlings. In the beginning God created the heavens and the earth. Yes, of course, there's space here for the creation of aliens and other worlds in this scripture, but what follows in the entirety of the Bible is zeroed in on mankind on this planet. It's important to note that there is only one Bible. There cannot be additional "words of God" for other civilizations that qualify as the Word of God. There is no other. The Bible we have on Earth is the supreme and only true Word of God.
With this being the case, if alien life-forms did have an eternal spirit (meaning they were like humans and not animals), then how could they gain access to the Bible? If God provided a copy of Scripture for them, how could they relate to it if earth and humans were foreign to them?
THE CROSS AND RESURRECTION
Central to Christianity is the death of Christ on the cross, which, of course, took place on our very own planet. There can be no duplicate scenario for other worlds. God's son was sent once, only to Earth, to die. Is it possible that other worlds could be benefactors of the death and resurrection of Jesus? Yes. If we populate the moon or Mars, and people are actually born and live their entire lives there, they would, by definition, be aliens to Earth. Just because someone is a "human Martian" who never visits Earth doesn't mean that Jesus would visit Mars as a baby, die and rise from the dead for that culture. That has already been done and it will never be done again. Those living on the moon or Mars would have to learn about the story of Jesus coming to Earth, a place they would never visit.
That's a fairly easy scenario to imagine as it would be inhabitants of Earth migrating to another world. Our stories, books, history, culture and much of what we experience on Earth would be readily accessible elsewhere. How unhuman foreigners from light years beyond would gain access to this truth is harder to conceive. Their sin must be atoned for just like ours is. The truth remains, the death and resurrection of Jesus on this planet must be embraced by all who wish to be saved, no matter where in the universe they may live.
Dr. Jason Lisle on the Answers In Genesis website said, "If there were Vulcans or Klingons out there, how would they be saved? They are not blood relatives of Jesus, and so Christ's shed blood cannot pay for their sin. One might at first suppose that Christ also visited their world, lived there, and died there as well, but this is antibiblical. Christ died once for all (1 Peter 3:18; Hebrews 9:27–28, Hebrews 10:10). Jesus is now and forever both God and man; but He is not an alien."
THE RETURN OF JESUS
Earth is also central to the return of Jesus and God's forever Kingdom. This is where it will all take place at the end of the age. All authentic Believers in Jesus will be living here as Jesus governs from Jerusalem. Will there suddenly be an insurgence of aliens who somehow gave their lives to Jesus? Though silence doesn't preclude it from taking place, Scripture doesn't remotely give room for anything this far-fetched happening. 
"PROOFS" OF ALIEN LIFE MUST BE SCRUTINIZED BY THE WORD OF GOD
One thing we know with clarity is that the end of the age will offer all sorts of extremely convincing deception. If something contradicts the Word of God, we must reject it, even if the alien is staring us in the face.
"The coming of the lawless one is by the activity of Satan with all power and false signs and wonders, and with all wicked deception for those who are perishing, because they refused to love the truth and so be saved. Therefore God sends them a strong delusion, so that they may believe what is false," (2 Thessalonians 2:9–11, ESV)
There is much to be discussed including the possibility of Nephilim appearing as aliens and other Satanic deception. Numerous scriptures about God's unique relationship with Earth-bound humans could be studied. Dr. Jason Lisle said, "From a biblical perspective, extraterrestrial life does not seem reasonable. Intelligent alien beings cannot be redeemed. God's plan of redemption is for human beings: those descended from Adam."
We could also talk at length about the possibility legitimacy of alien life. Are there some divine loopholes that would enable extra-terrestrial souls to find salvation in Jesus? Maybe. For the sake of this short article suffice it to say, the arguments against the possibility of aliens existing far outweighs the probability that there are other explanations.
Photo credit: "The Science of Aliens" by MIKI Yoshihito. (#mikiyoshihito) is licensed under CC BY 2.0
I'm concerned that the American church has become so enthralled with psuedo-unity and mis-defined love that we are affirming false teachers as if they were comrades. Passivity does not equate to unity and silence does not reveal our love. Those who have been put at risk of Hell by those who are careless with their theology are the ones who deserve our love, care and attention the most…and that often requires a hard, unmovable stance.
Watch this timely teaching now (follow along with the notes below):
Teacher: John Burton    
Teaching Title: Nephilim Doctrine
I'm watching a couple of things happen: Unnecessary division and inappropriate unity.

I'm concerned that the American church has become so enthralled with psuedo-unity and mis-defined love that we are affirming false teachers as if they were comrades. Passivity does not equate to unity and silence does not reveal our love. Those who have been put at risk of Hell by those who are careless with their theology are the ones who deserve our love, care and attention the most…and that often requires a hard, unmovable stance.

Take no part in the unfruitful works of darkness, but instead expose them.  For it is shameful even to speak of the things that they do in secret.  But when anything is exposed by the light, it becomes visible,  for anything that becomes visible is light. Therefore it says, "Awake, O sleeper, and arise from the dead, and Christ will shine on you." Ephesians 5:11-14

We must watch and beware—and expose the darkness!
We much be careful that we don't fall ourselves. It will be VERY easy to do so. The falling away will be GREAT.
After a little while the bystanders came up and said to Peter, "Certainly you too are one of them, for your accent betrays you."  

Then he began to invoke a curse on himself

and to swear, "I do not know the man." And immediately the rooster crowed. Matthew 26:73-74

Peter was swearing that he did not know Jesus and was invoking a curse on himself if his words were untrue. He was saying, in effect, "May God strike me dead if I am lying."
Now, Peter wasn't deceived by false teaching, he knew the Truth and he still boldly, intentionally denied Christ!
The risk is even greater for those who think they know Christ but are deceived!
Therefore take up the whole armor of God, that you may be able to

withstand

in the evil day, and having done all, to

stand firm

.  

Stand therefore

, having fastened on the belt of truth… Ephesians 6:13-14

This is a very real warning that we must heed. We must stand.
Deception will hit millions of current Christians—and the key deception is that the error isn't something to be that concerned about.
Jesus answered: "Watch out that no one deceives you.  For

many

will come

in my name

, claiming, 'I am the Christ,' and will deceive many. Matthew 24:4-5

These are not people who will take on the identity of Christ but who will come in his name and misrepresent him.
Another way to say it would be: "Take heed that no one deceives you. For many shall come claiming to represent Me, saying that I [Jesus] am the Christ, yet shall deceive many."
For such men are false apostles, deceitful workmen, masquerading as apostles of Christ.  And no wonder, for Satan himself masquerades as an angel of light.  It is not surprising, then, if his servants masquerade as servants of righteousness. Their end will be what their actions deserve. 2 Corinthians 11:13-15
See to it that no one takes you captive by philosophy and empty deceit, according to human tradition, according to the elemental spirits of the world, and not according to Christ. Colossians 2:8
Continuing from Children of the Last Days teaching:

They are the kind who worm their way into homes and gain control over weak-willed women, who are loaded down with sins and are swayed by all kinds of evil desires,  always learning but never able to acknowledge the truth.  Just as Jannes and Jambres opposed Moses, so also these men oppose the truth–men of depraved minds, who, as far as the faith is concerned, are rejected.  But they will not get very far because, as in the case of those men, their folly will be clear to everyone.  You, however, know all about

my teaching

,

my way of life

,

my purpose

, faith, patience, love, endurance,  persecutions, sufferings–what kinds of things happened to me in Antioch, Iconium and Lystra, the persecutions I endured. Yet the Lord rescued me from all of them.  

In fact, everyone who wants to live a godly life in Christ Jesus will be persecuted,  while evil men and impostors will go from bad to worse, deceiving and being deceived.

 But as for you, continue in what you have learned and have become convinced of, because you know those from whom you learned it,  and how from infancy you have known the holy Scriptures, which are able to make you wise for salvation through faith in Christ Jesus.  All Scripture is God-breathed and is useful for teaching, rebuking, correcting and training in righteousness,  so that the man of God may be thoroughly equipped for every good work. 2 Timothy 3:6-17
Always learning; fresh revelations
They are learning but can't acknowledge the truth

Why? They oppose the truth.

True Christians will be persecuted for their faith, for their beliefs.
Impostors are those who are deceiving and being deceived.
At that time many will turn away from the faith and will betray and hate each other,  and many false prophets will appear and deceive

many people

.  Because of the increase of wickedness, the love of most will grow cold,  but he who stands firm to the end will be saved. Matthew 24:10-13
"Watch out for false prophets. They come to you in sheep's clothing, but inwardly they are ferocious wolves. Matthew 7:15
For false Christs and false prophets will appear and perform great signs and miracles to deceive even the elect–if that were possible.  See, I have told you ahead of time. Matthew 24:24-25
Understand, these aren't leaders of obscure cults—these will be leading mega churches with crosses on their steeples, phenomenal worship and preaching out of the Bible.

Baptized by Blazing Fire by Pastor Yong-Doo Kim: Even later that night, as I continued to pray in tongues, I was taken down to hell. I was in a place where there was some devil jabbing a long, sharp spear into rectangular shaped boxes. With foul language, it shouted, "You think you are a pastor? What kind of life did you live? I am ecstatic that you are here with me." The evil spirit continued to jab the boxes as it cursed. Loud, painful screams came from the boxes, as blood flowed out. I noticed the tops of the boxes were covered with canvass, with a large cross portrayed on it. The boxes were lined up in an orderly fashion, and they stretched endlessly. I could not see where they ended. I realized that they were coffins. Evil spirits were jabbing their long, sharp spears into the holes unmercifully. I asked the Lord, "Jesus, why are the caskets of former pastors here?" Jesus replied, "These pastors did not preach My gospel. They preached another gospel, and those who followed became depraved. This is their end result, a place in hell." Jesus said, "Depraved pastors will be judged greater."

Nephilim Doctrine

Note that this isn't titled "The Doctrine of Nephilim," as that would take us into an entirely different direction.
In scripture we know that the Nephilim were the offspring of fallen angels and humans. Many believe demons are the spirits of dead Nephilim, but regardless of that we clearly know that they were unholy offspring. Demonized children. A different breed altogether.
The Nephilim were on the earth in those days, and also afterward, when the sons of God came in to the daughters of man and they bore children to them. These were the mighty men who were of old, the men of renown. Genesis 6:4
What I call Nephilim doctrine is when a demonic seed, a doctrine of demons, is deposited into people who are seeking after truth.

It's a theology of mixture—pure Bible truth that has twisted theology, philosophy, mysticism, etc. mixed in.

When people made in God's image become intimate with doctrines of demons, unholy doctrine is reproduced. Nephilim Doctrine. Half man, half demon. Doctrines that are received by people who were made in the very image of God results in mixture and a defiled offspring—children that are part 'image of God' and part 'image of Satan'. This is extremely sobering!

For example, False Grace is a Nephilim Doctrine.

It has much truth and some mixture.

Other Nephilim Doctrines might include various New Age beliefs, mysticism, spirit travel (traveling to Heaven at will), "positive Christianity," simple ideas like "God is always in a good mood," or teachings that God no longer judges, manifest sons of God, Gnosticism, etc.

There are Nephilim churches and ministries that are mostly amazing but greatly compromised due to demonically inspired teachings.
If you had a gallon of fresh, pure lemonade mixed in with a teaspoon of urine, would you drink it?
Portland planned to dump 38 million gallons of pure water after a man pees in a reservoir.
Many powerful experiences of God will come…as will many powerful experiences of the enemy…both happening in churches or within popular movements. This is why those who are "experience focused" are at great risk of deception. It may very well feel good, feel like their concept of God…but be a putrid, evil spirit leading them astray. This is why we must be grounded in the Word.
Gnosticism is based on a mystical, intuitive, subjective, inward, emotional approach to truth.
Gnostics claim to possess an elevated knowledge, a "higher truth" known only to a certain few. Gnosticism comes from the Greek word gnosis which means "to know." Gnostics claim to possess a higher knowledge, not from the Bible, but acquired on some mystical higher plain of existence. Gnostics see themselves as a privileged class elevated above everybody else by their higher, deeper knowledge of God.
Gnostics assert that matter is inherently evil and spirit is good. As a result of this presupposition, Gnostics believe anything done in the body, even the grossest sin, has no meaning because real life exists in the spirit realm only.
Now the Spirit expressly says that in later times some will depart from the faith by devoting themselves to deceitful spirits and teachings of demons, 1 Timothy 4:1
This is what happened with Adam and Eve.
But the serpent said to the woman, "You will not surely die.  For God knows that when you eat of it your eyes will be opened, and you will be like God, knowing good and evil."  So when the woman saw that the tree was good for food, and that it was a delight to the eyes, and that the tree was to be desired to make one wise, she took of its fruit and ate, and she also gave some to her husband who was with her, and he ate.  Then the eyes of both were opened, and they knew that they were naked. And they sewed fig leaves together and made themselves loincloths. Genesis 3:4-7
They desired to be more like God.
They desired wisdom.
They received a fresh revelation.
But, it was truth that was defiled by a demonic teaching.

But I am afraid that as the serpent deceived Eve by his cunning, your thoughts will be led astray from a sincere and pure devotion to Christ.  For if someone comes and proclaims another Jesus than the one we proclaimed, or if you receive a different spirit from the one you received, or if you accept a different gospel from the one you accepted, you put up with it readily enough. 2 Corinthians 11:3-4
There is a way that seems right to a man, but its end is the way to death. Proverbs 16:25
God is calling us to intimacy with the Truth of the Word of God which is what will result in us living undefiled in the image of God. The cross of Christ must be preached!
I am astonished that you are so quickly deserting the one who called you by the grace of Christ and are turning to a different gospel–  which is really no gospel at all. Evidently some people are throwing you into confusion and are trying to pervert the gospel of Christ.  But even if we or an angel from heaven should preach a gospel other than the one we preached to you, let him be eternally condemned!  As we have already said, so now I say again: If anybody is preaching to you a gospel other than what you accepted, let him be eternally condemned!  Am I now trying to win the approval of men, or of God? Or am I trying to please men? If I were still trying to please men, I would not be a servant of Christ. Galatians 1:6-10
There are strong delusions on the rise and we must beware.
Then the LORD said to me, "The prophets are prophesying lies in my name. I have not sent them or appointed them or spoken to them. They are prophesying to you false visions, divinations, idolatries and the

delusions of their own minds

. Jeremiah 14:14
The coming of the lawless one will be in accordance with the work of Satan displayed in all kinds of counterfeit miracles, signs and wonders,  and in every sort of evil that deceives those who are perishing. They perish because they refused to love the truth and so be saved.  For this reason God sends them a powerful delusion so that they will believe the lie and so that all will be condemned who have not believed the truth but have delighted in wickedness. 2 Thessalonians 2:9-12

So, how do we respond?

I am coming soon. Hold on to what you have, so that no one will take your crown.  Him who overcomes I will make a pillar in the temple of my God. Never again will he leave it. I will write on him the name of my God and the name of the city of my God, the new Jerusalem, which is coming down out of heaven from my God; and I will also write on him my new name.  He who has an ear, let him hear what the Spirit says to the churches. Revelation 3:11-13
Sound the alarm! There are Nephilim Doctrines of false-grace and false-love on the rise in the church.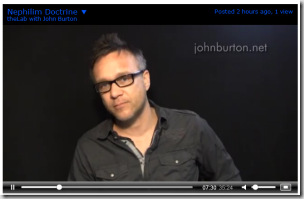 Once saved always saved? No way. My personal salvation theology is this:
Once saved, RARELY saved.
It's exceedingly rare for people, including people in the church, to avoid Hell. There's a "theology of exemption" that's false yet believed by so many in the church. People believe that since they are "saved" they are not at risk of judgment, or Hell, when they sin. My God.
Watch this video titled Nephilim Doctrine on our XPmedia channel here: http://www.xpmedia.com/Z1QglFvIu13K
I also want to include my raw, personal notes that I preached from when I shared the topic of the video more fully this past Friday at Revival Fires here in Detroit:
---
a. Wrong beliefs result in horrific and eternal tragedy. I am convinced it's exceedingly rare for people to avoid hell. I'm convinced it's rare for church people to avoid hell. We are in a generation that is infatuated with an emotionally passive false-Jesus and refuses to understand that the righteous judge is fearful indeed.
i. Isaiah 8:13 (ESV) 13 But the LORD of hosts, him you shall honor as holy. Let him be your fear, and let him be your dread.
ii. We want to enjoy God as we ask him for his glory when he's requiring the reverse:
iii. Revelation 14:6-7 (ESV) 6 Then I saw another angel flying directly overhead, with an eternal gospel to proclaim to those who dwell on earth, to every nation and tribe and language and people. 7 And he said with a loud voice, "Fear God and give him glory, because the hour of his judgment has come, and worship him who made heaven and earth, the sea and the springs of water."
iv. Wow! The eternal gospel!!!!! Fear God and give him glory!
v. Acts 10:35 (ESV) 35 but in every nation anyone who fears him and does what is right is acceptable to him.
vi. 5 out of 7 churches in Revelation were found lacking!
b. Sinners in the hands of an angry God: God hath had it on his heart to show to angels and men, both how excellent his love is, and also how terrible his wrath is. So that thus it is, that natural men are held in the hand of God over the pit of hell; they have deserved the fiery pit, and are already sentenced to it; and God is dreadfully provoked, his anger is as great towards them as to those that are actually suffering the executions of the fierceness of his wrath in hell, and they have done nothing in the least to appease or abate[1] that anger, neither is God in the least bound by any promise to hold 'em up one moment; the devil is waiting for them, hell is gaping for them, the flames gather and flash about them, and would fain lay hold on them, and swallow them up; the fire pent up in their own hearts is struggling to break out; and they have no interest in any mediator, there are no means within reach that can be any security to them. In short, they have no refuge, nothing to take hold of, all that preserves them every moment is the mere arbitrary will, and uncovenanted unobliged forbearance[2] of an incensed[3] God.
c. I am rocked by God. The people I have under my care must be rightly informed of truth.
i. Baptized by Blazing Fire by Pastor Yong-Doo Kim: Even later that night, as I continued to pray in tongues, I was taken down to hell. I was in a place where there was some devil jabbing a long, sharp spear into rectangular shaped boxes. With foul language, it shouted, "You think you are a pastor? What kind of life did you live? I am ecstatic that you are here with me." The evil spirit continued to jab the boxes as it cursed. Loud, painful screams came from the boxes, as blood flowed out. I noticed the tops of the boxes were covered with canvass, with a large cross portrayed on it. The boxes were lined up in an orderly fashion, and they stretched endlessly. I could not see where they ended. I realized that they were coffins. Evil spirits were jabbing their long, sharp spears into the holes unmercifully. I asked the Lord, "Jesus, why are the caskets of former pastors here?" Jesus replied, "These pastors did not preach My gospel. They preached another gospel, and those who followed became depraved. This is their end result, a place in hell." Jesus said, "Depraved pastors will be judged greater."
ii. Play Mary Baxter video: http://youtu.be/Y5_UC-LRopw
d. Nephilim Doctrine Dream
i. Many have an imaginary salvation.
ii. 10 month old child in my house.
iii. Looked like a 50 year old man, wise, disturbing
iv. I got in my vehicle (ministry) looking for help. I was frantic.
v. I called Amy, but it kept connecting to Imago Dei (Image of God).
vi. Nephilim doctrines are when people in the image of God are intimate with demonic information that seems wise and feels good. The offspring is a mixed, demonic doctrine that takes on the image of the enemy.
II. Holiness
a. Finney's ten principles of revival are: repentance, prayer, holiness, power, faith, joy in the Holy Spirit, righteousness, discipleship, peace and love.
b. Tonight we will hit on holiness.
i. 1 Peter 1:13-17 (ESV) 13 Therefore, preparing your minds for action, and being sober-minded, set your hope fully on the grace that will be brought to you at the revelation of Jesus Christ. 14 As obedient children, do not be conformed to the passions of your former ignorance, 15 but as he who called you is holy, you also be holy in all your conduct, 16 since it is written, "You shall be holy, for I am holy." 17 And if you call on him as Father who judges impartially according to each one's deeds, conduct yourselves with fear throughout the time of your exile,
ii. Set your mind on true grace and obey. Be holy. God judges according to our deeds, our works, so have the right revelation of grace so you can be empowered to obey!
iii. We can't be holy without grace. Grace doesn't remove the responsibility to be holy, it emphasizes it!
c. Sin sends people to hell post cross just as it did pre cross. God's true grace that resulted at the cross and the resurrection enables us to live a holy life—if we so choose.
i. 1 Thessalonians 4:7 (ESV) 7 For God has not called us for impurity, but in holiness.
ii. 2 Corinthians 7:1 (ESV) 1 Since we have these promises, beloved, let us cleanse ourselves from every defilement of body and spirit, bringing holiness to completion in the fear of God.
iii. We must cleanse ourselves! The fear of the Lord keeps us from sin.
1. Philippians 2:12 (ESV) 12 Therefore, my beloved, as you have always obeyed, so now, not only as in my presence but much more in my absence, work out your own salvation with fear and trembling,
iv. The Greek word is actually more severe than what we might consider the English word to be. The Greek is phobos. It means fright, to be afraid exceedingly, terror
1. Fear of the Lord is not awe or respect.
2. It's terror.
v. Romans 2:6-8 (ESV) 6 He will render to each one according to his works: 7 to those who by patience in well-doing seek for glory and honor and immortality, he will give eternal life; 8 but for those who are self-seeking and do not obey the truth, but obey unrighteousness, there will be wrath and fury.
1. Works! If we don't obey, wrath and fury are reserved for us. But if the fear of the Lord drives us to holiness, and our works are tested and true, we will receive eternal life!
d. Works
i. It's time for the church to return to the cross. The offensive, problem causing cross.
1. Universalism
2. Homosexual "Christian"
ii. The fear of the Lord must strike us!
iii. It is by the fear of the Lord that we depart from evil. It is not by the love of God.~John Bevere
1. http://youtu.be/eoYN3IZCMt0
2. It's the fear of the Lord and the cross that will result in a holy life.
iv. Pastors, preach and live in such a way that friends flee and the religious attempt to silence you. We need to preach our churches empty!!!
v. There is a false-grace message that is rampant that is literally sending thousands upon multiplied thousands of people to Hell.
1. Francis Howgill, a martyred minister of Christ, states the dangers of the false gospel of grace: Many have been talkers of grace in this professing age, who have neither known of what they spoke, nor have informed the minds of men where grace was to be waited for, nor how grace might be known, nor how, nor what the operation of grace was; but have cried up, in their own imaginations: "We are justified by His free grace from all sin, past, present, and to come;" and, in this conceit, thousands have been led into the pit of darkness; imagining that they were justified by the free grace of Christ,while they were out of the fear of God
vi. We can express faith in Jesus and love Jesus with passion, but if we don't add in works, death is the result. Hell.
vii. We need a biblical works message again!
1. We know that we have come to know him if we obey his commands. 1 John 2:3
2. If anyone loves me, he will obey my teaching. John 14:23
3. You are my friends if you do what I command. John 15:14
4. Whoever has been born of God does not sin. 1 John 3:9
5. "I tell you the truth, everyone who sins is a slave to sin." John 8:34
6. I do not condemn you either. Go on your way and from now on sin no more. John 8:11 (not 'sin less)
7. Grace enables us to do this! False graces tells us it's not necessary for us to do this!
8. If you ever find a church that minimizes the cross, doesn't preach on it, you must know it's a false church.
9. Brothers, be followers of me, and observe those who walk after the pattern we have set, so as you have us for an example. For many walk, of whom I have often told you, and now tell you weeping, who are the enemies of the cross of Christ; their end is destruction… Phil 3:17-19
viii. James 2:14 (ESV) 14 What good is it, my brothers, if someone says he has faith but does not have works? Can that faith save him?
1. The answer is no!
2. What that means is that people who have faith, love Jesus, go to church, pay their tithes… many, many of them are now in Hell.
3. In my encounter with Hell 21 years ago, God sharply and soberly told me, "Many in the church will be shocked to find themselves in Hell one day."
e. True grace is this: We should all be going to Hell, but Jesus died, conquered Hell and invited us to join him! We play a part in this! False grace tells us we have no role other than to love Jesus, and that message results in being eternally separated from God.
i. 1 John 5:3-5 (ESV) 3 For this is the love of God, that we keep his commandments. And his commandments are not burdensome. 4 For everyone who has been born of God overcomes the world. And this is the victory that has overcome the world— our faith. 5 Who is it that overcomes the world except the one who believes that Jesus is the Son of God?
ii. If we truly believe, we obey! We work! We overcome the world! That's true grace!
iii. Hebrews 12:14-15 (NIV) 14 Make every effort to live in peace with all men and to be holy; without holiness no one will see the Lord. 15 See to it that no one misses the grace of God and that no bitter root grows up to cause trouble and defile many.
iv. False grace tells us we can be unholy and still see God. True grace can be missed if we are unholy!
f. False grace affirms a high tolerance for sin. True grace empowers us not to sin.
g. False grace minimizes our responsibility. True graces demands our responsibility.
h. False grace is unconcerned with darkness. True grace empowers to deal with darkness.
i. Ephesians 5:11 (NIV) 11 Have nothing to do with the fruitless deeds of darkness, but rather expose them.
i. False grace affirms slavery to sin. True grace affirms we are free from sin.
i. John 8:34 (ESV) 34 Jesus answered them, "Truly, truly, I say to you, everyone who commits sin is a slave to sin.
ii. Romans 6:16 (ESV) 16 Do you not know that if you present yourselves to anyone as obedient slaves, you are slaves of the one whom you obey, either of sin, which leads to death, or of obedience, which leads to righteousness?
j. False grace focuses on John 3:16 alone. True grace is seen in context.
i. John 3:16-21 (ESV) 16 "For God so loved the world, that he gave his only Son, that whoever believes in him should not perish but have eternal life. 17 For God did not send his Son into the world to condemn the world, but in order that the world might be saved through him. 18 Whoever believes in him is not condemned, but whoever does not believe is condemned already, because he has not believed in the name of the only Son of God. 19 And this is the judgment: the light has come into the world, and people loved the darkness rather than the light because their works were evil. 20 For everyone who does wicked things hates the light and does not come to the light, lest his works should be exposed. 21 But whoever does what is true comes to the light, so that it may be clearly seen that his works have been carried out in God."
ii. False grace keeps sin hidden since we don't feel its important to deal with. True grace shines the light on every part of our lives.
iii. False grace refuses to acknowledge God's wrath. True grace is what saves us from his wrath.
k. A false grace message has resulted in a filtered Bible. We presume we are exempt from certain truths because we decided to follow Jesus.
i. John 15:1-2 (ESV) 1 "I am the true vine, and my Father is the vinedresser. 2 Every branch in me that does not bear fruit he takes away, and every branch that does bear fruit he prunes, that it may bear more fruit.
ii. Every branch IN ME! If we are IN JESUS but don't bear fruit, we are no longer in him! Wow!
iii. Life Application Commentary: The fruitful branches are true believers who, by their living union with Christ, produce much fruit. But this union can be broken. The Father cuts off every branch that doesn't produce fruit.
iv. How many times to we see people wrestle with unforgiveness in the church? Do we not understand how serious this is? We are not exempt from this!!!
1. Matthew 6:15 (ESV) 15 but if you do not forgive others their trespasses, neither will your Father forgive your trespasses.
v. Life Application Commentary: Living in relationship with God requires constant repentance of the sins that plague us. Because believers must come to God constantly for confession and forgiveness, refusing to forgive others reveals a lack of appreciation for the mercy received from God. All people are on common ground as sinners in need of God's forgiveness. If we don't forgive others, we are in fact denying and rejecting God's forgiveness of us.
III. Repent!
a. It's time to repent deeply!