New small group, False grace interview & new powerful teaching
Listen to a message that rocked Revival Church last night! Fire: Fervency & Friction
It's time for a bold, prophetic and provocative spirit to arise in the church again!
Most people avoid conflict, which results in a tepid, unchanging church. We must have a violent spirit as we wrestle against unholy spirits of the age.
I'll include my notes below. You can listen to the teaching here: media.johnburton.net/6401006
FALSE GRACE INTERVIEW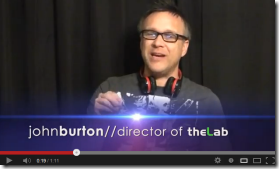 Also, I'll be interviewed THIS THURSDAY at 8am on the topic of the false grace message. Check out the video here: http://youtu.be/A-l_b_IAt5U
You can find more info about the show here: http://www.facebook.com/pastorsprewell
SMALL GROUP AT JOHN AND AMY'S HOUSE
The first Saturday of each month, Amy and I will be opening our house to anybody who wants to discuss how to fulfill their ministry, how to grow deep in the Lord and how to have fun doing it! We'll have food and a lot of fun!
Just contact us if you'd like to come! [email protected]
The first group will be Saturday, February 2 at 6pm.
FIRE: FERVENCY AND FRICTION
Here's my notes. The series continues this Sunday at Revival Church at 6pm!
Fire: Fervency & Friction
I. A call to provoke
a. A goal is to be the most fiery, fervent, passionate body of Believers in Detroit—not because we are trying to build the Revival Church brand, but because we want to simply live according to the Biblical norm!
i. We want 1000 people who are burning, on fire… praying non-stop, moving against resistance, taking dominion!
ii. A remnant is rising up, bold prophetic messengers who will fear God, preach the cross, call to repentance & emphasize the reality of Hell.
iii. This will result in a great provocation!
iv. A key problem with communicating reform in the church is that most presume it will enhance the familiar, not eradicate it.
1. What this means is that our comfort and what we like is at risk of demolition!
2. We are the initiators of this great reform!
b. When we have a great understanding of who we are in Christ, we will not only stop fearing conflict, but we will joyfully seek to initiate it.
c. There's simply no way we will be able to stay silent! Carriers of fire are constantly provoked!
i. With a spirit of great love and deep concern for those in darkness, our confidence in the power in our lives will result in action!
ii. That provocation, that friction, that fervent spirit will result in an atmosphere of fire, of awakening in our generation!
iii. Our goal as a prophetic people is not primarily to make people feel good! It's to bring the trouble that's hidden under the surface, to the surface for the sake of freedom.
1. The great counterfeit won't come to you as a counterfeit. He'll come to you as the Holy Spirit. Howard Pittman
iv. A spirit of religion doesn't restrict personal freedom, it emphasizes it…and violently reacts against anything that would threaten it.
1. A spirit of truth will cut, prune, trouble…before it liberates.
2. That's why it's so resisted… until someone hits rock bottom! That's why calamity has to come to a nation before repentance is shouted!
3. It's time to violently shake the sleepers, and warn the wicked, and trouble the church!
4. Ephesians 5:8-14 (ESV) 8 for at one time you were darkness, but now you are light in the Lord. Walk as children of light 9 (for the fruit of light is found in all that is good and right and true), 10 and try to discern what is pleasing to the Lord. 11 Take no part in the unfruitful works of darkness, but instead expose them. 12 For it is shameful even to speak of the things that they do in secret. 13 But when anything is exposed by the light, it becomes visible, 14 for anything that becomes visible is light. Therefore it says, "Awake, O sleeper, and arise from the dead, and Christ will shine on you."
5. In a spirit of great humility and love, we must expose darkness, and that requires that we are OK with friction.
6. Though many of you are entertained by my Facebook posts, I really do have a mission in mind.
a. As a prophetic messenger, my intent is to provoke people by the Spirit of God to a fresh level of discernment.
b. On Facebook, Twitter, on my blog, in these audio teachings, on XPmedia, etc. my only goal is to fervently create friction that results in fire in people's lives.
d. Now, clearly, we talk a lot about fire around here, and that's by design.
i. To create a fire you need the right conditions. I'm going to talk about two of them:
1. Fervency
2. Friction
e. When you rub two sticks together, you have to get the sawdust that is created heated up to 800 degrees before it will start glowing.
i. Below 800 degrees it will give off a little smoke, but little else.
ii. We cannot afford to be a ministry of smoke.
iii. Anything that prevents the sawdust from reaching 800 degrees will interfere with fire making.
iv. Interestingly, the finer the sawdust is, the lower the temperature necessary for it to ignite. Fervency + friction = fire.
v. Problems:
1. If you don't have enough muscle power then you won't be able to raise the temperature high enough. Remedy: teamwork. Have someone else help you.
2. If the structure of the wood is such that it disintegrates before it reaches 800 degrees then it is a wood that should not be used.
3. Volatile substances such as water or resin in the wood. Evaporative cooling will prevent the sawdust from reaching the critical temperature.
4. Someone said: What makes me feel even better is getting a group of people to contribute towards the starting of a fire. I can think of no better way to bond a group of people.
5. Someone else said: Starting a fire is a sacrament.
II. Fervency
a. Don't let the best you have ever done be the standard for the rest of your life.
i. It's time to urgently go after the dream!
b. Nehemiah 1:1-3 (ESV) 1 .. one of my brothers, came with certain men from Judah. And I asked them concerning the Jews who escaped, who had survived the exile, and concerning Jerusalem. 3 And they said to me, "The remnant there in the province who had survived the exile is in great trouble and shame. The wall of Jerusalem is broken down, and its gates are destroyed by fire."
i. What should the response be??!
ii. Nehemiah 1:4 (ESV) 4 As soon as I heard these words I sat down and wept and mourned for days, and I continued fasting and praying before the God of heaven.
iii. Nehemiah hit his face and cried out and repented.
iv. If we are looking for personal comfort, we will actually resist the brokenness and grieving that will result in a fervent response!
v. "The desire for comfort can be your enemy. If the source of your comfort is not The Comforter, false comfort will eventually destroy you."
vi. If moving in the spirit doesn't include a yearning for holiness, it's not the Holy Spirit we are moving in. We must strive for holiness!
vii. Hebrews 12:14 (ESV) 14 Strive for peace with everyone, and for the holiness without which no one will see the Lord.
c. We must be always on…always alert. Fervent. Striving. Rending our hearts.
i. The word "strive" in the Greek literally means to fight, to contend, to labor fervently.
ii. We must strive, be fervent! Urgent!
iii. "God has called us to be the sworn enemies of sin. We are to wage war against it and strive to give it no opportunity in our lives." ~ William Wilberforce, Real Christianity
iv. There is a fervent, striving spirit that we must get used to in our lives.
v. The culture is a sinful, destructive culture, and we have to fight against it!
vi. No more simply seeking out comfort and relaxation! We must go hard!
1. The code word for 'pursuing Jesus hard' is "legalism!" Don't be intimidated by these false arguments. ~Mike Bickle
2. A false grace message will result in a lack of motivation to respond in wholeheartedness. ~Mike Bickle
3. Even entering rest requires fervent striving!
Hebrews 4:11-13 (ESV) 11 Let us therefore strive to enter that rest, so that no one may fall by the same sort of disobedience. 12 For the word of God is living and active, sharper than any two-edged sword, piercing to the division of soul and of spirit, of joints and of marrow, and discerning the thoughts and intentions of the heart. 13 And no creature is hidden from his sight, but all are naked and exposed to the eyes of him to whom we must give account.
4. Rest only come as we allow the breaking, refining process to hit us.
vii. Luke 13:24 (ESV) 24 "Strive to enter through the narrow door. For many, I tell you, will seek to enter and will not be able.
d. Cover to cover in scripture we see stories of fervency, of war, of battle, of advance.
i. To know God requires that you know him as a fervent, aggressive God!
ii. If our understanding of God is limited to knowing him as "Daddy," we are missing the wonder of his fearful shock and awe.
iii. When the people cried out Hosanna for Jesus to save them, to comfort them, he gave them a crisis—the cross.
iv. He was fervent in his perfect expression of love!
v. This is why a foundation of our strategy includes deep groans of intercession!
1. There's an urgency in the spirit that will awaken as we allow God to groan through us!
e. 1 Timothy 4:6-10 (ESV) 6 If you put these things before the brothers, you will be a good servant of Christ Jesus, being trained in the words of the faith and of the good doctrine that you have followed. 7 Have nothing to do with irreverent, silly myths. Rather train yourself for godliness; 8 for while bodily training is of some value, godliness is of value in every way, as it holds promise for the present life and also for the life to come. 9 The saying is trustworthy and deserving of full acceptance. 10 For to this end we toil and strive, because we have our hope set on the living God, who is the Savior of all people, especially of those who believe.
1. Wesley: Train thyself up in holiness of heart and life, with the utmost labor, vigor, and diligence.
2. Life Application: "Training" emphasizes the point that spiritual development does not happen by chance. An athlete is focused and committed, constantly training, refusing to let up, always striving.
a. I'm fervent for many reasons…one of which is that I know I am not guaranteed Heaven. I can't even imagine not being with the one I've fallen in love with! We need to fervently exhort, to call each other higher!
3. Hebrews 3:12-13 (ESV) 12 Take care, brothers, lest there be in any of you an evil, unbelieving heart, leading you to fall away from the living God. 13 But exhort one another every day, as long as it is called "today," that none of you may be hardened by the deceitfulness of sin.
III. Friction
a. When you go hard for God, when you fix what others don't see as broken, when you threaten other's comfort zones, there will be friction!
i. If a key motivation for you is to be liked and for resistance and friction to be at a minimum, it will require disobedience to God to accomplish that.
ii. So many are content with just learning more and more who they are and what they get as Christians, and they simply attempt to live in this happy, positive realm.
iii. Teaching that attempts to reveal who we are in Christ without resulting in a revelation of what we do for Christ has miserably failed.
1. Titus 2:11-15 (ESV) 11 For the grace of God has appeared, bringing salvation for all people, 12 training us to renounce ungodliness and worldly passions, and to live self-controlled, upright, and godly lives in the present age, 13 waiting for our blessed hope, the appearing of the glory of our great God and Savior Jesus Christ, 14 who gave himself for us to redeem us from all lawlessness and to purify for himself a people for his own possession who are zealous for good works. 15 Declare these things; exhort and rebuke with all authority. Let no one disregard you.
a. Renounce! Zealous for good works! Declare! Exhort! Rebuke!
2. And, what we do for Christ will cause great trouble!
3. We are called to be peace makers, not peace keepers!
4. That requires conflict and friction.
b. Nehemiah 4:1-3 (ESV) 1 Now when Sanballat heard that we were building the wall, he was angry and greatly enraged, and he jeered at the Jews. 2 And he said in the presence of his brothers and of the army of Samaria, "What are these feeble Jews doing? Will they restore it for themselves? Will they sacrifice? Will they finish up in a day? Will they revive the stones out of the heaps of rubbish, and burned ones at that?" 3 Tobiah the Ammonite was beside him, and he said, "Yes, what they are building—if a fox goes up on it he will break down their stone wall!"
i. Resistance! Mocking! Anger! Rage!
ii. How did Nehemiah respond? Hey prayed for friction!
iii. Nehemiah 4:4-5 (ESV) 4 Hear, O our God, for we are despised. Turn back their taunt on their own heads and give them up to be plundered in a land where they are captives. 5 Do not cover their guilt, and let not their sin be blotted out from your sight, for they have provoked you to anger in the presence of the builders.
1. Jameison-Fausset-Brown: The imprecations invoked here may seem harsh, cruel, and vindictive; but it must be remembered that Nehemiah and his friends regarded those Samaritan leaders as enemies to the cause of God and His people, and therefore as deserving to be visited with heavy judgments. The prayer, therefore, is to be considered as emanating from hearts in which neither hatred, revenge, nor any inferior passion, but a pious and patriotic zeal for the glory of God and the success of His cause, held the ascendant sway.
c. The next five words are brilliant: Nehemiah 4:6 (ESV) 6 So we built the wall.
i. Nehemiah 4:16-17 (ESV) 16 From that day on, half of my servants worked on construction, and half held the spears, shields, bows, and coats of mail. And the leaders stood behind the whole house of Judah, 17 who were building on the wall. Those who carried burdens were loaded in such a way that each labored on the work with one hand and held his weapon with the other.
d. We must be in conflict and building!
e. The greater you advance in God, the more threatened the religious will become!
i. Nehemiah 6:1-3 (ESV) 1 Now when Sanballat and Tobiah and Geshem the Arab and the rest of our enemies heard that I had built the wall and that there was no breach left in it (although up to that time I had not set up the doors in the gates), 2 Sanballat and Geshem sent to me, saying, "Come and let us meet together at Hakkephirim in the plain of Ono." But they intended to do me harm. 3 And I sent messengers to them, saying, "I am doing a great work and I cannot come down. Why should the work stop while I leave it and come down to you?"
1. I talked with one of Sid Roth's guests and he said the greatest and most fierce demonic resistance explodes out of people when he deals with the false grace message. The walls we are called to build, to restore the biblical church, will result in a ferocious demonic assault.
ii. It happened with Jesus too!
1. When the world was crying out for relief, Jesus brought conflict!
iii. Friction! What greater friction could there be when Jesus was on the cross? The nails as they were driven through his flesh-friction! The hatred and mocking-friction! His closest friend, his Father, turning his head—friction!
IV. Conclusion
a. The fervency and the friction will result in a fire.
i. Nehemiah 7:1 (ESV) 1 Now when the wall had been built and I had set up the doors, and the gatekeepers, the singers, and the Levites had been appointed…
ii. Leviticus 6:12-13 (ESV) 12 The fire on the altar shall be kept burning on it; it shall not go out. The priest shall burn wood on it every morning, and he shall arrange the burnt offering on it and shall burn on it the fat of the peace offerings. 13 Fire shall be kept burning on the altar continually; it shall not go out.
b. Nehemiah was fervent and he initiated friction…and the fire returned.