A wave of revival hit Revival Church : Revival Church moving or switching nights
The thought of having a church service without the manifest glory of God just doesn't make sense.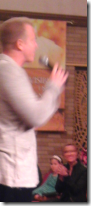 We've been declaring an atmosphere of signs and wonders, and last night at Revival Church several experienced gold dust. Someone who had it manifest in the children's ministry just posted on Facebook:
I still have it on me! It comes and goes……its wild!
The packed out church was covered with the fire and glory of God as Catherine Mullins and Matt Sorger released the life of Jesus.
This atmosphere must be stewarded… and the company of burning ones at Revival Church are invested in this magnificent process of fire in Detroit!
HUMILITY AND HOLINESS
I continue to be wrecked by the fear of the Lord. It's increasing. As the pressures of revival increase we must understand that the only way we'll stand is if we fall to our knees.
Let's continue to embrace holiness and humility as we strategically go after God unlike any time in our lives. The times are quite serious and we can't casually handle the fire.
We have adopted what we consider to be the best advice for launching a full scale revival. Evan Roberts, the great revivalist, said:
"Congregate the people who are willing to make a total surrender. Pray and wait. Believe God's promises. Hold daily meetings."
A COMPANY OF BURNING ONES
We have already assembled the best team of emerging leaders I've ever been associated with—but we are just beginning!
The call is to gather the hungry and surrendered and pray. There is a groaning intercession movement that has already started to take Detroit by storm in theLab, and you are invited to join the ranks! Learn more about the strategy to see revival engulf Detroit!
Visit both www.revivallab.com and www.detroitrevivalchurch.com/revivalcompany for info on how to connect in theLab prayer movement and in Revival Church
HOLD DAILY MEETINGS
This is the next step in our strategy, but we need your help! Our host church is starting their own Sunday night service the first of January, which means we have a decision to make.
The ultimate goal is to secure a property that can hold thousands for major prophetic/revival conferences and events along with room for dorms and theLab internship. If you have ideas, I'd love to talk. I can connect you with the team involved in our property search. When we have our own property, we will be able to start developing the 24/7 church. Not only will there be daily meetings, but there will be hourly events around the clock. Imagine continual teaching in one room, non-stop groans of intercession in another and fiery revival services in another!
Since we only have a little over a month for something to happen, it looks like we may end up moving from Sunday night to Saturday night beginning the first week of January, 2012. So, clear your calendars now for this shift!
THELAB INTERNSHIP DEADLINE
If you want to save $200 on the next internship session, you have to register by November 30th! Go here: www.revivallab.com/apply.