What about the "freaky stuff?" How concerning is it when supernatural manifestations are rare in the church today?
My four-year-old daughter Eva just said something as I'm sitting here writing this article at a Starbucks in Branson, Missouri. While scanning through cartoons to watch on Netflix on her tablet, she zeroed in on one.
"I want to watch this one. But I don't. It's freaky and I love freaky stuff. But I also hate freaky stuff."
I just had to laugh. In a way, that might sum up the tension of the Christian heart. Discerning good and evil is important for all of us. I'm proud of Eva at her young age!
Further, from an entirely different angle, it may also be the way many people think about the supernatural. Church experiences widely range from absolutely stoic and dead to bizarre and flamboyant. Freaky.
I think there are many mildly hungry yet cautious Christians out there in the middle who are intrigued by the "freaky stuff" but, then again, are tired of the ridiculous manifestations in many churches that aren't Spirit-driven at all. It's just people acting strange in the name of freedom. Too often, they default to calm and safe instead of wild and risky. Many pastors fall into this category as well.
America needs to take a bold, confident step toward wild and risky. We need the freaky stuff in the church to emerge as it did at Azusa.
William H. Durham recorded his testimony in the sixth issue of The Apostolic Faith (February-March, 1907), p. 4, where he wrote:
On Friday evening, March 1, His mighty power came over me, until I jerked and quaked under it for about three hours. It was strange and wonderful and yet glorious. He worked my whole body, one section at a time, first my arms, then my limbs, then my body, then my head, them my face, then my chin, and finally at 1 a.m. Saturday, Mar. 2, after being under the power for three hours, He finished the work on my vocal organs, and spoke through me in unknown tongues. (http://www.scrollpublishing.com/store/Azusa-Street.html)
Another local paper reporter in September 1906 described the happenings at Azusa with the following words:
…disgraceful intermingling of the races…they cry and make howling noises all day and into the night. They run, jump, shake all over, shout to the top of their voice, spin around in circles, fall out on the sawdust blanketed floor jerking, kicking and rolling all over it. Some of them pass out and do not move for hours as though they were dead. These people appear to be mad, mentally deranged or under a spell. They claim to be filled with the spirit. They have a one eyed, illiterate, Negro as their preacher who stays on his knees much of the time with his head hidden between the wooden milk crates. He doesn't talk very much but at times he can be heard shouting, "Repent," and he's supposed to be running the thing… They repeatedly sing the same song, "The Comforter Has Come." (https://en.wikipedia.org/wiki/Azusa_Street_Revival)
WE NEED MORE THAN EXPLOSIVE CHURCH SERVICES
Likewise the Spirit helps us in our weakness. For we do not know what to pray for as we ought, but the Spirit himself intercedes for us with groanings too deep for words. And he who searches hearts knows what is the mind of the Spirit, because the Spirit intercedes for the saints according to the will of God. Romans 8:26-27 (ESV)
It's true that I firmly believe we need a massive shift toward "groaning churches" with atmospheres of searing hot intercession that cause the building to shake. I've been in many, but nowhere near enough, such services that have left me in tears, trembling and under the influence of fire, drunk on something out of this world. The supernatural moments, in very legitimate ways, forever marked my life and my relationship with Jesus. When you add authentic experience to life-changing truth, you can't help but be transformed from someone who is simply "devoted to Jesus" to someone who is raging in love, undone, undignified and suddenly alien. Everything changes through authentic encounter with Jesus. Nobody can remain the same.
Too often we presume we can achieve such an electric atmosphere in our church services through charisma, exuberance and a decent dose of exciting worship and expressive prayer. This is common in your more "alive" churches. People are just deep and hungry enough to "jump a little higher than before," as the song goes (which, at some point becomes humanly impossible. Insert grinning emoji here.).
The point I'm making is this: It takes a leadership team and a zealous people who are setting a culture of deep and extreme prayer, sharp spiritual discernment, and who are wildly prophetic to experience breakthrough into the supernatural.
Natural and predictable church services are the result of spiritually lazy and naturally minded people who are not moving into the realm of the invisible.
FREAKY STUFF WILL SET THE STAGE
My life in ministry has been shaped by unusual and powerful supernatural conflicts and encounters. I say that not because it's really cool, but because I'm really dumbfounded. A simple man praying fervent prayers has somehow triggered invisible entities into manifesting in the natural. As I started witnessing more and more, I began to understand how absolutely critical it was to live, walk, breathe and legislate in the Spirit—especially for those engaging in a dark world with an apostolic assignment.
Finally, be strong in the Lord and in the strength of his might. Put on the whole armor of God, that you may be able to stand against the schemes of the devil. For we do not wrestle against flesh and blood, but against the rulers, against the authorities, against the cosmic powers over this present darkness, against the spiritual forces of evil in the heavenly places. Ephesians 6:10-12 (ESV)
How many Christians are actually confronting evil forces as a part of their ministry strategy? This takes way, way more than simple prayers. We must go deeper than ever. When we do, the fight is on and it will absolutely manifest in the natural realm. Get ready for some wild church services!
SPIRITUAL AUTHORITY
Definition of Authority: the power or right to give orders, make decisions, and enforce obedience; a person or organization having power or control in a particular, typically political or administrative, sphere.
Check out this breakdown of a powerful passage of Scripture:
Ephesians 3:14-21 (ESV) 14 For this reason I bow my knees before the Father, 15 from whom every family in heaven and on earth is named, 16 that according to the riches of his glory he may grant you to be strengthened with power (MIRACULOUS FORCE) through his Spirit (PNEUMA: BREATH, WIND, SPIRIT) in your inner being, 17 so that Christ may dwell in your hearts through faith—that you, being rooted and grounded in love, 18 may have strength to comprehend (SEIZE, POSSESS, APPREHEND) with all the saints what is the breadth and length and height and depth, 19 and to know the love of Christ that surpasses knowledge (DOESN'T EXIST IN THE VISIBLE REALM, OR EVEN IN THE DREAM REALM), that you may be filled with all the fullness of God. (WOW! FILLED, FULLNESS OF GOD!) 20 Now to him who is able to do far more abundantly than all that we ask or think, according to the power (MIRACULOUS FORCE) at work within us, 21 to him be glory in the church and in Christ Jesus throughout all generations, forever and ever. Amen.
Paul was praying for the Ephesians to be awakened to the reality of the power that God has given them. Growing in that revelation is key for anybody assigned to a church (that's all of us). We must know our assignment and we must be equipped to conquer via the Spirit of God. When we are assigned by God in a region, as an authority, we have the power and right to give orders, to enforce obedience in the spiritual realm. This is a governmental, supernatural call.
One key principle I discovered years ago was invaluable. God will establish authority in regions, and it's absolutely mandatory that those governing leaders learn how to discern in the spirit and conduct business in the spiritual realm.
Shortly after my wife Amy and I planted Revolution Church in Manitou Springs, Colorado, we started experiencing some powerful and revealing things. Our primary ministry method was prophetic intercession. We'd prayer walk that quirky town day after day. We'd receive fresh prophetic revelation and instructions by the Holy Spirit. After it was all said and done, I bet those streets had been prayer walked thousands of times. One particular target of our prayer was a specific church, the largest of five churches in Manitou Springs. This church was part of an apostate denomination and led by a man many considered, including the police department and City Hall, to be the pastor of the city. This man admitted to someone in my church that there was no Hell and demons didn't exist. He refused to participate in a ministry alliance in the town because he didn't want to offend his "pagan and Muslim brethren." Clearly, this individual walked in unholy authority and had significant influence in the spirit in Manitou Springs, and that reality demanded a confrontation.
Our young family moved into an old home in Manitou Springs near the beginning of our ministry time there. Instantly I started discerning something very heavy. Every morning I'd wake up with a distinct "taste" or feeling in my spirit. It was demonic, disorienting and honestly a bit debilitating. Strangely, I couldn't pray it off or shake it off, but as the day wore on, it would dissipate. This happened every day.
Some time went by, and I received an invitation to meet the pastor of the apostate church. The church building was just beyond the back yard of our house, so I walked there one afternoon for our meeting. The heavy oppression that I woke up with every day had worn off that by then and I was eager to connect with this city leader. I wasn't prepared for what was about to happen. The moment I walked through the doorway of the church, the EXACT same taste, the same distinctive oppression that I had experienced for so long every single morning, slammed me with force. I pulled myself together, put a smile on my face and shook hands with the pastor. We sat down and engaged in small talk. I mentioned to him that their church was very close to my house. He asked me to describe the house. I told him what it looked like and where it was located. We then compared notes on what it looked like inside. What he then said rocked me. "Oh, yes! My family and I lived there for years!"
I didn't have to be a math genius to put two and two together. The demonic anointing the pastor walked in lingered. I bet those demons were quite surprised when a man of God on assignment moved in. After that fateful meeting with the pastor of the city, the oppression stopped. God communicated what I needed to understand. From that point on I was able to govern in the Spirit with precision. The spirits that were anointing that man's "ministry" were uncovered.
Rumor has it that past city officials have also lived in that house. It was clear that, for whatever reason, authorities had lived there and I needed to consider what my apostolic, governmental responsibility was. I sensed in the Spirit a baton had been passed to me and our team. That revelation was invaluable as I truly understood God had our back and we could be confident in our advance.
WE CANNOT SURVIVE AS A CHURCH WITHOUT THE SUPERNATURAL
From that time, our prayer and apostolic strength increased. We would pray on the top of Pikes Peak and in caves under the earth. Many undeniable supernatural happenings would stun us time and again. We'd confront witchcraft and watch God work wonders. Demons would come out in the middle of services leaving visitors wide eyed. One deeply resistant and demonized young man vomited in the parking lot the moment we were praying for him with his girlfriend in the church. Moving in authority brings a shift to the atmosphere as demons can't help but respond in obedience.
And they were all amazed and said to one another, "What is this word? For with authority and power he commands the unclean spirits, and they come out!" Luke 4:36
Is our ministry causing people to be amazed? If not, go deep into the spirit and, as it happened at Azusa, you won't be able to stop the presses. Word will get out and the amazement and mocking will both commence! Some will run to your church. Many will flee.
And all were amazed and perplexed, saying to one another, "What does this mean?" But others mocking said, "They are filled with new wine." Acts 2:12-13 (ESV)
The message I'm attempting to communicate is that we must go extremely deep behind the scenes. We have to stand in our authority. We must learn how to decree and declare and legislate in the Spirit. Leave the prayer lists and prayer topics behind. Defer to tongues and prophetic intercession when you don't have a theme to focus on. Let revelation drive your prayer meetings. Lean not on your own understanding.
As I look back at my time in Manitou Springs I know it would have been impossible to break through and do what we were called to do without constant prayer meetings, prayer walks, engaging the enemy, moving in the Spirit, stimulating a prophetic culture, having dreams and visions and moving in great authority.
I will give you the keys of the kingdom of heaven; whatever you bind on earth will be bound in heaven, and whatever you loose on earth will be loosed in heaven." Matthew 16:19
My recommendation is to avoid trying to manufacture a vibrant atmosphere. Many worship teams and charismatic preachers are very skilled at this, but those who are sharp spiritually can see right through it. Let's just stop the production and go deep Monday through Saturday and come into our Sunday services rocked and shocked by the revelation of Jesus and the spiritual battle we've run to. Live a life that provokes demons and angels. Expect the supernatural to happen. Shake Heaven and Hell. Enlist people who know how to groan and intercede night and day. When that happens, the lid will blow off our Sunday meetings. Whatever you do, DON'T PUT THE LID BACK ON! Let the supernatural scare away the resistant, awaken the sleepers and activate the remnant!
After this many of his disciples turned back and no longer walked with him. John 6:66 (ESV)
If you don't stand in your authority, how will the church advance? If you don't pray non-stop, how will you have strength and insight to advance against witchcraft and all that the enemy is bringing against you? Most curses and strategies that witches and others are targeting local churches with go unnoticed. People have no idea there are demonic beings wrapping their arms around the congregation like a vice.
I could share story after story of shocking and bizarre and absolutely critical encounters in the invisible realm we've had over the years. We must learn how to see in the Spirit. What is happening? How should we contend in prayer?
The American Spirit-filled church simply isn't Spirit-filled enough. We are barely touching the surface. We are too concerned with keeping the visitors. A church full of those who would be scared away if God showed up is a church full of false-positives. Those particular people in the pews may very well not even be saved. We can't just have happy services with laughing and dancing and handshakes and presume all is well. There is warfare raging and spiritual forces to be exposed, confronted and taken out.
I've said many times, I refuse to tone down the activity of the Holy Spirit out of respect of those less hungry. Supernatural, messy services that break human control must come. The only way human control releases is if those humans encounter God day after day. God has to convince them.
When we dig deep and uncover the demonic roots in our regions, and invade the darkness, and refuse to ask the Holy Spirit to "settle down," the church will experience powerful advance.
It's time for the freaky stuff to return to the church.
Do not quench the Spirit. Do not despise prophecies, 1 Thessalonians 5:19-20 (ESV)
The thought of having a church service without the manifest glory of God just doesn't make sense.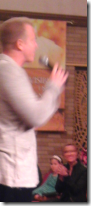 We've been declaring an atmosphere of signs and wonders, and last night at Revival Church several experienced gold dust. Someone who had it manifest in the children's ministry just posted on Facebook:
I still have it on me! It comes and goes……its wild!
The packed out church was covered with the fire and glory of God as Catherine Mullins and Matt Sorger released the life of Jesus.
This atmosphere must be stewarded… and the company of burning ones at Revival Church are invested in this magnificent process of fire in Detroit!
HUMILITY AND HOLINESS
I continue to be wrecked by the fear of the Lord. It's increasing. As the pressures of revival increase we must understand that the only way we'll stand is if we fall to our knees.
Let's continue to embrace holiness and humility as we strategically go after God unlike any time in our lives. The times are quite serious and we can't casually handle the fire.
We have adopted what we consider to be the best advice for launching a full scale revival. Evan Roberts, the great revivalist, said:
"Congregate the people who are willing to make a total surrender. Pray and wait. Believe God's promises. Hold daily meetings."
A COMPANY OF BURNING ONES
We have already assembled the best team of emerging leaders I've ever been associated with—but we are just beginning!
The call is to gather the hungry and surrendered and pray. There is a groaning intercession movement that has already started to take Detroit by storm in theLab, and you are invited to join the ranks! Learn more about the strategy to see revival engulf Detroit!
Visit both www.revivallab.com and www.detroitrevivalchurch.com/revivalcompany for info on how to connect in theLab prayer movement and in Revival Church
HOLD DAILY MEETINGS
This is the next step in our strategy, but we need your help! Our host church is starting their own Sunday night service the first of January, which means we have a decision to make.
The ultimate goal is to secure a property that can hold thousands for major prophetic/revival conferences and events along with room for dorms and theLab internship. If you have ideas, I'd love to talk. I can connect you with the team involved in our property search. When we have our own property, we will be able to start developing the 24/7 church. Not only will there be daily meetings, but there will be hourly events around the clock. Imagine continual teaching in one room, non-stop groans of intercession in another and fiery revival services in another!
Since we only have a little over a month for something to happen, it looks like we may end up moving from Sunday night to Saturday night beginning the first week of January, 2012. So, clear your calendars now for this shift!
THELAB INTERNSHIP DEADLINE
If you want to save $200 on the next internship session, you have to register by November 30th! Go here: www.revivallab.com/apply.
theLab prayed from 10pm-midnight in a concourse at Ford Field—and the fire of deliverance raged!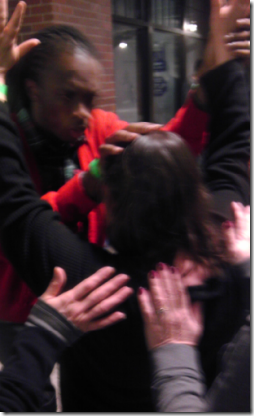 After struggling to find a place to pray as a group, we ended up in a concourse and about 50 people exploded in deep groans and roars of the Spirit!
The spirit of prayer landed on me the moment theLab gathered together at TheCall and what followed was indescribable.
The burning I and so many were experiencing was raging all around. There were deliverances and people laid out all over the floor.
I'll say this, whenever the burning men and women of theLab gather together to pray, the atmosphere simply ignites in something way beyond passion and emotion. God visits in tangible yet invisible power.
LETS DO IT AGAIN AT 10AM!
In just 45 minutes from now we'll be in the same place on the concourse behind the Lions Pro Shop at Gate A. Join us at 10am if you can for another round of burning!
MATT SORGER AND CATHERINE MULLINS AT REVIVAL CHURCH SUNDAY!
Come early for one of the most powerful prayer meetings you've ever experienced! We'll start at 5pm at Revival Church in roaring, groaning, burning and prophetic prayer. The service will launch with that same fire of intercession at 6pm as Catherine Mullins leads us in revival worship.
Matt Sorger will then take over and we will experience an atmosphere of signs, wonders and miracles!
See you Sunday at Revival Church!