Posts Tagged 'tribulation'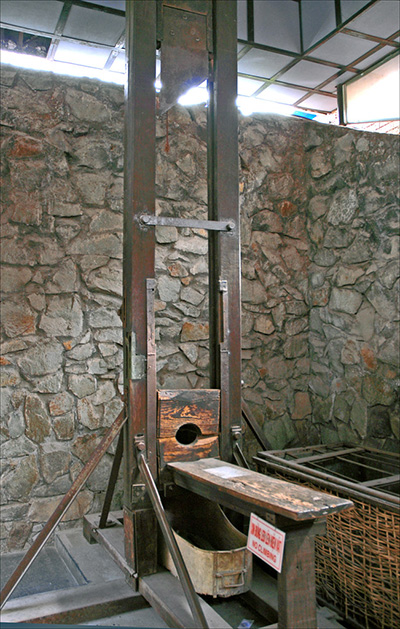 Those in society presenting a risk will first be marginalized and then eliminated.
I'll never forget the terror I felt watching A Thief in the Night, an apocalyptic movie from the 1970's seen by over 300 million people. Christians who refused to take the Mark of the Beast were led to the guillotine. No resister was spared, not even small children. (Regardless of the timing of the rapture, Christians can and will exist during the Tribulation period.)
We are living in the final moments leading up to times of great trouble in the world. It's true that difficult times are upon us now, but, especially in America, what we are experiencing is paradise compared to the horrors to come.
Many believe once the end-time progression has fully matured, those who resist the mandates of a coming global leader will be mercilessly executed. This certainly includes biblical Christians and others who rise up with guns a blazin' in opposition to tyranny. 
EVENTUALLY CHRISTIANS BE CANCELLED PERMANENTLY
Canadian pastor Artur Pawlowski who has resisted the mandates to wear masks and cancel church services was recently arrested on the tarmac at Calgary International Airport. 
"They came for me, be sure of it, they are coming for you as well," he said warning U.S. audiences.
There will be consequences if Americans don't take a stand, he continued: "If you will not do it, you're next."
This is where it gets interesting, and where we as Believers in Jesus must understand the larger picture. We must also use great wisdom when dealing with the spirit of the age.
News flash: When all is said and done we will lose this fight.
I'm not trying to demoralize anybody nor am I buying into any sort of defeatism. I've read the Book and I am fully aware that martyrdom is very much in the future for many of us. The final victory is not carnal or earthly. After the Great Tribulation period and then ultimately after the Millennial reign, Satan and his hordes will be eliminated. We win, they lose.
But in the not too distant future, we will be permanently cancelled. No type of right-wing rebellion against the tyranny will work. Resistance is futile. Scripture makes that clear. Does that mean we give up and give in? No. Contending for righteousness is always appropriate, and there certainly can and will be important short-term victories. We can and should fight the fight (again, with wisdom) by promoting righteous laws and challenging unrighteous norms. 
WE ARE BEING CONDITIONED
Today, social media and politics are the primary tools the enemy is using to force his agenda. Cancel culture is here to stay and it will get progressively more punitive, restrictive and threatening. This is why our strategies must go much further than ranting on Facebook and wearing MAGA hats. God is preparing his church for great persecution and he needs us to accurately discern the signs of the times.
Social media giants are conditioning us, muzzling us and attempting to force us into compliance. What we say, what we believe and what we do will result in affirmation or cancellation. Resisters will resist, but those who are Spirit-driven will be prepared to respond rightly to the evil end-time strategy. 
ELIMINATING THE UNDESIRABLES
Ultimately, the plan is for undesirables (you and me) to be fully eliminated. During the Tribulation that may come in the form of a guillotine. In the seasons leading up to that we'll see an increase in propaganda, conditioning, cancellation and shaming aimed at those who voice any measure of opposition to the societal norms.
Do we simply unleash the Ben Shapiro's and Donald Trump's of the world to rage against the machine, or is there another, better response? While I appreciate what Ben and President Trump have done, and I do believe God can and has used methods they have employed, we need to zoom out and look at the bigger picture. This isn't about saving America anymore. This is about preparing for an encounter with the greatest evil the world has ever known. 
How many churches are strategically preparing the people for trouble? I'm not talking about stocking up on toilet paper, fighting against liberal lawmakers or sharing the latest memes about Dr. Fauci. I mean, is the church praying, fasting and contending in tears for an outpouring of God's Spirit? Are pastors teaching on the end times? What is the spiritual response to today's crisis? 
The Bible makes it clear that we wrestle not against flesh and blood, but that seems to be all the church is doing lately. Fighting politicians, fighting mandates, fighting Facebook. Satan is moving in the spiritual realm and manifesting in the natural. All too often, the church is a step behind, reacting in the natural, responding in the flesh and relying on human intuition with no grid for the supernatural. 
A Thief in the Night had me disturbed as a child and the truth it conveyed has me disturbed as a 52-year-old adult, though the reasons are very different. Then I was concerned for my own life. Today I'm grieved at the response of the church. In the near future, Christians who are rightfully prepared will stand against the threats and refuse to align with the anti-Christ, even if it means certain death. Those who are not will easily give in to the pressures of being permanently cancelled. No food, water, medical care, electricity or other necessities will be too great a price to pay for many.
SO, WHAT DO WE DO?
Our primary and constant response must be fervent prayer, radical consecration, holy living and devotion to the Word of God.
In the short term I believe it's important that we do engage culture. We can win some of the current battles and push back the agendas of the enemy. If we use supernatural wisdom, we can see laws changed, social media transformed and tyranny confronted. It's a valuable and appropriate fight anytime we push back on darkness, especially when it's attempting to destroy our nation.
We must understand, however, that any victory in this realm will be short lived. Ultimately, the enemy will rage with such strategic precision that all who resist will be eliminated. Are we prepared to die as martyrs? Are we truly living and praying and walking in the Spirit? Are our children ready for overwhelming and terrifying persecution? If not, that must be our focus. It's about to get very interesting in the world, and we must do all we can to be ready to respond.
Photo credit: "Guillotine (musée des Souvenirs de guerre, Hô Chi Minh Ville)" by dalbera is licensed under CC BY 2.0
Are you in one of the groups of Christians that will be quick to renounce Jesus? You might be shocked.
Few can argue that we are experiencing a falling away right now. Many are surrendering wholehearted passion for Jesus for other more immediately satisfying, carnal pursuits. Our culture is growing darker by the day.
However, as great as the falling away is today, it cannot compare to what the Bible calls the apostasy, or the great falling away. This will be a far reaching rebellion against God and an abandonment of truth.
3 Let no one deceive you in any way. For that day will not come, unless the rebellion comes first, and the man of lawlessness is revealed, the son of destruction, 4 who opposes and exalts himself against every so-called god or object of worship, so that he takes his seat in the temple of God, proclaiming himself to be God. 2 Thessalonians 2:3-4 (ESV)
The Bible makes it clear that legitimate followers of Jesus will, during a time of great pressure, fall away.
9 "Then they will deliver you up to tribulation and put you to death, and you will be hated by all nations for my name's sake. 10 And then many will fall away and betray one another and hate one another. 11 And many false prophets will arise and lead many astray. 12 And because lawlessness will be increased, the love of many will grow cold. 13 But the one who endures to the end will be saved. 14 And this gospel of the kingdom will be proclaimed throughout the whole world as a testimony to all nations, and then the end will come. Matthew 24:9-14 (ESV)
I've often wondered just how easy it will be to renounce Jesus when the pressure intensifies in the End Times. After all, it's easy for many to excuse apathy, carnality, prayerlessness and other dangerous spiritual lifestyle choices. The ferocity of Satan will be experienced at levels never before fathomed. I believe it will be the norm, not the exception, for Christians to embrace the Beast.
15 And it was allowed to give breath to the image of the beast, so that the image of the beast might even speak and might cause those who would not worship the image of the beast to be slain. 16 Also it causes all, both small and great, both rich and poor, both free and slave, to be marked on the right hand or the forehead, 17 so that no one can buy or sell unless he has the mark, that is, the name of the beast or the number of its name. 18 This calls for wisdom: let the one who has understanding calculate the number of the beast, for it is the number of a man, and his number is 666. Revelation 13:15-18 (ESV)
YOUR END TIME THEOLOGY DOESN'T MATTER
Well, actually, end time theology matters a lot. To adopt a position that it's not important and that it will all just pan out in the end, as I hear so many preachers say, will put you and those you influence into serious eternal jeopardy. I firmly believe churches must regularly teach on eschatology and must facilitate a culture that keeps it at the forefront. The life of the church must be driven by the truth that Jesus is returning and that we must be prepared for our role during that key season.
What I meant by saying your end time theology doesn't matter is that we will all have equal opportunity to reject Jesus—or to go deeper with greater devotion into his love—regardless of when Jesus returns. While the events of the Tribulation, which I personally believe all Christians will experience, will make it extremely easy to reject God, we will all have the chance to fall into deception, rebellion, carelessness and a carnal lifestyle.
9 And another angel, a third, followed them, saying with a loud voice, "If anyone worships the beast and its image and receives a mark on his forehead or on his hand, 10 he also will drink the wine of God's wrath, poured full strength into the cup of his anger, and he will be tormented with fire and sulfur in the presence of the holy angels and in the presence of the Lamb. 11 And the smoke of their torment goes up forever and ever, and they have no rest, day or night, these worshipers of the beast and its image, and whoever receives the mark of its name." Revelation 14:9-11 (ESV)
While I believe we will have a clear, specific opportunity to either take a physical mark or reject it (which will seal our eternal fate), the truth remains that we can align with the Beast now. We can befriend him and adopt his philosophies and his attributes, either overtly or subtly. For most, it's subtle. They remain convinced they are saved, secure and a follower of Jesus while living in great deception.
GROUPS THAT WILL EASILY RENOUNCE JESUS WHEN THE PRESSURE INTENSIFIES
My wife and I attended a stage production that left my spirit troubled. It was a fictional presentation of events during the Tribulation. A family was living in a prison camp during the reign of the antichrist, doing their best to survive day to day, wondering if they might ever escape, or die at the hands of their enemies.
During one scene, a soldier offered to make a deal with the patriarch of the family. If he signed a decree renouncing Jesus, they could all immediately go free. The soldier then left, giving them time to consider the offer. The father was at the end of himself. He wanted desperately to save his family, and every other attempt had failed. What happened next was grieving.
Sitting at the table with the document and a pen in front of him, he told his family he was going to sign it. He picked up the pen, but his daughter stopped him. She made it clear that it wasn't worth it to trade his soul for a few more weeks, months or years of life on the earth. Dying was better than eternal damnation. So far so good.
But then, the father, in an important teaching moment in the production said something to the effect of, "Daughter, this is just a piece of paper. It doesn't matter if I sign it or not. Nothing could ever affect the reality that Jesus lives in my heart and yours." That's where the grief hit me. Yes, signing the paper, taking the mark, abandoning truth, taking the easy way out absolutely does affect our eternities.
The Bible directly reveals that those who do so will drink the wine of God's wrath. (Revelation 14:10)
So, it's clear there are Christians who believe that their lifestyles and decisions won't impact their eternities. Here are some groups to consider:
THOSE WHO SUBSCRIBE TO ETERNAL SECURITY
It was obvious to me that the writer of the play that we watched was most probably part of one of the many mainline denominations that affirm the doctrine of eternal security.
I so appreciate what many of the godly men and women in these particular movements bring to the Kingdom. However, this one belief can do deep damage to Christendom, leading millions astray. It will be extremely easy, just as we saw in the End Time production, to wrongly assume that our actions have no impact on our eternal standing. The truth is that we are only safe if we conquer, overcome and endure to the end.
5 The one who conquers will be clothed thus in white garments, and I will never blot his name out of the book of life. I will confess his name before my Father and before his angels. Revelation 3:5 (ESV)
THOSE WHO AFFIRM FALSE-GRACE DOCTRINE
I've written on false-grace dangers often, and won't add to it here, except to say that the number of people at risk of renouncing Jesus is rapidly increasing due to this movement. If all of our sins are forgiven past, present and future, then taking the mark of the Beast is a non-issue. In fact, blasphemy of the Holy Spirit, sexual immorality, unforgiveness and any number of other sins won't impact our eternity if we believe in God's grace as taught by these teachers.
The deception is so dangerous as personal action and responsibility are removed entirely from the picture. The truth is that our actions absolutely do impact our eternity.
26 For if we go on sinning deliberately after receiving the knowledge of the truth, there no longer remains a sacrifice for sins, 27 but a fearful expectation of judgment, and a fury of fire that will consume the adversaries. Hebrews 10:26-27 (ESV)
THOSE WHO AREN'T ON FIRE FOR JESUS
A raging, burning passion for Jesus is non-negotiable. In fact, it's crazy that anyone would ever have to broach this topic. We are either on fire for Jesus or we are lukewarm, or possible cold and dead. Period. To endure the End Times, we must have an anointing radiating out of us. We need to be so intimate with Jesus that our love of him could never be sacrificed for temporal relief. Those who refuse to take the mark of the Beast will be radically in love and on fire for Jesus.
15 "'I know your works: you are neither cold nor hot. Would that you were either cold or hot! 16 So, because you are lukewarm, and neither hot nor cold, I will spit you out of my mouth. Revelation 3:15-16 (ESV)
THOSE WHO DON'T HAVE A LIFESTYLE OF PRAYER
A prayerless Christian is really a confounding concept. An oxymoron. Sadly, most Christians, it seems, are nearly prayerless. In fact, most churches are as well. We must be living, walking and praying in the Spirit, night and day if we hope to survive the coming pressure. You'll remember Jesus warning his disciples to stay awake and pray so they don't fall into temptation. Do you know what temptation Jesus was referring to? Rejecting Jesus, as they did when the pressure increased and Jesus was taken away for crucifixion.
41 Watch and pray that you may not enter into temptation. The spirit indeed is willing, but the flesh is weak." Matthew 26:41 (ESV)
THOSE WHO DON'T LIVE HOLY LIVES
Christians who excuse away foul language, nudity and other immorality in movies, television and other media are setting themselves up for an eternity separated from Jesus. They are convinced that embracing certain sins won't have any impact in their lives on earth or their eternities, therefore, taking the mark will be an easy decision for them. Surely God doesn't really care about this the way some Christians might argue, right? Wrong.
10 The fear of the LORD is the beginning of wisdom, and the knowledge of the Holy One is insight. Proverbs 9:10 (ESV)
THOSE WHO ARE OFFENDED AND REBELLIOUS TO AUTHORITY
If you are easily offended, especially by those who are in authority, you are setting yourself up for a great fall. The antichrist will be the authority you have been looking for, giving you want you want—for a time. It's critical to learn now how to love well, how to forgive and how to honor authority that God puts in your life. If you think authorities in your life are unfair now, just wait until the end comes. Jesus will be giving leadership in a way that many will deem unfair. Will you have learned how to submit to unfair authority and how to trust God's leadership in your life? It's absolutely mandatory that you do.
1 Let every person be subject to the governing authorities. For there is no authority except from God, and those that exist have been instituted by God. 2 Therefore whoever resists the authorities resists what God has appointed, and those who resist will incur judgment. Romans 13:1-2 (ESV)
THOSE WHO ARE NOT CONNECTED IN A LOCAL CHURCH
We will need each other more than ever as the pressure intensifies. The church will certainly look much different during the Tribulation than it does now, but one truth will remain—we will be together.
We must learn how to lock arms and contend together if we hope to survive in the end. The Bible gives us this instruction, especially as the Day draws near.
24 And let us consider how to stir up one another to love and good works, 25 not neglecting to meet together, as is the habit of some, but encouraging one another, and all the more as you see the Day drawing near. Hebrews 10:24-25 (ESV)
FINAL THOUGHTS
There are other groups that are at risk of falling away. Many of them, in fact. There are some obvious ones that I haven't addressed here such as seeker sensitive churches and those who don't affirm the gifts of the Spirit. There are some that are not as obvious too. Those who have adopted pre-Trib rapture theology, Preterists and others are at greater risk as well. But, don't let this become an argument about the timing of end time events. This is about attitudes and decisions and belief systems that impact us at any point on the timeline.
We must be ready. Jesus is coming again soon. That is one point we must simply have to agree on.