Beware of the natural familiarity of Ichabod churches (where the glory has departed).
And she named the child Ichabod, saying, "The glory has departed from Israel!" because the ark of God had been captured and because of her father-in-law and her husband. And she said, "The glory has departed from Israel, for the ark of God has been captured." 1 Samuel 4:21-22 (ESV)
Pastors, are you hearing what I'm hearing?
Most every day, in one venue or another, I'm hearing from disillusioned, frustrated people who cannot find a church that has been overtaken by the Holy Spirit. No extreme revival atmospheres can be found for many. The Upper Room experience that innumerable desperate people are searching for are nowhere to be seen, in some instances, within 500 miles of where they live. They complain of short, ordered, controlled services that, according to them, isn't worth their time. There's a measure of spirituality, but they don't even come close to the explosive, supernatural experiences they are craving.
Pastors, are you hearing what millions are saying? The ark has been captured!
Open up your doors to the manifest presence of the Holy Spirit! The gifts must function. The order of service must be laid down. The crazy, unscripted, unrehearsed, unforeseen collisions that happen when an invisible, all-powerful Creator invades mortal humans must be expected. Every. Single. Sunday.
Do not quench the Spirit. 1 Thessalonians 5:19 (ESV)
HALF-FILLED LAMP CHURCHES ARE THREATENING KINGDOM ADVANCE…AND PEOPLE'S ETERNITIES.
And the foolish said to the wise, 'Give us some of your oil, for our lamps are going out.' But the wise answered, saying, 'Since there will not be enough for us and for you, go rather to the dealers and buy for yourselves.' Matthew 25:8-9 (ESV)
Misguided compassion is resulting in the wise becoming foolish while eternities are put at great risk.
Churches are filled with people the Bible would call foolish—those who are not spiritually vibrant, personally disciplined and deeply intimate with Jesus. Their lamps are empty.
This begs a question: How is it so many people in this category are so at home in churches all over the world?
If a church is ablaze with the spirit of prayer and alive as the Holy Spirit blows and burns through everyone there, those who are asleep and without any oil will definitely not feel comfortable. There is no way they can integrate in such a place without feeling the pressure to fill their lamps.
So, what do many pastors do to ensure these people feel a part of the family? They share their oil. "Come on in, you take half of my oil, I'll keep half. We'll both meet the bridegroom together." It sounds loving. It feels compassionate. It's foolishness.
The water level of Holy Spirit activity is brought way down so those who are marginally surrendered can dip their toes in the shallows—and integrate nicely with others who are equally resistant to the deeper things of the Spirit. They are spiritually interested, but not spiritually invested. They have not paid the price and have not bought their own oil.
Human wisdom that argues that it's better for people to be in a moderate spiritual environment is better than the being shut out is actually called foolishness by God. By sharing oil, by toning down the activity of the Holy Spirit, all become foolish, and all are put at risk of Hell.
The truth is that oil can't be shared. A price must be paid. Oh, and to take the heat off of pastors for just a moment, for all of you disgruntled experience seekers out there, quit getting so frustrated when your church doesn't move in the gifts the way you'd like. Are you trying to share their oil? Don't you have enough yourself? Is your lamp not full? While I absolutely understand the cry for a supernatural church, I refuse to empower those who refuse to get their own oil. If your lamp is full, you should be overwhelmed by the Holy Spirit and deeply intimate with Jesus! Just exactly how do you want a human pastor to add to that? Go get your own oil. Pay the price. Quit complaining about the church.
A MIDNIGHT CRY
Take just a minute and read the entire passage:
"Then the kingdom of heaven will be like ten virgins who took their lamps and went to meet the bridegroom. Five of them were foolish, and five were wise. For when the foolish took their lamps, they took no oil with them, but the wise took flasks of oil with their lamps. As the bridegroom was delayed, they all became drowsy and slept. But at midnight there was a cry, 'Here is the bridegroom! Come out to meet him.' Then all those virgins rose and trimmed their lamps. And the foolish said to the wise, 'Give us some of your oil, for our lamps are going out.' But the wise answered, saying, 'Since there will not be enough for us and for you, go rather to the dealers and buy for yourselves.' And while they were going to buy, the bridegroom came, and those who were ready went in with him to the marriage feast, and the door was shut. Afterward the other virgins came also, saying, 'Lord, lord, open to us.' But he answered, 'Truly, I say to you, I do not know you.' Watch therefore, for you know neither the day nor the hour. Matthew 25:1-13 (ESV)
In order to make sure our lamps are full (and that we have extra in our flasks), we must pay the price for the oil and then stay at the ready. In the midst of delay, we all can experience spiritual fatigue, but the wise will rise up when they hear the midnight cry!
The difference between those who have their lamps full and those who don't is stark. Those who are not ready when God suddenly moves will have the door shut to them. God will declare that he does not know them (even if pastors assure them they are part of the family).
I think about the Upper Room in the Book of Acts. Most didn't respond to the call to wait, to pay the price. The door was shut to them. After a delay of ten long days, there was a midnight cry! The Holy Spirit has come! Those who had their lamps full, those who responded to the command of Jesus to wait and pray, were ready when the wind and the fire came!
A MIDNIGHT CRY CHURCH
Pastors, don't share your oil. Don't let misguided compassion cause you to quench the Spirit. Don't build your local church on those who refuse to pay the price.
Build a midnight cry church! Build the fire, contend in fervent prayer, expect unusual, otherworldly manifestations of the Holy Spirit and break off any temptation to moderate the service so the sleepy foolish people who are pounding at your door can join in. Love them by modeling a life of fervency, preparation and intimacy with Jesus. Warn them. Contend in prayer for them. Some will join you in your Upper Room experience, but most will not.
It's time we desire the ark more than people. When we do, the glory will return to the church and that glorious midnight cry will be heard, "Here is the bridegroom! Come out to meet him."
The church is crying out for a new thing, yet when something new manifests a common reaction is suspicion and unbelief.
What's your first reaction when you hear about gold dust, gold teeth, oil manifesting on people, healings, angelic visitations, trances, Third Heaven encounters, etc.? Joyous belief or skeptical reservation?
Let's have an open discussion about signs, wonders, miracles and manifestations. It's a burning hot can of worms that is only going to get hotter and messier. God is going to offend our expectation and our intellects as he invades our comfort zones and destructs human controlled systems.
EXPECTATION VS. EXPECTANCY
God is moving the church from a place of expectation to an culture of expectancy. What's the difference? It's simple yet profound. An expectation has a pre-determined outcome attached to it. For example, I have an expectation that the sun is going to set tonight. There's a clear and definable reality that should certainly come to pass.
Expectancy is quite different. It's open ended yet very powerful and all consuming. It's often ambiguous, nebulous. What we sense is coming goes beyond our ability to define and contain it in our narrow constructs.
So, to have an expectation means that we impose limits and boundaries on what we want to see done. But, expectancy opens us up to anything and everything that God might want to do. We have a resounding "yes" in our spirits even though what's coming is well beyond our realm of understanding or imagination.
Ephesians 3:20-21 (ESV) 20 Now to him who is able to do far more abundantly than all that we ask or think, according to the power at work within us, 21 to him be glory in the church and in Christ Jesus throughout all generations, forever and ever. Amen.
At Revival Church and theLab School of Fire we've been experiencing undeniable wonders such as gold dust appearing on people, anointing oil coming out of people's hands, a visible mist of God's presence, angelic activity and more. I'm sure there has been a gut reaction of doubt and skepticism by many who read about it.
I believe God is lovingly testing and preparing us for the greater glory that's coming. He wants to see how we will react when he does something new and unusual. Will the first reaction be skepticism and suspicion? Will we attribute what's happening to him or his arch enemy, Satan? Or, will we be fueled by such expectancy that faith and belief is our immediate reaction?
Check out this email I received this morning from a close friend who's a student at ministry school:
John, I must admit I've been extremely skeptical about your Facebook reports of gold dust.  People so desire the Lord move in their midst they will imagine many things.  I mean, what's the purpose of gold dust anyway.  Apparently, you can't collect it and take it to the bank.  It just disappears after a while.

People can react to a song or phrase in a fleshly manifestation when nothing is actually happening.  Although I think we must stay on guard against such things, something happened this morning that has radically shifted my thinking.

During admin time before moving into the prayer room this morning, a woman in the back of the room started laughing uncontrollably.  After a short time of ministry to her, they took her out in the hall and continued with announcements. 

A minute later, a young woman across the aisle from me started trembling and weeping.  The girl next to her said, "There's oil dripping from her hands."  I looked and could see it with my own eyes.  See laid hands on a sick woman and received healing.   I must repent of my unbelief and skepticism.  This girl seemed like one of the most introverted and timid I've ever met.  Here with my own eyes I see the Lord manifesting something I don't understand through her.

O Lord help my unbelief.
7 Key Points to Consider
ONE. What's the purpose?
Often people will doubt that a manifestation is a result of God moving because they can't connect the dots. They can't answer the "why?" What benefit does the gold dust have?
I personally think we're overcomplicating this issue. Most realities that we experience in life don't have a purpose, they just are.
What is the purpose of smoke at a campfire?
What's the purpose of the smell of spring rain?
What's the purpose of the sound of thunder?
There is no real purpose. They are simply evidences of fire, of rain and of lightning.
Gold dust, for example, is an evidence of God manifesting in glory in a certain location. That's all.
But, that's really not all. We know that evidences result in some pretty remarkable things—people get radically saved as they see God move!
Acts 2:43 (NIV) 43 Everyone was filled with awe, and many wonders and miraculous signs were done by the apostles.

Acts 2:47 (NIV) 47 ..And the Lord added to their number daily those who were being saved.
TWO. Should we ignore or deny what is clearly happening?
I'll admit, when I hear from people who doubt that what we are reporting is true, my first reaction is, "I'm not sure what to do with your skepticism. I saw it happen."
I mean, if it's happening right there in front of us, with many witnesses, should we ignore it? Deny it?
If we allow unbelief or skepticism violate the clear evidence of God's glory we are in a lot of trouble. God's manifest presence will be gone that fast.
We also have to be careful not to jump to conclusions that are fueled by unbelief when we hear of God moving unusually somewhere.
Mark 16:14 (ESV) 14 Afterward he appeared to the eleven themselves as they were reclining at table, and he rebuked them for their unbelief and hardness of heart, because they had not believed those who saw him after he had risen.

Matthew 13:57-58 (ESV) 57 And they took offense at him. But Jesus said to them, "A prophet is not without honor except in his hometown and in his own household." 58 And he did not do many mighty works there, because of their unbelief.
Someone sent me this message today on Facebook. He couldn't deny God's presence or his manifestation:
Back in 2009, I had oil appearing to flow from my hands and gold dust appearing all over me. Most of the time this happened in my home. People were amazed when they visited my home…mostly because of the presence, NOT the manifestations. Well, I haven't had those happen in years, but I got so excited when I read your recent posts… not because of the manifestations, but because of the presence…and because of what's coming to you NEXT!"
THREE. Why do we immediately presume unusual signs and wonders are the work of Satan?
This point is more serious than we might realize. Yes, its absolutely true that Satan will deceive people through deceptive signs and wonders.
2 Thessalonians 2:9-10 (ESV) 9 The coming of the lawless one is by the activity of Satan with all power and false signs and wonders, 10 and with all wicked deception for those who are perishing, because they refused to love the truth and so be saved.
Note that this passage emphasizes that it's specifically those who are perishing, those who don't love truth, who will be deceived. Those of us in love with Jesus should not be fearful or nervous when signs and wonders start happening!
If we are deeply in love with Jesus, we will easily identify the lover of our souls when he's in the room. The anointing will overwhelming, and when the signs and wonders follow, there can be no denying that it's God himself who's manifesting.
The reason this point is very serious is because of the one sin that is unforgivable—blasphemy of the Holy Spirit.
Those in the suspicion driven heresy hunter movement often creep very close to the edge of this sin—and certainly some have gone over that edge.
Mark 3:28-30 (ESV) 28 "Truly, I say to you, all sins will be forgiven the children of man, and whatever blasphemies they utter, 29 but whoever blasphemes against the Holy Spirit never has forgiveness, but is guilty of an eternal sin"— 30 for they were saying, "He has an unclean spirit."
Wow. That is sobering. The fear of God should rock us. They were saying Jesus was manifesting demonic power when in fact, of course, he was demonstrating the power of God.
FOUR. Should we not be more concerned when miracles aren't happening?
Mark 16:17-18 (NIV) 17 And these signs will accompany those who believe: In my name they will drive out demons; they will speak in new tongues; 18 they will pick up snakes with their hands; and when they drink deadly poison, it will not hurt them at all; they will place their hands on sick people, and they will get well."
Is it possible that we have churches full of unbelievers? I'm not talking about those who haven't repeated a sinner's prayer. I'm talking about church goers who confess Jesus Christ as Lord. Yet, their unbelief results in no supernatural power in their lives. No demons driven out. No healings.
The expected atmosphere for a Christian church is one of signs, wonders and miracles. They are the result of belief. It's that simple. Check it out:
John 14:11-12 (NIV) 11 Believe me when I say that I am in the Father and the Father is in me; or at least believe on the evidence of the miracles themselves. 12 I tell you the truth, anyone who has faith in me will do what I have been doing. He will do even greater things than these, because I am going to the Father.
It seems to me that a more accurate conclusion would be that the enemy is the key influencer when we don't see signs, wonders and miracles. Demonic and humanistic conditioning results in unbelief. Unbelief ensures nothing miraculous will happen at all.
FIVE. The Bible doesn't contain a record of every manifestation or Kingdom activity.
A lot of people get tripped up here.
Scrutiny causes them to shun anything unless they can validate it through a duplicate situation recorded in scripture.
The question shouldn't be limited to, "Is this exact manifestation recorded in the Bible?" The question should actually be, "Does this manifestation line up with the truth of scripture, and is there anything in the Bible that would forbid or shoot down what we are experiencing?"
John 21:25 (NIV) 25 Jesus did many other things as well. If every one of them were written down, I suppose that even the whole world would not have room for the books that would be written.
Have you considered that some of what is happening might be a part of what Jesus did that wasn't contained in scripture? Have you also considered, based on John 14:12 that we are to do MORE than what Jesus did?
Take ten minutes and consider everything in our Christian culture that isn't found in scripture. Do you really want to throw it all out?
You'll have to stop using the word Trinity. There will be no celebration of birthdays, Christmas or Easter. We would be forbidden from tapping our toes during worship. There would be no electric guitars or saxophones in worship. The only valid spiritual dreams and visions would be those that are exact duplicates of dreams and visions in scripture.
God giving specific, personal answers to prayer would not be allowed, unless God also revealed that in scripture (He'd have to mention the exact city he wants you to live in and the exact place he wants you to work in the Bible, for example.)
What about paid children's pastors? Media ministry pastors? Television ministry? Wearing crosses around our necks? Nope.
SIX. What about all that the Bible does contain that we aren't experiencing?
An even easier way to address the issue raised in the previous point is this: Why aren't we experiencing all of the dramatic signs and wonders that are in the Bible?
Cover to cover we see wild and bizarre manifestations and miracles of God.
A pillar of fire, a cloud, parting of waters, blind eyes opened, the creator, walking on water, manna, a burning bush, angelic encounters, trances, Third Heaven encounters, and on and on and on.
I believe we must repent for living below the bar of supernatural manifestation in our churches and have an increased expectancy for the unusual, strange and overwhelming manifestation of God today.
SEVEN. The Bereans weren't skeptics.
There's a Pharisaical spirit in a growing group of people that are masking themselves as Bereans.
The Bereans weren't skeptical. They weren't suspicious. They weren't nervous. They weren't divisive.
People often say that the Bereans were marked by their study of scripture—and that study was to police any activity that would violate the Word of God. People presume they were self-appointed protectors and "officers of the law."
Most common day, self-described Bereans are filled with unbelief, suspicion, doubt and a spirit of division that's used against anybody that threatens their personal, narrow interpretation of Scripture.
Those people are not Bereans, not by a long shot. Many of them venture very close to the Blasphemy of the Holy Spirit. Others are simply arrogant and mean spirited. Others are simply deceived. In fact, they could better be defined as Thessalonians.
Let's look:
Acts 17:1-9 (NIV) 1 When they had passed through Amphipolis and Apollonia, they came to Thessalonica, where there was a Jewish synagogue. 2 As his custom was, Paul went into the synagogue, and on three Sabbath days he reasoned with them from the Scriptures, 3 explaining and proving that the Christ had to suffer and rise from the dead. "This Jesus I am proclaiming to you is the Christ," he said. 4 Some of the Jews were persuaded and joined Paul and Silas, as did a large number of God-fearing Greeks and not a few prominent women. 5 But the Jews were jealous; so they rounded up some bad characters from the marketplace, formed a mob and started a riot in the city. They rushed to Jason's house in search of Paul and Silas in order to bring them out to the crowd. 6 But when they did not find them, they dragged Jason and some other brothers before the city officials, shouting: "These men who have caused trouble all over the world have now come here, 7 and Jason has welcomed them into his house. They are all defying Caesar's decrees, saying that there is another king, one called Jesus." 8 When they heard this, the crowd and the city officials were thrown into turmoil. 9 Then they made Jason and the others post bond and let them go.
The Thessalonians heard Paul talking about Jesus and about the supernatural miracle of resurrection from the dead. This was a problem for the Jews. It bothered their theology. They then adopted a spirit of accusation (a demonic spiritual gift) and declared that the message was not of God and that they were causing trouble.
So, the moved on to Berea. Here we find true friends of God and people who were expectant, open to a fresh move:
Acts 17:10-13 (NIV) 10 As soon as it was night, the brothers sent Paul and Silas away to Berea. On arriving there, they went to the Jewish synagogue. 11 Now the Bereans were of more noble character than the Thessalonians, for they received the message with great eagerness and examined the Scriptures every day to see if what Paul said was true. 12 Many of the Jews believed, as did also a number of prominent Greek women and many Greek men. 13 When the Jews in Thessalonica learned that Paul was preaching the word of God at Berea, they went there too, agitating the crowds and stirring them up.
Why were the Bereans counted as more noble? Because they received the message with great eagerness! They excitedly, expectantly searched the scriptures for confirmation. They were joyous, not suspicious. Not guarded. Not nervous.
So, a great question is this: When we hear of God moving in a new way, will we be like the Thessalonians who were threatened and full of doubt or like the child-like Bereans who excitedly received the Good News?
10pm Friday nights are a wide open slot on the calendar to gather the church of the Detroit region.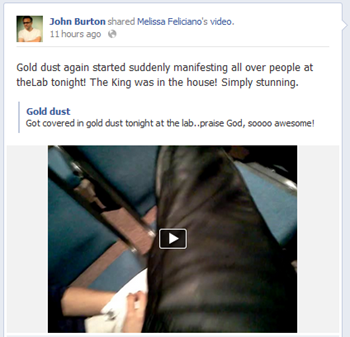 What would it be like if every Christian in Detroit gathered together every Friday night to pray for revival? Can you imagine that?!
That means, if you are in this region, you are a critical part of this vision!
I hear people say all the time, "John, I can't imagine anything that could keep me away from encountering God at theLab on Fridays. What else could there be?"
GOLD DUST
Last night theLab was at an amazing church in Attica and the King of Glory revealed himself!
Suddenly gold dust started showing up all over people's hands and clothes. Visible evidence of God's presence was everywhere!
Check out a video on my Facebook Timeline at www.facebook.com/johnedwardburton.
This was the second time this happened in this particular church!
At Revival Church and theLab we've experienced gold dust, oil on people's hands and the visible mist of God's glory. It's a sign of God's glory!
EVERY FRIDAY NIGHT
So, by all means, help spread the word to the Detroit region church: Every pastor, leader, intercessor and Christian hungry for revival is called to gather in a different church each Friday night from 10pm-midnight at theLab!
THELAB SCHOOL OF FIRE
Has God been speaking to you about going deeper? Lives are being rocked and equipped at theLab School of Fire!
The next three-month session begins Saturday, January 7th at 10am.
Apply today at www.revivallab.com/apply!