Posts Tagged 'jimmy swaggart'
Todd Bentley has been deemed unfit for ministry. Why do so many fallen ministers reject a process of restoration that would reestablish their ministry?
Dr. Michael Brown and other extremely reputable Christian leaders released a
report
on Todd Bentley and his reported indiscretions. They took quite some time and carefully stepped through the process to ensure the final report would be accurate and written from a heart of love. I believe they accomplished this. I've had the unfortunate opportunity to have a closer than normal view of public failure of three world famous ministers over the last few decades. This most recent situation caused me to ask a simple question: Why is it so hard for fallen ministers to properly step through a restoration process? Would it not look much better for them and wouldn't the public be much more accepting of a return to ministry if they handled it rightly? Jimmy Swaggart was warned to take a year off of ministry by David Wilkerson just before his infamous failure was made known. This was a striking prophetic word as nobody had any inclination that Jimmy was in
sin
and it was about to be announced to the world. As I sat in the pastoral ministry class at Jimmy Swaggart Bible College in Baton Rouge, Louisiana, Jim Rentz, the
pastor
of Family Worship Center on the campus of Jimmy Swaggart Ministries told us that they all truly loved Brother David. However, the ministry would collapse if Jimmy Swaggart stepped away for a year. They rejected the prophetic instruction and the rest is history. After the failure, he was instructed to take a year off of ministry by the Assemblies of God, but he rejected that instruction by his authorities. He was back behind the pulpit in three months. In fact, he did everything but preach in the weeks leading up to his extremely rapid return. From the
Los Angeles Times
 on April 9th, 1988:
Jimmy Swaggart was defrocked Friday by the Assemblies of God after he refused a one-year suspension, asserting that a prolonged absence from the pulpit would doom his television ministry and jeopardize his Bible college. The decision to defrock Swaggart for unspecified "moral failures" was made in a telephone conference of a dozen elders of the Assemblies of God church. It commenced upon receipt of a letter from Swaggart declaring that he could not submit to the terms of his penance and rehabilitation. "We believe," Swaggart told reporters later at his Baton Rouge, La., headquarters, "that to stay out of the public for a year would totally destroy the television ministry and greatly adversely impact the college." Assemblies of God leaders said Swaggart gave them no choice but to defrock him.
He's not the only one who rushes back into ministry after falling into immorality. I believe there are many reasons for this. In fact, it would do all of us well to ask God if any of these reasons I'll be addressing below might be issues or potential issues in our own lives. It's hard, but still much easier to deal with character issues before failure hits then after. Here's a handful of extremely deadly mindsets and problems that all of us, on either side of failure, should go to prayer about.
FEAR OF LOSS
When failure becomes public, suddenly everything the minister has worked for, sometimes for decades, is at risk of being removed in the matter of a moment. We see this clearly admitted to by Jimmy Swaggart as revealed in the LA Times article above. Their immediate reaction may not be to deal with the
sin
, but rather with the impending consequences. They can't imagine their entire lives being turned upside down, so they do whatever possible to mitigate damages and keep their ministry machine moving forward just as it always has been. They don't understand that losing the ministry is okay if it means saving their soul and guarding the name of Jesus.
DENIAL
Some will fully deny wrongdoing whatsoever, but even those who have been undeniably caught in indiscretion, they may minimize just how serious the sin is. I believe often times they have convinced themselves that it's not really that big of a deal. They deny the severity of the failure and can be quite irritated that others can't see it that way.  In fact, they will often presume that a simple confession eradicates the past sin. Well, if a confession is genuine, and if repentance is true, then the sin is forgiven. What is yet to be resolved, however, is their own heart, weaknesses and the state of their ministry. They may correctly deny that they are still in sin, but that denial doesn't end the restoration process, it starts it, and it very well may take years.
CONTROL
Many of today's most successful public ministers are alpha leaders. They are dominant. They are used to being in charge and the thought of answering to another is an irritant to them, if not totally foreign. They claim to do exactly what God is telling them to do, and they won't relinquish that role to any other. The problem is that God has placed human authorities in our lives and we don't have the option to cast them aside so we can do what we please. When failure as come, the leader is no longer in charge. They would do well to humble themselves and trust the process that loving Kingdom authorities will lay out for them. They didn't ask to be in this situation. They wish they weren't, but the leader's sin put them there. Honor them in their selfless service by submitting to them.
SHAME
You can imagine how embarrassing a public scandal would be. Those caught in sin can be humiliated as it crushes any reputation they have built for themselves over the previous years or decades. It's easy to fight back against the charges in hopes of eliminating the shame. Instead, we should be like Joseph who chose both shame and prison over sin when he ran out of a setup in the bedroom naked. Personal image protection can't be our motive.
Holiness
, purity and God's reputation must be drive our reactions to accusation.
DAMAGE CONTROL
A full confession and full surrender to a lengthy restoration process is counter-intuitive to someone who is attempting to salvage what he spent so long building, and that is currently being threatened and torn apart. A better move would be to waive the white flag, to fully repent and to go through whatever process necessary to move through the restoration. They need to understand they have no leverage, no bargaining power. They are now in the hands of God, of the public and of leaders who want to initiate create a careful, thoughtful pathway of success for them.
WRONG MOTIVES
While many people enter ministry with a pure heart, over time their motives can change significantly. Anyone in ministry knows it's possible to be seduced by the promise of influence, power, finances or other temptations. It's sad how rare it is to see preachers who have fallen into sin to be truly, visibly and deeply sorrowful for their sin. Where are the tears? Where is the brokenness? Where are those who admit they have nothing left and who are willing to spend the time necessary, as mandated by their overseers, to rediscover God, to get healed and to become qualified for ministry again?
RETALIATION
Some will boldly, without any concern for the people they hurt, strike back at their accusers by rejecting any accountability. They continue to build their ministry in the face of the entire world in hopes of smothering the accusations and silencing the accusers. There is an arrogance that has overcome this type of leader. They have successfully driven through people their entire "ministry" and they won't let anyone stand in their way now. If they do, look out.
FINANCIAL LOSS
The threat of losing money and of having a lifestyle altered is a serious motivating factor for ministers caught in sin. They kick into damage control and do whatever they can to keep the dollars rolling in. The thought of actually getting a job is a joke to them. Working a 9 to 5 is laughable. It would be a smart move for many of these fallen ministers to give up on the monument they have built and start working for another. How powerful would it be to see someone like Todd Bentley humbly and honorably working at a pizza place or driving a bus instead of announcing yet another ministry endeavor in the face of scandal? Can you imagine how much more quickly people would be endeared to them? Their restoration would be fast tracked.
PRIDE
Of course, pride is sure to rear its ugly head if it hasn't been fully dealt with prior to failure. It's easy to react mindlessly if a spirit of pride is leading the charge. A collapse of a ministry very well may be an act of love by God who is doing all he can to alert them to their haughtiness and save their soul from Hell.
NO DESIRE TO REPENT
Some enjoy their sin so much, and have minimized its severity so completely, that they don't see themselves leaving that lifestyle behind. Some are addicted to behaviors and they can't imagine life without feeding that beast. Of course, people like this have no business being in any type of ministry. Instead they should be checking themselves into to counseling sessions, going through deliverance and seeking inner healing.
MINISTRY IS AN IDOL
This may hit home to many pastors and ministers. How easy is it to get addicted to the rush of ministry? Very. Every single one of us should immediately ask God to search our hearts and see if we are addicted to it. Do we love ministry more than God? Nobody would want to say yes, but we should yearn for the freedom that can come if it's true and we repent.
CONCLUSION
Those who have fallen into sin need to understand their restoration most often will take years, not months. Just step away and discover the lover of your souls again! God is your provider, so financial loss shouldn't be an issue. God's name is to be made famous, not ours, so a lack of influence shouldn't concern us. We are called to die daily, so loss shouldn't be troubling to us. This message is for all of us, public failure or no public failure. Do all you can to address the above issues and any other the Lord highlights to you. The enemy is working very hard to destroy ministries, ministers, their families and all who are under their influence. Any weakness such as pride or idolatry is an open door for attack. Close that door fast! I learned a long time ago that the world doesn't need my ministry as much as I might think it might. God doesn't need me as much as I'd like to think either. I'm not minimizing the need for people to step out into their callings and ministries, but we must understand that being responsive to God, being repentant, growing in intimacy, embracing humility and dying to self is all much, much more important.
The uniting of two sinister forces, hyper-grace and hyper-love, has created a ferocious monster that is devastating lives.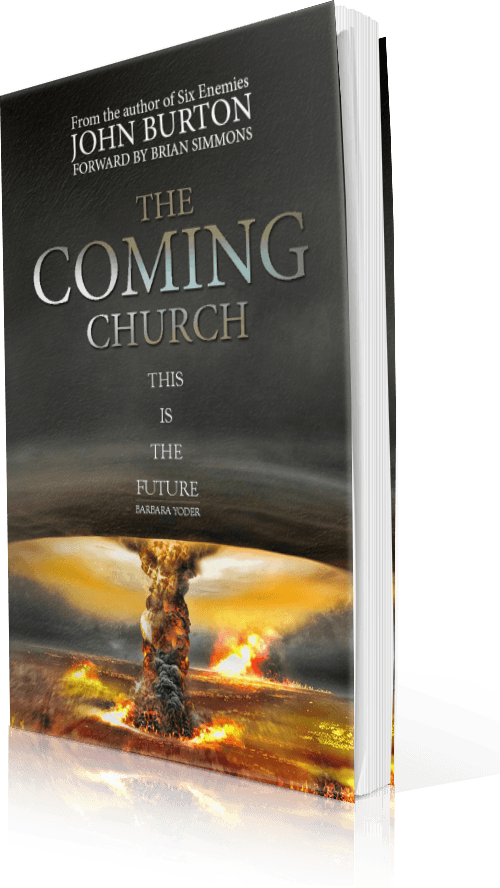 I'm going to do something I've never done, because I believe right now, in light of the current false-grace/false-love crisis, the message of my book "The Coming Church" is an urgent one. I'm giving away the ebook version of this 300 page nuclear bomb of prophetic revelation for FREE. Download your copy immediately HERE.
I believe there are two evil, powerful and seductive demonic spirits that are roaming freely in churches all over the world, and people are celebrating them, promoting them and imparting them into millions of others. These spirits, dark and crafty entities that have already caused extreme destruction in innumerable people, are: 
hyper-grace
and
hyper-love
. The reason I call these two mindsets, philosophies and theologies "spirits" is simple: Satan has devised a scheme to deceive the church to such a degree that people believe themselves to be radical followers of Jesus while living in such a way that disqualifies them from an eternity with Jesus. Those infected by
hyper-grace
and hyper-love are at great risk, with many of them already surrendering their
salvation
and many others moving in that direction. I was at Jimmy Swaggart's confession in 1988. I helped give leadership to a city-wide prayer movement with Ted Haggard approximately 15 years ago. My wife and I had a private meeting with Todd Bentley in Lakeland in 2008. All three had a powerful, undeniable anointing. All three failed dramatically. Hyper-grace didn't restore them. Hyper-love didn't remedy the destruction. I remember John Bevere sharing the story of him visiting Jim Bakker in prison. John asked Jim, "When did you stop loving God?" Jim shocked John Bevere by saying, "I never stopped loving God. I stopped fearing God." Listen to the podcast…
HYPER-LOVE
For a closer view into this topic of hyper-love, read one of my more popular articles titled,
"The Great Love Deception: A False-Love Movement Is On The Rise,"
HERE
.
When we encounter love, we will be presented with a view of God that is quite different than what we previously understood to be true. God's love can be expressed in a very direct, uncomfortable way that breaks you and may even wonder how a loving God could act that way. God's expression of love will often put you at risk, threaten you and trouble you. ~The Great Love Deception: A False-Love Movement Is On The Rise
I'll say it loud, clear and repeatedly until it's finally received: The love of God that results in glorious breakthrough and warm feelings, no matter how great the revelation, is not nearly enough to keep us calibrated with the heart and expectations of God. (Yes, contrary to the love camp, God absolutely has expectations. If you read your Bible, you can't miss them.) I've heard from countless people, most of them wonderful yet deceived, that all we need to do, whether its in evangelism, in our personal relationship with Jesus, in ministry or in any place in our life is to focus on God's love. Reveal God's love. Preach God's love. Grow in understanding of God's love. Go deep in God's love. Meditate on God's love. Study about God's love. Minister God's love. I'll be the first to say that I agree we have the glorious opportunity to do what they are campaigning for. Going deep in revelation of God's love will mark us, transform us and overwhelm us. God's love is powerful beyond description. However, it's not enough. The fear of God is critical (and fear here doesn't always translate as reverence. It's also translated as terror in places.) We must embrace both God's kindness and severity. We must minister both. Someone mentioned to me that God would forgive him if he starts dating a girl who wants to have sex prior to marriage. He knew that this
sin
was wrong, but he didn't believe it was a big deal, and God certainly wouldn't send anybody to Hell over it. He argued he could just ask for forgiveness later and all would be well. While most might not be as brazen as this young man, millions would actually agree with him. The percentages of people who profess Christ while also living in sexual
sin
is staggering. Fornication, pornography, lust, adultery and other sinful lifestyles are a pandemic in the church. A misunderstanding of God's love has led to this. The bible is clear on just what appropriate love looks like in this case:
11

 But now I am writing to you not to associate with anyone who bears the name of brother if he is guilty of sexual immorality or greed, or is an idolater, reviler, drunkard, or swindler—not even to eat with such a one.

12

 For what have I to do with judging outsiders? Is it not those inside the church whom you are to judge?

13

 God judges those outside. "Purge the evil person from among you." 1 Corinthians 5:11-13 (ESV)
True love protects the flock, and true love trusts God's wisdom. True love obeys God even when it doesn't feel like the humanized love so many have adopted. When leaders are the ones in sin, love demands we handle it immediately. Ministry must stop for that individual. Restoration into the ministry is not the next step. It's possible they will never step behind a pulpit again. That's okay. Ministry has become an idol for too many. True love will expose that in someone's heart and deal with it. True repentance is so rare today. I am waiting for the day the failed minister is more broken over the lives he destroyed than he is endeavoring to start preaching again. That is true love in action.
HYPER-GRACE
My article "Five Marks of the False-
Grace Message
" is my most read ever, and the most scrutinized. Read it
HERE
.
We as Christians are not exempt from judgment or from the repercussions of sin. If we are in Christ, there is no condemnation, but if we are deceived by false theology into thinking we are in Christ, while actually living in disobedience, we are in trouble. We are not in Christ and there is condemnation. No salvation. The wrath of God remains on us. False-grace doctrine is eternally deadly. There are many people following Jesus today in an unsaved condition. ~Five Marks of the False-Grace Message
When you add the deception of  hyper-love to hyper-grace, a rampant
theology
that actually encourages Christians NOT to confess sin, you have a two-headed monster that is bringing widespread destruction to the church. Those who subscribe to both deceptions promote God's love and forgiveness to the exclusion of his severity, and they believe God is indifferent to sin. This monster creates the perfect environment for sin to be nurtured, and to kill.
15

 Then desire when it has conceived gives birth to sin, and sin when it is fully grown brings forth death. James 1:15 (ESV)
So, the response to sin is tepid. The threat is wildly minimized. Instead of a severe and immediate response to sin, "love" and "
grace
" is enacted, believing all is well and that is all that's necessary to see happy restoration take place. This fallacy has put millions in the path of unrepentant ministers and has caused many of those millions to adopt doctrines of demons as a result. When true love and true
grace
are in play, it looks very different than the passive, mild response we see today. People presume that we are all sinners (we are not) and that we all sin daily (we should not) and therefore the sexual sin, sins of leadership, unforgiveness, lust, greed and any other number of evil acts are minimized, deemed benign. In reality, unrepentant, unresolved sin is eternally deadly, especially for Christians.
26

 For if we go on sinning deliberately after receiving the knowledge of the truth, there no longer remains a sacrifice for sins,

27

 but a fearful expectation of judgment, and a fury of fire that will consume the adversaries. Hebrews 10:26-27 (ESV)
False-love coupled with
false-grace
will rip people to shreds spiritually. It's already seduced untold numbers of people. I want to encourage you to read a bold, sobering and tear-driven message from Jeremiah Johnson regarding the recent controversy regarding Todd Bentley and Rick Joyner. It was written with much prayer and fasting, and the message it contains will have us all trembling in the fear of the Lord. You can read the message titled,
"An Open Letter To The Body Of Christ 8/26/19,"
HERE
. If you'd like more details on the current crisis, read a Charisma News article titled,
"Revivalist Todd Bentley Accused of 'Sexual Perversion' With Male, Female Interns,"
that was released today
HERE
.