Posts Tagged 'jeff jansen'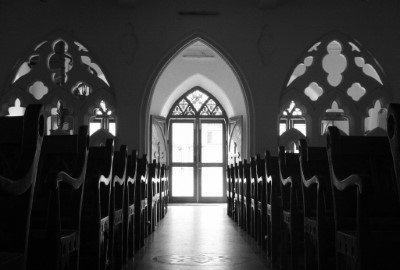 Controversial prophetic leader Jeff Jansen is under fire this week.
Newsweek
brought a controversial viewpoint, one held by many Christians (and refuted by many others) to the forefront yesterday.
"What's coming can't be stopped," Jansen said in a Facebook video on Tuesday. "There's all kinds of amazing things that are happening, and I'm talking about President Trump. I'm talking about him coming back into power.… I'm talking about everything that God promised, back-to-back terms."
While many who have dug their heels into the ground regarding the certain re-election of Donald Trump have quietly stopped pushing their agenda, Jeff Jansen continues to stand firm. Other ministers have issued apologies for missing the prophetic mark but there are some, Jeff included, who are not shying away on what they feel is inevitable—the heroic return of Donald Trump.
Newsweek
followed up with another report today,
"Evangelical Christian pastor Jeff Jansen, a self-described "prophet," said that he is "quadrupling down" on his prophecy that former President Donald Trump will be reinstated—despite his previous prediction that this would happen by the end of April failing to materialize."
I've often wondered just what benefit there is to predicting certain things such as who the next President will be. Understand, I fully affirm legitimate prophetic ministry. I'm convinced we need to hear God's voice more, not less. In fact, God will be revealing extremely important information to those who have an ear to hear as we move deeper into the End Times. Key revelation will be needed so the church can respond in strategic intercession and move into position to battle the enemy and advance the Kingdom. Without divine communication, God's people will be at a great disadvantage. We can be sure those who are tuned in to the evil one will respond with precision to his commands. That being said, the barrage of prophecies about Donald Trump have resulted in some really bad fruit and widespread division among Believers. I honestly can't think of any healthy, beneficial result of forcing these so-called prophecies into the mainstream conversation. Are we looking for an I-told-you-so moment? I know many are. They point their fingers and puff out their chests as they proclaim, "Just wait, you'll see. The prophets were right and you will be exposed as one who is lacking faith, naturally minded and listening to the voice of the enemy." I know that sounds extreme, but that sentiment, if not those very words, is being relayed. Those who disagree with the prophecies are outed as doubters, enemies of God's plans. I'm so appreciative of Dr. Michael Brown's leadership in releasing the
Prophetic Standards Statement
. It's time for calibration to God's Word in the prophetic camp. The "thus sayeth the Lord" approach to prophecy is often damaging to those who are listening, and watching, and waiting for the word to come to pass. Quite often, it does not and the level of faith of those who are tainted by the unnecessarily bold prophecy plummets.
JEFF JANSEN HAS BEEN REMOVED FROM MINISTRY
To say Jeff is under fire this week would be an understatement. I believe it's necessary to emphasize how important it is to pray for Jeff. We all know, regardless of his situation, Satan is looking to devour him. We shouldn't be doing the same. Love-driven intercession for Jeff, especially right now, is mandatory. Yes, it's appropriate to address the issues that Jeff is bringing front and center, and it's right to confront any trouble that results. This is a seriously critical season of learning for the church, and we need to allow the Holy Spirit to recalibrate us. Unfortunately, people God loves can often be spotlighted during such seasons. Our response must include sobriety, fervent prayer, introspection, repentance and a determination to undergird those in challenging seasons. The enemy wants to crush Jeff. God wants to bless Jeff. In possibly unrelated news to Jeff's controversial prophetic views,
Newsweek
reviewed a message received by those connected with Global Fire Church. Jeff's information seems to have been removed from the church website and his wife, Jan Jansen, is now
listed
as the Senior Leader.
"It is with deep sorrow that Jeff Jansen has been asked, by his board, to step down as Co-Senior Leader of Global Fire Church, and from Global Fire Ministries due to unscriptural and unbiblical behavior. He was asked to step down in April, and this was made public to the church body on May 2, 2021. A statement was released to partners and friends on May 5," the email said. "Rather than submit to the process of healing and restoration, Jeff recently made an intentional decision to leave his wife and family to pursue his own desires. He remains unrepentant and unremorseful," the ministry said. The statement noted that any further actions or statements from Jansen should not be associated with Global Fire Ministries.
Many years ago I had a significant "God moment" that was nothing short of miraculous, and Jeff was instrumental. I had the opportunity along with a few others to connect with him in his hotel suite in the Detroit area. I won't go into details, but suffice it to say that God dramatically impacted my life through Jeff. The reports from this week are grieving to my spirit and I hurt for him and his family. Unfortunately, we as Christians have the responsibility to react and respond, and if necessary, warn about trouble. Certainly, we also have the responsibility to pray. We don't know what's going on inside of the heart of those who are in the midst of trial. We are left with the call to analyze fruit. Bad fruit doesn't make someone bad. It doesn't make them unredeemable. Quite the opposite. Those are the very ones God desires to reveal his love to in an even more powerful way. Of course, this part of the comments by Global Fire Church is quite disturbing:
"Rather than submit to the process of healing and restoration, Jeff recently made an intentional decision to leave his wife and family to pursue his own desires. He remains unrepentant and unremorseful."
If true, Jeff is without question disqualified from ministry. In fact, his soul is in jeopardy. Satan is raging and the church must respond in love and en force! The takeaways to all of this include the need to cover (not cover up) our brothers and sisters in Christ. We as the church must endeavor for prophetic accuracy and conformity to biblical protocols. We should understand the times we are in volatile. We have no option to dabble haphazardly in the prophetic. We need to embrace humility. Intercession must skyrocket. I'd like to conclude by saying I'm praying that Jeff is well, the reports are not accurate and that concern is unwarranted. If his prophecies come true, we should celebrate. If the situation in the church and with his family is other than is being reported, we can rejoice. We need more bold prophetic leaders right now, and for many years, Jeff Jansen has been one of them. At this point, however, it seems all of us, Jeff included, should seek God's face and allow him to refine, redefine and renew us. A humble, repentant heart is necessary if we are to endure what is to come.
Photo credit: "play of light in santhome church" by VinothChandar is licensed under CC BY 2.0
If God promotes you, you better be ready for what's coming your way.
6 Humble yourselves, therefore, under God's mighty hand, that he may lift you up in due time. 1 Peter 5:6 (NIV)
One of the most common prophetic words in the various prophetic streams (whether real or fabricated) has to be, "Your promotion is coming!" It's probably as popular as, "This is your season of open doors!"
I believe God does plan promotion for all who are truly humble and surrendered. Yet, the promotion may not be what a particular human heart desires. There are many who crave promotion onto the platform while God's assignment is promotion into the prayer room. Others desire promotion unto notoriety. God may desire to promote them unto obscurity as part of a nameless, faceless generation.
It's critical we handle spiritual advance with wisdom and care. Promotion is all about God's will for our lives and not our own.
I'd like to do two things regarding your passion for promotion in the spirit:
Encourage you
Caution you
BE ENCOURAGED!
Several years ago I was in an exciting and very active season of ministry in the Detroit area. I had planted a prophetic and prayer focused ministry there and I was contending for revival corporately and also for personal growth so I could be ready and equipped to lead with strength.
Whenever I have an opportunity to step away from the pulpit and get refreshed at a conference or another church service, I typically like to find a place in the back to let God minister to me during worship and the teaching. Some friends from my church and I decided to check out The River, a church led by Marlin Reid, a revival minded pastor in the region. He was hosting Jeff Jansen, whom I had never had the opportunity to see minister.
As I sat on the floor in the back of the conference center at the Southfield Westin Hotel, God and I had an interesting dialogue. He had impressed on my heart that promotion was coming, and I probed him with questions about just how something like that happens. What was my responsibility? How should I prepare? Was I doing anything wrong? What was the timing? What exactly is the purpose of a promotion anyway? As I sat there enjoying both the service and the conversation the Lord and I were having, God spoke very simply, yet very clearly: I am going to show you how easy and how quickly promotion will come. I was intrigued.
At the end of the service, several hundred people were stirring around and I headed for the door to go home. Pastor Marlin, whom I had met only briefly at the beginning of the service, called out to me before I could leave the building. He wanted to introduce me to Jeff Jansen before I left. Leaving three or four hundred people behind, Marlin led me into the hallway and then into an elevator. Next in was Jeff Jansen and two others. Pastor Marlin said his goodbyes and returned to the conference room as the four of us shot up to the top floor of the Westin. We entered Jeff's suite where there was a chef and a spread of food ready for us.
We sat at the table and Jeff immediately started prophesying over me. His accuracy was stunning as he saw me writing books and ministering powerfully through articles and other writings. Remember, we had never met and he had no idea I had written several books. He then took some heavy gem stones out of his pocket and put them into my hands. He revealed that they were the stones that famously and miraculously manifested as the glory of God came down during some previous meetings.
Suddenly, in the midst of this remarkable setting, God spoke to me. He reminded me that he told me mere minutes ago that he was going to show just how easy and quick promotion can come.
Just moments ago, I was about to walk into the parking lot to drive home. I was suddenly diverted and out of at least a few hundred people, I was chosen along with two others to meet with the man of God. I was "promoted" to the top floor of the hotel in mere seconds, was seated at an exclusive table and had my ministry confirmed in powerful ways. That encounter was a real life object lesson that God used to encourage me. When it's time for promotion, it will come.
Since then, I've written over two hundred articles for Charisma Media, have written a total of ten books and continue to see doors open like the Elijah List and other media outlets. Favor truly follows this ministry, and I'm humbled.
Of course, the promotion is not simply a natural one. It's spiritual. I've watched God work wonders in our ministry and I'm eager to continue to be available as a vessel. Our God is amazing and we have barely begun to see what he has prepared for us!
USE CAUTION!
8 When the Philistines heard that David had been anointed king over all Israel, they went up in full force to search for him… 1 Chronicles 14:8 (NIV)
The moment you are anointed, promoted into your next position in the spirit, the enemy is sure to be alerted. The purpose of this segment on using caution is not to instill fear in you, but rather to cause you to soberly understand the weight of what comes with promotion. It's laughable to think that pastors and leaders have an easy, favored life on the platform. The assaults that come with promotion and leadership in the church are beyond the scope of what most could understand.
If pastors and leaders were honest, many would admit to being hunted and haunted by a very real demonic hoard. Many experience emotional disturbances, mental disorientation and spiritual desperation. Curses are strategically directed at them both by the world and the church. The arrows that stick in their backs are sharp and difficult to remove, yet they power on, devoted to the call that God has on their lives.
Your passion for promotion very well may have been deposited into your spirit by God, and if it was, you can be sure that the Holy Spirit will lead you and guide you, even though the journey will often be very painful and lonely. You absolutely must use caution in the process. Getting ahead of God or lingering behind would be bad ideas.
Those who are simply enamored by the supposed glamor and glory of ministry, pursuing promotion is absolutely a bad idea. You have no clue what you are asking for. It would be much better for you to step back, seek the Lord and learn to enjoy the position he has assigned you to. Leadership in God's Kingdom comes with an extreme price, and unless you are truly called of God to assume that position, you will be assaulted by an otherworldly fury that you cannot defend.
If you are assigned by God, get ready. You must use great wisdom as you navigate the battleground God is leading you into. Above I shared the first part of 1 Chronicles 14:8. There's a little more to that verse, and in it we see the spirit of a warrior:
8 When the Philistines heard that David had been anointed king over all Israel, they went up in full force to search for him, but David heard about it and went out to meet them. 1 Chronicles 14:8 (NIV)
David heard about it and went out to meet his enemies. He was ready and full of faith. This is where we can first see a differentiation between those who are truly called and the pretenders. Those who crave promotion but are not called will not be anointed or empowered by God to advance against the enemy. Fear will keep them away while God's promoted and anointed leaders will run to the battle! David is quite famous for this.
48 As the Philistine moved closer to attack him, David ran quickly toward the battle line to meet him. 1 Samuel 17:48 (NIV)
Now, it's important, again, that caution is heeded. When we as leaders advance, we can't be presumptive or casual. We must continually seek God for direction, wisdom, revelation and clarity. David did just this.
9 Now the Philistines had come and raided the Valley of Rephaim; 10 so David inquired of God: "Shall I go and attack the Philistines? Will you hand them over to me?" The LORD answered him, "Go, I will hand them over to you." 1 Chronicles 14:9-10 (NIV)
David inquired of the Lord and received an affirmative response. Yes, it's time to advance. His obedience in both hearing God and in responding rightly resulted in victory.
11 So David and his men went up to Baal Perazim, and there he defeated them. He said, "As waters break out, God has broken out against my enemies by my hand." So that place was called Baal Perazim. 12 The Philistines had abandoned their gods there, and David gave orders to burn them in the fire. 1 Chronicles 14:11-12 (NIV)
Yet, we see God's answer is different at the next provocation of the enemy.
13 Once more the Philistines raided the valley; 14 so David inquired of God again, and God answered him, "Do not go straight up, but circle around them and attack them in front of the balsam trees. 15 As soon as you hear the sound of marching in the tops of the balsam trees, move out to battle, because that will mean God has gone out in front of you to strike the Philistine army." 16 So David did as God commanded him, and they struck down the Philistine army, all the way from Gibeon to Gezer. 1 Chronicles 14:13-16 (NIV)
This time God had different and more precise commands. David responded rightly, and another promotion came.
17 So David's fame spread throughout every land, and the LORD made all the nations fear him. 1 Chronicles 14:17 (NIV)
TRUST GOD'S PLAN FOR YOUR LIFE
Promotion like we see in David is a very serious thing indeed. We can't casually, lightly pray for promotion to come. When we do, demons will catch the scent and will pursue you with vengeance. If God is with you, and you are responding to his directives, you will still have to fight, and the war will be intense, but the victory will be yours. If your promotion results from selfish ambition, look out. It's not God who has elevated you, but you yourself have propped yourself up—perfectly in line of sight of the enemy. I'd duck if I were you.