Opening Night is Saturday | Special Prayer Event Tomorrow
Revival Church has moved! Our first service is THIS SATURDAY at 7pm!
And, to kick it all off, we will have a special prayer event TOMORROW, Thursday, July 11th at 7pm in our new building!
We would love to invite you, your friends and family to celebrate with us as we take another step toward seeing night and day prayer grow in the Detroit region.
Revival Church is located at 26091 Sherwood, Warren, MI 48091. Visit our site for more info here: www.explorerevival.com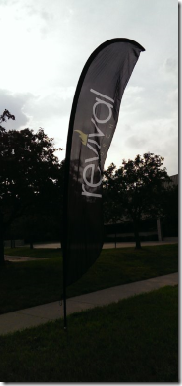 Additionally, our brand new schedule begins this weekend as well:
Prep Room
Saturday 6pm
Prayer drives the ministry, and we would like to invite you to join us for 45 minutes of fiery intercession before the service begins.

Primary Intercession & Teaching Service
Saturday 7pm
Our services are driven by about an hour of corporate intercession with music playing over us in fast paced, passionate atmosphere of fire.Teachings are finely focused on the topics of revival, prayer, the end-times, intimacy with God and reformation.

Prayer & Teaching: Historic Revivals
Monday 7pm
Encounter God and minister to him from 7-8pm and then learn about the great revivals and revivalists of history from 8-9pm!

Prayer & Teaching: Intimacy with God
Tuesday 7pm
Soak in God's glorious presence from 7-8pm and then discover the deep, intimate heart of God from 8-9pm!

Prayer & Teaching: Bible Study
Wednesday 7pm
Pray with fire from 7-8pm and then discuss scripture in a small group setting from 8-9pm!

theLab Prayer Events
Friday 7pm
You don't want to miss this! Every Friday we are somewhere in the Detroit region leading in fiery prayer! We may be in the streets of downtown Detroit or in a church in the area. To date, we have been in over 70 regional churches to hold white-hot prayer meetings. Simply show up and pray with us! See the calendar HERE for the location of upcoming events.
GRAND OPENING WEEKEND
It gets even better!
Our Grand Opening Weekend is July 27th and 28th!
On Saturday July 27th at 7pm, we will begin with an hour of prayer and teaching, and THEN we will all enjoy a feast together! Bring a main dish AND either a side item OR dessert to share (2 total items).
On Sunday July 28th at 7pm, we are honored to have Pastor Richard Crisco as our special guest.
This will be a weekend to remember!