God rocked us tonight at Revival Church… listen to the teaching now.
The atmosphere was charged as God rocked us with a call to discover the spirit of prayer.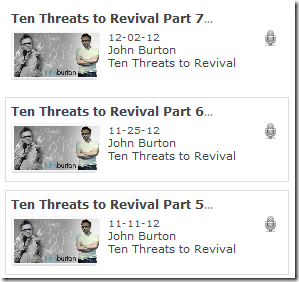 Listen NOW to tonight's message, Ten Threats to Revival #6: A Lack of Intercession. media.johnburton.net/5614333
I'll include my personal notes below so you can follow along.
Threat 6. A Lack of Intercession
1. It's time to work!!!! It's time to establish a foundation that will support revival!
1. Satisfaction with the present is fatal to the future!
2. God told me in Colorado that our ministry was going to be a model of revival for the nations.
1. I hesitated sharing that for quite some time.
2. One day God pressed the issue… and I agreed to cast that vision. I wrote it on the white board… and that very day I met someone who drove down from Denver to see me.
3. He said God spoke to him about our ministry… that it was to be a model of revival for the nations!
4. In San Diego I irritated a group of young leaders in the youth group… I was unrelenting in my focus on prayer… one day one of them came to me… he said, I don't like the way you do things, but I had to tell you… I can't deny that it works.
5. Prayer!!!!!!!!! If nothing else… prayer!!!!!!!!!!!!!!
6. We must be with God, hear God and declare his Word!
7. Isaiah 58:1-3 (ESV) 1 "Cry aloud; do not hold back; lift up your voice like a trumpet; declare to my people their transgression, to the house of Jacob their sins. 2 Yet they seek me daily and delight to know my ways, as if they were a nation that did righteousness and did not forsake the judgment of their God; they ask of me righteous judgments; they delight to draw near to God."
8. Amos 3:6-8 (ESV) 6 Is a trumpet blown in a city, and the people are not afraid? Does disaster come to a city, unless the LORD has done it? 7 "For the Lord GOD does nothing without revealing his secret to his servants the prophets. 8 The lion has roared; who will not fear? The Lord GOD has spoken; who can but prophesy?"
1. These secrets only come through crazy levels of deep prayer!
2. God has secrets he wants to share with you, but he doesn't shout his secrets. Get closer. ~Leonard Ravenhill to Steve Hill
3. Evan Roberts declared that revival hinges on our obedience to pray and wait.
1. These two primary disciplines are so hard for Christians, but they should not be!!
2. Christians are prayer-sick… it's shocking!!!
1. "I'm soliciting your thoughts about how one's heart begins to engage with God. It seems so few people claim they have experience a deep encounter with The Lord on an ongoing basis. Is it taught, or caught? Is it initiated by God or man? How is it sustained?"
1. There is a HUGE price to pay if you want to encounter God on an ongoing basis!!!! MASSIVE!!!
4. Undrai Fizer-
The Things that your spirit believes in will get you in trouble, and I want to know– "Are you alright with that?" Believing in, as well as becoming and being transformed into an expression of the Kingdom, will definitely produce "words against you." Are you alright with that?
Are you alright with being put on the spot, wondered about, and misunderstood? Are you cool with the fact that you no longer are being empowered to please men, nor their opinions, and to suffer ridicule for being one with God? Are you ready to become friends with seeming "loneliness" in order to be one with God and His beliefs?
Are you ready to believe and become a thing that the world cannot label, neither can religion control? Are you ready to live with that type of fearlessness and power? Are you ready to eat Words of God that produce this kind of dominion? Are you ready to become best friends "with a sword" that will bring division between beliefs of the Kingdom, and beliefs of religion and the mundane?
5. Are we going to boldly and sometimes violently advance against a lukewarm society, against the spirit of Jezebel, against Absalom and take what God has called us to possess? If so, there is a price to pay- and we must pay it!
1. I keep hearing stories about how hard it is in various cities to gather a remnant who's devoted to prayer & warfare. This has to change!
2. Steve Gray- "God is looking for a people who do not have anything better to do than be in His presence."
2. A pastor of a large church installed as a part of his counseling process a simple instruction:
1. Pray two hours a day for the next week and then call to setup your counseling appointment.
2. 75% of the people never set an appointment.
2. The first two elements in my book, 20 Elements of Revival, are to be agreed in the house of prayer, and to contend together.
3. Acts 2:46 (ESV) 46 And day by day, attending the temple together…
4. Today it's nearly impossible for prophetic voices and apostolic leaders to sound alarms and gather people together… the upper room concept… 10 days in constant prayer… would be impossible in today's church!
1. People have lives to live… kids to take care of… games to play!
2. Steve Gray- "The problem is that we have tasted of the good things of God and decided we want something else."
3. Joel 2:15-16 (NKJV) 15 Blow the trumpet in Zion, Consecrate a fast, Call a sacred assembly; 16 Gather the people, Sanctify the congregation, Assemble the elders, Gather the children and nursing babes; Let the bridegroom go out from his chamber, And the bride from her dressing room.
1. Bring the kids! Gather the children! Gather the babies! Everybody gather at the sound of the alarm!
2. We as leaders are to blame. We have set up churches that are devoid of prayer… churches that people can be involved in even if they don't have a vibrant connection with God! We must repent!
3. The church is a Believers ministry! It's not for the lost! It's to be a place of burning, raging intercession!
1. Acts 5:12-16 (ESV) 12 Now many signs and wonders were regularly done among the people by the hands of the apostles. And they were all together in Solomon's Portico. 13 None of the rest dared join them, but the people held them in high esteem. 14 And more than ever believers were added to the Lord, multitudes of both men and women, 15 so that they even carried out the sick into the streets and laid them on cots and mats, that as Peter came by at least his shadow might fall on some of them. 16 The people also gathered from the towns around Jerusalem, bringing the sick and those afflicted with unclean spirits, and they were all healed.
4. When we gather together and pray, the power will come to heal the sick in the streets!
5. Dutch Sheets said, "I know this is going to bother some of you, and some of you may leave our church…but the truth remains that the church is not a house of teaching, a house of evangelism, or a house of anything else… it is a house of prayer for all nations.
1. The true church could not have become the "institution" it has, if the watchmen had not been rendered impotent (John Martin).
2. The reason the prayer rooms are nearly empty is because prayer is not the main thing!
3. It's secondary! It's non-essential! It can be skipped! What??!!!
1. While other religious are praying 5 times a day and signing up for martyrdom, Christians can't put the wine glass down! ~Steve Hill
2. Steve said there's a movement of 'freedom seekers' that are focused on their own condition rather than repentance, holiness and the call to impact the world!
3. I've have it up to here with drinking Christians! There's a philosophy of 'freedom' that's on the rise in the church. ~Steve Hill
4. The unapologetic call to prayer as the primary purpose of every Christian will result in backlash!
5. I saw it with Mike Bickle. I've seen it in the Colorado Springs prayer movement I helped lead. Check out what Jesus dealt with!
1. Mark 11:15-18 (ESV) 15 And they came to Jerusalem. And he entered the temple and began to drive out those who sold and those who bought in the temple, and he overturned the tables of the money-changers and the seats of those who sold pigeons. 16 And he would not allow anyone to carry anything through the temple. 17 And he was teaching them and saying to them, "Is it not written, 'My house shall be called a house of prayer for all the nations'? But you have made it a den of robbers." 18 And the chief priests and the scribes heard it and were seeking a way to destroy him, for they feared him, because all the crowd was astonished at his teaching.
2. There is a rising remnant that is looking for a place where they can go deep in zealous, fervent prayer, but they can't find that place!!! Other activities are getting priority!
1. Life Application Commentary: Obviously Jesus' actions stunned the many people crowded into the Temple area. Jesus quoted from Isaiah 56:7 and explained God's purpose for the Temple: a place of prayer for all nations. These were important words in light of Jesus' concern for the Gentiles who had come to worship, and considering the Gentile audience to whom Mark was writing. God welcomed the Gentiles into his Temple to worship, but they were unable to do so because of the animals bellowing and merchants haggling. Not only that, but all these merchants were no more honest than thieves who had turned the Temple into their den. This was a horrible desecration. No wonder Jesus was so angry.
2. So many are rising up against the call to prayer because it threatens what they are trying to get out of the church!
3. I've never, in my life, ever seen a group of people who were more on fire, more devoted and more in love with Jesus… more serious and sober about their mission on earth, then the people at the International House of Prayer in Kansas City.
1. Yet, people continually denounce that ministry. What??!
2. Their love of God is extreme and deep… well beyond any other group I've ever seen… and people assault them for that?
3. IHOP is called a cult because of their singular devotion!!!!
4. One thing have I desired of the LORD, that will I seek after; that I may dwell in the house of the LORD all the days of my life, to behold the beauty of the LORD, and to inquire in his temple.
3. The call in Detroit is for 1000 intercessors to gather and release fire and cover this great mission. If we don't respond, we probably don't want the consuming fire of revival to come. We won't be prepared for such a fearful burning.
6. The Tribes are being formed in response to this mandate.
1. We need YOU to start a Tribe!!!!
2. After the 2 Chron 7 fire that hit the temple, we have the famous passage in 2 Chron 7:11-14:
1. 2 Chron 7:11 Thus Solomon finished the house of the Lord and the king's house. All that Solomon had planned to do in the house of the Lord and in his own house he successfully accomplished. 12 Then the Lord appeared to Solomon in the night and said to him: "I have heard your prayer and have chosen this place for myself as a house of sacrifice. 13 When I shut up the heavens so that there is no rain, or command the locust to devour the land, or send pestilence among my people, 14 if my people who are called by my name humble themselves, and pray and seek my face and turn from their wicked ways, then I will hear from heaven and will forgive their sin and heal their land.
3. We must pray!