Listen now! A sudden outbreak of the spirit of revival in Detroit last night!
I didn't see it coming! The spirit of revival surprised a zealous people in Detroit!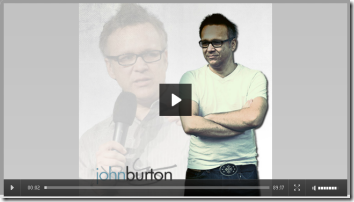 This message will absolutely rock you with violence! Is it possible you have a crisis of revelation? Listen and expect a powerful experience with God HImself!
Listen NOW here: http://media.johnburton.net/4086197
I boldly share three motivations that keep me burning every day—and this strategy will cause you to burn through every obstacle in your life.
In a day when unity in the church is so critical, I refuse to unify with anybody who is lukewarm! This means that we must discover a burning, white-hot remnant that loves not their own lives, who are ready to explode!
Are you in this remnant?
Are we ready to lay down our lives for our city, or are we simply interested in a move of God that brings personal blessing and prosperity?
There is an awakening that must happen! When we start desiring encounter more than breakthrough the spirit of revival will come.
Listen now and follow along with my notes below:
My Three Motivations
I. We must burn
a. We were born to literally and aggressively awaken the sleeping and to change environments.
i. I believe to live an average life requires continual sin.
1. Our call is to live by the most fervent faith and have the most zealous disposition.
b. Night and day, never taking a break…we are to be consumed with the fire of the Living God!
c. I'm going to share three personal motivations that ensure I stay on fire.
i. If our foundational relationship is with God as problem solver, we'll find ourselves to be sleepy, tepid and dry.
ii. We are called to govern and to bring about the change ourselves. We are to solve the problems!
iii. You awaken! You prophesy! You pray! You burn!
d. Church at Sardis- we have a problem.
i. Revelation 3:1-3 (ESV) 1 "And to the angel of the church in Sardis write: 'The words of him who has the seven spirits of God and the seven stars. " 'I know your works. You have the reputation of being alive, but you are dead. 2 Wake up, and strengthen what remains and is about to die, for I have not found your works complete in the sight of my God. 3 Remember, then, what you received and heard. Keep it, and repent. If you will not wake up, I will come like a thief, and you will not know at what hour I will come against you.
1. God will actually come against the church!
2. Our very good God will take on the role of adversary, as thief, against his church if it isn't pure, white, spotless.
e. Church at Laodicea-we have a problem.
i. Revelation 3:15-19 (ESV) 15 " 'I know your works: you are neither cold nor hot. Would that you were either cold or hot! 16 So, because you are lukewarm, and neither hot nor cold, I will spit you out of my mouth. 17 For you say, I am rich, I have prospered, and I need nothing, not realizing that you are wretched, pitiable, poor, blind, and naked. 18 I counsel you to buy from me gold refined by fire, so that you may be rich, and white garments so that you may clothe yourself and the shame of your nakedness may not be seen, and salve to anoint your eyes, so that you may see. 19 Those whom I love, I reprove and discipline, so be zealous and repent.
1. We must burn!
2. We can't make declarations of our own satisfactory condition if God sees us as poor, blind and naked!
3. White hot devotion is a must!
II. Motivation #1: Deep, experiential intimacy with Jesus
a. Critical point: I've met many who identify with one of the three motivations, and that single focus is not enough to sustain us.
i. Many would say that all we have to do is experience God's love and everything will just fall into place.
1. Not true!
2. Have you ever met someone who loved God and then sinned?
3. Have you ever met someone who just soaks in God's presence but isn't available to do the work of the ministry?
b. That being said, nothing else will work if we don't have a deep, abiding, experiential, overwhelming and intimate relationship with Jesus!
c. Intimacy with Jesus will form us!
d. A. W. Tozer: The love of Christ both wounds and heals, it fascinates and frightens, it kills and makes alive, it draws and repulses. There can be nothing more terrible or wonderful than to be stricken with love for Christ so deeply that the whole being goes out in a pained adoration of His person, an adoration that disturbs and disconcerts while it purges and satisfies and relaxes the deep inner heart.
i. My personal life is marked by continual and intentional encounters with Jesus.
1. I am extremely devoted to intimacy!
ii. It's a major, daily focus of my life!
1. Worship music is playing almost continually in my office.
2. I pray in the Spirit, soak, mediate and spend time just enjoying the Lover of my soul, the bridegroom.
3. My desire is alive!
4. E.M. Bounds: The deeper the desire, the stronger the prayer. Without desire, prayer is a meaningless mumble of words. Such perfunctory, formal praying, with no heart, no feeling, no real desire accompanying it, is to be shunned like a pestilence. Its exercise is a waste of precious time, and from it, no real blessing accrues.
iii. Matthew 7:7-8 (ESV) 7 "Ask, and it will be given to you; seek, and you will find; knock, and it will be opened to you. 8 For everyone who asks receives, and the one who seeks finds, and to the one who knocks it will be opened.
1. Asking, seeking and knocking must be continual.
2. God isn't resisting us, he's wooing us!
a. We too often want God to manifest in our natural realm when he's hiding just on the other side of the border of natural and supernatural.
b. He wants us to manifest in his realm!
c. The Great Commandment
d. Matthew 22:37 (ESV) 37 And he said to him, "You shall love the Lord your God with all your heart and with all your soul and with all your mind.
e. Jeremiah 29:13 (ESV) 13 You will seek me and find me, when you seek me with all your heart.
e. This is why the cares of life must be violently eradicated!
i. David Wilkerson Many of those who once were so passionately in love with Christ now run about pursuing their own interests. They're burdened down with stress and problems, chasing after riches and the things of this world.
ii. If we are distracted by life, the Bible tells us we won't mature, and we see a church out there that is immature and without time to be intimately involved with God.
iii. Luke 8:14 (ESV) 14 And as for what fell among the thorns, they are those who hear, but as they go on their way they are choked by the cares and riches and pleasures of life, and their fruit does not mature.
1. J. Oswald Saunders : We are at this moment as close to God as we really choose to be. True, there are times when we would like to know a deeper intimacy, but when it comes to the point, we are not prepared to pay the price involved.
iv. I'm looking for a store front for Revival Church North where we can devote many nights a week to fervent, intimate prayer! It's a must!
1. Anna: Luke 2:37 (ESV) 37 and then as a widow until she was eighty-four. She did not depart from the temple, worshiping with fasting and prayer night and day.
2. We must pray and refuse to allow anything to get in the way!
3. Oct 12.
III. Motivation #2: Fear, Trembling and Obedience
a. David Wilkerson: Love is not only something you feel, it is something you do.
b. Every day of my life I have a keen focus on working out my salvation, on obedience and on allowing God to reveal his justice to me.
c. Keep in mind we are not dealing with the friendly spirit, the cozy spirit…He's the Holy Spirit!
i. Revelation 15:4 (ESV) 4 Who will not fear, O Lord, and glorify your name? For you alone are holy. All nations will come and worship you, for your righteous acts have been revealed."
1. Yes, he is the comforter…but, if you find yourselves comforted in sin instead of comforted from sin, it's a demon you are dealing with.
2. God's comfort comes in holiness!
ii. Philippians 2:12-16 (ESV) 12 Therefore, my beloved, as you have always obeyed, so now, not only as in my presence but much more in my absence, work out your own salvation with fear and trembling, 13 for it is God who works in you, both to will and to work for his good pleasure. 14 Do all things without grumbling or questioning, 15 that you may be blameless and innocent, children of God without blemish in the midst of a crooked and twisted generation, among whom you shine as lights in the world, 16 holding fast to the word of life, so that in the day of Christ I may be proud that I did not run in vain or labor in vain.
d. Am I blameless? Do I grumble? Do I obey without questioning?
e. Adam Clarke: Considering the difficulty of the work, and the danger of miscarriage. If you do not watch, pray and continually depend on God, your enemies will surprise you, and your light and life will become extinct; and then consider what an awful account you must give to Him whose Spirit ye have grieved, and of whose glory ye have come short.
i. One way I know I'm doing well is if I experience the fear of God and not the spirit of fear.
ii. If the spirit of fear is there, I know I'm not pursuing intimacy with Jesus sufficiently.
iii. If the fear of God isn't there, I know I'm blinded to his righteousness and judgment.
1. There is simply no way to approach God in fullness without trembling and considering our own depravity!
2. Abu Bakr: When you advise any person you should be guided by the fear of God.
3. Ecclesiastes 12:13-14 (ESV) 13 The end of the matter; all has been heard. Fear God and keep his commandments, for this is the whole duty of man. 14 For God will bring every deed into judgment, with every secret thing, whether good or evil.
4. Matthew 10:34 (ESV) 34 "Do not think that I have come to bring peace to the earth. I have not come to bring peace, but a sword.
a. The call to partner with God is a call to a hard core, sobering mission—and to sleepwalk through life, to pursue comfort and ease is to intentionally depart from God at the point of mission.
b. The fear of the Lord won't allow us to leave when the loving feeling lets up.
c. I know my walk with Jesus will eventually lead me to the garden of Gethsemane, and I'll have the option to sleep or to be with Jesus as he is about to shock the planet.
IV. Motivation #3: My Mission
a. If a commission by an earthly king is considered an honor, how can a commission by a Heavenly King be considered a sacrifice? – David Livingstone
b. I simply know that I can't take a day off in my fervent pursuit of God because of the importance of my calling.
i. The same is true for 100% of you out there.
ii. If I don't burn hot every day of my life, people will go to Hell.
1. James 3:1 (ESV) 1 Not many of you should become teachers, my brothers, for you know that we who teach will be judged with greater strictness.
iii. I have been seeing 11:11 everywhere!
1. I don't know exactly what it means.
2. Could judgment be coming on Nov. 11?
3. Revival?
4. I believe 1 Cor. 1:11 is a key verse.
5. 1 Corinthians 11:1 (ESV) 1 Be imitators of me, as I am of Christ.
6. Follow me as I follow Christ.
iv. Matthew 28:16-20 (ESV) 16 Now the eleven disciples went to Galilee, to the mountain to which Jesus had directed them. 17 And when they saw him they worshiped him, but some doubted. 18 And Jesus came and said to them, "All authority in heaven and on earth has been given to me. 19 Go therefore and make disciples of all nations, baptizing them in the name of the Father and of the Son and of the Holy Spirit, 20 teaching them to observe all that I have commanded you. And behold, I am with you always, to the end of the age."
1. Since I know others eternities are dependent on my connection with Jesus, I cannot be one that doubts!
2. The moment I am faced with circumstances that challenge my faith, I have no option but to cancel everything and stir up my faith!
3. Tozer: "Any faith that must be supported by the evidence of the senses is not real faith."
4. Also, I am to teach others what I've been commanded.
a. If I am not a student, if I'm not in deep contact with God, I won't be able to disciple the nations!
b. And successful or unsuccessful ministry always results in either heaven or hell.
c. That keeps me motivated every single second.
c. This is why I simply cannot ever understand how people can excuse themselves from ministry by giving into distractions and excuses, relaxation and personal pursuits.
i. Every day I have eternity in my windshield. Every single day.
1. – Luis Palau A nation will not be moved by timid methods.
2. – David Livingstone Christ alone can save the world, but Christ cannot save the world alone.
3. Do you have an overwhelming, all consuming heart to change the world for Jesus?
4. Consider Hudson Taylor, a missionary to China:
a. As child, at age 5:
When I am a man, I mean to be a missionary and go to China.
b. As a young man:
I feel I cannot go on living unless I do something for China.
c. Late in life, as a veteran missionary:
If I had 1,000 lives, I'd give them all for China.
Posted in
Revival
and tagged
blessing
,
burn
,
church
,
david wilkerson
,
detroit
,
encounter
,
experience
,
message
,
outbreak
,
prosperity
,
remnant
,
revelation
,
spirit of revival
,
teaching