Save $100 off the next session of theLab Internship AND you may qualify for an additional 50% off!
We are gathering and equipping a company of burning men and women of God at theLab. Detroit and the cities of the Earth are awaiting an army of people who are consumed with the pursuit of God's presence, revival, healing and freedom!
Save $100 if you register by AUGUST 15TH!
If you are a student (ages 18-25) or a minister (volunteer, part-time or full-time) you qualify for an additional 50% off! That brings the total cost below $200!
And, if you can gather a group of five people, you will receive an additional 25% off! The potential savings in that situation would bring the cost down to $150! BUT you have to get the process started right away!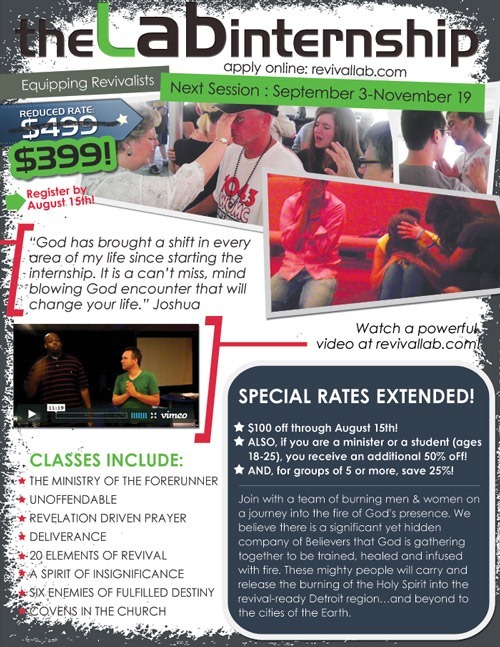 The internship I led in Kansas City cost $900, so jump on board with us in our next pre-launch session that runs from September 3rd through November 19th and save BIG!
Contact us for more info. The sooner you can apply the better (the application and approval process takes some time). Visit www.revivallab.com/internship for info and to apply TODAY!
Testimonies
It was an incredible time at theLab class yesterday. So much freedom! There is so so much breakthrough and clarity happening in my life right now! I am looking forward to even more very soon. God really knew what he was doing when He put me here on this journey with such an incredible group of people!!~Victoria

"The internship has completely changed my life. I have been marked, set free…" Valerie
"I've been waiting 36 years to see and experience the awesome power of the fire of God through theLab." Shelly

"God has brought a shift in every area of my life since starting the internship. It is a can't miss, mind blowing God encounter that will change your life." Joshua