Watch this BRAND NEW and powerful video about the coming revival in Detroit and theLab Internship's call to raise up burning ones.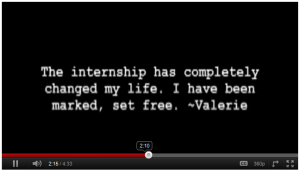 FIRST: Have you submitted your application for the soon coming Fall Internship at theLab? Discover some seriously hot fire and learn to break out of hindrances to a fulfilled destiny in your life. Also, if you want to join our staff, the internship is the on ramp! Head on over to www.revivallab.com/internship. The $100 discount ends soon!
---
Watch this BRAND NEW video and COME ALIVE!
We are going after the extreme supernatural manifestation of God's glory and presence.
We have been experiencing a powerful wave of many healings, and this is just the beginning!
If you want to discover how to invade and impact cultures with literal fire, theLab is for you!
Comments keep flying in about the outpouring in Detroit!
[Don't forget TONIGHT'S meeting at The Fireplace! Leonard Jones, Aaron Crider and Brian Simmons will be ministering in fire! It's at Revival Church, 24036, Greater Mack, St. Clair Shores, MI 48080. We meet in the First United Methodist Church building. Prayer starts at 5pm and the service at 6pm!]
A key national leader told the leadership team that we'd live to regret it if we didn't jump on this rare opportunity to fan a very special revival flame. We must pay the price.
Pastors, cancel every meeting you can so your church can be at these regional outpouring meetings!
People, cancel every plan you have and run fast to these events every night this week!
Here's some amazing comments I've received:
Thanks Brian for your caring about our city. May the fire continue to fall. Many have spent years crying out for this.~Barbara Yoder
Revival fire just fell in Dtroit! Everyone screaming – "I will not turn back!" Strongholds we look you in the face and say "you're coming down!" Fire, tears, shaking, laughter, holy glory!! Kids laid out on the floor shaking and crying! Can't hardly get out the door!~Brian Simmons
It looks like revival has broken out. It's about an 11 hour drive from CT to Dtroit about 670 miles or the Best deal is White Plains airport US air flights is $270.00 round trip for anyone who heading down. Not sure about hotels or schedule times yet. It's going to spread like wild fire.~Joseph
Still overcome by what I witnessed last night at the Detroit Fireplace meetings as a powerful wind blew through the mtg – many many testimonies.~Brian Simmons
The glory mist hung like a cloud over the sanctuary!~Joe Sazyc
Please check this out. It has pics and info about the revival that just broke loose in Detroit! Friends, this is so amazing… You may want to come to Detroit to experience this Revival of His Presence.~Brian Simmons
I was there and God really messed me up. He said He was turning me around and as I was driving home last night I got turned around 3x. God was confirming His word. Be at these meetings. Cancel your agenda this week so you can meet with God and experience this great Outpouring of His love. It is worth cancelling anything you have going on! I am a witness!~Pam
Something really broke loose last night. I'm still wrecked by it. There is such a revival hunger in Detroit! Unity is everywhere and the leaders are ready to offer themselves as a sacrifice for revival glory. Really stunned… I'll keep you posted. Meetings continue all this week and I believe they'll announce soon the plan to go at least 21 days.~Brian Simmons
"Tonight was amazing… God is so good… as things were wrapping up I was sitting with a few friends interceding for the youth still being ministered to in front when out of the corner of my eye I saw a flash of white light that shot from the floor through the roof. My friend and I sat in awe as we saw tiny white feathers falling in front of us."~Barb
OK, We are coming, the CT FIRE Team is hitting the Road for Friday and Saturday night's service. Pray for a safe trip and everthing gets worked out!!!! Get Ready for the Elijah Fire to hit the House in Jesus Name!!!!~Joseph
Students were crying out to God late into the evening! None of them left the altars except to pray for one another in the foyer where the power of God was also hitting, kids ministering to one another, getting delivered, set free!~Joe Sazyc