$2.99 – Unoffendable: How to Break Free from the Prison of Offense
Read a BRAND NEW ebook for ONLY $2.99: UNOFFENDABLE: How to Break Free from the Prison of Offense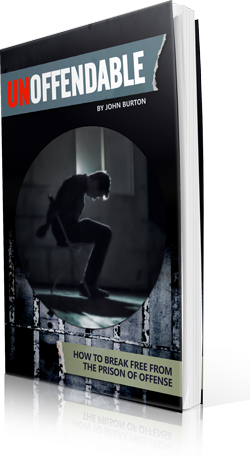 This powerful teaching is a part of my book Carry Like Mary. The moment you grasp the revelation that you are a carrier of God, everything changes. You will begin to move into uncharted territory and unquestionably will begin to touch some religious idols that others hold dear.
Additionally, you will become a threat to the darkness, and the ruler of that realm will unleash his most strategic military campaigns against you. One of his most effective attacks is offense. He will go to great lengths to shatter your soft heart of love through the attitudes and verbal violence of those you are called to lay your life down for.
The greater the mission, the greater the opportunity for offense. Can you imagine how Mary must have felt? She was called to steward the greatest mission in history by delivering Jesus, while, most certainly, being assaulted left and right by those who disapproved of her pregnancy.
People will disapprove of your supernatural pregnancy. As a carrier of God, you will draw criticism and will regularly be targeted because of what you carry-who you carry. The nuclear power within you is an extreme threat both to the kingdom of darkness and the status quo of the church. Be sure, you will draw attack from all sides. The spirit of abortion that's so vicious in our nation is killing more than precious babies. It's attempting to neutralize and eliminate any threat of God being delivered through you.
It's that attack that you must be aware of. You must guard your heart and be very sure that you are not offended when other people assault you.
(You can read this and ANY Kindle book on your PC, laptop, tablet or phone! You don't need a Kindle device.)