Wondering how to start a ministry or other project? Piece of Cake is available for order…
Piece of Cake is now available for order! Discover how to quickly launch new life projects!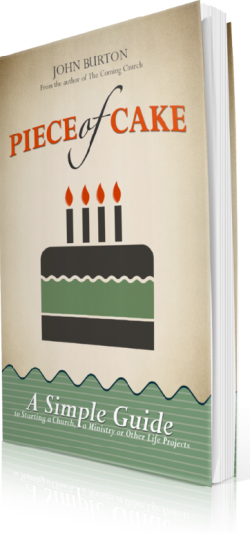 I started by designing the cover and then outlining the book and starting into the first couple of chapters on Thursday, July 18, 2013—just 19 days ago. The entire project was completed and made ready to order in just over two weeks!
This book was written according to the principles it communicates—launch into new ministry assignments, projects and other endeavors immediately upon conception.
Now, two weeks later, I can move on to other projects instead of letting time slip away as I continue to wrestle through this one.
ORDER TODAY
The book will be available on Amazon AND Kindle within a day or two, but you can order it from my publisher site RIGHT NOW here: https://www.createspace.com/4392044
Here's an excerpt from the book:
Introduction

An Apostolic Freak

I often feel like a freak in the Kingdom. It's not because I don't fit in, or because I don't have great friends and connections in the ministry. Rather, it's because I'm continually provoked by the possibilities to change the world through various ministries, projects and endeavors—and that results in a lot of action, shifting, trial and error that takes many beyond their comfort zones. As a visionary, my heart is to provoke and awaken a generation to the greatness of God, and I am seeking any and every vehicle I can find, or invent, to get that message out there.

Apostolic people are pioneers who go where no man had dared to go before. They tear down, plant and build. God is awakening leaders today who fear nothing and respond immediately to his commands to shock the planet with the fire of his Spirit! This lifestyle will trouble the status quo and irritate the hesitant.

God is looking for people to blaze a new trail—people who won't delay and who won't wait for others to affirm them with a vigorous thumb's up. He is seeking people, like Paul, who have the confidence to run the race and call people to follow them as they follow Christ.

People are longing to launch into ministry, and to initiate ministries and projects—and this is good! We are living in an era when the Lord is vigilantly identifying critical end-time ministries and the laborers who will give leadership to them. I am regularly contacted by zealous men and women of God who know they have been tapped by God to make a difference, yet are unsure about how to take the leap into ministry.

This uncertainty results in dreams and desires that feel like little more than a vapor of gasoline that's unable to get the engine started. The hope gets deferred and the heart gets sick. I can't even count the number of potential Earth shakers who are experiencing defeat without even making an attempt at success! Fear of failure results in actual failure!

Whether you are starting a church or a ministry, an important life project or even a minor endeavor, the message is the same: Get started! Starting a ministry that is birthed by God is truly much simpler than you may realize—it's a piece of cake! And, there's icing on the cake! And there's fire on top of that!

When I am awakened to a fresh ministry idea, I'm instantly invigorated. Often, I will actually begin developing the ministry immediately—within hours or minutes! It's important to let the vision activate and gain traction immediately upon conception.
ORDER TODAY https://www.createspace.com/4392044