theLab House of Prayer launches tomorrow | Pavement People
Join us for raw, fervent prayer Thursday at 7pm at theLab House of Prayer!
FIRST: "Life with John and Amy" which takes place the first Saturday of each month at our house is CANCELLED this Saturday. We are officially on BABY EVA WATCH! She could come any time, so we'll see you in May!
SECOND: Listen to a sharp word about how to stay on fire for God in the first part of a new series: Four Fires http://media.johnburton.net/7931865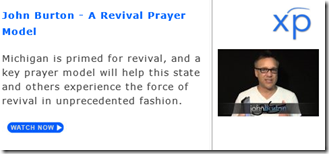 ---
Featured XPMedia Video
The prayer movement in Michigan is capturing the attention of the world!
My video on "A Revival Prayer Model" was featured on Patricia King's XPMedia today. It was sent out to over 47,000 subscribers!
You can watch it here: https://www.xpmedia.com/video/10529/a-revival-prayer-model/?affid=8389

theLab House of Prayer
This is the key initial step in the establishment of a house of prayer in the Detroit region!
There is an awakening and gathering of what I call pavement people in the Detroit area—people, as in 2 Chronicles 7, who are willing to hit the cold, hard pavement and glorify God.
tAs soon as Solomon finished his prayer, ufire came down from heaven and consumed the burnt offering and the sacrifices, vand the glory of the Lord filled the temple. 2 And the priests could not enter the house of the Lord, because the glory of the Lord filled the Lord's house. 3 When all the people of Israel saw the fire come down and the glory of the Lord on the temple, they bowed down with their faces to the ground on the pavement and worshiped and gave thanks to the Lord, saying, "For he is good, wfor his steadfast love endures forever." (2 Chronicles 7:1-3, ESV)
Are you a pavement person—one who places no demands on God, who couldn't care less about personal comforts and who is provoked to spur this region on in repentance, surrender, fervent intercession and passionate worship? We want to meet you!
theLab House of Prayer is a place to boldly declare the Word of the Lord and cry out night and day for revival in our region!
Join us from 7-9pm every Thursday night beginning tomorrow, April 4th, 2013.
theLab House of Prayer and Revival Church meet at CENTRAL CHURCH, 1529 E. 12 Mile Rd, Madison Heights, MI 48071.
---
Lion's Paw • Janice VanCronkhite • April 6-7
An inspiring conference speaker and prophetic activator, Janice challenges the church to be released into the fullness and anointing of God's creativity and to see his love and supernatural power exhibited through every kind of earthly artistic medium. Her depth of wisdom, favor and experience practically illuminate how to overcome obstacles and continue the journey into creative fullness.
Register TODAY at www.explorerevival.com/paw.
---

Our NEW twelve week online university launches on July 18, 2013! www.thelabuniversity.com
Instructors: John Burton, Chris Ferguson, Julia Palermo
Classes include: The End-Times, Carriers of Fire, Prayer 101, Intro into the Prophetic, The Forerunner Lifestyle, more!