Get freedom from fear tonight at Revival Church!
Tonight I'll be teaching on how to be free from fear…one of the key threats to revival.
FIRST: Bring everybody you know to Revival Church's fourth annual Christmas Dinner & White Elephant Gift Exchange! Bring a main course and either a side OR a dessert (two total items) to share! Wrap a real or gag gift valued no more than $10 for as many people as there are in your family. It all begins THIS THURSDAY, December 13th at 7pm!
---
This series has been powerful! Listen to all of the prior teachings in the series, Ten Threats to Revival, at http://media.johnburton.net.
TONIGHT I'll deal with one of the most powerful threats, a true enemy to every Believer… FEAR.
Revival Church meets at CENTRAL CHURCH, 1529 E. 12 Mile Rd, Madison Heights, MI 48071.
---
Here are some additional announcements:
Revival Tribe & theLab Info & Leadership Meeting
After service, Sunday, December 16, 2012 Current Tribe leaders and those wanting info about our church planting strategy will meet for about one hour after the service. This is a required meeting for current Tribe leaders and those already registered for theLab. If you not a leader and would like to attend, please RSVP by emailing [email protected].
4th Annual Christmas Party / White Elephant Gift Exchange
Thursday, December 13, 2012 at 7 pm in the Fellowship Hall Bring TWO items: a main dish AND a side or dessert to share. For each member of the family (including any children who wish to participate), bring a wrapped gift valued between $5 and $10. This can be a nice gift, a re-gift, a gag gift. Feel free to get creative! Friends and family are welcome!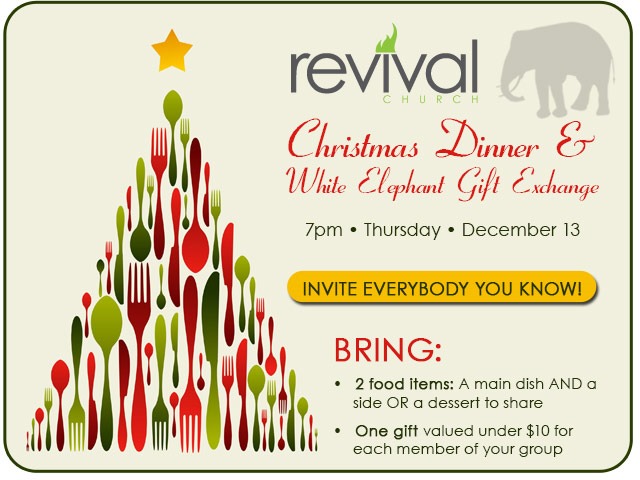 Revival Church Christmas Community Outreach
Saturday, December 15, 2012, 10 am to 2 pm in the Fellowship Hall Join us for a great opportunity to minister to the underprivileged in our community! On Saturday, December 15, low-income families will visit our fellowship hall to pick up gifts and Christmas baskets. We want to minister to both their physical needs and their spiritual needs. We will offer prayer as well as material blessings!
We need your help! In just one week, we have already agreed to sponsor 33 children, and many more will sign up in the weeks to come.
What can you do?
· Buy Gifts – Stop by the mini Christmas tree in the lobby and pick up a tag, detailing the age and gender of the child you are sponsoring. Return gifts (valued between $15 and $20) by Sunday, December 9.
· Wrap Presents – We will meet at 10 am on Saturday, December 15, to wrap presents and put together baskets. We need all the help we can get. Families will begin arriving at noon.
· Make phone calls – All sponsored families will receive a reminder phone call the week before the event.
· Offer Prayer – We need people at the event to pray with our sponsored families.
· Volunteer – We need help at the event handing out gifts and directing people.
Please contact Amy Burton if you can help. [email protected]
theLab School of Fire
THURSDAY, JANUARY 10th 2013 Tuition: $75 (plus $25 application fee) Join with a team of burning men & women on a journey into the fire of God's presence. We believe there is a significant yet hidden company of Believers that God is gathering together to be trained, healed and infused with fire. These mighty people will carry and release the burning of the Holy Spirit into the revival-ready Detroit region…and beyond to the cities of the Earth.
Revival Tribes
REVIVAL CHURCH'S CHURCH PLANTING INITIATIVE! 50 CHURCHES PLANTED IN DETROIT AND BEYOND! If you would like to apply to launch a home church please review the info at www.revivaltribe.com and contact us!
---
Be sure to subscribe to our email news updates at www.detroitrevivalchurch.com/subscribe!
Articles, videos, teachings, news and info about upcoming events will keep you up to speed on everything at Revival Church!