theLab begins in 40 minutes : Corry Robinson Sunday at Revival Church
We are calling for 1000 revival remnants to gather every Friday night from 10pm-midnight!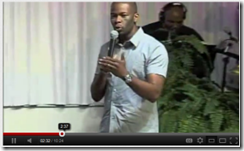 Consider this quote by Evan Roberts, the hero of the Welsh Revival, as he shares the simple formula for revival:
"Congregate the people who are willing to make a total surrender. Pray and wait. Believe God's promises. Hold daily meetings."
We are taking serious steps to fulfill this simple yet costly mandate.
Head over to www.revivallab.com for tonight's event and future events!
CORRY ROBINSON AT REVIVAL CHURCH THIS SUNDAY
FIRST: This Sunday night at Revival Church, Corry Robinson will be releasing prophetic decrees and sharing dreams he has had regarding Detroit. Prayer begins at 5pm and the service is at 6pm.
Corry has a deep burden to see God raise up Nazarites out of the inner-cities to become burning and shining lamps, who will stand and hear the voice of the Lord, and herald the message of the Coming Bridegroom God.
Watch a video HERE.
REVIVAL CHURCH MEETS AT CENTRAL CHURCH, 1529 E. 12 MILE RD, MADISON HEIGHTS, MI 48071.