Two extremely special announcements regarding the Detroit revival movement
theLab Events have launched! Monthly meetings begin in partnership with The Crossing and Revival Church next month!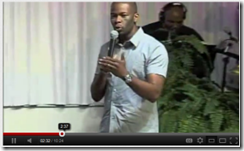 Consider this quote by Evan Roberts, the hero of the Welsh Revival, as he shares the simple formula for revival:
"Congregate the people who are willing to make a total surrender. Pray and wait. Believe God's promises. Hold daily meetings."
We are taking serious steps to fulfill this simple yet costly mandate.
CORRY ROBINSON AT REVIVAL CHURCH THIS SUNDAY
FIRST: This Sunday night at Revival Church, Corry Robinson will be releasing prophetic decrees and sharing dreams he has had regarding Detroit. Prayer begins at 5pm and the service is at 6pm.
Corry has a deep burden to see God raise up Nazarites out of the inner-cities to become burning and shining lamps, who will stand and hear the voice of the Lord, and herald the message of the Coming Bridegroom God.
Watch a video HERE.
REVIVAL CHURCH MEETS AT CENTRAL CHURCH, 1529 E. 12 MILE RD, MADISON HEIGHTS, MI 48071.
REVIVAL FIRES: MONTHLY REVIVAL EVENTS BEGINNING MARCH 2ND

I have had a clear vision for a monthly regional revival strategy in Detroit since I arrived. theLab Prayer Events and theLab School of Fire were the first two pieces of this mandate, and now theLab Events are sponsoring BRAND NEW monthly revival events! The monthly event is called simply REVIVAL FIRES. That's the purpose of our sounding the alarm and gathering the people.
Brian Simmons felt extremely impressed that monthly meetings hosted by The Crossing and Revival Church were critical, and that we should be prepared for extended meetings. The spirit of revival is here!
With our great friends Pastors Randy and Deb O'Dell at The Crossing Church in Farmington, theLab and Revival Church will be serving this great vision the first Friday of every month.
March 2nd we will be at The Crossing in Farmington for a powerful revival service, led by the Revival Church worship team, and then we will remain and launch into theLab Prayer Event there from 10pm-midnight.
We will be releasing and activating the 10 Principles of Finney's Revival that Brian Simmons wrote about on The Elijah List. You can see that article here: http://www.elijahlist.com/words/display_word.html?ID=9184
You can go to www.atthecrossing.com for a map and directions to The Crossing.