The spirit of revival is all over me- find everybody you can and get them to Revival Church Sunday
I have been trembling all day as a burning spirit of revival has landed on me—Get everybody you can to Revival Church Sunday at 6pm.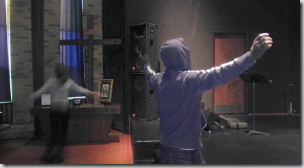 It's just after midnight as I'm writing this and I am burning—yearning for 6pm to arrive at Revival Church. Something has landed. God is visiting us.
theLab is usually where it all begins. It's the engine that drives our ministry, and both last night as we were praying at 10pm in a church in Detroit and today during class God interrupted us. A shift has come.
We are undone, trembling, shaken and bracing ourselves for the shock that is about to hit.
Let the religious resistors to revival know that what they fear the most is about to happen. A move of fire and glory, signs and wonders is nearing Detroit.
Unbelief in the church is coming to an end. The Bible is true. God is here.
What God is about to do will look absolutely foolish to our natural minds. Don't resist when God violates our human order.

QUENCHING THE WRONG FIRE
Tomorrow night I will be bringing a message, Quenching the Wrong Fire.
I'll just say this for now: The Holy Spirit is welcome at Revival Church.
He has no restrictions, no boundaries, no limits. His tangible, raging fire must engulf us!
We are going to gain to understand what a MOVE OF GOD is. When God arrives we won't be able to stop weeping and trembling under his weight!
People will flood the altars! Repentance will spread through the city! Tears will pour through the streets! People will run in mass from the bars and strip clubs and businesses and schools to the churches.
The God of the Bible is tragically foreign to the most of the modern church and there is a necessary fire that must consume it.
It's coming. And quick.
See you in 17 hours.