Join a company of burning ones and change cultures and cities
Begin to dream biblical level dreams of extreme supernatural signs and wonders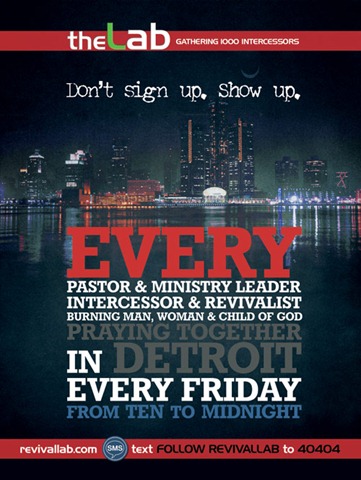 I'm sitting in a onething conference here in the Detroit region and am finding myself provoked to cast the vision for a movement of fire that will invade and impact the cities of the Earth.
This message is for you. I am praying that God hijacks you like he hijacked me when he called me to participate in a company of burning men and women of God who will initiate and facilitate revival.
The call is to wholeheartedly embrace the mission and mandate of releasing the fire of revival to such a high degree that entire cultures are changed. Are you able to see with spiritual eyes a nation that experiences dramatic physical healings very, very easily? More easily than taking a pill.
Can you see cities where the masses are flooding into from all over the world because of tangible power and freedom that invades desperate hearts? What about entire groups of people tormented by fear, anxiety, unbelief…demons…instantly and completely delivered at the exact same time?
This is what I'm talking about. A company of burning ones releasing the fire that will result in such an culture. I am boldly asking God to capture your heart and reveal to you how you can jump in to this extreme lifestyle of fire.
So, how can you participate? Great question! We've gone to great lengths to schedule our ministries in such a way that most everybody in the region can participate:
REVIVAL CHURCH: Those who have connected with Revival Church understand immediately that we are not attempting to be a typical, local church. Our mandate is to function as a regional center of revival for the entire Detroit region. We meet on Sunday evenings, so it's EASY for most anybody in this area to gather with us as we intentionally go after the manifest presence of God. People from other churches are advancing with us as well each week and we've experienced dramatic healings week after week!
theLab PRAYER EVENTS: God very directly mandated us to gather together 1000 people who will travel with us every Friday night from 10pm to midnight as we pray in a different church in the Detroit region each week. We intentionally scheduled these fiery prayer events late on Fridays so every pastor, leader and hungry person in the area can participate. There's rarely a schedule conflict during this time.
theLab INTERNSHIP: The fire of God is raging in our current internship, and I would strongly encourage you to ask God if you are to join with us in the next session which starts on September 3rd, 2011. Even those with busy schedules can usually participate with us. This is a call to consecrate ourselves by diving deep into the burnings of God for three months. You can watch a video of people in our current internship here… it's powerful: http://youtu.be/EhArbbSqXtI
The vision is huge…and is manifesting right before our eyes. There is a lot of prophecy surrounding the call to travel to cities with the company of revivalists we're equipping to release fire. I see massive events, similar to what I'm experiencing here at onething, or the traveling movement of revival that John Kilpatrick is spearheading. Are you interested?
Contact me with any questions you might have. [email protected].
Visit www.detroitrevivalchurch.com and www.revivallab.com for more info.