Here's a snapshot of the vision and the call for revival in Detroit—join with us as we burn!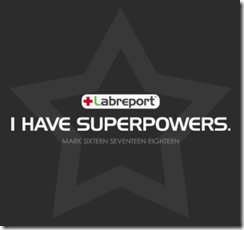 FIRST: There's two new designs at www.labreportbrand.com! Head on over there and grab a shirt and declare the healing power of Jesus everywhere you go!
---
The call for revival in Detroit is both sobering and exciting. We're calling the Church of Detroit to converge together with us and other revival minded people in pursuit of what could be the greatest outpouring in history. Yes, it's that big.
First I'll share what's coming, and then I'll relay the big vision that Revival Church and theLab has a mandate to fulfill. You are invited to jump in with us as we build a regional revival center in Detroit!
WHAT'S COMING
Most of what is coming is well beyond the scope of our understanding or even our expectancy. However, we know some of what's on the horizon:
Thousands of people will be traveling to Detroit from around the world. The reports of God's unusual and weighty arrival in Detroit is going to capture the attention of the world. Desperate people will fly here, and many of them will instantly be healed as they step off the plane.
Healing will be continual and very easy. One of the primary draws to this region will be the flood of miraculous healings. People won't even need to go to the altar or even pray for healing at times. It will surprise them as they are in the presence of God.
The presence of God will be so extreme that people will literally fall down when they walk through the church doors. People will have to crawl deeper into the sanctuary due to the fearful Kabod of God that engulfs them as they arrive.
Mass deliverance will result in hundreds or thousands of people instantly and simultaneously set free from fear, depression, homosexuality, lust, anger and other demon driven issues.
Prayer will be the greatest desire and primary activity of every person touched by God. The prayer rooms will be full and overflowing night and day.
This furnace will result in cries of repentance as the harvest flocks in to the arms of a loving Father.
Local churches will yield to the greater regional Church. The days of burning out trying to build local ministries will come to an end as pastors and leaders instead burn hot leading their people into the regional furnace as it ignites all over the city.
A REGIONAL CENTER OF REVIVAL
We know there are many new friends and fellow warriors that will be joining with us in the coming days, weeks and months. Prayerfully consider how you might participate with us.
Revival Church and theLab are developing as a regional center of revival. We are calling the city church to converge with us in various venues each week as we develop a deeply prophetic command center of revival for the region.
We are believing for a large ministry campus that will facilitate this vision. As we keep our finger on the pulse of revival in Detroit, it's imperative that we keep the ministry manned continually. The masses are coming both for training and for freedom, and when they get here it's important that they can converge somewhere any day of the week. This campus will serve that purpose. I have heard three stories recently of people receiving FREE properties for their church. I'm boldly asking people with the appropriate resources to consider making a significant donation to Revival Church.
1000 Intercessors. This mandate is clear. We are calling EVERY pastor, leader, intercessor and hungry person to gather literally every single Friday night from 10pm-midnight as we pray in a different church each week in the region. It's time to awaken and gather together and pray as a city church.
theLab Internship is gathering and equipping a team of unique specialists in the Spirit. People who carry and release the burning fire of God into people, churches, cities and regions. The next session starts September 3rd and we're praying that God provokes people to take a leap into a life of scorching heat in the furnace of revival.
The 24/7 church. As stated above, our ministry campus will be open continually. Prayer will arise in one area, training in another and worship in another. We are going after a culture of radical devotion to the pursuit of revival.
A regional pursuit. We desire to run this race with many pastors, leaders and others in the region. Our various services and events take place at times that are mostly free. We're looking for pastors to lead their people on Sunday morning and then join with us on Sunday evening at Revival Church, Friday night at theLab and other events.
There's much more, but that gives you an idea. We're inviting people to make Revival Church either their first or second home (if they have another church home) as we function as a regional revival center. A radical devotion to stay connected and to grow fast will do much to initiate the revival in this region very quickly.
If you haven't read my latest post on the coming change to the church, be sure you do. You can do so here: https://burton.tv/2011/07/21/a-fearful-vision-of-what-the-church-will-soon-look-like/
Contact me for more info at [email protected] or just come on out to one of our weekly events! Visit www.detroitrevivalchurch.com for more info!
Begin to dream biblical level dreams of extreme supernatural signs and wonders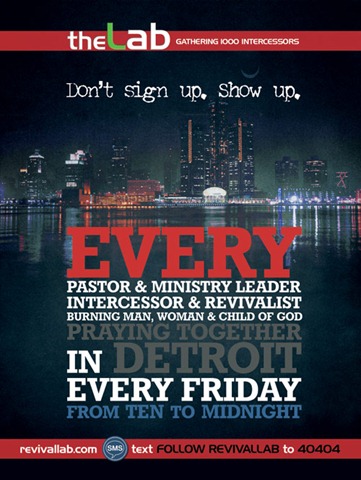 I'm sitting in a onething conference here in the Detroit region and am finding myself provoked to cast the vision for a movement of fire that will invade and impact the cities of the Earth.
This message is for you. I am praying that God hijacks you like he hijacked me when he called me to participate in a company of burning men and women of God who will initiate and facilitate revival.
The call is to wholeheartedly embrace the mission and mandate of releasing the fire of revival to such a high degree that entire cultures are changed. Are you able to see with spiritual eyes a nation that experiences dramatic physical healings very, very easily? More easily than taking a pill.
Can you see cities where the masses are flooding into from all over the world because of tangible power and freedom that invades desperate hearts? What about entire groups of people tormented by fear, anxiety, unbelief…demons…instantly and completely delivered at the exact same time?
This is what I'm talking about. A company of burning ones releasing the fire that will result in such an culture. I am boldly asking God to capture your heart and reveal to you how you can jump in to this extreme lifestyle of fire.
So, how can you participate? Great question! We've gone to great lengths to schedule our ministries in such a way that most everybody in the region can participate:
REVIVAL CHURCH: Those who have connected with Revival Church understand immediately that we are not attempting to be a typical, local church. Our mandate is to function as a regional center of revival for the entire Detroit region. We meet on Sunday evenings, so it's EASY for most anybody in this area to gather with us as we intentionally go after the manifest presence of God. People from other churches are advancing with us as well each week and we've experienced dramatic healings week after week!
theLab PRAYER EVENTS: God very directly mandated us to gather together 1000 people who will travel with us every Friday night from 10pm to midnight as we pray in a different church in the Detroit region each week. We intentionally scheduled these fiery prayer events late on Fridays so every pastor, leader and hungry person in the area can participate. There's rarely a schedule conflict during this time.
theLab INTERNSHIP: The fire of God is raging in our current internship, and I would strongly encourage you to ask God if you are to join with us in the next session which starts on September 3rd, 2011. Even those with busy schedules can usually participate with us. This is a call to consecrate ourselves by diving deep into the burnings of God for three months. You can watch a video of people in our current internship here… it's powerful: http://youtu.be/EhArbbSqXtI
The vision is huge…and is manifesting right before our eyes. There is a lot of prophecy surrounding the call to travel to cities with the company of revivalists we're equipping to release fire. I see massive events, similar to what I'm experiencing here at onething, or the traveling movement of revival that John Kilpatrick is spearheading. Are you interested?
Contact me with any questions you might have. [email protected].
Visit www.detroitrevivalchurch.com and www.revivallab.com for more info.
God has a new heart for us that cannot be offended, an "unoffendable" heart. Beloved, possessing an unoffendable heart is not an option or a luxury; it's not a little thing. Consider: Jesus warns that, as we near the end of the age, a majority of people will be offended to such a degree that they fall away from the faith.
I have been casting a very costly vision for revival in Detroit. I have a great friend in Ireland who was with me in Colorado Springs when Secret Prayer was functioning. Like we are beginning to do now in Detroit, we prayed in a different church every Friday night in Colorado Springs from 10pm to midnight. It was a powerful movement. Strangely, after dealing with the topic of offense the last few days here, my friend just so happened to mention it as he was encouraging me in this new city prayer strategy:
Expect a good offended carnal Christian sorcerer's curse to fly your way, but just cancel it and move on. If they're really seeking God's power, they'll eventually repent and come back. If they don't then they're not seeing themselves properly within the context of the Body at large, and won't be able to support the necessary ministry to the whole body that the Spirit's going to stir up.
Offense is one of the primary issues that pulls people out of position. It's a very serious issue. When the challenge increases, when the prophetic message strikes a nerve, a soft heart will respond in joy while an offended heart will often respond quite differently. A prophetic call is actually holy communication, it's a message that has attached to it the expectation of response.
What often happens first when a heart is offended is that the enemy will fight this call to action, this holy communication, with silence. Dialogue, discussion, prophetic response, revelation, etc. will cease as it gives way to an underground movement of murmuring. The Absalom spirit is often awakened right at this point.
Of course, silence isn't always indicative of offense taking root. Some people are simply wired differently, or are slower to respond, or need additional time to process the call. However, I do believe you can look at the broader picture and if the large scale communication drops at the point of prophetic communication, it would do you well to gather the intercessors and to pray against that spirit.
There is a desperate cry from a remnant for the bar to be raised, for the prophets to step up and unapologetically call the body to the cross and into a culture crashing reality. Just today, someone said to me (slight paraphrase), "John, you just have to go! Lead in the fullness of your mandate, you have to be released and not held back."
I want to exhort you to move with great passion, from a place of extreme challenge and full of the Spirit of God. To continue doing what we have been doing while expecting a different result is insanity. We must have reformation in the structure of the church—and the cost will rock us to our very core.
---
Note that this is a prophetic call, a prophetic ministry, a prophetic movement and it's led by prophetic people. To run a race like this one requires that you understand the characteristics of prophetic people. This will help with understanding the call and what the focus and flavor of the mission is.
Definition of a prophetic movement: People who are uniquely called as spokesmen for a cause; advocates; a vehicle to advance a movement
Characteristics of Prophets/prophetic people:
l. Strong Personality  
        Innately the prophet has a strong personality. I have never
met a true prophet who didn't have, in secular terms, a type A
personality. Prophets are usually intense about most things and
are always intense about their walk with God. That is why
prophets often have difficulty understanding those who are less
than 100% committed to the Lord.
2. Direct - Issue Oriented 
        A prophet is very issue oriented and sees things in black or
white. For him there is very little gray and most things are
either right or wrong.  Hence, a prophet will not easily
compromise on an issue. Nor does a prophet have a lot of mercy
for those who can't or won't measure up to the austere standards
of God as he sees them. Again, the mature prophet has love and
cares about God's people. But does he have mercy? Not much! I
always visualize Amos holding the plumb line as God's
stereotypical prophet. (Amos 7:7-9). The plumb line is
representative of God's righteousness on any given issue and, to
the prophet, all things relating to that issue are to be measured
against that plumb line. 
3. Strong in Prayer 
        The prophet is given to much prayer. The true prophet has a
real burden, not only for God's will, but for His people as well,
both those saved and those not yet saved. This inevitably leads
to a strong intercessor's prayer burden for people and issues.
Remember, the prophet is intense and this intensity flows over
into his or her prayer life.
4. Outward Life in Order 
        The prophet generally has his outward life in order. Since
the prophet sees matters in black or white, he is much less
likely to become ensnared in outward sins such as adultery,
cheating on his taxes, etc. However, there are two big, covert
sins with which a prophet must continually battle. They are pride
and judgementalism. As God matures His prophets, this pride and
judgementalism gradually diminishes, but they are always a
potential snare for the prophet. These two sins are Satan's most
effective weapons against the prophet.
5. Authority and Power 
        A prophet, when moving in the prophetic call, will move with
great authority and power. When God delivers His word through a prophet,
it is God's power and authority that is manifested, not the
prophet's. Those who have a discerning spirit will know when the Lord
is delivering His word through someone be it spoken forcefully or given
in a whisper.
6. Prophets are Poor Long-Term Counselors
        Prophets generally do not make good long-term counselors.
They lack the patience and mercy necessary for this kind of
counseling. A prophet is much more inclined to spend some time
with a counselee, give that person the word of the Lord, then
become impatient if the counselee continues to drift in his sin
or shows a lack of commitment to correct a failing.
7. Spiritual Gifts Accompany a Prophetic Call 
        The mature, called prophet will exercise many of the
spiritual gifts enumerated in I Corinthians, chapter twelve.
Though the prophet may operate all of these gifts at some time in
his or her ministry, the gifts most often manifested are the
prophetic word, words of knowledge, words of wisdom, and the
discerning of spirits. The prophet often is the first to spot a
demonic presence in a person or circumstance. Further, signs and
wonders such as healing, the infilling of the Holy Spirit, and
the breaking down of demonic strongholds are often seen in the
prophetic ministry.
From: 

http://www.hundredfold.org/articles/91mar.htm
Let's discuss this tonight on theLab. www.revivallab.com.