My next book is almost done : Pharaoh in the Church
The follow-up to Covens in the Church is almost ready to send to print
Covens in the Church is a book that has set a lot of people free, and my prayer is that Pharaoh in the Church will have the same effect.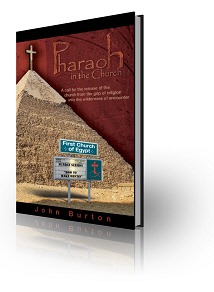 The first book was targeted at the body as it presented the case for humility and submission to authority as it relates to mission advance.
Pharaoh in the Church is directed at pastors and leaders. It's a call to relieve the body from making bricks and building the kingdoms of man and to take on the mantel of Moses. It's time to lead the church into a time of reformation that very possibly may have greater impact than the reformation that launched under Martin Luther.
I'm also considering redesigning both book covers. I may, and I may not… what do you think? Take a look at both here: http://ow.ly/i/6eSI
Here's a portion from the book:
---
CHAPTER ONE
A Shocking Shift in the Church
Its days are numbered. I don't know what that number is, but it isn't large. In fact, the beginnings of change are here. You can feel the temperature fluctuating as the days are suddenly growing shorter. We're in a transitional season that will ultimately result in the rebirthing and reintroduction of a long forgotten biblical structure– the church.
This change, as I stated in the introduction and thoroughly investigated in the sister book Covens in the Church, is not, as many believe, an exodus from the relationship with Christian leaders, but it is most certainly an exodus. In fact, it's an exodus that will either invigorate or irritate leaders across our nation.
You see, there is a God-ordained and God-initiated revolution taking form. It is quite simple to understand that resistance to God's process is always a tragic mistake and that embracing God's process always guarantees success (God never fails). Revolution, by definition, is drastic and momentous change. It's shocking and it's shaking. It will rock every one of us as the process unfolds before us, but those who will trust God's wisdom will survive–and thrive as humble, faithful and tested men and women of almighty God.