FREE food & new friends at our first monthly Meet, Greet & Eat TONIGHT at Revival Church!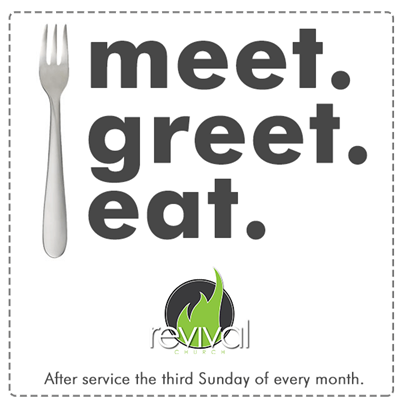 There's a LOT going on at Revival Church. Read below about our new softball team, a new focus at theLab and a brand new culture group!
---
I will be continuing the series TENETS tonight at Revival Church as I share on the Word of God and the differences between the NT and the OT.
I've been told multiple times that it's the focus on the core, foundational truths of scripture that will send us into revival—and I agree.
Then, immediately after service we will have the food ready in the foyer for you to enjoy with old and new friends! The third Sunday of each month we will enjoy connecting together at Meet, Greet and Eat!
REVIVAL CHURCH SOFTBALL
I just have to say that, yes, there is a HUGE difference between 43 years of age and 36. It's been 7+ years since I've played softball (legendary glory years on the Revolution Church softball team in Colorado!), and my body is screaming and aching head to toe!
My skills have diminished, but, it's OK! Talking about relationships and connecting, we all had a blast yesterday in Royal Oak as about 20 Revival Church friends played two games.
Why am I sharing this now? Because we'll be doing it again and again! If you want to connect more deeply relationally, softball is the way to do it! Josh Kearney and I have never been closer—as he plowed into me and flipped me upside down at a play at the plate. Now, that's intimacy!
Talk to Melissa Feliciano if you'd like to play in our next games in a couple of weeks!
NEW FRIDAY NIGHT MISSION AT THELAB
Friday night marked a shift at theLab Prayer Events.
Often through the summer we'll be meeting outside at Port Detroit and moving out in teams into the streets.
This past Friday night we established team captains and they took 2-3 people with them on a prayer journey. We all moved out from our Port Detroit base for 30 minutes and listened to God as he revealed spiritual issues to us.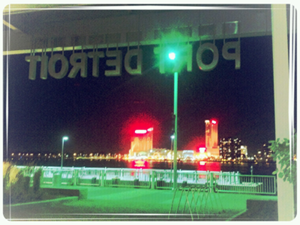 The captains will be gathering all of the data each week so we can develop a plan of action based on the spiritual intelligence we receive. We'll then launch into spiritual warfare, intercession and other plans of action to push back the darkness in Detroit!
I want to invite YOU to join one of our several teams! It is a great way to get connected into some (more!) great relationships and to catch the vision of Revival Church! You will LOVE theLab on Friday nights!
NEW CULTURE GROUP: "Lord, Lord-Proof" Your Life
This Wednesday 6/20, we'll be looking at how to keep from being surprised on your Judgment Day. We're also going to be demonstrating how to make the Bible "come alive" when you read it and how to see truth in the Scriptures by the Light of Holy Spirit.
Come on out and be blessed!
Ed Hull
1466 Lochmoor, Grosse Pointe Woods