We can damage our relationship with God if we reject all forms of fear.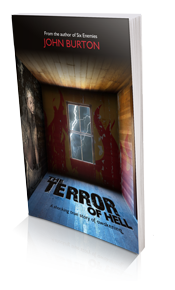 All too often I hear voices rising up aggressively against any form of fear, or what they would define as fear. That rejection is resulting in the eradication of core, foundational, scriptural truths—verses, principles and even the words of Jesus are ignored or twisted to serve an unbiblical view of love.
God used both positive and negative motivation when calling people to him—both his tangible love and literal fear are motivators to keep us in him.
If we reject healthy fear, or the fear of the Lord, we will sometimes quickly and sometimes gradually fall into a lukewarm, compromised state.
I want to invite you to read my book The Terror of Hell. I have made it available for FREE online. You can see it HERE.
I came out of that God given encounter with terror at such a high level that I almost went mad. Literally. The extremes in the spirit realm are so intense, both positively and negatively, that our natural man cannot handle it.
The fear I experienced in that encounter was from God. It was horrifying, but necessary. It was appropriate. It has never left me.
THREE TYPES OF FEAR
Healthy Fear
Healthy fear results from a analysis of a situation and a reaction to keep us out of harm's way. The analysis can be well thought out and detailed, such as the development of a plan to save for college and complete a degree program to avoid the threat of poverty. It can also be instant and reactive. I remember falling asleep at the wheel and suddenly realizing I was veering into oncoming traffic. My heart skipped a beat and I was scared out of my mind. I pulled over and slapped my face and reenergized myself!
We also see the call to healthy fear cover to cover in the Bible as God provides warnings of tragedy, such as being eternally separated from him in Hell. Just as we would have a healthy fear of poverty or falling asleep at the wheel, it makes no sense that the principle wouldn't be applicable regarding Hell.
"To the angel of the church in Sardis write: These are the words of him who holds the seven spirits of God and the seven stars. I know your deeds; you have a reputation of being alive, but you are dead. Wake up! Strengthen what remains and is about to die, for I have not found your deeds complete in the sight of my God. Remember, therefore, what you have received and heard; obey it, and repent. But if you do not wake up, I will come like a thief, and you will not know at what time I will come to you. Revelation 3:1-3
If the church is asleep at the wheel, someone needs to sound an alarm that impending doom is drawing near!
But I will show you whom you should fear: Fear him who, after the killing of the body, has power to throw you into hell. Yes, I tell you, fear him. Luke 12:5
Note that the above verse isn't talking about a reverence for God, but rather it's saying the be very afraid of where he can send you!
But I tell you that anyone who is angry with his brother will be subject to judgment. Again, anyone who says to his brother, 'Raca,' is answerable to the Sanhedrin. But anyone who says, 'You fool!' will be in danger of the fire of hell. Matthew 5:22

"Enter through the narrow gate. For wide is the gate and broad is the road that leads to destruction, and many enter through it. But small is the gate and narrow the road that leads to life, and only a few find it. Matthew 7:13-14
Again, it is healthy to receive the warning of such a horrific possibility. It is absolutely healthy to fear Hell just as it is healthy to fear burning your finger on the stove.
The Son of Man will send out his angels, and they will weed out of his kingdom everything that causes sin and all who do evil. They will throw them into the fiery furnace, where there will be weeping and gnashing of teeth. Matthew 13:41-42
It's impossible to dismiss healthy fear and still read and receive the truth in scripture. Time and again God shocks us with insight into a horrible possible future for those who are not truly his. This healthy fear results in a deeper analysis of one's commitment to Jesus. It no longer is possible to be casual in our relationship with him.
The parable of the talents is an excellent picture of healthy fear.
"'Take the talent from him and give it to the one who has the ten talents. For everyone who has will be given more, and he will have an abundance. Whoever does not have, even what he has will be taken from him. And throw that worthless servant outside, into the darkness, where there will be weeping and gnashing of teeth.' Matthew 25:28-30
Jesus was using healthy fear as a motivation to live productively, with focus and sobriety. Interestingly, Jesus' reaction to the lazy servant was due to unhealthy fear that caused him to bury his talent! Let's take a look at that.
SLAVISH FEAR
The lazy servant exhibited slavish fear, when instead he should have had healthy fear of Hell on his mind.
"Then the man who had received the one talent came. 'Master,' he said, 'I knew that you are a hard man, harvesting where you have not sown and gathering where you have not scattered seed. So I was afraid and went out and hid your talent in the ground. See, here is what belongs to you.' Matthew 25:24-25
He was afraid. That was slavish fear. His focus was on self-preservation instead of honoring his master, and that focus on self resulted in a very destructive type of fear.
Slavish fear kills love. This is the type of fear that is being addressed in 1 John:
There is no fear in love. But perfect love drives out fear, because fear has to do with punishment. The one who fears is not made perfect in love. 1 John 4:18
Love involves the self giving of one for the highest good of another. ~The New Unger's Bible Handbook.
When we truly love, our focus is not on our punishment, it's on the object of our affection! If we lack love, we will fear punishment because we are selfish and inwardly focused.
Perfect love does not drive out healthy fear or the fear of the Lord. But it does absolutely drive out slavish fear.
Slavish fear is a self-centered expression that comes when we are overwhelmed with the thought of personal loss. The fear of man, for example, is slavish fear. We become overprotective, defensive and self-preserving, which results in extreme timidity as we distrust those we presume have the power to hurt us. Slavish fear manifests as anxiety, dread and panic. It's crippling.
Slavish fear results when we feel powerless and threatened. This is where the love of God comes in! We surrender control to him from a place of faith and love and slavish fear begins to dissipate.
to rescue us from the hand of our enemies, and to enable us to serve him without fear in holiness and righteousness before him all our days. Luke 1:74-75
This verse reveals the battle to be free from slavish fear, from fear of our enemies, as we live in the fear of the Lord.
FEAR OF THE LORD
Then he said, "I am the God of your father, the God of Abraham, the God of Isaac and the God of Jacob." At this, Moses hid his face, because he was afraid to look at God. Exodus 3:6
My flesh trembles in fear of you; I stand in awe of your laws. Psalm 119:120
The love of God and the fear of God are inseparable. The fear of the Lord results in us living a circumspect life from a place of loving devotion.
"If you love me, you will obey what I command. John 14:15
John Bevere had the privilege of meeting with Jim Bakker of PTL fame in prison after his conviction for mishandling money. John asked Jim, "When did you stop loving God?" Jim replied, "John, I never stopped loving God. I stopped fearing God."
Through love and faithfulness sin is atoned for; through the fear of the LORD a man avoids evil. Proverbs 16:6

To fear the LORD is to hate evil; I hate pride and arrogance, evil behavior and perverse speech. Proverbs 8:13

He whose walk is upright fears the LORD, but he whose ways are devious despises him. Proverbs 14:2

 The fear of the LORD is a fountain of life, turning a man from the snares of death. Proverbs 14:27
Experiencing God's love is insufficient (and radically incomplete) if it doesn't result in the fear of the Lord. God's love draws us close and the fear of God keeps us on guard. Fear of God is a fountain of life!
Often it is presumed that the fear of the Lord simply means reverence of the Lord. That is a woefully incomplete definition. Time and again, the fear of the Lord is translated as reverence and terror!
The LORD Almighty is the one you are to regard as holy, he is the one you are to fear, he is the one you are to dread, Isaiah 8:13
Then the church throughout Judea, Galilee and Samaria enjoyed a time of peace. It was strengthened; and encouraged by the Holy Spirit, it grew in numbers, living in the fear of the Lord. Acts 9:31
In Acts 9:31, the word "fear" translates not as reverence, but as terror:
Transliteration: phobos

(to be put in fear); alarm or fright :- be afraid, + exceedingly, fear, terror.
When God makes himself known, terror will strike. How could it not? The voice of the Father resulted in terror in the disciples:
While he was still speaking, a bright cloud enveloped them, and a voice from the cloud said, "This is my Son, whom I love; with him I am well pleased. Listen to him!" When the disciples heard this, they fell facedown to the ground, terrified. But Jesus came and touched them. "Get up," he said. "Don't be afraid." When they looked up, they saw no one except Jesus. Matthew 17:5-8
I think it's interesting that this was an expression of the Father's love! God the Father was expressing his love for his Son, and the result was terror! Again, what else, in such an overwhelming encounter, could be expected?
The fear of the LORD is pure, enduring forever.  Psalm 19:9