A confused armed forces will open the door wide for our enemy to attack.
33 For God is not a God of confusion but of peace. As in all the churches of the saints, 1 Corinthians 14:33 (ESV)
From CNN:
The Pentagon said Thursday it was ending the ban on transgender people being able to serve openly in the U.S. military. Defense Secretary Ash Carter said the ending of the ban takes effect immediately and that no longer could a transgender person be discharged on that basis.

Transgender service members will also receive the same medical coverage as any other military member — receiving all medical care that their doctors deem necessary — according to Carter.

For current members of the military, the coverage will include hormone therapy and gender reassignment surgery if doctors determine that such procedures are medically necessary. ~http://www.cnn.com/2016/06/30/politics/transgender-ban-lifted-us-military/
The United States Armed Forces, debatably the mightiest in the world (at least for now), are mandated to be peacemakers, protectors of this nation. That mandate is now at risk. The enemy will have easy access as intentional confusion and disorientation spreads throughout the armed forces.
A spirit of confusion is not only being celebrated, but sanctioned at this most critical level of national security. Instead of peace, confusion, as evidenced in the debacle of transgender affirmation in our culture, has infiltrated the military.
8 Be sober-minded; be watchful. Your adversary the devil prowls around like a roaring lion, seeking someone to devour. 1 Peter 5:8 (ESV)
Church, we have to step up and pray, but not only pray. It's beyond time to make some noise, to decry this current madness and sound firm messages of repentance and awakening across our nation.
13 When the Spirit of truth comes, he will guide you into all the truth, for he will not speak on his own authority, but whatever he hears he will speak, and he will declare to you the things that are to come. 14 He will glorify me, for he will take what is mine and declare it to you. John 16:13-14 (ESV)
Pray that the Spirit of truth invades the United States military at this very dark our. Pray that it overwhelms the spirit of confusion that has been given rank and authority over our nation. Eyes must be opened. Truth and justice must reign.
5 Evil men do not understand justice, but those who seek the LORD understand it completely. Proverbs 28:5 (ESV)
16 All of them are put to shame and confounded; the makers of idols go in confusion together. 17 But Israel is saved by the LORD with everlasting salvation; you shall not be put to shame or confounded to all eternity. Isaiah 45:16-17 (ESV)
Let the church arise, above the confusion, and lead the way into life!
The Coming Church will look nothing like the church we know today. Here are some of the significant changes on the horizon.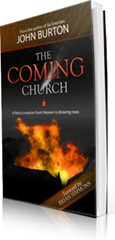 Over the last 22+ years of ministry, one of the most difficult challenges I've faced has been effectively communicating just what changes are coming to the church.
The current church paradigm is so prevalent and saturating in our culture that people just can't seem to wrap their minds around the shift that is coming. It seems nonsensical, threatening or just plain bizarre. They wonder how their ministry stream or focus or gift fits in that structure. The reality is that it may not, or it may be radically redefined. The discomfort level will be quite high, and it will take a radical remnant to truly sign up for the reformation—for the revolution of the church.
The disciples of Jesus had an idea of what it would look like in Acts 1, but Jesus radically violated their dreams, plans and comfort zones by leaving—and commissioning them to establish what they hoped Jesus would build!
Acts 1:6 So when they had come together, they asked him, "Lord, jwill you at this time krestore the kingdom to Israel?" 7 He said to them, l"It is not for you to know mtimes or seasons that the Father has fixed by his own authority. 8 But you will receive npower owhen the Holy Spirit has come upon you, and pyou will be qmy witnesses in Jerusalem and in all Judea and rSamaria, and sto the end of the earth." 9 And when he had said these things, as they were looking on, the was lifted up, and ua cloud took him out of their sight.
The Coming Church
This book that I'm currently writing will be addressing some of the spiritual and practical changes that will be coming to the structure and expression of the church. Trust me, it will shock our nation severely. Those who hold on to a structure or a ministry instead of Jesus himself will not be willing to go where God is leading.
I call this the ancient and emerging church. Ancient because it's rooted in scripture, emerging because the biblical structure has been largely forsaken.
What will this ancient and emerging church look like? Here's just a small peek into a grand shift in the structure of the church:
Services will become more like prayer meetings. One of the greatest indictments on the church today is that prayer is not the driving force. Today, people tend to choose churches based on the appeal of the teaching and the worship instead of the fervency of prayer. If the church was a house of teaching, or a house of worship, that would make sense, but it's not. The church is a house of prayer for all nations. Every person in the church will function as a burning intercessor and the services will be marked by this unified groan of fiery prayer.
Personal need will give way to personal mission. Today, churches are often more like organic, socially driven hospitals. People tend to use the church as a way to meet their personal needs instead of serving it as a minister of God. This is going to change. Of course, there will still be personal ministry and true needs will be addressed. However, instead of the church functioning as a hospital, it will once again function as a mission-driven military. The mission will take precedence. The saints will be equipped for service, not for personal survival. In this ancient and emerging model, their will be MASH units that will take very good care of the wounded with the primary purpose of getting the soldier back into battle. Apostles will again lead with governmental authority and pastors will be seen as the main leader less and less as they focus more on shepherding and less on primary leadership.
Teaching will be minimized while instruction is emphasized. Teaching is mostly for personal edification while instruction is mostly for corporate assignments. Today, most churches focus on teaching principles of scripture, providing truths that will help Believers navigate through their lives and giving nuggets of biblical info. While there will still be important Bible teaching, apostolic instruction will emerge as a necessary new ministry. There is enough Bible teaching online, on CD's, in books and on video to turn every one of us into personal spiritual giants. We need to take it upon ourselves to grow. What is lacking, however, is apostolic leaders, military commanders, who give instruction, assignments, to a ready army. Teaching is personal growth based while instruction is a call to corporate action for the sake of mission fulfillment. An example of apostolic instruction is this: The apostolic leader gives a corporate assignment for everybody in the church to fast for a week and then show up together to prayer walk through the city streets. It's a corporate call to action vs. biblical study. It's mission focused vs. personal growth focused. Personal growth will be largely our responsibility between services so we can be ready to respond to the corporate instruction where we will receive our assignments.
We will gather together most days of the week. The 24/7 church will again emerge as the church drives culture instead of reacting to culture. Cares of life will lose their power as we simplify our lives and put corporate prayer and mission ahead of most everything else. This may be the most challenging change for Christians. Today, Sundays are the days to set aside for corporate worship while we give precedence to our 'normal lives'. In The Coming Church, the very reason we live will be to pray on fire together every day, receive apostolic assignments and then move out into our lives as Kingdom ambassadors. It wouldn't be surprising if a tithe of our time is what became the standard. Two to three hours a day, whether it's in the morning, afternoon or evening, or even in the late night hours, will be given by every Believer to praying on site together with others, ministering, and giving ourselves to intercession fueled Kingdom ministry. Of course, much of what we have been giving ourselves to will have to be eliminated so we have the time necessary to devote.
Worship will be supernaturally driven. There is a new sound coming to worship, and it's not simply a new style. There is a supernatural, otherworldly groan of intercessory worship that will explode out of the entire body as a new breed of trembling worship leaders lead the way into the shock and awe of the glory of God. We will no longer simply sit in a pew or stand with a raised hand while a familiar worship song is sung. The prophetic, groaning sounds of Holy Spirit facilitated worship will make it normal to shake and fall to our faces as we cry Holy! The natural, logical sing-a-longs will be no more. We will have a hard time standing as God's Shekinah and Kabod glory resides in his church. Worship teams will practice less and pray in the Spirit with tears in their eyes more.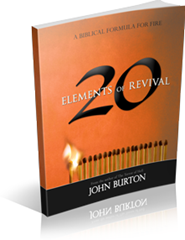 Of course, this is an extremely limited glance into the many, many changes that are coming. I wanted to share this to provoke you to preparation. There is much that you and I enjoy in the church, or that is comfortable to us, that we will have to let go. Again, the coming church will be troubling and shocking, but it will result in the power and life that we have been crying out for.
God is about to answer that cry.
I strongly recommend that you read my book 20 Element of Revival.  That book reveals much of the shift that we must embrace right now. If you truly take in all that it has to say, you'll never participate in the church the same way again.
Technorati Tags:
the coming church
,
reformation
,
changes
,
shifts
,
emerging
,
ancient
,
apostle
,
pastor
,
apostolic
,
military
,
worship
,
style
,
supernatural
This is an important point of discussion as God's military is weakening as people leave churches in record number.
THE SCATTERING MOVEMENT
To say that I'm concerned would be a gross understatement. There is a scattering movement in the nation that's causing deep harm to the mission of the church. This scattering of believers is so widespread that we are seeing theologies and philosophies emerging that support the idea that it's actually healthy to disband and withdraw. It becoming common to hear people say things like, "The church isn't a building," or, "I am the church, so I don't have to go 'to church'." The idea is that people have become so wounded or dissatisfied with their experience in the church that they have decided that it's not only better but actually biblically acceptable to minimize participation in an organized church setting. This mindset is threatening the corporate mission to a terrifying degree.
YOU ARE NOT THE CHURCH
If we understand the meaning of the word 'church' we could never presume that we alone are the church. That idea is contrary to the origin of the word (ekklesia, meaning "assembly"). In fact, that word has secular origins. It literally means an assembly of people who have been called together by an authority in the city or region. Wow! That sheds a lot of light on what the church is. The church is an assembly of people organized under defined governmental leadership. It's a regular gathering of people who are deeply agreed and in pursuit of mission advance under God's apostles, prophets and other governmental leaders. Further, the pure definition of the word reveals that it isn't used as easily in the context of the global company of believers as it is in the regional and local gathering of believers. The definition reveals that it's a well defined local group vs. a loosely defined larger group of people (who mostly don't know each other at all). We can't be a part of the church if we aren't gathered together with other parts of the church. Church is corporate. Additionally, the church is a group of people who assemble, fellowship, pray and respond together to apostolic teaching. That can't happen in a more nebulous global context. The church has inherent in it's core call the expectation of assembly and a corporate response so as to ensure the local mission is fulfilled. Again, a fulfilled mission can't be realized without this type of intentional and faithful participation at a local level where communication and commonality are clearly defined.
WHAT ABOUT HAVING CHURCH ONLINE?
I agree that there is much to enjoy and gain from this amazing technological world. We can watch church services online (I was watching one myself just tonight), listen to worship, meet Christians in forums and on Facebook, pray for one another and involve ourselves in Kingdom business in very unique ways. In fact, there are those who consider www.thefurnace.tv their home church as they prayerfully search for a local expression. Others do in fact gather together locally in homes on a more permanent basis and use the teaching at theFurnace each week in their meetings. That can be a great example of how church is transitioning today. It's a new wineskin. But, if there is no true local gathering with clear leadership, some key issues come into play:
DEVOID OF APOSTOLIC LEADERSHIP—There is most probably (there are exceptions) no clearly defined apostolic leadership involved. We have to know who we're called to serve with. We have to all hear, together, in our local congregation, how we are to respond in mission advance. What's God calling our leaders to focus on? How are we to participate? What are the goals? What steps must we take to prepare ourselves to see this come to pass?
LACK OF STRATEGIC CORPORATE INTERCESSION—While not impossible, it's very hard to involve ourselves in the number one purpose of the church this way—corporate intercession. We just have to be together to pray with unity and consistency if we are to have the sufficient strength to see significant impact.
NO ACCOUNTABILITY—Accountability and discipline are nearly non-existent outside of the context of the local church. Most who flock from the church and into alternative spiritual activities do so to avoid conflict, accountability and correction from leadership. We have to understand that this is a critical part of the refining process. We must be receptive and humble and ready to be challenged—even if the leaders God established for us are exceptionally flawed and out of touch with our needs.
PROMOTES MISUNDERSTANDING OF THE PURPOSE OF THE CHURCH—It can quite easily reinforce a wrong understanding of the purpose of the church. I would say this is the most serious issue. The prevailing thought these days is that the church is there for us. Whatever needs we have, we can get many of them met in the church. So, we attend if we are ministered to. Or, we may determine that we can get what we're looking for without regular church attendance. So, the church becomes unnecessary to us. Friend, this concept is a defilement of the church. I can't say it any less striking than that. We are called to gather together with other believers primarily to intercede for the nations. We are there to give, to leave offerings, to serve, to minister, to pray, to grow. The church isn't primarily there for us, we are to be there for the mission of the church. We may say that we don't need the church but have we considered that the church needs us?

I believe the scattering movement is one of the enemy's most urgent assaults in these end-times. He knows the power of unified togetherness. He used that very strategy when attempting to build a tower to Heaven. God himself said that Satan's successful plan of unity would actually succeed if scattering didn't happen! Now, when the church must be together continually as we advance against the kingdom of darkness, Satan has every intention of pulling people out of that mission. The scattering and loose commitment to God's method of prayer-driven Kingdom advance is resulting in an weak and impotent army. In a day when less than two services a month equates to 'normal' church attendance, I believe we must see the 24/7 church advance in strength, unity, commitment and power. Instead of two services a month, I believe we'll see it become normal to be in church 20+ times a month as we pray together, receive apostolic instruction, move out in ministry and take the fire of the Holy Spirit to the world—together.
John Burton