Video: Do Christians sin every day? Are works necessary for salvation? Watch…
Watch the video: Is obedience necessary for salvation? Do Christians sin every day? If faith alone enough to be saved? Can we lose our salvation?
Watch as I discuss possibly the most important theological topic of our generation—obedience, sin, works, faith and how they relate to salvation.
I reference two articles that will give you loads of scriptural support for the positions I take in the video:
You will want to check them out as you watch.
It's shocking to me how sharply resistant Christians can be when the doctrine of salvation is discussed. Many have been lulled into a state of false-comfort through incredibly dangerous and fast spreading theologies—and anything that would threaten their confidence is reacted to fiercely. A pastor once told me that the most violent reaction from Christians against him comes when he deals with false-grace.
Titus 2:11-15 (ESV) 11 For the grace of God has appeared, bringing salvation for all people, 12 training us to renounce ungodliness and worldly passions, and to live self-controlled, upright, and godly lives in the present age, 13 waiting for our blessed hope, the appearing of the glory of our great God and Savior Jesus Christ, 14 who gave himself for us to redeem us from all lawlessness and to purify for himself a people for his own possession who are zealous for good works. 15 Declare these things; exhort and rebuke with all authority. Let no one disregard you.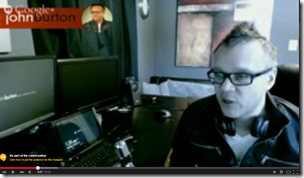 My life message is to awaken the comfortable, sleeping church and declare the true, empowering grace of God.
It's not a message that I chose. In the natural that would be insanity as my fervent attention to it has brought trouble and grief not only to me but to my family. We've lost friends and awakened enemies we didn't know we had.
Here's an email from our great friend Julia Palermo:
Hi John! I wanted to let you know that the Lord has really put you, Detroit Revival Church and the city of Detroit on my heart the past few weeks. I've been following your posts and just carrying you all in my heart. I feel like you are very much in need of extra prayer coverage as you are stepping out very boldly in some areas of proclamation of the truth. Just wanted you to know that I am going to be praying for you and for the church. Would love to talk some time and hear what the Lord is doing. Though I think this bold stand may cost you in some sense, I truly feel that for the remnant who receives these messages and signs up to pursue Him in holiness, He is going to come with His fire and His presence. I believe you are going to experience some times of such a weight of his holiness and nearness in the room that people will only be able to weep on the floor and won't move for hours. You have not seen before what He is about to do in you and in the church. Be encouraged! He is with you! Julia
Thankfully, it's a message that has resulted in continual messages from people sharing how their life has been powerfully impacted by it.
Shortly after hearing a teaching that (God forgives all sin, past, present and future) I was ignorantly relieved of the struggles I was having with particular sins and then went soo far away from truth, deep into more self justified sin, self deception, coldness, distance from God, family, etc. …. Now I've been hearing teaching from John Burton and others against sin and this false doctrine (false-grace teaching) and now for the first time since I became a Christian almost 10 years ago, I have been free from the power of habitual sin and no longer live a life of torment … All Glory to GOD!!! God needs more TRUTH Ministers.~Nick
It's a message that, by design, urgently and aggressively provokes those who are personally comfortable yet eternally vulnerable.