Tonight is the night! Join me in Cleveland as I release a call for the zealots to arise…
Tonight is the night! It's time for the firebrands to arise! See you in Cleveland at 7pm!
FIRST: Listen to this passionate young man burning with the fires of revival in Houston. He preaches out of my book 20 Elements of Revival…and, man, he is lit up!
http://www.spreaker.com/user/prophet_llopis_g.a.w.c/revive-us-elder-garcia
---
Schedule:
Thurs. June 26 at 7:00 pm
Fri. June 27 at 7:00 pm
Sat. June 28 at 7:00 pm
Sun. June 29 at 10:30 am
Location:
Worldwide Great Commission Fellowship 33525 Curtis Blvd., Eastlake, OH 44095
About John Burton: John has been developing and leading ministries for over 20 years and is a sought out teacher, prophetic messenger and revivalist. John has authored six books, has appeared on Christian television and radio and directed one of the primary internships at the International House of Prayer (IHOP) in Kansas City.
Additionally, he planted two churches, has initiated two city prayer movements and is currently directing a prayer and revival focused ministry school in Detroit called theLab University.  He and his beautiful wife Amy have five children and currently live in the Detroit region.
John's mandate is to call the church in the nations to repentance from casual Christianity and to burn in a manner worthy of the King of Kings. He is equipping people to confront the enemies of God (established religion, Jezebel, etc.) that hinder an extreme, sold out level of true worship.
The prevailing theme of the ministry God has given John revolves around the topic of 'being with God'. Where God is, things happen. In His presence, the place where He is, is the fullness of joy. As we discover the wonderful mystery of walking in the Spirit, praying always and making aggressive strides in faith, life becomes incredible! It truly is an experience in the invisible realm. As we tangibly experience God through deep and active prayer we are interacting 'in the Spirit'. As we walk by faith and understand how amazing a Holy Spirit driven life is, being a believer quickly becomes the greatest adventure on earth!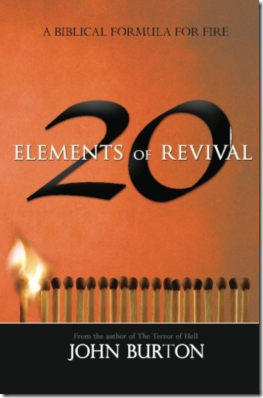 Order 20 Elements of Revival
The contention of this book is simple: The extreme manifest presence of God is the biblical norm for New Testament believers. We label it many ways: revival, an outpouring, renewal, and certainly different moves of God have distinct flavors to them. However, regardless of the descriptive term we attach to it, we simply are not experiencing it. As we investigate a simple and powerful formula for revival, we will find ourselves deeply provoked and advancing with extreme momentum toward the goal of a city-wide outpouring of the Holy Spirit!
Order: www.johnburton.net/resources