Colorado Springs conference! Catherine Mullins & theLab U This Thursday through Saturday
Register TODAY! Catherine Mullins and theLab University team will be in Manitou Springs Thursday through Saturday!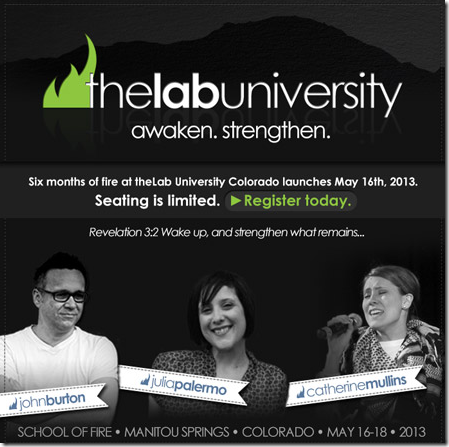 Evening sessions are FREE, but registration is REQUIRED!
On opening night, Catherine Mullins will be leading in intimate worship and I'll be bringing a prophetic message: God 2.0
WATCH A BRAND NEW VIDEO!
A SIX MONTH SCHOOL OF FIRE
theLab University is coming to the Colorado Springs region this summer!
Experience six months of fire, encounter and equipping in the spiritually strategic city of Manitou Springs, Colorado.
REGISTRATION IS REQUIRED even for the free evening sessions.
The events will be held at RHOP, 12 Old Man's Trail, Manitou Springs, CO 80829.
THE COMING CHURCH
The theme: Equipping end-time prophetic messengers to prepare the way for revolution in the church.
There is a coming burning church that will reveal to us the shock and awe of the glory of God. The call to participate in this last days movement of revival is a weighty call indeed. Discover your key role in The Coming Church and how you can prepare to carry the life, love and fire of God into a desperately wicked culture.
WHAT TO EXPECT
thLab University is a powerful and unusual ministry experience that will result in freedom and equipping. Each monthly three-day event will include morning and afternoon workshops, personal prophetic ministry and training in prophetic warfare and intercession in the streets of Manitou Springs.
The evening public worship and training is designed for maximum impact  as we encounter God in a deep place of intimacy and embrace the urgent and sober call as forerunners.
THE COST
theLab University full six month session: $100
Individual weekends (all sessions in any given month): $30
MAY 16-18 SCHEDULE
Thursday 6pm: Prep Room (prophetic intercession)
Thursday 7pm: Worship with Catherine Mullins + Teaching (FREE) (The Coming Church)
Friday 10am: Workshop (positioning ourselves to receive revelation)
Friday 2pm: Prophetic Impartation & Activation (personal ministry & spiritual adventure in Manitou Springs)
Friday 6pm: Prep Room (prophetic intercession)
Friday 7pm: Worship with Catherine Mullins + Teaching (FREE) (Revelation Driven Prayer)
Saturday 10am: Workshop (the urgency of the hour)
Saturday 2pm: Prophetic Impartation & Activation (personal ministry & spiritual adventure in Manitou Springs)
Saturday 6pm: Prep Room (prophetic intercession)
Saturday 7pm: Worship + Teaching (FREE) (Carrying the Fire)