Special Events: Powerful week of prophetic impartation, end-times teaching & more!
Chris Ferguson from IHOP and prophetic messenger Julia Palermo will be at Revival Church and theLab School of Fire THIS WEEK!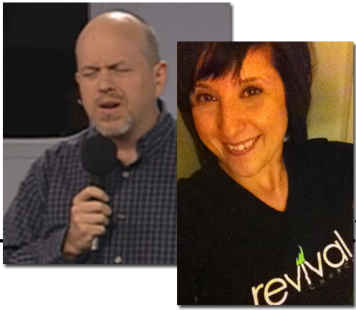 First: Listen to Sunday's teaching on the Joshua Generation and hear about the shock that's coming to our nation and the call of the church to move with passion into position! Listen here (notes will be included below): http://media.johnburton.net/7637627
THE COMING CHURCH
What is coming to and through the church? That's the theme this week as very special guests Chris Ferguson and Julia Palermo minister in fire at Revival Church and theLab School of Fire!
THURSDAY: END TIMES TEACHING
Julia and Chris will be ministering prophetically over everybody in attendance, and then a key teaching on the end-times and the church's role in the Tribulation will be presented.
This is a MUST attend event!
We normally charge $25 to audit a class at theLab, but we are opening this class to everybody at NO CHARGE! FREE!
Simply show up at 7pm on Thursday! Revival Church & theLab meet at CENTRAL CHURCH, 1529 E. 12 Mile Rd, Madison Heights, MI 48071.
FRIDAY: INTERCESSION IN DETROIT
Julia and Chris will be joining theLab and other revivalists and intercessors at Apostle Londen Winters Ministries THIS FRIDAY, March 22nd at 7pm.
The level of prophecy in this ministry is high and the atmosphere is hot! Bring friends or come alone!
This special prayer event is being held at: 8316 Dexter Blvd., Detroit 48206.
SUNDAY: THE COMING CHURCH
Get ready for powerful worship and an unusual night of prophetic fire!
Chris, Julia and I will be tag team teaching on what we see coming for the church in the end-times.
There is a great shock that's coming, and we need to be prepared for this amazing upcoming season in the church of our nation!
We begin with IHOP worship on the screen and intercession in the sanctuary at 5:15pm.
The service begins at 6pm. You can let us know you are coming and we'll give you a FREE copy of my book SIX ENEMIES! Go here: www.explorerevival.com/plan-your-visit
JOSHUA GENERATION NOTES
http://media.johnburton.net/7637627
Joshua Generation
I. The Great Mission
a. Threefold Strategy of God
i. Salvation & Deliverance: The initial goal in the Exodus was to escape captivity. (inward)
ii. Intimacy & Offering: The secondary goal was to worship God in intimacy in the desert. (upward)
iii. Warfare & Possession: The ultimate goal was to take their new culture of intercession and worship into the Promised Land and conquer demonic strongholds on cities that stand in the way. (outward)
b. This is our focus at Revival Church: get you free, encounter God in intimacy, rise up as warriors and fulfill a mission. All three must be active!
i. The house of prayer must come before we take the city!
c. That's the great mission, and now let's look at a great mistake.
II. The Great Mistake
a. They had been slaves there for over 400 years, and God went to great lengths to deliver them from bondage.
i. They appreciated the deliverance, but they didn't transfer their gaze from inward to upward, from them to God.
b. Shortly after­ their salvation form Egypt, due to their per­sis­tent unbe­lief that God would faith­fully and safely take them into a land of their own, the Promised Land (Canaan–or Israel), God brought judg­ment and chas­tise­ment upon them (Num­bers 13–14). He sent them into the desert to wan­der for 40 years. (This is most Christians!) All of the peo­ple aged 20 years or older were des­tined to die in the desert and to never enter the Promised Land because of their unbe­lief (Num­bers 14:26–35, Hebrews 3:16–19).
c. The great mistake? The Israelites were known for their complaint!
i. What a legacy!
ii. Their complaining led to unbelief which led to wandering and then death.
1. If you wander too long, you will not see your promise!
iii. One of the most tragic mistakes we can make is to assume our attitudes and personal dispositions don't have much of an impact.
iv. Check this out:
d. Numbers 11:1 (ESV) 1 And the people complained in the hearing of the LORD about their misfortunes, and when the LORD heard it, his anger was kindled, and the fire of the LORD burned among them and consumed some outlying parts of the camp.
e. 1 Corinthians 10:8-10 (ESV) 8 We must not indulge in sexual immorality as some of them did, and twenty-three thousand fell in a single day. 9 We must not put Christ to the test, as some of them did and were destroyed by serpents, 10 nor grumble, as some of them did and were destroyed by the Destroyer.
i. Dang! What is that! To be destroyed by serpents! Hard core! The Destroyer!
ii. Why? Just for sexual immorality? Grumbling?
iii. Yes, our attitudes and actions reap consequences!
f. Numbers 14:1-10 (ESV) 1 Then all the congregation raised a loud cry, and the people wept that night. 2 And all the people of Israel grumbled against Moses and Aaron. The whole congregation said to them, "Would that we had died in the land of Egypt! Or would that we had died in this wilderness! 3 Why is the LORD bringing us into this land, to fall by the sword? Our wives and our little ones will become a prey. Would it not be better for us to go back to Egypt?" 4 And they said to one another, "Let us choose a leader and go back to Egypt." 5 Then Moses and Aaron fell on their faces before all the assembly of the congregation of the people of Israel. 6 And Joshua the son of Nun and Caleb the son of Jephunneh, who were among those who had spied out the land, tore their clothes 7 and said to all the congregation of the people of Israel, "The land, which we passed through to spy it out, is an exceedingly good land. 8 If the LORD delights in us, he will bring us into this land and give it to us, a land that flows with milk and honey. 9 Only do not rebel against the LORD. And do not fear the people of the land, for they are bread for us. Their protection is removed from them, and the LORD is with us; do not fear them." 10 Then all the congregation said to stone them with stones. But the glory of the LORD appeared at the tent of meeting to all the people of Israel.
i. Do not rebel.
ii. Do not fear.
iii. You would think the complaining would end…but no! Check it out!
1. Numbers 16:1-3 (NIV) 1 Korah …became insolent 2 and rose up against Moses. With them were 250 Israelite men, well-known community leaders who had been appointed members of the council. 3 They came as a group to oppose Moses and Aaron and said to them, "You have gone too far! The whole community is holy, every one of them, and the LORD is with them. Why then do you set yourselves above the LORD's assembly?"
2. Numbers 16:31-33 (NIV) 31 As soon as he finished saying all this, the ground under them split apart 32 and the earth opened its mouth and swallowed them, with their households and all Korah's men and all their possessions. 33 They went down alive into the grave, with everything they owned; the earth closed over them, and they perished and were gone from the community.
iv. This is getting serious!
1. Today it's expected that leaders make it easy for people to follow.
2. I disagree. Leaders are called to lead you into the most challenging, risky and humanly impossible adventure!
3. We should make it easy for leaders to lead!
4. Paul said, Follow me as I follow Christ.
5. If you are going to follow apostolic leaders, you better have your running shoes on!
6. Philippians 3:13-14 (ESV) 13 Brothers, I do not consider that I have made it my own. But one thing I do: forgetting what lies behind and straining forward to what lies ahead, 14 I press on toward the goal for the prize of the upward call of God in Christ Jesus.
7. 1 Corinthians 9:24-26 (ESV) 24 Do you not know that in a race all the runners run, but only one receives the prize? So run that you may obtain it. 25 Every athlete exercises self-control in all things. They do it to receive a perishable wreath, but we an imperishable. 26 So I do not run aimlessly; I do not box as one beating the air.
a. Apostolic leaders lead into a difficult, costly mission with a sharp prophetic edge.
b. Pastors mostly lead you into comfort, and there is a place for that… and apostles lead you into mission, into movement.
c. This is why churches are usually best led by apostles and small groups are usually best led by pastors, or the regional church led by apostles, and local bodies led by pastors. They must work together.
d. We equip people to work, to move, to fulfill a mission.
e. Ephesians 4:11-12 (ESV) 11 And he gave the apostles, the prophets, the evangelists, the shepherds and teachers, 12 to equip the saints for the work of ministry, for building up the body of Christ,
f. It's time to move!
III. The Great Movement
a. From the Great Mistake to the Great Movement.
b. From dead in the desert to moving into destiny!
c. The older generation complained, grumbled, sinned sexually, had idols, etc… but the younger gen­er­a­tion was hum­bled, tested and dis­ci­plined by the Lord dur­ing their desert sojourn.
d. They were ready to move into their mission.
i. Only 10% of Christians know what their calling is…their mission!
1. This means that precious days are being lost wandering and surviving instead of advancing!
2. Just because you are moving, doesn't mean you are advancing in your mission!
3. Psalm 107:4-5 (NIV) 4 Some wandered in desert wastelands, finding no way to a city where they could settle. 5 They were hungry and thirsty, and their lives ebbed away.
4. The only way to discover your calling is to be fully given to it!
a. This is why thelab and other ministry schools are so powerful.
b. It requires a complete surrender of time, dreams, comfort in a movement of radical unity!
c. God is isn't coming back for a church with scattered believers. He's coming back for a company of people with a common vision. ~Mike Bickle
d. The highest blessing, the commanded blessing, comes when God's people gather together in unity.~Mike Bickle
5. This end-time passage gives us the critical secret to fulfilling our mission.
a. Revelation 12:10-12 (ESV) 10 And I heard a loud voice in heaven, saying, "Now the salvation and the power and the kingdom of our God and the authority of his Christ have come, for the accuser of our brothers has been thrown down, who accuses them day and night before our God. 11 And they have conquered him by the blood of the Lamb and by the word of their testimony, for they loved not their lives even unto death. 12 Therefore, rejoice, O heavens and you who dwell in them! But woe to you, O earth and sea, for the devil has come down to you in great wrath, because he knows that his time is short!"
b. Salvation, power, the Kingdom, authority!
c. How do we live in that and conquer?
i. The blood of the lamb
ii. The word of our testimony
1. JFB: Their testimony evinced their victory over him by virtue of the blood of the Lamb. Hereby they confess themselves worshippers of the slain Lamb and overcome the beast, Satan's representative.
iii. Death to self
iv. This is such an important step…today most are looking for 'life to self'…but don't realize that life doesn't come before death.
v. If we emphasize the benefits while ignoring the cost, people will run from Jesus when their cross is presented to them.
1. Romans 8:35-36 Who shall separate us from the love of Christ? shall tribulation, or distress, or persecution, or famine, or nakedness, or peril, or sword? 36 As it is written, For thy sake we are killed all the day long; we are accounted as sheep for the slaughter.
2. Matthew 16:24-25 Then Jesus said to his disciples, "Whoever wants to be my disciple must deny themselves and take up their cross and follow me. 25 For whoever wants to save their life will lose it, but whoever loses their life for me will find it."
3. John 12:24-25 Very truly I tell you, unless a kernel of wheat falls to the ground and dies, it remains only a single seed. But if it dies, it produces many seeds. 25 Those who love their life will lose it, while those who hate their life in this world will keep it for eternal life.
4. Colossians 3:5 Put to death, therefore, whatever belongs to your earthly nature: sexual immorality, impurity, lust, evil desires and greed, which is idolatry.
a. Die daily! It's worth it because of the power of the resurrection!
5. 1 Corinthians 15:30-34 (ESV) 30 Why are we in danger every hour? 31 I protest, brothers, by my pride in you, which I have in Christ Jesus our Lord, I die every day! 32 What do I gain if, humanly speaking, I fought with beasts at Ephesus? If the dead are not raised, "Let us eat and drink, for tomorrow we die." 33 Do not be deceived: "Bad company ruins good morals." 34 Wake up from your drunken stupor, as is right, and do not go on sinning. For some have no knowledge of God. I say this to your shame.
e. Our church's key verses:
i. Joshua 3:4-5 (ESV) 4 …Do not come near it, in order that you may know the way you shall go, for you have not passed this way before." 5 Then Joshua said to the people, "Consecrate yourselves, for tomorrow the LORD will do wonders among you."
1. Verse 4 is why we must embrace apostolic leadership—we have never been this way before…apostles are 'sent ones'…they are pioneers.
a. You need a Daniel Boone leading you!
b. Despite some resistance from American Indian tribes such as the Shawnee, in 1775 Boone blazed his Wilderness Road through the Cumberland Gap in the Appalachian Mountains from North Carolina and Tennessee into Kentucky. There he founded the village of Boonesborough, Kentucky, one of the first American settlements west of the Appalachians.
c. Boone was a militia officer during the Revolutionary War (1775–83), which in Kentucky was fought primarily between the American settlers and the British-aided Native Americans. Boone was captured by Shawnee warriors in 1778, who after a while adopted him into their tribe.
d. Before the end of the 18th century, more than 200,000 European people migrated to Kentucky/Virginia by following the route marked by Boone.
2. The only way we can survive such a dangerous mission is if we follow verse 5 instructions: Consecrate yourselves and prepare for wonders!
a. The call to movement means that we have to leave what is familiar into what is risky!
b. We can't add God's supernatural assignment to our human dreams. We have to leave our dreams and lay down our lives!
i. The non-negotiable price of supernatural mission is the surrender of convenience, comfort, and control.
3. Consecrate: Prepare, sanctify, clean, dedicate, purify
a. The older generation who died in the desert complained because they were lacking, and because they had unbelief.
b. Notice the remedy: The younger generation embraced a fasted lifestyle as they consecrated themselves…and also embraced ridiculous faith as they were called to step into the waters of the Jordan and march around the walls of a fortified city.
i. The requirements? Anybody can do it!
1. Don't complain.
2. Be holy.
3. Believe.
4. Respond in extreme unity and precision.
ii. We are moving into the uncharted, impossible, not into the predictable and casual! Daniel Boone! Joshua! How about Peter Pan?
1. Peter Pan Jesus
2. It's time to follow! To blaze a new trail!
3. Now, you have to understand, you are either living in the camp or dying in the desert!
a. You can't just live between the two in some imaginary safe place.
f. Boldly following
i. If you really want to advance, you will have to literally face trouble and threatening situations.
1. There are giants to take down, city walls to march around.
2. "I've found that great leaders are comfortable making other people uncomfortable." JD King
a. Look at Joshua. He was leading people into sure drowning in the river, sure defeat at Jericho!
b. Today we are looking for comfort when God is calling us to challenge!
c. 1 Kings 18:21-22 (ESV) 21 And Elijah came near to all the people and said, "How long will you go limping between two different opinions? If the LORD is God, follow him; but if Baal, then follow him." And the people did not answer him a word. 22 Then Elijah said to the people, "I, even I only, am left a prophet of the LORD, but Baal's prophets are 450 men.
i. Will you follow those you are in relationship with, even if they lead you astray? Are you with the 450 or the 1? It's time to lock in! Don't be tossed around! Don't waver any longer!
ii. If you live a decisive life, you will have to move, and you will have to break away from comfort and what is familiar.
1. Never be afraid to stand with the minority which is right, for the minority which is right will one day be the majority; always be afraid to stand with the majority which is wrong, for the majority which is wrong will one day be the minority.—William Jennings Bryan
2. A wrong choice results in death in the desert!
3. The following quotation is from the "Cadet Prayer." It is repeated every Sunday in chapel services at West Point: "Make us choose the harder right instead of the easier wrong, and never to be contented with half truth when whole truth can be won. Endow us with courage that is born of loyalty to all that is noble and worthy, that scorns to compromise with vice and injustice and knows no fear when right and truth are in jeopardy."
4.
iii. Ephesians 4:11-14 (ESV) 11 And he gave the apostles, the prophets, the evangelists, the shepherds and teachers, 12 to equip the saints for the work of ministry, for building up the body of Christ, 13 until we all attain to the unity of the faith and of the knowledge of the Son of God, to mature manhood, to the measure of the stature of the fullness of Christ, 14 so that we may no longer be children, tossed to and fro by the waves and carried about by every wind of doctrine, by human cunning, by craftiness in deceitful schemes.
d. The mission is not one of personal satisfaction, but one of full surrender.
i. If you are looking for comfort and personal satisfaction, you are primed to fall into whatever false-doctrine provides that.
e. You can't just soak in the river!
f. You are either dead in the desert or advancing into destiny!
i. Revelation 3:1-2 (ESV) 1 "And to the angel of the church in Sardis write: 'The words of him who has the seven spirits of God and the seven stars. "'I know your works. You have the reputation of being alive, but you are dead. 2 Wake up, and strengthen what remains and is about to die, for I have not found your works complete in the sight of my God.
ii. Revelation 3:5-6 (ESV) 5 The one who conquers will be clothed thus in white garments, and I will never blot his name out of the book of life. I will confess his name before my Father and before his angels. 6 He who has an ear, let him hear what the Spirit says to the churches.'
g. If you just soak, the river will carry you away into death:
i. The Jordan river flows to the salt sea, the dead sea!
ii. If you stay still, you will be carried away into death! The salt sea has no outlet. No movement! Death!
iii. The Dead Sea is 8.6 times saltier than the ocean. This salinity makes for a harsh environment in which animals cannot flourish, hence its name. The Dead Sea.
iv. We are to be salt to the earth, not in our place of comfort! If we carry salt, we must move!
v. When Lot's wife stopped advancing, she turned to salt. Sodom was located next to the Salt Sea, the Dead Sea.
vi. The only way to live as salt is to move! To obey!
1. Lot's instruction: Genesis 19:17 (ESV) 17 And as they brought them out, one said, "Escape for your life. Do not look back or stop anywhere in the valley. Escape to the hills, lest you be swept away."
vii. Not only can't you complain, you can't look back! You must advance!
3. Joshua 3:2-3 (ESV) 2 At the end of three days the officers went through the camp 3 and commanded the people, "As soon as you see the ark of the covenant of the LORD your God being carried by the Levitical priests, then you shall set out from your place and follow it.
4. God is raising up trailblazing leaders who carry the presence of God into the land of promise! Dare you follow?!
5. Joshua 3:9-13 (ESV) 9 And Joshua said to the people of Israel, "Come here and listen to the words of the LORD your God." 10 And Joshua said, "Here is how you shall know that the living God is among you and that he will without fail drive out from before you the Canaanites, the Hittites, the Hivites, the Perizzites, the Girgashites, the Amorites, and the Jebusites. 11 Behold, the ark of the covenant of the Lord of all the earth is passing over before you into the Jordan. 12 Now therefore take twelve men from the tribes of Israel, from each tribe a man. 13 And when the soles of the feet of the priests bearing the ark of the LORD, the Lord of all the earth, shall rest in the waters of the Jordan, the waters of the Jordan shall be cut off from flowing, and the waters coming down from above shall stand in one heap."
ii. Joshua 6:1-2 (ESV) 1 Now Jericho was shut up inside and outside because of the people of Israel. None went out, and none came in. 2 And the LORD said to Joshua, "See, I have given Jericho into your hand, with its king and mighty men of valor.
iii. Joshua 6:3 (ESV) 3 You shall march around the city…
iv. It's time to move!
IV. Conclusion
a. If you want your city, you have to conquer your river.
b. If you want your Goliath, you have to conquer your lion and your bear.
c. If you are not interested in taking the city, you'll waste away in the desert on the wrong side of promise.
d. If you aren't interested in taking on Goliath, you'll be bait for a roaring lion looking for someone to devour.
e. We have no option. We must fight. We must believe. We must advance.