Listen now to Ten Threats to Revival #8: Unbelief
A spirit of entitlement is false-faith. God is calling us to move ahead boldly as people of great faith!
Last night's teaching is ready for you to listen to now here: http://media.johnburton.net/5885592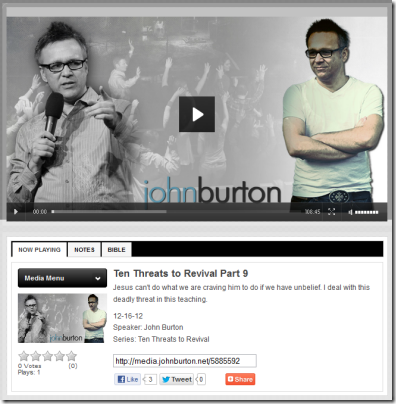 You can follow along with my notes here:
Threat 8. Unbelief
1. You can do this! You are called to live a ridiculously supernatural life!!!!!
1. You must believe! Go after the impossible! Be like Noah and live in such a way that causes people to mock!!!! You are called to live a miraculous life!
2. Understand that most people will not believe. In order to be in the mix of the end-time revival, you must believe!!!!! The more we pray, the more we believe!!! The more we hear his word, the more faith! Faith comes by hearing!!!
1. Luke 18:7-8 (ESV) 7 And will not God give justice to his elect, who cry to him day and night? Will he delay long over them? 8 I tell you, he will give justice to them speedily. Nevertheless, when the Son of Man comes, will he find faith on earth?"
2. Frank Bartleman wrote Evan Roberts and asked him how to launch revival.
1. So, Frank did it and Azusa exploded and changed the face of Christianity!
2. Mike Bickle prophecy: "I will change the understanding and expression of Christianity in the earth in one generation."
3. So what is Evan Robert's prescription?
1. "Congregate the people who are willing to make a total surrender. Pray and wait. Believe God's promises. Hold daily meetings. "Evan Roberts
2. Reading this simple yet non-negotiable prescription for revival reveals that the church of this nation is far from ready!
3. Evan Roberts reveals one of the elements of revival is simply to believe God's promises.
1. In Detroit there's false belief over this region: Entitlement
1. When people don't get what they presume they are entitled to, rage ensues.
2. The right to work legislation resulted in violence in Lansing.
4. It's stunning how little the church believes in the supernatural. Healing, freedom, power and abundant life are tragically rare.
1. 1 John 5:4 For whatever is born of God overcomes the world. And this is the victory that has overcome the world- our faith.
1. The call of revival is the call to overcome the spirit of this age.
1. It's a HUGE, HUGE mission, and if we struggle in our belief, we just won't get it done.
2. We must be Believers, not hopers.
[wdsm_ad id="6675″ ]
3. Matthew 13:57-58 (ESV) 57 And they took offense at him. But Jesus said to them, "A prophet is not without honor except in his hometown and in his own household." 58 And he did not do many mighty works there, because of their unbelief.
1. I experienced this when I was traveling to Detroit… faith was high!
2. Now, who comes with raging, burning expectation of fire every Sunday?
3. If we expect to only have another service, that is what we will get—fire requires fervent, active faith that won't relent!!!!
1. Most people think faith results in waiting… waiting for God to do something.
2. Not true!!!!! Faith is simply belief that something is to be done!!!
3. We go after it!!!
4. Faith is an action word-when we have it, based on a revelation of who we are in Christ, we rock the world, we work with passion, we burn continually!
1. Start a Tribe!
2. Pray continually!
3. Move! Advance! Do! Go!
1. Mark 9:17-24 (ESV) 17 And someone from the crowd answered him, "Teacher, I brought my son to you, for he has a spirit that makes him mute. 18 And whenever it seizes him, it throws him down, and he foams and grinds his teeth and becomes rigid. So I asked your disciples to cast it out, and they were not able." 19 And he answered them, "O faithless generation, how long am I to be with you? How long am I to bear with you? Bring him to me." 20 And they brought the boy to him. And when the spirit saw him, immediately it convulsed the boy, and he fell on the ground and rolled about, foaming at the mouth. 21 And Jesus asked his father, "How long has this been happening to him?" And he said, "From childhood. 22 And it has often cast him into fire and into water, to destroy him. But if you can do anything, have compassion on us and help us." 23 And Jesus said to him, "'If you can'! All things are possible for one who believes." 24 Immediately the father of the child cried out and said, "I believe; help my unbelief!"
2. Jesus doesn't take kindly to lack of faith!
3. Now, get this… the kid was going to die if the father didn't have faith!!!! This is why he said 'help my unbelief'… it wasn't casual!! There was a point of crisis… he had to believe to save his son!!!!
2. Matt 9:20-22 (NIV) 20 Just then a woman who had been subject to bleeding for twelve years came up behind him and touched the edge of his cloak. 21 She said to herself, "If I only touch his cloak, I will be healed."
22Jesus turned and saw her. "Take heart, daughter," he said, "your faith has healed you." And the woman was healed from that moment.
1. Faith is an action word! After the revelation comes the action… it takes both to receive what is rightfully ours.
2. It wasn't only a hope and a prayer… it was a revelation and response.
3. Mark 4:23-25 (ESV) 23 If anyone has ears to hear, let him hear." 24 And he said to them, "Pay attention to what you hear: with the measure you use, it will be measured to you, and still more will be added to you. 25 For to the one who has, more will be given, and from the one who has not, even what he has will be taken away."
3. 1 Tim 6:12 (NKJV) 12Fight the good fight of faith
1. We don't wait for things to happen, we cause things to happen!
2. Matt 21:21-22 (NKJV) 21 So Jesus answered and said to them, "Assuredly, I say to you, if you have faith and do not doubt, you will not only do what was done to the fig tree, but also if you say to this mountain, 'Be removed and be cast into the sea,' it will be done. 22"And whatever things you ask in prayer, believing, you will receive."
3. DO what was DONE to the fig tree. Faith is an action word!
4. Hebrews 6:11-12 (ESV) 11 And we desire each one of you to show the same earnestness to have the full assurance of hope until the end, 12 so that you may not be sluggish, but imitators of those who through faith and patience inherit the promises.
5. Action!
2. Oh God, I really want a great job in the ministry- I know you'll come through for me… it will happen as you have divinely designed.
1. Well, have you submitted a resume?
2. Have you studied to show yourself approved?
3. Have you done the work?
5. I believe one of the most critical areas of both crisis and opportunity has to do with identity.
1. A spirit of insignificance- listen to it!
2. Wrong identity absolutely annihilates faith and ministry.
1. It has people hiding from their enemies in caves.
2. It results in taking a casual approach to ministry.
3. It keeps people at home or relaxing when their comrades are on the wall in the church.
1. Check out this report:
1. We had revival (I mean, full-tilt, make Brownsville Toronto and Lakeland look tame) … we were about to ramp it up… and suddenly most of the people who make it all "work" had "other things to do" —I wept.
2. If we believe, we will advance, work and expect… we won't pull back or be casual.
3. If there's someone who's casual in their pursuit, you can know they are having a faith crisis.
2. If we have a wrong understanding of our identity, we tend to participate in the church or in mission so it can make our life better instead of walking in the power of an accurate identity using our lives to make the church better.
3. George Barna- Americans consider survival in the present to be much more significant than eternal security and spiritual possibilities.
6. Faith is what others will see as evidence that God is who we believe he is.
1. Heb 11:1 (NKJV) 1Now faith is the substance of things hoped for, the evidence of things not seen.
1. It's when we tithe before we see the money to pay our bills.
2. It's when we step into the impossible.
3. It's when we pray for the sick.
4. It's when we obey the Word!
2. Action
1. Heb 11:4 (NKJV) 4By faith Abel offered to God a more excellent sacrifice
2. Heb 11:8 (NKJV) 8By faith Abraham obeyed
3. Heb 11:27 (NKJV) 27By faith he forsook Egypt, not fearing the wrath of the king; for he endured as seeing Him who is invisible.
4. Heb 11:29 (NKJV) 29 By faith they passed through the Red Sea as by dry land
5. Heb 11:30 (NKJV) 30By faith the walls of Jericho fell down
6. Heb 11:32-34 (NKJV) 32 And what more shall I say? For the time would fail me to tell of Gideon and Barak and Samson and Jephthah, also of David and Samuel and the prophets: 33 who through faith subdued kingdoms, worked righteousness, obtained promises, stopped the mouths of lions, 34quenched the violence of fire, escaped the edge of the sword, out of weakness were made strong, became valiant in battle, turned to flight the armies of the aliens.
1. Action!!!
3. A barometer of our position in Christ has to be whether we can hear or not!
1. John 10:27 My sheep hear my voice, and I know them, and they follow me.
2. This is the only way we can believe!
3. Rom 10:17 So faith comes from hearing, and hearing through the word of Christ.
4. The only way to be united with Christ in the pursuit of revival is to hear and believe!
5. Heb 11:6 And without faith it is impossible to please him, for whoever would draw near to God must believe that he exists and that he rewards those who seek him.
6. We can't just wait around in doubt, it's time to move!
7. We MUST believe!
1. Mark 16:14-18 (ESV) 14 Afterward he appeared to the eleven themselves as they were reclining at table, and he rebuked them for their unbelief and hardness of heart, because they had not believed those who saw him after he had risen. 15 And he said to them, "Go into all the world and proclaim the gospel to the whole creation. 16 Whoever believes and is baptized will be saved, but whoever does not believe will be condemned. 17 And these signs will accompany those who believe: in my name they will cast out demons; they will speak in new tongues; 18 they will pick up serpents with their hands; and if they drink any deadly poison, it will not hurt them; they will lay their hands on the sick, and they will recover."