You may be surprised to discover what salvation is—and isn't. Revival Church Sunday 6pm.
We are devoted to studying the Word at Revival Church—and Sunday I'll be teaching on the tenet of salvation.
FIRST: Have you registered for THE WONDERS CONFERENCE with Matt Sorger and John Burton? It begins FRIDAY and registration is FREE but REQUIRED. Register here: www.detroitrevivalchurch.com
FRIDAY'S event takes place at THE CROSSING CHURCH in Farmington (www.atthecrossing.com) and SATURDAY'S event takes place at REVIVAL CHURCH in Madison Heights.
---
God's death was required for our justification. Our death is required for our sanctification.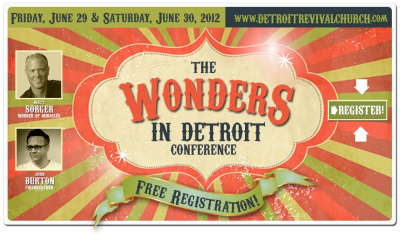 This is a critical message! So many are way too comfortable in a risky eternal position.
I want to encourage you to come ready to fall in love with Jesus in a much deeper way—salvation makes that quite easy!
Here's a sneak peek from my notes:
"In regeneration we receive a new life; in justification, a new standing; and in adoption, a new position."
We can live in such a way that we are full of joy! Full of life! Full of the Holy Spirit! Alive!
Isaiah 12:3 (ESV) 3 With joy you will draw water from the wells of salvation.
Habakkuk 3:17-18 (ESV) 17 Though the fig tree should not blossom, nor fruit be on the vines, the produce of the olive fail and the fields yield no food, the flock be cut off from the fold and there be no herd in the stalls, 18 yet I will rejoice in the LORD; I will take joy in the God of my salvation.
Life situations do not have the power to steal our joy, if we truly understand salvation.
If we find life situations stealing joy, we must reinvestigate our understanding of salvation.
Though he's eager to forgive, he's not haphazard in the administration of forgiveness.
He cannot forsake his position as just judge and overlook sin.
Can you imagine a world led by an indifferent God?
His passion, not his indifference, led him to the cross.
John 3:16-18 (ESV) 16 "For God so loved the world, that he gave his only Son, that whoever believes (to have faith in and commit to) in him should not perish but have eternal life. 17 For God did not send his Son into the world to condemn the world, but in order that the world might be saved through him. 18 Whoever believes in him is not condemned, but whoever does not believe (has faith in and is committed to) is condemned already, because he has not believed in the name of the only Son of God.
God's death was required for our justification.
Our death is required for our sanctification.
REVIVAL CHURCH MEETS AT CENTRAL CHURCH, 1529 E. 12 MILE RD, MADISON HEIGHTS, MI 48071.