Very special event this Sunday : Brian Simmons and Julia Palermo at Revival Church
The roof should explode this Sunday night at Revival Church as revivalist and apostolic father Brian Simmons joins Julia Palermo!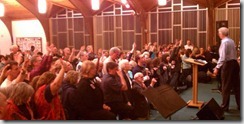 FIRST: Have you applied for the rapidly approaching fall session of theLab Internship? Students and ministers are eligible for 50% off! Visit www.revivallab.com today!
---
Gather everybody you know who needs a very real and tangible touch from God and bring them to Revival Church THIS SUNDAY at 6pm!
We have been experiencing wave after wave of truly dramatic healings, so bring the sick and desperate!
Our great friends Brian Simmons and Julia Palermo will join myself and the spiritually electric Revival Church worship team for a night of fire!