My newly revised books now only $2.99 on Kindle
You can now instantly download three books for less than the old price for one!
First: The miracles continued at Revival Church on Sunday! We are in the midst of a heavy revival atmosphere right now. Check it out:
Hey John! Incredible testimony from last night! And we didn't even pray for this guy to receive healing. We just imparted to him and prayed for the fire!

Just a praise report…David a friend I brought yesterday had a football injury on his right knee, while you and your parents were praying for him, he said heat came on his right knee and GOD healed him. By the end of the night he was "jumping higher than before" in the freedom!
---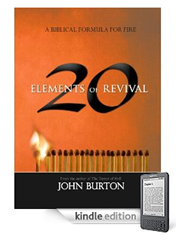 ORDER AND INSTANTLY DOWNLOAD FOR $2.99!
My heart is to get these books into the hands of every single person I can, and I believe dropping the price from $9.99 to $2.99 should do it!
You can now order 20 Elements of Revival, Pharaoh in the Church and my latest revision that's not even out in print yet, Revelation Driven Prayer.
I just taught on 20 Elements of Revival at theLab Internship this past Saturday, and it was powerful. This is a must have teaching, and this book will do much to help you calibrate your life with God's supernatural model.
Here are some testimonies from people who have read it: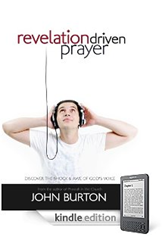 20 Elements of Revival- I just finished your book, 20 Elements of Revival. Wow! This is it. If the Church/House of Prayer at large could get this into their hands and read it before they opened the doors we could actually change the world! I've been talking to our leadership team- this book is #1 for all of our Core Leadership. It should be in the hands of every leader in the Body. – Luann

20 Elements of Revival- I just finished reading 20 Elements of Revival. Everyone should read this book! I wish I had the cash for a case of this book. Seriously! I keep thinking of more people who NEED a copy of it! It's very, very, very rare for me to feel this way about a book other than the Bible.-Kathi

Just finished reading the two books you gave me…and I am buzzing in the Holy Spirit! My wife and I had an hour conversation about the depth of their implications. You have nailed it my friend. I have met few people who have put all this together….and I am in awe and grateful. I want all our leadership team to especially read 20 Elements of Revival. –Tim

Revelation Driven Prayer- "John Burton's book on prayer hits the mark. It is the type of book that you can read and reread and be encouraged anew each time in your prayer walk with our Lord. We have to hear from God in a myriad of areas of our lives. That happens as we spend time with our Lord in prayer. Be Blessed and share this book with others that we all might have a deeper revelation of what our obedience will accomplish for the kingdom and for ourselves."- Barbara