Two videos : A Casual Approach : Prophetic warning
Watch two brand new videos—theLab vision explained AND a teaching on prophetic warning and a casual response.
Amos 3: Will a trumpet sound and the people not be afraid?
Last night at Revival Church rocked us.
As a prophetic center of revival for the region, and as a ministry that has our finger on the prophetic pulse of the nation, God is starting to release key strategies to us.
Watch TWO VIDEOS that deal with this issue.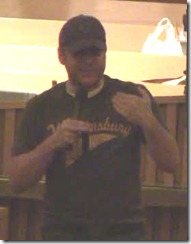 First, head on over to www.revivallab.com and check out the new video on the sidebar where I explain the critical prophetic mandate for the pastors, leaders and intercessors in Detroit to gather together every Friday at 10pm.
Then, watch the teaching on A Casual Approach to a prophetic warning from last night's service.
You can watch that teaching at media.johnburton.net.
You can also subscribe to the RSS feed at http://media.johnburton.net/rss.
The teaching notes are also there for you to follow along with.