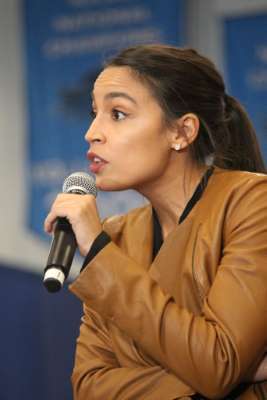 Alexandria Ocasio-Cortez suggests alternatives to end the life of your child.
President Biden recently admitted that he doesn't agree with the teachings of his church regarding the belief that life begins at conception.
"I respect those who believe life begins at the moment of conception," Biden said. "I don't agree, but I respect that. I'm not going to impose that on people."
In a Tweet apparently responding to the new anti-abortion law in Texas, Alexandria Ocasio-Cortez targets supposed "Christian extremists" for attempting to preserve the lives of pre-born children. She suggests laws and movements to force the birth (as she calls it) of a fully human, God-breathed person (as God calls them) are extreme. I would think dismembering and discarding unborn babies to be extreme.
She then shares options to destroy your unborn child through pills that can be discreetly mailed to your home.
LIFE BEGINS BEFORE CONCEPTION
The goalposts continue to move on the start date for children born into this world. The Bible clearly reveals that it's before conception.
"Before I formed you in the womb I knew you, and before you were born I consecrated you; I appointed you a prophet to the nations." (Jeremiah 1:5, ESV)
In fact, John the Baptist was already filled with the Holy Spirit before he was ever born.
"for he will be great before the Lord. And he must not drink wine or strong drink, and he will be filled with the Holy Spirit, even from his mother's womb." (Luke 1:15, ESV)
Tragically, most of today's activists and politicians are not filled with the Holy Spirit. Their worldview is radically, drastically and disastrously different than those who strive to promote godly agendas.
Today many believe children aren't full persons even in the moments right after birth. Killing children right after they are born (or partially born, whatever that is) is acceptable to a growing number of people. Don't be shocked when it becomes acceptable and legal to kill children under the age of two for no other reason than inconvenience.
Just as King Herod was threatened by a baby and ordered the death of all children under two years of age, these unwanted children threaten the dreams and plans of mom and dad. Exterminating them will very possibly be a viable option.
Extermination is a prime weapon in Satan's arsenal as we have learned in the Holocaust and other murderous movements. Any who oppose the killing? Extremists. Resisters.
The same accusations will be launched against all who refuse to take the Mark of the Beast as well. The propaganda and the overarching message is similar. Comply or else.
CHRISTIAN EXTREMISTS
The narrative that AOC is promoting is not only shocking to Christians in America, it's terrifying. If I understood her Tweet correctly, that efforts to "force the birth" of pre-born life equates to Christian extremism is dangerous beyond measure. Her message is being received and her influence can't be denied.
Crediting her Catholic upbringing, AOC said, "We do know that the Earth is sacred. We do know it is a sacred gift. We have a responsibility to steward it and protect it."
Many pro-Earth activists are also pro-abortion. They would agree with AOC that dirt and rocks are a sacred gift. Babies, however, can be dismembered and discarded. Somebody convince me full-blown delusion hasn't overtaken the far-left.
Ironically, in the same breath she said, "Are we willing to make changes to our present lives to protect a future for our children and life on Earth?"
Changes that include most anything except protecting the very pre-born children the future is waiting for, I suppose.
Alexandria must know that her accusation of extremism targets millions of Christians and Catholics. In fact, she grew up Catholic herself.
"I consider myself Catholic," she said, adding that she "grew up in the Catholic faith." Her mother, Blanca Ocasio-Cortez, is an evangelical Christian born in Puerto Rico, and her late father, Sergio Ocasio, was a Catholic and religious education teacher, Bronx-born from a Puerto Rican family.
WE MUST PRAY FOR OUR NATION'S INFLUENCERS
I earnestly contend for God to radically move in Alexandria's life. I envision a dramatic encounter with our holy, fiery God that will transform her in a moment.
There is no way to debate the issue of abortion successfully without introducing God into the scenario. In fact, I contend that it's nearly impossible to win this debate without people having an authentic, life-altering, supernatural visitation of God himself in their lives. A Damascus Road experience is needed for Alexandria and others who are aggressively fighting against God's truth.
While Alexandria is keeping her fight in the realm of activism and legislation (which is legal and protected), Paul (then Saul) took his fight against his own "Christian extremists" to another level when God suddenly overwhelmed him.
"But Saul, still breathing threats and murder against the disciples of the Lord, went to the high priest and asked him for letters to the synagogues at Damascus, so that if he found any belonging to the Way, men or women, he might bring them bound to Jerusalem. Now as he went on his way, he approached Damascus, and suddenly a light from heaven shone around him. And falling to the ground, he heard a voice saying to him, "Saul, Saul, why are you persecuting me?"" (Acts 9:1–4, ESV)
After his encounter, everything changed. Read the rest of the passage below and pray for Alexandria. I can see her transformed, standing behind a pulpit in a fiery church preaching the truth of Jesus. Can you?
"For some days he was with the disciples at Damascus. And immediately he proclaimed Jesus in the synagogues, saying, "He is the Son of God." And all who heard him were amazed and said, "Is not this the man who made havoc in Jerusalem of those who called upon this name? And has he not come here for this purpose, to bring them bound before the chief priests?" But Saul increased all the more in strength, and confounded the Jews who lived in Damascus by proving that Jesus was the Christ." (Acts 9:19–22, ESV)
Photos credit: "IMG_3990" by cornstalker is licensed under CC BY 2.0