Is Today's Prophetic Movement Fake News?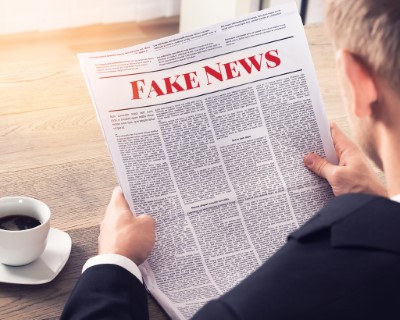 No matter what ultimately happens with the election, we need reformation in today's prophetic streams.
I've hesitated writing this article for several weeks. The reason? I'm placing myself right in the crossfire of the prophetic zealots (of which, ironically, I am one) and those who are fed up with the mystical, self-serving foolishness that's rampant today. I'm in that group too. Truly, it's a no-win situation. However, ministry isn't about winning. Ministry is about communicating truth so the Kingdom of God can most powerfully advance. So, onward. It's important for you to understand that I have been embracing the prophetic for years. My entire life has been marked by strange and glorious supernatural occurrences. God's leading has been nothing short of remarkable and miraculous. I'm humbled and in awe. I believe that God speaks, moves and interacts with every Christian who has an ear to hear. The wonders that so many experience on a consistent basis are not only dramatic, but they are required if we are to move in the direction the Spirit of God is leading us. Without hesitation I admit to endorsing the often bizarre, sometimes confounding and always stunning biblically-based prophetic ministry. Honestly, it would be impossible for me not to. I've written about my personal, humanly impossible, logically indescribable prophetic happenings in several of my books. I can't doubt.
FALSE PROPHETS!
With that, I'm also disturbed by the butchering of prophetic ministry today. Before you attempt to offer me a high-five in celebration of finding another who is bent on exposing today's false prophets, you need to hear me. Let's deal with the elephant in this article. Several high profile prophetic leaders have boldly predicted another four years for President Trump. You need to understand that I personally know some of these people, and I've been following the ministry of several others. To call them false prophets based on the current state of our nation's affairs alone would be ridiculous. These men and women of God are so pure, so passionate about Jesus and radically locked-in to God's heart. They are also imperfect. Let's settle something right now. Missing a prophecy does not deem one a false prophet. As I stated above, that is ridiculous. There's a difference between false prophecy and poor prophecy. False prophecy is demonic while poor prophecy flows out of imperfect children of God at times (just as poor teaching, poor pastoring and poor evangelizing does). Of course, at the writing of this article, the election isn't settled. President Trump could very well be re-elected, even at this late stage in early December, 2020. This would, I suppose, vindicate the prophets. But do they need vindication?
NEW TESTAMENT PROPHECY
Old Testament prophecy and New Testament prophecy are markedly different. In the Old Covenant, a small handful of prophets received occasional, clear, precise messages from God. In the New Covenant, every Believer in Christ, including those who hold the office of Prophet, can hear God's voice. However, while Old Testaments prophets
received
messages, today we
perceive
God's messages. Today, prophecy is intuitive, often abstract and, in most cases, it must be learned. Quite often, prophetic signs, dreams, visions, impressions and other spiritual data must be interpreted. It also must be weighed, analyzed and prayed through. The Holy Spirit brings the understanding to the precise parts of the divine message entrusted to us. That process can result in accidental errors. Prophecy is tricky. We need to exhibit both faith and humility. Admitting there is a chance we might be wrong either partially or completely isn't exhibiting a lack of faith. I don't believe we should ever give a "thus sayeth the Lord" when prophesying. We should say, "I sense the Lord saying," or "I have a strong impression that…" Why? We can miss it. Prophecies in Scripture are absolute. Prophecies today are not. Further, prophecies not found in the Bible are conditional. We have a role to play in the outcome. All of this is why I believe declaring a prophecy that is not found in Scripture to be one hundred percent certain to come to pass is inappropriate and irresponsible.
FAKE NEWS PROPHECY
This brings us to the necessary reformation. Are there foolish, self-satisfying people growing a pseudo-prophetic ministry that's fueled by the enemy? Absolutely there are. Are there others who are immature in their understanding of the prophetic, and as a result are out of step with true biblical prophecy? Yes. Has the prophetic become way too dominant in some people's lives, to the exclusion of basic, orthodox, historical Bible truths? Most definitely. (Though I'd suggest there are way more who have excluded a true, biblical, prophetic lifestyle in favor of dry, dead religion.) Simply, is much of today's prophetic ministry that's flourishing all over social media fake news? It is. I'll introduce some sub-points that should at least get us thinking:
PURPOSE
Predictive prophecy (foretelling) often leaves me asking a question: why was it necessary to share that message? What is the purpose? Understand, it's just a question. There may be a legitimate answer. Of course, Scripture is filled with predictive prophecies. Yet, there must be a reason God would reveal this information to us. Why did we need to know that President Trump would supposedly win the election? What is that purpose? On one hand, it could be to bolster a prophets resume of successful predictions. Is there another hand? Maybe. But we really need to know what's in that hand. What is our role in response to the prophetic word?
STRATEGY
I personally believe all prophecy not found in Scripture is conditional. I believe it was designed this way by God as a catalyst to rally the troops. For example, if the prophets are revealing that Trump was God's choice, what must the church do to advance that agenda? Prophecy that is devoid of a strategic call to action is at least suspicious. Prophetic messages should provoke a response, whether it's a warning or revelation of God's heart or an uncovering of the enemy's plans, we as hearers of the word need to know how to proceed.
FORTHTELLING VS FORETELLING
Personally, I am significantly more impressed with prophetic preaching, forthtelling, than I am with foretelling, revealing future events. Understand, I affirm and value both, when handled well. But, give me a
Leonard Ravenhill
any day over one of today's pop prophets. Forthtelling always has a fiery, urgent and unapologetic call to action. Unfortunately, too many of today's foretellers are more excited about their ability to craft the perfect fortune cookie message than they are revealing the depths of God.
THUS SAYETH THE LORD
I dealt with this above, but I wanted to put it in the list of thought provokers. When I hear someone declare that "God said" and that what they heard is perfect, complete and guaranteed to come to pass, I change the channel. We prophecy in part. We see in part. We understand in part. And, guess what? We are fallible humans. We can miss it. Again, New Testament prophecy is intuitive. I'm not saying it can't have a measure of clarity. It absolutely can. I'm not saying it can't be overwhelming, weighty and convincing. It can. In fact, we need to live in the realm of the weighty much more than we do today. The prayer rooms should be soaked with sweat and tears from the brows of the prophets. However, we aren't privy to an unmistakable voice booming out of a burning bush. The Holy Spirit is the one brooding and impressing upon God's people mysterious and often illogical messages that require discernment, prayer and interpretation to grasp.
PROPHECY IS CONDITIONAL
I posted the following to Facebook recently:
What percent chance do you give Trump being reelected at this stage of the game? (If you say 100% or 0%, you are delusional. I'm sure you are nice, but still delusional.)
Needless to say, a bunch of delusional friends responded! (I say that with a friendly smile on my face.) There are so many factors at play in the prophetic that we can rarely if ever proclaim that a prophetic word is certain to come to pass. Remember, prophecy not found in Scripture is conditional. It's an invitation, not a guarantee. Several promoted the idea that thinking anything less would be a violation of faith. This is not true. We have a part to play. This is what happens when "thus sayeth the Lord" style prophecies are accepted as the norm. They can seduce people into a false sense of comfort as they sit back and wait for it to come to pass.
THE ENEMY
Anybody who has adopted a prophetic lifestyle knows that prophetic words must be warred over. Simply receiving and believing is far from enough. Satan is exceptionally skilled at disrupting the plans of God in our lives. When we simply receive and believe, we are playing right into the enemy's hands. We must go to battle! Presuming a prophecy will come to pass without a sword in our hands is akin to wishing upon a star.
FINAL THOUGHTS
There are many other factors at play including timing,
sin
in the lives of the prophets, fear, doubt, presumption, etc. I feel some great first steps in reforming the prophetic would include:
Prophesying from a place of fervent, Spirit-driven intercession.
Considering the purpose of the word.
Majoring on forthtelling, minoring on foretelling.
Communicating prophetic strategies, not just a prophetic word.
Inviting the word to be weighed.
Admitting when you missed it.
Giving grace to those who missed it.
Avoiding presumptive prophetic guarantees.
Photo credit: "Fake News – Person Reading Fake News Article" by mikemacmarketing is licensed under CC BY 2.0
Originally published by The Stream.