Filling up fast: Register for Key of David conference with Brian Simmons and Catherine Mullins
The lunch with Catherine Mullins is filling up! Register right away to secure your spot!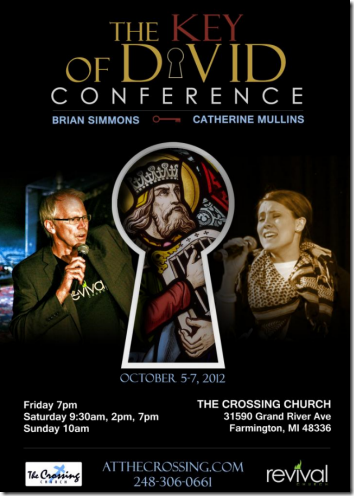 Brian Simmons and Catherine Mullins will be at The Crossing Church in Farmington for the Key of David Conference.
Then, Brian will be at Revival Church on Sunday, October 7th at 6pm!
Purpose
In this series, Brian will be ministering on the three prophetic seasons represented in David's life, the three anointings, giant killing faith, worship/warfare in the tabernacle of David and the Glory that David walked in speaks to us of the greater Glory available for us to walk in!
This will be a significant time of equipping as the Lord is preparing His people for rapidly approaching assignments in the coming days.
Invited Ministries
Brian Simmons and his wife Candice, have been described as pioneers, prophets, and pastors. As a spiritual father and mother, their teaching and prophetic gifts have opened doors in many nations to take the message of authentic awakening and revival to many. For the last 35 years they have labored to present Christ in His fullness wherever God sends them. Brian is the author of numerous books which reveal depths of insight that the Holy Spirit has released for the last days.
Catherine Mullins song-writer and worship leader, longs to see the Bride of Christ come forth in purity and holiness. Inspired by this, her goal in life is to bring the world into a life-changing encounter with Jesus Christ through worship. Since the Fall of 2008 Catherine has been traveling extensively releasing her heart for prophetic worship and the Body of Christ. Her desire is that all would come into a deeper revelation of Jesus Christ as Lord of their lives. While at home Catherine leads worship at Coweta Community Church in Newnan, GA.
Schedule
Friday, October 5th – 7:00 PM
Worship with Catherine Mullins and teaching by Dr. Brian Simmons
Saturday, October 6th – 9:30 AM, 2 PM
Workshops with Dr. Brian Simmons and Catherine Mullins
Saturday, October 6th – 7:00 PM
Worship with Catherine Mullins and teaching by Dr. Brian Simmons
Sunday, October 7th – 10 AM
Sunday AM Worship Service with Catherine and Dr. Brian
Doors will open ½ hour prior to each session.
Location
The Crossing Church
31590 Grand River Ave.
Farmington, MI 48336