Press Release : John Burton's new book Pharaoh in the Church is now available!
Prepare for a dramatic escape into the Cloud of Glory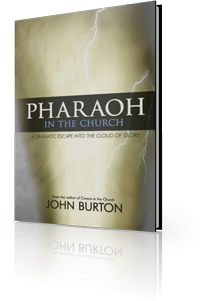 FOR IMMEDIATE RELEASE: John Burton's new book Pharaoh in the Church is now available
Grosse Pointe Park, MI – March 25, 2011 The follow-up to the controversial and life-impacting book Covens in the Church, Pharaoh in the Church is a call for church leaders to allow the congregation to drop the bricks they are using to build the kingdoms of man—and to lead them in the spirit of Moses into the wilderness of encounter.
This book is a burning message, an Exodus call that originated in at least a small way like the original Exodus call in a burning bush. Moses experienced the zeal of the deliverer to see His people free to encounter Him. The goal of this book is for you to discover the pounding heart of God in a way that, I believe, will result in a deep and resounding cry of agreement to embrace a radical revolution in the church.
John Burton has been in ministry since 1991 and has written six books including 20 Elements of Revival, Revelation Driven Prayer and Six Enemies of Fulfilled Destiny. He was recently featured on the Miracle Channel (www.miraclechannel.ca) as he discussed the thrill and importance of living a prophetic life.
John also planted Revolution Church in Manitou Springs, Colorado, directed an internship at the International House of Prayer in Kansas City, Missouri and gave leadership to a city-wide prayer initiative in Colorado Springs, Colorado.
ORDER NOW at https://www.createspace.com/3533475
ALSO, COMING SOON, THE REVISED VERSION OF 20 ELEMENTS OF REVIVAL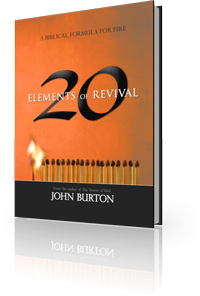 This is the most popular of John's six books, and has received extremely high marks for it's potential for dramatic impact on the church:
I just finished reading 20 Elements of Revival. Everyone should read this book! I wish I had the cash for a case of this book. Seriously! I keep thinking of more people who NEED a copy of it! It's very, very, very rare for me to feel this way about a book other than the Bible.-Kathi Sharpe
I just finished your book, 20 Elements of Revival. Wow! This is it. If the Church/House of Prayer at large could get this into their hands and read it before they opened the doors we could actually change the world! I've been talking to our leadership team- this book is #1 for all of our Core Leadership. It should be in the hands of every leader in the Body. – Luann Zettle, International House of Prayer East Detroit
Just finished reading the two books you gave me…and I am buzzing in the Holy Spirit! My wife and I had an hour conversation about the depth of their implications. You have nailed it my friend. I have met few people who have put all this together….and I am in awe and grateful. I want all our leadership team to especially read 20 Elements of Revival. –Tim Johns