It's time for the fear of the Lord to land on the prophetic movement as we enter the new year.
16 But to the wicked God says: "What right have you to recite my statutes or take my covenant on your lips? 17 For you hate discipline, and you cast my words behind you. Psalm 50:16-17 (ESV)
"Financial breakthrough is coming in 2017!"

"This is the year of fulfilled promises!"

"No more delay! Prosperity is yours in the new year!"

"This is the year of promotion!"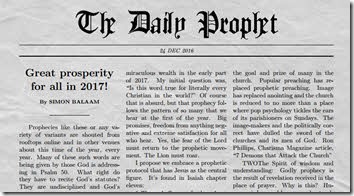 Sound familiar?
Prophecies like these or any variety of variants are shouted from rooftops online and in other venues about this time of the year, every year. Many of these such words are being given by those God is addressing in Psalm 50. What right do they have to recite God's statutes? They are undisciplined and God's true words are cast off.
It's time for the fear of the Lord to hit the prophetic movement in full force.
7 "For the Lord GOD does nothing without revealing his secret to his servants the prophets. 8 The lion has roared; who will not fear? The Lord GOD has spoken; who can but prophesy?" Amos 3:7-8 (ESV)
Lest you misunderstand my intention, I'll make it clear: prophecy is critical in this late season. We must see an increase in clear, true prophetic revelation now more than ever. I believe God is hand picking key voices who will not shrink back and who refuse to carelessly play with this supernatural gift as if they were some Disney-level wizard.
It's time for the Lion to roar with such force that these prophetic messengers are blown back as if standing behind a jet engine at full thrust.
The Jamieson-Fausset-Brown Bible Commentary notes: As when "the lion roars" none can help but "fear," so when Jehovah communicates His awful message, the prophet cannot but prophesy. Find not fault with me for prophesying; I must obey God.
What a striking contrast to so much of today's fortune-telling promises of wealth, health and happiness.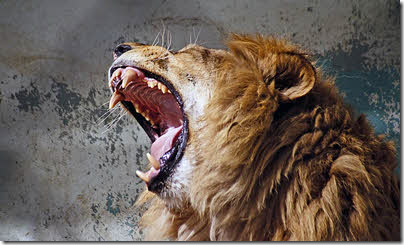 I read a "prophetic" word for the new year earlier today that promised miraculous wealth in the early part of 2017. My initial question was, "Is this word true for literally every Christian in the world?" Of course that is absurd, but that prophecy follows the pattern of so many that we hear at the first of the year. Big promises, freedom from anything negative and extreme satisfaction for all who hear. Yes, the fear of the Lord must return to the prophetic movement. The Lion must roar.
I propose we embrace a prophetic protocol that has Jesus as the central figure. It's found in Isaiah chapter eleven:
1 There shall come forth a shoot from the stump of Jesse, and a branch from his roots shall bear fruit. 2 And the Spirit of the LORD shall rest upon him, the Spirit of wisdom and understanding, the Spirit of counsel and might, the Spirit of knowledge and the fear of the LORD. 3 And his delight shall be in the fear of the LORD. He shall not judge by what his eyes see, or decide disputes by what his ears hear, Isaiah 11:1-3 (ESV)
The shoot from the stump of Jesse and the roaring Lion are Jesus, and the prophetic role that he plays is worthy of aligning with. As we endeavor to reveal accurate prophetic words it would do us well to pray according to this passage in Isaiah:
ONE—The Spirit of the Lord shall rest upon him (and us): There is too much divination in today's prophetic culture. The spirit of Balaam is strong. Instead of the Spirit of the Lord we are experiencing too much revelation from the realm of the soul or from the realm of the demonic.
Another problem that arose was the spirit of Balaam. To give you some history of this, Balak, the pagan king, literally bought the prophet Balaam's ministry. Balak eventually sent women to seduce the men of Israel, thus bringing judgment upon them. It was Balaam that sold out the people of God. In keeping the spirit of Balaam, too often today, money has become the goal and prize of many in the church. Popular preaching has replaced prophetic preaching. Image has replaced anointing and the church is reduced to no more than a place where pop psychology tickles the ears of its parishioners on Sundays. The image-makers and the politically correct have dulled the sword of the churches and its men of God. ~Ron Phillips, Charisma Magazine article, "7 Demons that Attack the Church"
TWO—The Spirit of wisdom and understanding: Godly prophecy is the result of revelation received in the place of prayer. Why is this? Human wisdom and human understanding are all too eager to share their soulish revelation. It's only when we pray and live in the Spirit that we can truly adopt supernatural wisdom. The mysteries of God will be revealed and human logic will be confounded. It's sadly rare to hear prophetic words today that shock our senses instead of satiating them.
5 Trust in the LORD with all your heart, and do not lean on your own understanding. 6 In all your ways acknowledge him, and he will make straight your paths. 7 Be not wise in your own eyes; fear the LORD, and turn away from evil. Proverbs 3:5-7 (ESV)
THREE—The Spirit of counsel and might: The Hebrew translation of the word "might" is power or force. When the Lion roars you can be sure that immeasurable power and force will be felt. Instead of turning our stomachs like too many softball prophetic words do today, God's prophetic force will knock us to our knees. There will be clear direction, counsel, as to how we are to respond to the revelation. Cover to cover in Scripture we read prophetic directives that are intense and dependent on the right response of the hearer.
1 "And to the angel of the church in Sardis write: 'The words of him who has the seven spirits of God and the seven stars. "'I know your works. You have the reputation of being alive, but you are dead. 2 Wake up, and strengthen what remains and is about to die, for I have not found your works complete in the sight of my God. 3 Remember, then, what you received and heard. Keep it, and repent. If you will not wake up, I will come like a thief, and you will not know at what hour I will come against you. 4 Yet you have still a few names in Sardis, people who have not soiled their garments, and they will walk with me in white, for they are worthy. 5 The one who conquers will be clothed thus in white garments, and I will never blot his name out of the book of life. I will confess his name before my Father and before his angels. 6 He who has an ear, let him hear what the Spirit says to the churches.' Revelation 3:1-6 (ESV)
You can be sure John felt the force of those words, and the counsel was clear and urgent. I yearn for prophetic unction like this today.
FOUR—His delight shall be in the fear of the Lord: Words that don't contain enough weight to cause the fear of the Lord to strike us are suspect. Even true, positive messages that would cause us to rejoice should still bear the marks of the fear of a most holy God. Instead of avoiding such sharp messages the next generation of prophetic warriors will delight in the safety, the plumb line, that the fear of the Lord is.
1 "And if you faithfully obey the voice of the LORD your God, being careful to do all his commandments that I command you today, the LORD your God will set you high above all the nations of the earth. Deuteronomy 28:1 (ESV)

15 "But if you will not obey the voice of the LORD your God or be careful to do all his commandments and his statutes that I command you today, then all these curses shall come upon you and overtake you. Deuteronomy 28:15 (ESV)
God is ready to bless us beyond measure, and that blessing is even brighter in contrast to what will come to the disobedient. This is the delight that the fear of the Lord produces–the realization that God is full of love and mercy and we can be free from his wrath.
FIVE—He shall not judge by what his eyes see, or decide disputes by what his ears hear: It's all too easy to gaze upon the landscape of our world and produce supposed prophetic revelation that will capture people's attention. We can't have anymore tabloid style prophecies that capitalize on the current events of our day. Proclaimers are much different than reporters. We need those who will hear God's voice in secret and proclaim it to the people much more than we need to hear opinion on what is going on in society.
2 "Son of man, prophesy against the prophets of Israel, who are prophesying, and say to those who prophesy from their own hearts: 'Hear the word of the LORD!' 3 Thus says the Lord GOD, Woe to the foolish prophets who follow their own spirit, and have seen nothing! Ezekiel 13:2-3 (ESV)
MY PROPHETIC WORD FOR 2017
I don't mean this to be a snarky or creative way to end this article. I feel something burning very strongly in my spirit; something extremely simple.
While timely Rhema revelation must be received, the church must return to confidence in the Logos. The infallible written Truth. The Bible.
When timely prophetic words are given to me, I value them highly. However, I don't seek after them. I don't crave them. I only need them when God knows I do. What I do long for is the Word of God, the Bible. I deeply desire for it to explode in my Spirit in fresh new ways. I want God's eternal Word to capture me!
8 The grass withers, the flower fades, but the word of our God will stand forever. Isaiah 40:8 (ESV)

89 Forever, O LORD, your word is firmly fixed in the heavens. Psalm 119:89 (ESV)

35 Heaven and earth will pass away, but my words will not pass away. Matthew 24:35 (ESV)
I exhort you to dive into the Word of God. The wealth it contains will transform your new year much more powerfully than a low level prophetic word ever will.
Consider some of the following and begin your quest to encountering God through his Word. Take note of the promises and also of the conditions associated with them. Let the Lion roar. May the fear of the Lord delight you. May your new year be marked by the force of the very breath of our mighty God!
22 "Mark this, then, you who forget God, lest I tear you apart, and there be none to deliver! 23 The one who offers thanksgiving as his sacrifice glorifies me; to one who orders his way rightly I will show the salvation of God!" Psalm 50:22-23 (ESV)

7 "The LORD will cause your enemies who rise against you to be defeated before you. They shall come out against you one way and flee before you seven ways. Deuteronomy 28:7 (ESV)

22 "Mark this, then, you who forget God, lest I tear you apart, and there be none to deliver! 23 The one who offers thanksgiving as his sacrifice glorifies me; to one who orders his way rightly I will show the salvation of God!" Psalm 50:22-23 (ESV)

14 Offer to God a sacrifice of thanksgiving, and perform your vows to the Most High, 15 and call upon me in the day of trouble; I will deliver you, and you shall glorify me." Psalm 50:14-15 (ESV)

34 Jesus answered them, "Truly, truly, I say to you, everyone who practices sin is a slave to sin. 35 The slave does not remain in the house forever; the son remains forever. 36 So if the Son sets you free, you will be free indeed. John 8:34-36 (ESV)

1 There is therefore now no condemnation for those who are in Christ Jesus. Romans 8:1 (ESV)

7 Submit yourselves therefore to God. Resist the devil, and he will flee from you. James 4:7 (ESV)
That's a start. Now go ahead and receive the remaining promises in the Bible that are waiting for you in the new year. There are thousands.
The fear of deception is giving way to a demand for it—often at the cost of people's souls.
We are living in the days of deception on demand—a prophetic culture that serves encouragement at the expense of truth.
"Both prophet and priest are ungodly; even in my house I have found their evil, declares the LORD. Therefore their way shall be to them like slippery paths in the darkness, into which they shall be driven and fall, for I will bring disaster upon them in the year of their punishment, declares the LORD. Jeremiah 23:11-12
It's important that you know as I begin this article that I hold a high value for prophecy. I've written and taught on it for years, and I strongly encourage everybody to live a bold, active prophetic life.
Do not quench the Spirit. Do not despise prophecies, but test everything; hold fast what is good. 1 Thessalonians 5:19-21
It would be equally as easy, and important, to write about movements that are defying scripture by quenching the Spirit and despising prophecies. Today, more than ever, the church must live and walk in the spirit as it hears God's Rhema voice. God is absolutely talking and we must absolutely hear him—and relay key end-time prophetic data to the church and the world.
"For the Lord GOD does nothing without revealing his secret to his servants the prophets. Amos 3:7
God has established the office of Prophet, and we need to embrace that office. Additionally, we are all called to live prophetic lives, and we should embrace that gift.
Pursue love, and earnestly desire the spiritual gifts, especially that you may prophesy. 1 Corinthians 14:1
With that established, we have to ensure the prophetic revelation is accurate, and that we don't modify it at all—even if the message will be violently rejected. The way we handle prophecy will result in people either knowing God in the clarity of truth, or in people living a life of deception that may very well lead to an eternity in Hell.
The scripture instructs us not to despise prophecies, BUT it also instructs us to test it and to only hold to what is good. This is what we must do now in the prophetic movement—bad prophecy is doing great damage.
Salvation Deception
Wrong information will lead to a tainted analysis.
While many of today's prophetic voices trend toward affirming people in their current condition via false words, these people are falling into deception that puts their very souls at risk.
How often have you heard someone affirm somebody's salvation in order to bring them comfort? This is an example of a violation of prophetic protocol. We should never assure someone of their salvation, especially since we don't know the depths of their hearts and we don't know what type of decisions they will make in the years to come. False information like this is dangerous. Just as the disciples did, we need to all wrestle with our own salvation.
And Jesus said to his disciples, "Truly, I say to you, only with difficulty will a rich person enter the kingdom of heaven. Again I tell you, it is easier for a camel to go through the eye of a needle than for a rich person to enter the kingdom of God." When the disciples heard this, they were greatly astonished, saying, "Who then can be saved?" But Jesus looked at them and said, "With man this is impossible, but with God all things are possible." Matthew 19:23-26
Theologies and prophetic insights today rarely address the issue of salvation in any way other than affirming it—even for those who are only marginally devoted to Jesus. Somehow, there appears to be a certain valiance associated with the idea of easy salvation. What it communicates is that Jesus is willing and able to save every person regardless of their personal commitment and relationship with him. That feels heroic, and it is great news for those who are not fervent in their relationship with Jesus. Unfortunately, that great news is not the Good News.
Not everybody who hears the Good News receives it. In fact, the Good News doesn't usually feel like good news at all. Most reject it.
And a ruler asked him, "Good Teacher, what must I do to inherit eternal life?" Luke 18:18

When Jesus heard this, he said to him, "One thing you still lack. Sell all that you have and distribute to the poor, and you will have treasure in heaven; and come, follow me." But when he heard these things, he became very sad, for he was extremely rich. Luke 18:22-23
I am convinced that it is exceedingly rare for people to be legitimately saved. I've said before that I often wonder if even 10% of people in vibrant, Spirit-filled churches will end up in Heaven. Of course, there is no way to scientifically arrive at a literal percentage, but the inspection and analysis is appropriate. This is a prophetic process that is much different than the sugary prophetic imitations that are most common today.
When I have this discussion about uncommon salvation with fellow Christians, the reaction is most usually a mixture of shock, anger and fierce resistance. How dare somebody question their salvation!
It's love that propels me to shine the light on the "angel of light" belief systems that are temporally satisfying yet eternally damning. Feel good messages are delivered which are actually not good at all—they are doctrines of demons.
And no wonder, for even Satan disguises himself as an angel of light. So it is no surprise if his servants, also, disguise themselves as servants of righteousness. Their end will correspond to their deeds. 2 Corinthians 11:14-15

Now the Spirit expressly says that in later times some will depart from the faith by devoting themselves to deceitful spirits and teachings of demons, 1 Timothy 4:1
In fact, as I've said before, I only give myself an 80% chance of "making Heaven." I am not exempt from deception. I am not immune to temptation. I have a free will and I can walk away at some point in the years ahead. The great falling away is coming, and every one of us will be courted by it. If I died today, I'm confident I'd be with Jesus, but tomorrow is another day.
Salvation is not a status, it's a dynamic lifestyle that isn't gauged by an on and off switch. It's measured by a deep, growing, intimate love relationship with Jesus that manifests radical obedience and surrender.
Jesus warned about false prophets that will put people's salvation at risk. This is very real, and we are in those days right now.
"Then they will deliver you up to tribulation and put you to death, and you will be hated by all nations for my name's sake. And then many will fall away and betray one another and hate one another. And many false prophets will arise and lead many astray. And because lawlessness will be increased, the love of many will grow cold. But the one who endures to the end will be saved. And this gospel of the kingdom will be proclaimed throughout the whole world as a testimony to all nations, and then the end will come. Matthew 24:9-14
Lying Prophets
Lying prophets would never think of alerting an at risk person of their eternal future. Instead, they serve what is demanded—a promise of a future and a hope.
Thus says the LORD of hosts: "Do not listen to the words of the prophets who prophesy to you, filling you with vain hopes. They speak visions of their own minds, not from the mouth of the LORD. They say continually to those who despise the word of the LORD, 'It shall be well with you'; and to everyone who stubbornly follows his own heart, they say, 'No disaster shall come upon you.'" Jeremiah 23:16-17
As people are flooding into Hell while thinking they are on the road to Heaven, it's horrific to think that we wouldn't warn them!
Today's lying voices who are building their own reputations are about to experience the reformation of the Lord in their lives. This reformation is coming to the entire prophetic culture in today's church.
…spirits like Baal and Jezebel are working through those who accepted the call to ministry but have given in to the financial pressure of building their own kingdoms rather than serving the kingdom of God. ~Jennifer LeClaire
When supposed prophetic voices share nothing but happy, encouraging words, they lose credibility. There is absolutely no way, in today's volatile world, that everything is OK and getting better. Where are the warnings? Where are the rebukes?
True prophets will warn as often as they encourage. They will rebuke just as they build up.
One of the most often misused verses in scripture is Jeremiah 29:11:
For I know the plans I have for you, declares the LORD, plans for welfare and not for evil, to give you a future and a hope. Jeremiah 29:11
This is one verse that doesn't stand on its own very well. Context is necessary.
This is a perfect example of today's prophetic culture—encouraging people without supplying the context and the often challenging instructions that are attached. Lets look at the context.
"For thus says the LORD: When seventy years are completed for Babylon, I will visit you, and I will fulfill to you my promise and bring you back to this place. For I know the plans I have for you, declares the LORD, plans for welfare and not for evil, to give you a future and a hope. Then you will call upon me and come and pray to me, and I will hear you. You will seek me and find me, when you seek me with all your heart. I will be found by you, declares the LORD, and I will restore your fortunes and gather you from all the nations and all the places where I have driven you, declares the LORD, and I will bring you back to the place from which I sent you into exile. Jeremiah 29:10-14
Instead of receiving a nice, comfy personal prophecy that all will be well, that there's a great future ahead, the truth is that there's much more to this prophetic process!
The future comes after seventy years! The hope arrives when God's plans are reactivated after the exile is over. It's then that they can pray and be heard. It's then that they will find God, but only if they seek him with all their heart! Not only is the prophecy about the far off future, it's also conditional.
The process is spelled out precisely:
"Thus says the LORD of hosts, the God of Israel, to all the exiles whom I have sent into exile from Jerusalem to Babylon: Build houses and live in them; plant gardens and eat their produce. Take wives and have sons and daughters; take wives for your sons, and give your daughters in marriage, that they may bear sons and daughters; multiply there, and do not decrease. But seek the welfare of the city where I have sent you into exile, and pray to the LORD on its behalf, for in its welfare you will find your welfare. For thus says the LORD of hosts, the God of Israel: Do not let your prophets and your diviners who are among you deceive you, and do not listen to the dreams that they dream, for it is a lie that they are prophesying to you in my name; I did not send them, declares the LORD. Jeremiah 29:4-9
The prophecy they wanted to hear was that they would be freed immediately. God warned them not to listen to lies, false prophecies that would be exactly what they wanted to hear, and even words that seemed to validate their view of the goodness of God. Certainly, a good God would never approve of being held captive by their enemies, right? Wrong.
Remember, God assigned a demon to Paul. He cast Jonah into a fish. He threw Joseph into a pit. God's ways most certainly aren't our ways, and he most definitely is not compelled to fit within our definition of what is good and right.
For those in exile, the true word was inconvenient, disappointing, challenging and irritating. It even put the hearers at risk of losing hope and having an emotional meltdown!
The truth remains—they were to build houses, plant gardens, get married, have kids and even wait for them to get married and have kids. What a prophetic word! Their was no hope until they were grandparents!
Here's a huge point—God was certainly interested the individual's plight, but, as always, he was more interested in the bigger picture. This is such a critical issue in today's narcissistic Christian culture! Yes, God loves us as individuals, but he is more interested in the future of his entire people. He will allow one to go through great trouble for the sake of the freedom of many. Of course, Jesus is the perfect model of this truth.
Martyrdom is another model of this truth. God will allow one to be tortured and murdered for the sake of the advance of the Kingdom. What if today's prophetic messengers started revealing people's call to die at the hands of a terrorist for the sake of the Gospel? What if they started affirming our call to die before we live? True prophecy will be troubling as often as it is affirming.
What this means is that our process is not only about us, but for many others.
So, instead of demanding the flaky, invented prophetic words that promise a quick improvement to our personal lives, we need to hear the difficult messages that deal with our sin, our struggle, our disobedience and what should be done to correct. We need the words that call us higher.
There are generally three types of messages:
What God has done for us and the benefits that result
What God is about to do to benefit us
What our responsibility is
The first two are all too common, and when delivered appropriately, these messages are great.
The last one is what we must see an increase of. In fact, we need to hear what we are doing wrong! We have to be OK with that so we can be calibrated to God's plan for our lives. This is great, great news indeed!
Lets move beyond generic, incomplete words that reveal that God has a future for us. Instead, we need to know what he expects from us, how we have failed, what we can build on, how we can grow and what the big picture is.
Prophecy should propel us to action, not satisfaction.
Eat the Scroll
The prophetic words of God will be weighty, and won't usually be received very well.
And he said to me, "Son of man, eat whatever you find here. Eat this scroll, and go, speak to the house of Israel." So I opened my mouth, and he gave me this scroll to eat. And he said to me, "Son of man, feed your belly with this scroll that I give you and fill your stomach with it." Then I ate it, and it was in my mouth as sweet as honey. And he said to me, "Son of man, go to the house of Israel and speak with my words to them. For you are not sent to a people of foreign speech and a hard language, but to the house of Israel— not to many peoples of foreign speech and a hard language, whose words you cannot understand. Surely, if I sent you to such, they would listen to you. But the house of Israel will not be willing to listen to you, for they are not willing to listen to me: because all the house of Israel have a hard forehead and a stubborn heart. Behold, I have made your face as hard as their faces, and your forehead as hard as their foreheads. Like emery harder than flint have I made your forehead. Fear them not, nor be dismayed at their looks, for they are a rebellious house." Moreover, he said to me, "Son of man, all my words that I shall speak to you receive in your heart, and hear with your ears. And go to the exiles, to your people, and speak to them and say to them, 'Thus says the Lord GOD,' whether they hear or refuse to hear." Ezekiel 3:1-11
Today's false or flaky prophetic movement is not birthed in the place of trembling intercession. It's open to hear the most satisfying words that will result in the church elevating it, affirming it and celebrating it.
That's why we need true prophetic messengers who will eat the scroll, carry the weight of the revelations of God and fearlessly confront the stubborn rebellion in the church. When we eat the scroll, we are undone, fearful and trembling.
Watch how Ezekiel, a true prophet, responds:
Then the Spirit lifted me up, and I heard behind me the voice of a great earthquake: "Blessed be the glory of the LORD from its place!" It was the sound of the wings of the living creatures as they touched one another, and the sound of the wheels beside them, and the sound of a great earthquake. The Spirit lifted me up and took me away, and I went in bitterness in the heat of my spirit, the hand of the LORD being strong upon me. And I came to the exiles at Tel-abib, who were dwelling by the Chebar canal, and I sat where they were dwelling. And I sat there overwhelmed among them seven days. Ezekiel 3:12-15
He was lifted up by the Spirit and experienced bitterness and heat in his spirit. His investment resulted in him being overwhelmed for a week. We need prophets who are overwhelmed.
Prophecy on Demand/Paying for Prophecy
I wrestle with the issue of prophecy on demand. On one hand, I do believe that God is always talking and that we can receive messages about others on a regular basis. On the other hand, all too often the prophetic words are nothing more than encouraging words that may or may not be accurate. There's great immaturity and a lack of the fear of the Lord all too often.
True, biblical encouraging words are great, but I believe we need to take the prophetic label off of that ministry if it's not truly prophetic.
That being said, there's something that I am absolutely alarmed about—a growing trend of payment for prophecy. This must stop.
I see this in the prayer movement and there are many who affirm ministries that offer prayer and prophetic words in exchange for financial support. Boy, this is dangerous.
Not only is the financial exchange iffy, it puts people on the spot. If a prophecy is ordered, the supposed prophet must come up with a prophecy. What if God isn't talking? What if the word is negative? What if the prophetic person is having a bad week? What if they can't hear easily? We could go on and on with the issues.
The spiritualized fortune telling has to stop. I'm not saying it's all entirely inappropriate, but the precedent it's setting is dangerous at the least. The fear of the Lord must hit the prophetic movement, and by all means, ministries that charge for prophetic ministry must be shut down.
Now when Simon saw that the Spirit was given through the laying on of the apostles' hands, he offered them money, saying, "Give me this power also, so that anyone on whom I lay my hands may receive the Holy Spirit." But Peter said to him, "May your silver perish with you, because you thought you could obtain the gift of God with money! You have neither part nor lot in this matter, for your heart is not right before God. Repent, therefore, of this wickedness of yours, and pray to the Lord that, if possible, the intent of your heart may be forgiven you. Acts 8:18-22
Prophecy for payment is functioning today in the spirit of Balaam—administered by for prophet false prophets.
Balak paid Balaam to deliver a specific word of the Lord. Balaam was not invested in the process, but God did in fact put a word in his mouth, as a test. Balaam delivered this word, but Balak was furious—it wasn't the word he paid for!
Behold, these, on Balaam's advice, caused the people of Israel to act treacherously against the LORD in the incident of Peor, and so the plague came among the congregation of the LORD. Numbers 31:16

Woe to them! For they walked in the way of Cain and abandoned themselves for the sake of gain to Balaam's error and perished in Korah's rebellion. Jude 1:11
Prophecy for payment feels right—Christian people are delivering words that even God may have initiated, just as he did with Balaam, but the foundation is that of divination.
The money changers in the temple are about to be overturned.
If someone wanted me to be their resident prophetic counsel, I'd direct them to a much more reliable source—the Bible.
The Bible
All of this brings me to the issue that's burning hottest in my spirit. The purest prophetic messages are those that are read directly from scripture.
The Bible must return to front and center in the prophetic culture.
The greatest anointing won't come when we are foretelling or reading somebody's mail. It will come when a prophetic spirit comes upon us as we declare the ancient truths of scripture.
For the word of God is living and active, sharper than any two-edged sword, piercing to the division of soul and of spirit, of joints and of marrow, and discerning the thoughts and intentions of the heart. Hebrews 4:12
The law of the LORD is perfect, reviving the soul; the testimony of the LORD is sure, making wise the simple; the precepts of the LORD are right, rejoicing the heart; the commandment of the LORD is pure, enlightening the eyes; the fear of the LORD is clean, enduring forever; the rules of the LORD are true, and righteous altogether. More to be desired are they than gold, even much fine gold; sweeter also than honey and drippings of the honeycomb. Moreover, by them is your servant warned; in keeping them there is great reward. Psalm 19:7-11
Wow! It seems everything people are looking for in personal prophecy can already be found in the Word of God. Rejoicing, enlightening, reward.
The issue is this—we must invest our lives into the Word of God. It takes effort. Personal prophecy is easy. We ask and receive.
Have you ever wondered why God is intentionally silent when we pray? Is it possible he doesn't want us to have the information that a supposed prophet would be more than happy to divulge? Is it possible God wants us to search scripture for ourselves?
Personal prophecy has a place, but a reformation must come. It's time we stop being lazy and resistant to the tough love of God as he either withholds information for a season or requires our radical participation in the process.
The prophecy games must come to an end. It isn't harmless encouragement if it's contrary to truth. The players in this game are being setup for eternal loss, and God is about to hold all of us accountable.